49ers Week Two Coming Out Party: Targeting the Incumbent Champion Saints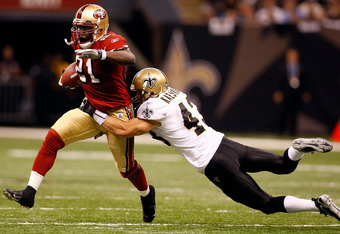 Chris Graythen/Getty Images
Mid June is an awkward time to think about a football game that's not going to happen until late September. The Monday Night Football game against the New Orleans Saints, however, will be the season's first big indicator of what the San Francisco 49ers are capable of, and how far they have (or haven't) come since 2009.
You might say the Saints are coming off a pretty decent year. The did, after all, win a rather important playoff game, known affectionately as the Super Bowl. Beyond that, however, the Saints match up against the 49ers in a way that will test San Francisco's weaknesses and deficiencies that opponents often exploited last season.
Saints' Passing Game Vs. 49ers' Pass Defense
The Saints somehow managed to out-gun even the Colts in Super Bowl XLIV. Drew Brees has been among the league's premier passers for the last four years, averaging over 4,500 yards a season since he showed up in New Orleans. The Saints offense was first in yards per game and fourth in passing yards per game.
The 49ers, on the other hand, ranked 21st in pass defense, getting burned by every major passing offense against whom they played. Whether it was Atlanta, Houston, Indianapolis, or Green Bay, the passers would get too much time, and the defense would be stretched thin all day.
The Saints air attack has weapons galore. Drew Brees gets to look at Marques Colston, Robert Meachum, Devery Henderson, Lance Moore, Reggie Bush, Jeremy Shockey, and now Jimmy Graham as targets on pass plays. Last year, their offense would have demolished the 49ers—no doubt about it. In 2010, the defense will need to bring everything they've got Monday night, or they will be out of the game early.
The coverage will need to be perfect, the pass rush must be heavy, and the game plan will have to be unpredictable at all times. Creative pressures and coverages will need to be drawn up to get Brees off his game—easier said than done against an offense that only allowed 20 sacks last year.
The good news is that the 49ers as a whole actually match up well against the champs; a smash mouth offense—if executed correctly—will keep the Saints awesome offense off the field much of the game.
49ers Passing Attack Vs. Saints Pass Defense
This will be a huge test for Alex Smith and the 49ers air attack. The New Orleans defense led the league in touchdowns in 2009 with eight, so any mistake could be costly.
Naturally, the 49ers will need to run to set up the pass, but they'll also need to pass to keep the defense honest.
The hard hitting, playmaking Saints defense registered 35 sacks against opponents last season, and 13 of them came from Will Smith. Therefore, he must be contained if Alex Smith is going to do his job. Attention must also be paid to Charles Grant and Anthony Hargrove, as they combined for another 10.5 sacks in 2009.
Darren Sharper will try to have a big day, because that's what he does. The aging safety led the Saints with nine interceptions over the 2009 season; three were taken to the house for a touchdown. These are the kind of momentum swings that makes it nearly impossible for opposing teams to keep up with New Orleans.
Saints Running Game Vs. 49ers Run Defense
New Orleans averaged 131.6 rushing yards per game, good enough for sixth in the NFL. Their backfield features Reggie Bush, and likely will return restricted free agent Pierre Thomas. Thomas is more of a banging back who hits between the tackles, while Bush (as most know) brings psychotic agility, lightning quick speed, and basically the entire circus with him when he takes the ball.
The 49ers run defense will need to be on point, but this is one area in which their defense shined brightly in 2009. The red and gold stifled some of the leagues better run games, although they did get hammered when they faced Michael Turner, Ryan Grant, and Chris Johnson.
It's reasonable to believe the 49ers can handle the Saints running game, as long as they don't get too obsessed with stopping their passing game, or get burned by Bush.
49ers Running Game Vs. Saints Run Defense
San Francisco's offense averaged 100 yards per game on the ground. This is misleading, however, since the swings were so wild that Frank Gore's yardage on a given day would run as high as 207 on 16 carries against Seattle in Week Two, to 25 yards on nine carries in Week 13.
Nevertheless, if 'Earth, Earth, and Earth' take off against the Saints, it could be the key to beating them. New Orleans' run defense ranked 21st against the run last season, and San Francisco's longest plays last year came on Gore's huge runs. Establishing the run threat is a must, even if the Saints had the 26th ranked pass defense.
Should the running game get in rhythm with the pass, and the 49ers put some lengthy drives together, they could do some damage. By the fourth quarter, the pounding might take a toll on the champs.
49ers Special Teams Vs. Saints Special Teams
Perhaps the deciding factor in the game, special teams will need to gleam on Monday Night in the form of field position, containment of game breakers, fundamentals, and clutch kicking.
Reggie Bush must never be taken lightly on punts or kicks; he can turn the tide in an instant there. Likewise, the 49ers special teams need to provide their own fireworks, with whomever they end up having field punts and kickoffs.
If the game comes down to a last-second field goal, both teams have kickers that can make clutch plays. Nedney, however, should give the 49ers a slight advantage with his experience at windy Candlestick—this isn't the Super Dome.
Synopsis
Week Two's Monday Night Football match up against the reigning Super Bowl Champions is the perfect stage for the 49ers to show how far they've come.
Pessimists say there's not a snowball's chance in hell that San Francisco can break the point spread. Realists acknowledge a tiny chance, but know the odds are stacked incredibly high against the red and gold squeaking out a win.
Optimists of the Faithful, on the other hand, see the light. The any-given-Sunday mantra works on Monday nights too. Ball control, solid defense, mistake-free special teams, and home field give the 49ers a shot at this one. No one's saying we're gonna dominate any aspect of the game, but we belong on the same field as these guys.
According to us, we might win this one—because we want to believe.
This article is
What is the duplicate article?
Why is this article offensive?
Where is this article plagiarized from?
Why is this article poorly edited?

San Francisco 49ers: Like this team?