Francisco Cordero "Steals" Win from Bronson Arroyo as Reds Win 5-4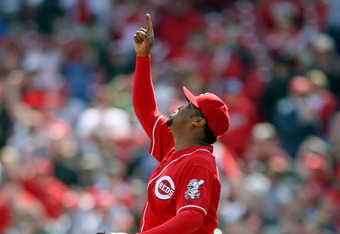 Andy Lyons/Getty Images
Bronson Arroyo was again the victim of bullpen mismanagement.
Arroyo has a knack for being the best pitcher in the Central Division one night and the worst pitcher who ever pitched an inning the next night.

He pitched a very good game Sunday, giving up six hits and two runs in eight strong innings. His day was done, and he left the game trailing 2-1.
Miraculously, the Reds clawed back and roughed up league-leading closer Matt Capps and took the lead at 4-2.

Of course, everybody out there in Redland knows what happens in the ninth inning of every game with the Reds ahead, by less than four runs that is.

That is right, kiddies—let us now bring out the big bull, El Toro, the save whore himself, Coco Cordero.

If you are a true Reds fan, you know that all bets are off whenever Cordero enters the ring...er...game.

There he was, called on to protect a now 4-2 lead and preserve a win for Arroyo. As has become his M-O, he started off with a walk, then blah...blah...blah, which translates into another (that is the fourth, and yes, I am counting) blown save—but hey, at least he didn't get a loss.

The top of the 10th inning saw the Reds get the go-ahead run when Jay Bruce scored on a Drew Stubbs single, putting Cincy in front 5-4. Do you know what else it did? It put Cordero in line to get a win even with the lousy inning he pitched in the ninth.

A Cordero protege, Nick Masset, came in for the home half of the 10th to cement the win for Cordero. He pitched terribly, reminding me so much of Coco that I nearly threw the remote at the TV.

To show you the length and girth of my disdain for Cordero, I came within a whisker of hoping the Nationals would win the game so that Coco would know how it feels for a starter to watch him blow the game up for him. My loyalty to the Reds prevailed, and I willed them to yet another win.

The point of this rant is twofold. First, and foremost, I made it a mission to write a scathing article every time Coco blows a save. Second, I wanted to point out the unjust rewards of MLB rules and scoring guidelines.

Should there not be a rule that if a reliever blows a save attempt, he CANNOT get a win regardless of anything else? I mean, come on; a guy pitches his ass off for eight innings and is in line for a win, watches it disappear, and watches his closer wannabe implode yet be the benefactor of the win. Please!

How stupid does that look in a box score? Cordero (W 2-3; BS-4). It is not like he redeemed himself in the next inning. The only thing that happened was his team scored a run the next inning. It is like a contradiction of terms: blown save, won the game.

Everything else aside, it was a good day for the Queen City fans. The Reds' win, coupled with a Cardinal loss to the Brewers, pulled the Reds back into a tie for first place.
This article is
What is the duplicate article?
Why is this article offensive?
Where is this article plagiarized from?
Why is this article poorly edited?

Cincinnati Reds: Like this team?