Kevin Kolb: Goals to Duplicate Aaron Rodgers' Post-Favre Success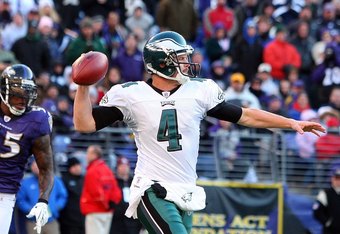 Jim McIsaac/Getty Images
When Brett Favre originally left the Green Bay Packers, the task of leading the team was left in the hands of the young Aaron Rodgers. Though it took Brett Favre a year, he made it to a divisional rival of the Packers, the Minnesota Vikings.
In the NFC East, a similar situation has risen. Donavan McNabb, the longtime leader of the Eagles, has left to play for a divisional rival, the Washington Redskins.
Set aside the 16 years of continuous play through hand injuries, the death of his father, his wife's battle with cancer, and whatever else Brett Favre had going on in his dramatic life, Donavan McNabb is pretty equal to Brett Favre on paper.
They played a difference of 107 games, which means McNabb played 58 percent of the games that Favre played, which is roughly half. Favre had 61,655 passing yards and McNabb has 32,873, which is a difference of 53 percent, also roughly half. McNabb also has 48 percent of the touchdown passes Favre threw. Finally, McNabb threw for 34 percent of the interceptions that Favre did.
In roughly half the amount of games Favre played, McNabb has accomplished just less than half of what Brett Favre had accomplished in his Packer career. The extreme difference in interceptions is McNabb's justification of the fact that he is slightly behind Favre's pace in other areas.
The point is, McNabb was just as important to the Eagles as Favre was to the Packers. Now that McNabb has joined their divisional rival, can Kevin Kolb accomplish what Rodgers did in Green Bay after the departure of Favre?
Rodgers has played in only 39 games for the Packers which is 15 percent of the games that Favre had played for the Packers. Rodgers has 2.5 percent more completion percentage than Favre finished with. He has 14 percent of the passing yards, 13 percent of the passing touchdowns and seven percent of the interceptions that Brett Favre has. Not to mention the fact that Rodgers has already run in nine touchdowns and Favre only had 13 in his entire Packer career.
So Aaron Rodgers has been on par with Brett Favre thus far in his short time with the Packers, and has been much better with ball security as well as in rushing the ball. What exactly does Kevin Kolb have to accomplish statistically to successfully fill the void of McNabb? Well, all the percentage change that Aaron Rodgers has accomplished is what Kolb must accomplish, and here are the results:
In order for Kevin Kolb to have successfully filled the void of McNabb in the same fashion as Rodgers, he will need to finish off the 2010 season with a completion percentage greater than 60.4 percent, throw for over 2950 passing yards, complete at least 20 passing touchdowns, and throw less than six interceptions. If Kolb could manage to run a few in that would help too, considering McNabb ran in 28 touchdowns on the ground over the course of 148 games.
Is it realistic to think Kevin Kolb can accomplish these numbers? A lot of people said it wasn't possible for Aaron Rodgers, and I think we all realize he's doing just fine. Aaron Rodgers has an extremely young team surrounding him going into the season next year. Most of this young team was on the playoff bound 2009 squad, and they are ready to give this thing another run of it.
The Eagles also have a young squad. Cutting older, yet productive, players like McNabb and Westbrook shows that they are committed to creating a team from the ground up. So both the Packers and the Eagles have similar teams in the fact that they are young, talented, and full of potential.
The first obstacle that blocks Kevin Kolb's road to greatness just happens to be Aaron Rodgers and the Green Bay Packers. The consensus as of now around the sports community is that the Packers will be winning hands down in the season opener, especially because it is Kolb's first game as the starting quarterback for the Eagles. Though, unlike Aaron Rodgers, Kolb had started a few games for McNabb due to injury before he became the official starter of the team.
I would love for Kevin Kolb to be able to develop into an excellent franchise quarterback. However, the odds are definitely stacked against him, as the numbers that I believe he must meet to consider his goal accomplished are not easy to come by.
Aaron Rodgers played excellent football in 2008, however, the team just could not win games, losing several in overtime. After leadership was established and things started flowing with the dangerous Packer offense, they had finished the 2009 season with an 11-5 record.
Similar things could happen with Kevin Kolb and the Eagles; I think they will be a tough team to beat in the upcoming years but, until we see Kolb in action it is hard to tell.
This article is
What is the duplicate article?
Why is this article offensive?
Where is this article plagiarized from?
Why is this article poorly edited?

Philadelphia Eagles: Like this team?