Donovan McNabb To Washington Redskins Is the Mistake of the Decade Thus Far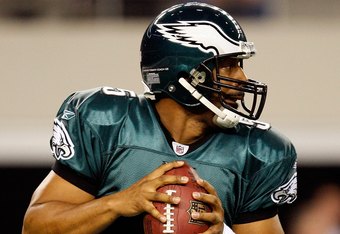 Ronald Martinez/Getty Images
The Eagles have confirmed that they have traded Donovan McNabb to their division rivals, the Washington Redskins. The Eagles will receive the Redskins' second round pick (No. 37 overall) and either a third or fourth round pick in the 2011 draft.
A trade like this will send waves of opinion throughout the media and fans alike, with opinion being split down the middle. On one hand some felt that his time as an Eagle had come to an end and the future lies with Kevin Kolb, whereas others felt he still has much to contribute a team that he has led for over a decade.
McNabb, the second overall pick in the 1999 draft, led the Eagles to five NFC Championship games, winning one, which lead to a defeat at the hands of the New England Patriots.
I firmly believe that this trade was a colossal mistake on the part of the Eagles.
Despite some durability concerns, McNabb has had exceptional statistics and a great winning percentage that ranks up there with the best of all time.

Giving a weapon, and leader, like that to a division rival is a bad move no matter the price given in return.

With six Pro Bowl appearances and seven consecutive seasons with a passer rating of at least 85, McNabb has just solidified the biggest question mark on the Washington Redskins.
With the turmoil and stunted development that Jason Campbell has experienced in his career thus far, the Redskins now have a legitimate starting quarterback. A quarterback who has beaten up on them various times in the past 11 years.
The decision to move forward with Kevin Kolb is an easy one to understand. He has a phenomenally accurate arm, something that will flourish in Andy Reid's West Coast offense, and could lead the Eagles for the next decade, possibly to similar success that McNabb has given them. With this, you also make the Redskins a better team.
With a defense that was great at times last year, and a Shanahan-and-Son-run offense, this move opens up dozens of opportunities. Rather than take a quarterback in the first round of the 2010 NFL Draft, the Redskins can now take one of the top offensive tackles—possibly Russell Okung—to solidify what was a mediocre line last year. They also can rest easy knowing they do not have to play a rookie quarterback straight away.
McNabb gives them movement. They can take a project quarterback, possibly John Skelton from Fordham, and mould him into their offense over the next four or five years. They can switch to a best player available mentality in the draft. They can instill a confidence in the fans that has been lacking in recent years.
When Brett Favre made the decision to come back to the NFL, the Packers made a conscious choice not to allow him to play in the NFC North, opting to trade him to the New York Jets. Last season showed why. Favre played phenomenally against the Packers, wanting to show the management why they shouldn't have let him go. This is the mentality that the Eagles front office have just instilled in McNabb. Payback.
Don't hand your enemy a shotgun. Especially a shotgun with a point to prove.
Whether McNabb is elite or not is a fact that will be debated from now until he is eligible for the Hall of Fame, but for now I think we can all agree that he makes the Redskins a viable contender in the NFC Beast.
This article is
What is the duplicate article?
Why is this article offensive?
Where is this article plagiarized from?
Why is this article poorly edited?

Washington Redskins: Like this team?