March Madness started in Indianapolis, folks.
There, the NFL combine in spirit kicked off the draft process, beginning the high-profile evaluations of the draft's most notable players, creating a shifting stock market, controversies and opinions that combine with free agency to morph into something even wilder.
One obvious result of this madness? Overreactions. Overcompensations. Overrated prospects.
It happens every year. There's a player who gets mostly universal praise that hits the league in the first round and goes boom, whether it's getting into trouble, never adapting right or simply flopping. After a look at an updated mock draft, let's dial in on some guys who could disappoint.
2016 NFL Mock Draft
| | | | | |
| --- | --- | --- | --- | --- |
| Pick | Team | Player | Position | School |
| 1 | Tennessee Titans | Laremy Tunsil | OT | Ole Miss |
| 2 | Cleveland Browns | Jared Goff | QB | California |
| 3 | San Diego Chargers | Jalen Ramsey | CB/S | Florida State |
| 4 | Dallas Cowboys | Myles Jack | LB | UCLA |
| 5 | Jacksonville Jaguars | Mackensie Alexander | CB | Clemson |
| 6 | Baltimore Ravens | Ronnie Stanley | OT | Notre Dame |
| 7 | San Francisco 49ers | Joey Bosa | DL | Ohio State |
| 8 | Philadelphia Eagles | Jack Conklin | OT | Michigan State |
| 9 | Tampa Bay Buccaneers | Darron Lee | LB | Ohio State |
| 10 | New York Giants | DeForest Buckner | DE | Oregon |
| 11 | Chicago Bears | Noah Spence | DE/LB | Eastern Kentucky |
| 12 | New Orleans Saints | Reggie Ragland | LB | Alabama |
| 13 | Miami Dolphins | Shaq Lawson | LB | Clemson |
| 14 | Oakland Raiders | Vernon Hargreaves III | CB | Florida |
| 15 | Los Angeles Rams | Carson Wentz | QB | North Dakota State |
| 16 | Detroit Lions | Taylor Decker | OT | Ohio State |
| 17 | Atlanta Falcons | Leonard Floyd | LB | Georgia |
| 18 | Indianapolis Colts | A'Shawn Robinson | DT | Alabama |
| 19 | Buffalo Bills | Paxton Lynch | QB | Memphis |
| 20 | New York Jets | Jonathan Bullard | DE | Florida |
| 21 | Washington | Michael Thomas | WR | Ohio State |
| 22 | Houston Texans | Robert Nkemdiche | DL | Ole Miss |
| 23 | Minnesota Vikings | Josh Doctson | WR | TCU |
| 24 | Cincinnati Bengals | Laquon Treadwell | WR | Ole Miss |
| 25 | Pittsburgh Steelers | Eli Apple | CB | Ohio State |
| 26 | Seattle Seahawks | Ezekiel Elliott | RB | Ohio State |
| 27 | Green Bay Packers | Sheldon Rankins | DT | Louisville |
| 28 | Kansas City Chiefs | Corey Coleman | WR | Baylor |
| 29 | Arizona Cardinals | Emmanuel Ogbah | DE | Oklahoma St. |
| 30 | Carolina Panthers | Kevin Dodd | DE | Clemson |
| 31 | Denver Broncos | Jason Spriggs | OT | Indiana |
Author's projections
Overrated Prospects Who Will Disappoint
15. Los Angeles Rams: Carson Wentz, QB, North Dakota State
Let's see, small school, inflated stock in a poor quarterback class and a franchise that just relocated to Los Angeles.
What in the world could go wrong?
Folks didn't hear much of anything about North Dakota State quarterback Carson Wentz during the 2015 season. The conversation was mostly about California's Jared Goff with a side of Memphis' Paxton Lynch.
Once the season ended, though, Wentz underwent this change into a guy with a booming pro arm, good stature and the upside of maybe someone like Andrew Luck.
Whoa, right?
To be fair, Wentz has good size at 6'5" and 237 pounds. He does throw well, and a 4.77-second 40-yard dash at the combine shows he can get downfield if necessary. In the words of Cleveland Browns head coach Hue Jackson, he showed well in interviews, too, according to Scott Petrak of the Elyria Chronicle-Telegram:
#Browns Hue Jackson said Carson Wentz and Jared Goff handled themselves well at combine. Dismissed report Goff had bad interview.

— Scott Petrak ct (@ScottPetrak) March 3, 2016
But the situation can fail a prospect as much as the other way around.
The Rams don't figure to wait long on the guy who will supposedly be the new face of the franchise. Wentz can have all the upside in the world while handing the ball off to Todd Gurley, but if he's throwing to Kenny Britt, Tavon Austin and a hodgepodge of others names, the rookie debut will end in disappointment.
Some would say the Rams won't let the locale change influence how quickly they go about trying to upgrade quarterback, but this is the NFL—they know better.
18. Indianapolis Colts: A'Shawn Robinson, DT, Alabama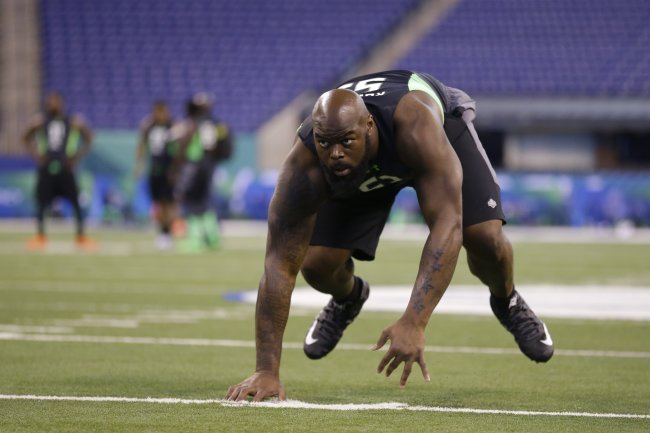 Michael Conroy/Associated Press
Slap Alabama next to a guy's name, and expectations shoot through the roof.
So it goes with defensive tackle A'Shawn Robinson, who looked like one of the top prospects in the draft before folks started to break down his film.
Coming in at 6'4" and 307 pounds, Robinson's frame suggested that he could plug running lanes and shoot up the field as a pass-rusher.
As a conclusion by NFL.com's Lance Zierlein reveals, though, Robinson has more issues at the point of attack than initially thought:
Hard to find an interior lineman with a more well-­proportioned frame than Robinson. His size and overall talent level will have NFL teams drooling and projecting him along any and all defensive fronts, but his film might leave them hungry for more. As opposed to teammate Jarran Reed who already plays with polish, Robinson is a projection-­oriented two-­gapper who can step in right away and help plug holes in a leaky run defense. If Robinson can improve his leverage issues and pass rushing, he has all-­pro potential; however, he's not a sure thing to become a star.
The Indianapolis Colts have the defensive line as one of their biggest needs this year. Questions about upside or not, nabbing a Nick Saban-coached guy who seems like one of the best in class isn't a terrible idea.
Last year, the Colts ranked 24th against the pass and 25th against the rush. Attempting to upgrade the trenches and produce the ripple effect on the rest of the unit is the smartest way to go about things.
The problem, though, is if Robinson struggles in the areas of weakness his film exploited. Can he turn the tide, continue to develop and eventually become a noteworthy starter? It's there, but don't expect to see much of it as a rookie when Robinson faces a steep learning curve.
22. Houston Texans: Robert Nkemdiche, DL, Ole Miss
Not too long ago, some mock drafts would have pasted Ole Miss' Robert Nkemdiche into the top 10.
One off-field incident later and a slew of research into film and other factors, though, and Nkemdiche's stock is a shell of its former self.
The former SEC star certainly looks the part at 6'3" and 294 pounds, but none of his combine drills ranked among the best at his position and talent alone isn't enough to help a guy escape "disappointment" territory.
ESPN's Mel Kiper Jr. summed up one of the biggest questions around Nkemdiche, as captured by Michael Carvell of the Atlanta Journal Constitution:
Mel Kiper Jr. on Robert Nkemdiche: 'Can you motivate him to the heights that he can get to?' https://t.co/UbBGQglurX

— Michael Carvell (@Carvell_AJC) March 8, 2016
Rivals.com's Mike Farrell echoed these sentiments:
He did it on the field? His production was inconsistent at best https://t.co/p2JQmYQs3O

— Mike Farrell (@rivalsmike) March 4, 2016
The best hope for Nkemdiche is to land somewhere with a strong nurturing environment capable of letting him develop while showing him the way.
The Houston Texans don't have a glaring need along the line, but Vince Wilfork continues to get up there in age and having J.J. Watt show Nkemdiche the ropes to both motivate him and help unlock that potential doesn't seem like a bad idea—especially if they can someday get on the field together.
Nkemdiche won't take the league by storm, which is disappointing. He may never do it. Overblown after rising to unrealistic heights as a top prospect out of high school, Nkemdiche will hit one of the harsher reality checks upon arrival in the NFL.
Stats courtesy of NFL.com and are accurate as of Monday. All advanced metrics courtesy of Pro Football Focus.