Even with the top players likely to be franchise-tagged, pass-rushers still figure to take the biggest bite out of the NFL's wealth of spending money in free agency.
Many teams around the league are starved for players who can consistently pressure the quarterback, and with the millions of dollars expected to be available once the market opens next month, pass-rushers of all shapes and sizes could cash in with lucrative deals.
According to Kevin Seifert of ESPN.com, the 32 NFL teams will enter free agency with roughly $1 billion to spend. While Super Bowl MVP Von Miller and the New York Jets' Muhammad Wilkerson remain likely to receive franchise tags, the pass-rushers who do make it to the market should find a number of open checkbooks.
"[Free agency] is just going to explode," former NFL executive and current ESPN analyst Joe Banner told Seifert. "People are just not realizing what is sort of already happening and will keep happening."
More money won't mean more problems for pass-rushers.
Miller may get the tag, but the Denver Broncos will eventually make him the highest-paid defensive player in the NFL. His next deal figures to be worth well over $100 million total, with $50 million or more guaranteed. A 26-year-old edge terror with four Pro Bowls and one of the most dominant finishes to a championship season in recent memory on his resume, Miller will have earned his blockbuster deal.
Wilkerson, who is coming off a broken leg suffered in the Jets' season finale, may have to play the 2016 season under the franchise tag. At an estimated $13.4 million, Wilkerson will still have leverage to get the ball rolling on a multiyear deal.
Who else is going to get paid?
"Everybody who hits the market," Banner said. "It's that simple. Someone has to get all this money. To me, it's almost malpractice not to see what could happen on the market. The money is going to be there. It has to be."
And teams will be paying premiums for pass-rushers.
Miami Dolphins defensive end Olivier Vernon might be the best of the bunch behind Miller and Wilkerson. He's produced 29 sacks over his first four NFL seasons, including 25.5 since 2013. Only 25, Vernon will enter free agency with the possibility of joining Miller as one of the highest-paid defensive players in the game.
In fact, Armando Salguero of the Miami Herald wrote that Vernon will command $14-15 million per year in his next deal—whether it's from the Dolphins or one of the many pressure-hungry teams waiting in free agency.
It's not difficult to find the franchises most likely to spend on a pass-rusher. Salguero mentioned the Atlanta Falcons, New York Giants, San Francisco 49ers, Oakland Raiders, Indianapolis Colts and Chicago Bears as possibilities.
You can safely add the Arizona Cardinals, Cleveland Browns, Dallas Cowboys, Jacksonville Jaguars, New Orleans Saints, San Diego Chargers and Tampa Bay Buccaneers to the list, though most teams could use another talented pass-rusher.
Vernon won't be the only quarterback-disruptor in demand.
Malik Jackson, 26, will be a free agent after helping the Broncos win Super Bowl 50. He's coming off a dominant season in which he tallied 5.5 sacks and defended seven passes while also leading the Broncos in tackles for loss (11). His ability to play in any front and create havoc as both a defensive end and tackle will give him a huge market.
Just how much would Jackson be worth in a free-agency period flush with cash? He has an idea, per Brooke Cersosimo of NFL.com:
I'm not looking for J.J. Watt numbers or Ndamukong Suh numbers. I'm thinking more just getting paid. One hundred million dollars is a lot of money, and J.J. was Mr. Defense a few times and a Pro Bowler. Suh was doing great things when he was in Detroit, so I'm not even saying $100 million. I'm not even saying $90 million, but somewhere in that ballpark would be cool.
Just a casual $90 million.
But those that miss out on Vernon and Jackson will have other options.
Jason Pierre-Paul enters free agency as one of the more difficult players to evaluate. He was franchise-tagged by the Giants after a 12.5-sack season in 2014, but he blew up his right hand in a fireworks accident last summer and played in just eight games (with one sack) in 2015.
While JPP might be damaged goods physically, he just turned 27 years old last month and was still disruptive last season.
Ben Stockwell of Pro Football Focus highlighted Pierre-Paul's finish:
Racking up 14 pressures in his first two games of the season against Tampa Bay (two hits, four hurries) and New England (one hit, seven hurries), Pierre-Paul set the stage for a productive second half, collecting 41 pressures from his Week 9 return, bettered by only four 4-3 defensive ends in that time period.
With an offseason to learn more ways around the difficulties of playing with one good hand, Pierre-Paul could bounce back in 2016 and supply big sack numbers.
Using a survey of five league sources, Jordan Raanan of NJ.com projected Pierre-Paul's next deal to be for two years and $21.2 million, with $6 million guaranteed. That's over $10 million per season.
If teams can look past his one sack in 2015, it's possible JPP will command an even bigger payday—with teams willing to give him more years and more money—once he hits free agency next month.
Mario Williams of the Buffalo Bills will likely join Pierre-Paul on the open market.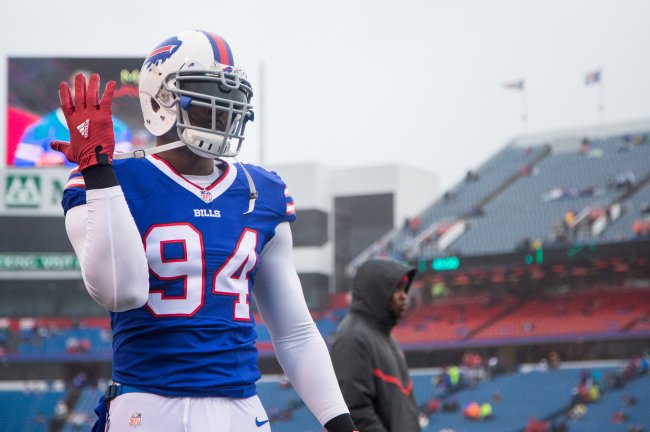 Brett Carlsen/Getty Images
According to John Wawrow of the Associated Press, the Bills have been planning on releasing Williams since at least December. Williams struggled during Rex Ryan's first season in Buffalo, registering just five sacks in 15 games.
Williams, however, had entered the 2015 season with three straight years of at least 10½ sacks, including 14½ in 2014. Unless we are to believe the 31-year-old defensive end fell off a cliff athletically, it can be safely assumed Williams still has plenty to give for the right scheme. In fact, teams running a 4-3 front should be willing to throw big numbers at the 2006 No. 1 overall pick.
Another interesting case study will be Seattle Seahawks linebacker Bruce Irvin.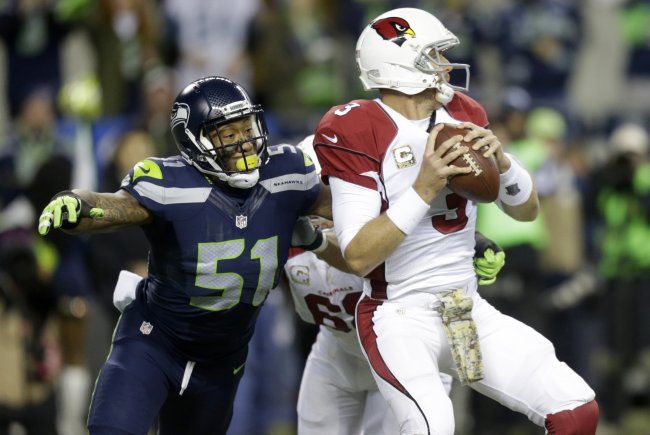 Stephen Brashear/Associated Press
While he entered the NFL as a speed demon off the edge, he played the majority of his time in Seattle as a jack-of-all-trades linebacker. His best-case scenario might be to find a 3-4 team in need of a pass-rusher.
After registering eight sacks as a rookie, Irvin produced only 14 over his last three seasons. He could look for a better opportunity to get after the quarterback, and, again, there's no shortage of teams in need of such a player. Cue the bidding frenzy.
In fact, Mike Florio of Pro Football Talk wrote that Irvin will sign a deal worth more than $10 million per year.
Haven't heard of Jaye Howard? You will by next month. The 27-year-old defensive tackle had 5½ sacks during a breakout season for the Kansas City Chiefs in 2015. As a 301-pound interior defender who can rush the quarterback, he'll enter free agency with the track record to command big money.
The list goes on and on.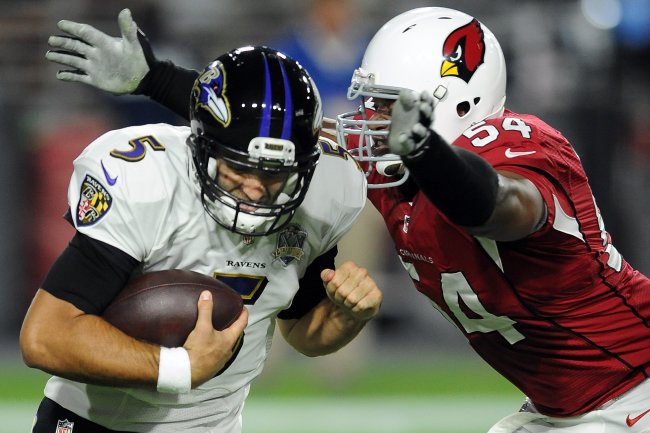 John Cordes/Associated Press
Nick Perry, a first-round pick in 2012, is headed for the open market after registering 3½ sacks in two playoff games for the Green Bay Packers. While injury-prone, he's proved to be a disruptive player when on the field. His best football might be in front of him.
Robert Ayers and William Hayes both excelled as pass-rushers in part-time roles last year. Ayers is coming off a season in which he tallied nine sacks for the Giants, while Hayes had 5½ sacks—continuing his run of at least four sacks in four straight seasons—for the then-St. Louis Rams.
Miami's Derrick Shelby played in place of Cameron Wake last season and impressed, both as a run-stopper and pass-rusher. He's still only 26 years old.
Veterans Tamba Hali and Dwight Freeney can still make an impact as situational pass-rushers. Despite turning 32 years old in November, Hali has six or more sacks in seven straight seasons and nine of his 10 overall. Freeney signed with the Cardinals in October and piled up eight sacks in 11 games.
Don't forget about defensive tackle Nick Fairley, a 2011 first-round pick of the Detroit Lions who signed a one-year deal with the Rams last offseason. He was an effective player during his lone season in St. Louis, which leaves him with the ability to get a multiyear deal next month. Interior disruptors always find a market.
Want to go the risky route? Greg Hardy and Aldon Smith will be available. Each player has at least one season with 14 or more sacks. If the past has taught us anything, it's that a team or two will grant an opportunity to a player capable of reaching the opposing quarterback.
There's also Junior Galette, who had back-to-back seasons with 10 or more sacks before the Saints released him prior to the 2015 season. He landed in Washington, where he promptly tore his Achilles and missed the entire year.
The NFL is flush with cap space and drenched with intriguing pass-rushing options set to enter free agency. It's a combination of factors that should lead to incredible contracts for those capable of providing one of the most important assets in football.
If you are a pass-rusher headed for the open market, expect the largest sum of spending money in league history to head your way.
Zach Kruse covers the NFL for Bleacher Report.