The college football season ended over a month ago, and 2016 NFL draft prospects won't get another chance to impress potential NFL employers until the NFL Scouting Combine later this month. In any other world, this would represent a window to relax while carefully crafting draft boards behind the scenes.
Normal rules, however, don't apply to the NFL draft.
Instead, most analysts will release five separate batches of rankings this week. Even with no live football to digest, these appraisals change drastically. Infinite opinions lead to an array of different conclusions, but groupthink tends to regulate popular takes on prospects.
Take Carson Wentz for example. When the North Dakota State quarterback landed at No. 30 in draft analyst Todd McShay's first mock draft on ESPN.com, a first-round placement felt like a reach. Due to a strong Senior Bowl showing, Wetnz's stock has since soared to the moon.
The FCS standout is suddenly all anybody can talk about. McShay's second mock draft had the Dallas Cowboys grabbing him at pick No. 4. In a landscape where one exhibition game and closer inspection of tape can significantly catapult a player's stock, watching someone run fast or jump high in shorts can make or break a prospect's future.
Before the combine forces everyone to again redo their mock drafts, here are the latest Round 1 projections featuring predictions for where the top wild cards will land.
Round 1 NFL Mock Draft

| | | |
| --- | --- | --- |
| Pick | Team | Player |
| 1 | Tennessee Titans | Laremy Tunsil, OT, Ole Miss |
| 2 | Cleveland Browns | Jared Goff, QB, California |
| 3 | San Diego Chargers | Joey Bosa, DE, Ohio State |
| 4 | Dallas Cowboys | Jalen Ramsey, S/CB, Florida State |
| 5 | Jacksonville Jaguars | DeForest Buckner, DE, Oregon |
| 6 | Baltimore Ravens | Ronnie Stanley, OT, Notre Dame |
| 7 | San Francisco 49ers | Laquon Treadwell, WR, Ole Miss |
| 8 | Miami Dolphins | Vernon Hargreaves, CB, Florida |
| 9 | Tampa Bay Buccaneers | Emmanuel Ogbah, DE, Oklahoma State |
| 10 | New York Giants | Sheldon Rankins, DT, Louisville |
| 11 | Chicago Bears | Myles Jack, LB, UCLA |
| 12 | New Orleans Saints | A'Shawn Robinson, DE/DT, Alabama |
| 13 | Philadelphia Eagles | Taylor Decker, OT, Ohio State |
| 14 | Oakland Raiders | Jaylon Smith, LB, Notre Dame |
| 15 | Los Angeles Rams | Carson Wentz, QB, North Dakota State |
| 16 | Detroit Lions | Andrew Billings, DT, Baylor |
| 17 | Atlanta Falcons | Shaq Lawson, DE, Clemson |
| 18 | Indianapolis Colts | Reggie Ragland, ILB, Alabama |
| 19 | Buffalo Bills | Robert Nkemdiche, DT, Ole Miss |
| 20 | New York Jets | Ezekiel Elliott, RB, Ohio State |
| 21 | Washington | Jarran Reed, DT, Alabama |
| 22 | Houston Texans | Paxton Lynch, QB, Memphis |
| 23 | Minnesota Vikings | Michael Thomas, WR, Ohio State |
| 24 | Cincinnati Bengals | Josh Doctson, WR, TCU |
| 25 | Pittsburgh Steelers | Kendall Fuller, CB, Virginia Tech |
| 26 | Seattle Seahawks | Jack Conklin, OT, Michigan State |
| 27 | Green Bay Packers | Darron Lee, OLB, Ohio State |
| 28 | Kansas City Chiefs | Vernon Butler, DT, Louisiana Tech |
| 29 | Arizona Cardinals | Leonard Floyd, OLB, Georgia |
| 30 | Carolina Panthers | Mackensie Alexander, CB, Clemson |
| 31 | Denver Broncos | Hunter Henry, TE, Arkansas |
Author's Projections
Biggest Round 1 Wild Cards
Carson Wentz, QB, North Dakota State
So is Wentz a fringe first-round choice, or is he now the top quarterback off the board?
After spending his collegiate career hidden in the FCS shadows, the 23-year-old dazzled during the Senior Bowl. Suddenly, he's the belle of the ball. Rather than wondering if someone will take a first-round flier, scouts wonder if he'll get snagged before Jared Goff and Paxton Lynch, perhaps as early as pick No. 2, by the quarterback-needy Cleveland Browns.
The Washington Post's Jon Harris labeled Wentz the big Senior Bowl winner:
He's built exactly as you'd want an NFL quarterback to be. He has a fluid throwing motion and the ball comes out of his hand quickly and accurately. Many tall quarterbacks struggle getting the ball out of their hands as they have a prolonged arm motion and delivery, Wentz does not. Furthermore, at 6-foot-5, 233 pounds, he's not just a pocket passer.

'With my size and my unique abilities, I can do a number of different things,' Wentz said. He's not wrong.
A strong combine performance could cement his new status as this class' hottest riser. Yet a weak showing or better displays from Goff or Lynch could also bring the masses back down to earth.
If the current hype lasts, the Los Angeles Rams won't have the chance to market him as the fresh face of their move from St. Louis. Yet it's too premature to pair him with the Browns, Cowboys, San Francisco 49ers or Philadelphia Eagles, so let's keep a conservative forecast that also factors in current excitement by pushing him above Lynch to No. 15.
Jaylon Smith, LB, Notre Dame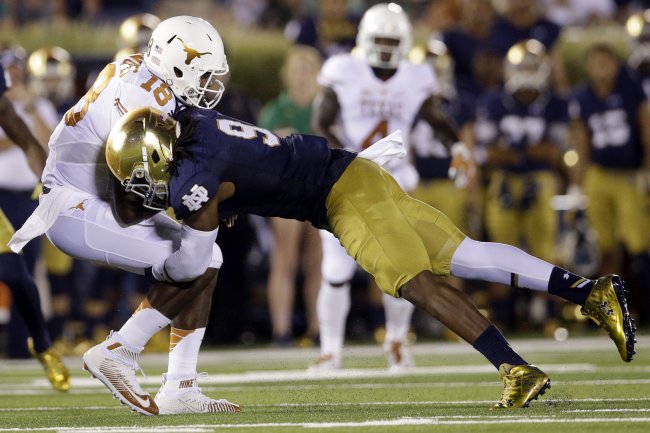 Nam Y. Huh/Associated Press
Most polarizing prospects are mired by erratic play, unfulfilled promise or troubling behavior off the field. For Jaylon Smith, an untimely injury placed his draft stock in peril.
The Notre Dame linebacker suffered a torn ACL and MCL during the Fiesta Bowl on Dec. 31, unceremoniously ending a season in which he amassed 114 tackles. While Smith won't be able to partake in combine events, Bleacher Report's Matt Miller said he should be ready for the start of the 2016 season:
If not for the significant injury, the swarming linebacker would have little trouble securing a top-10 spot. NFL Media analyst Bucky Brooks (via NFL.com's Chase Goodbread) sung Smith's praises on the NFL Network:
Jaylon Smith is an all-time athlete, a guy you absolutely love. He's a thumper in the middle, he can run from sideline to sideline. He's very violent in his play, a guy that I believe is a three-down linebacker, very versatile. He kind of reminds me of a young Patrick Willis in terms of his ability to play in the middle of a 3-4 defense. (He'll) make plays, communicate all the calls, and do all the things you look for from that position. A natural leader. He's a guy that I think is going to be a star. If not for the injury, I think we're talking about a top-five talent.
Pro Football Focus' Steve Palazzolo also gushed over his field presence:
Watching some Sheldon Day, but can't help but watch Jaylon Smith morphing around the field like a Madden glitch

— Steve Palazzolo (@PFF_Steve) February 12, 2016
Injuries are an inevitable part of football, but will a team knowingly invest on a rehabbing player over a currently healthy contemporary? While it creates enough risk to exclude Smith from the top 10, he shouldn't fall further than the top 15. There's room for Smith to rise if his recovery progresses by draft day.
Sheldon Rankins, DT, Louisville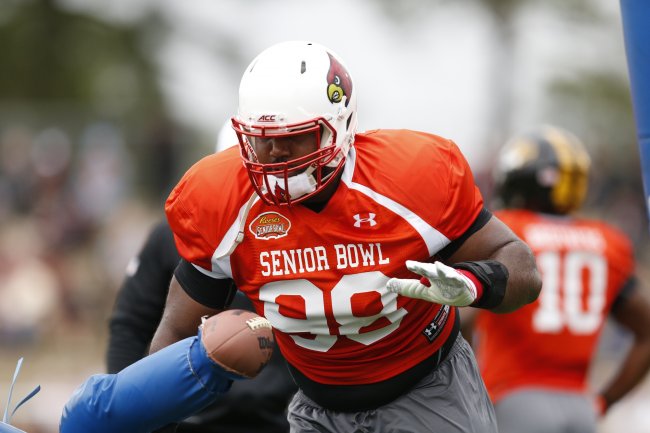 Brynn Anderson/Associated Press
Sheldon Rankins didn't play in the Senior Bowl, but he still used the event to his advantage.
Before spraining his knee and withdrawing from the game, the Louisville defensive tackle stood out in practices. CBS Sports' Dane Brugler called him "nearly unblockable during one-on-one drills."
McShay also took notice, leapfrogging Rankins to No. 10 in his latest practice run.
"We've been on Rankins' bandwagon for quite some time, as his combination of quickness and power popped off the screen whenever we turned on the film," McShay wrote. "After having a terrific week of practices at the Senior Bowl, the versatile D-lineman is shooting up draft boards."
Meanwhile, McShay's ESPN Insider foil, Mel Kiper Jr., left Rankins outside of his preliminary Round 1 projections altogether. No two draft experts will agree about everything, but such a large discrepancy displays stark volatility in the prospect's draft outcome.
By April 28, the consensus will likely stray to McShay's side. The New York Giants possess the No. 10 pick and need help everywhere after allowing the most yards last season. Finally, investing in a linebacker would mark a nice change for general manager Jerry Reese, but past results indicate he's more likely to grab a high-upside disruptor in the trenches.