Now that the 2015 NFL season has come to a close with the Denver Broncos' 24-10 win over the Carolina Panthers in Super Bowl 50 on Sunday, football fans all over the country will turn their attention back to their own teams and wonder how they might reach the NFL's summit.
Free agency and draft chatter will dominate the football news cycle for the coming months. According to the Times-Picayune's Evan Woodbery, teams can begin negotiating with pending unrestricted free agents March 7, but the league year and free-agency frenzy doesn't begin in earnest until 4 p.m. ET on March 9. That is when teams and players can finalize new contracts.
NFL.com's Gregg Rosenthal has a list of the 20 biggest free agents for the upcoming season. While several of the players mentioned there have had rumors swirling for quite some time, only a few saw updates on their respective situations break into the Super Bowl-dominated news cycle.
Here's a look at the latest rumors to come down the pike, along with predictions for each player and a look at another big-name free agent that is likely to change teams this offseason.

Von Miller, LB, Denver Broncos
We'll start with pass-rusher extraordinaire Von Miller, who etched his name into history by winning the Super Bowl MVP. The 26-year-old linebacker racked up six tackles, 2.5 sacks and two forced fumbles against Carolina on Sunday, a perfect sequel to the five tackles, 2.5 sacks and one interception he nabbed against New England in the AFC Championship Game.
Miller's performances against Cam Newton and Tom Brady in the playoffs proved that he's an indispensable, central component of the Broncos' terrific defense. Naturally, Denver is focused on keeping Miller and is reportedly ready to use their franchise tag on him, per NFL Network's Ian Rapoport:
#Broncos have a choice for their franchise tag: Brock Osweiler or Von Miller. Sources says they'll tag Miller, then try to work out a deal.

— Ian Rapoport (@RapSheet) February 7, 2016
While it may seem painfully obvious that Miller is more important to Denver than quarterback Brock Osweiler, this looming decision was probably a bit tougher a couple of months ago than it seems right now.
Peyton Manning hasn't officially said he's going to retire, but it would seem to be in his best interest to do so. Osweiler would then be the likely successor after throwing for 1,967 yards, 10 touchdowns and six interceptions in eight appearances and showing flashes of potential.
Well, Osweiler could've thrown 15 or 20 touchdowns in that span and the above point would still be rendered impractical after Miller's postseason display. There is no way the Broncos are letting Miller leave town, and if it takes using the franchise tag on him to buy time to negotiate a long-term deal, so be it.
Prediction: Miller stays with Denver Broncos
Sam Bradford, QB, Philadelphia Eagles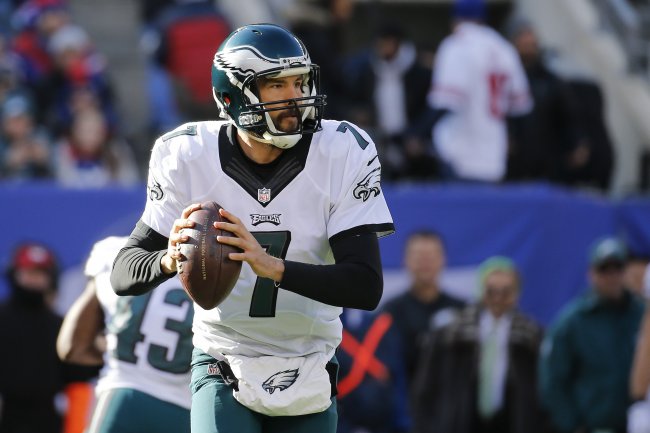 Julio Cortez/Associated Press
The Chip Kelly era in Philadelphia is no more, and that has led to speculation and rumors regarding the future of the high-profile talent he brought into the Eagles organization to run his idiosyncratic offensive schemes. Chief among those players is quarterback Sam Bradford, whose play steadily improved from frustratingly impotent to excessively competent over the course of the season.
Sam Bradford Splits, 2015-16 Season

| | | | | | | | |
| --- | --- | --- | --- | --- | --- | --- | --- |
| Month | CMP/ATT | YDS | CMP % | AVG | TD | INT | RAT |
| September | 73/117 | 678 | 62.4 | 5.80 | 3 | 4 | 72.5 |
| October | 97/157 | 1,088 | 61.8 | 6.93 | 6 | 6 | 79.3 |
| November | 44/61 | 531 | 72.1 | 8.71 | 2 | 0 | 109.4 |
| December | 102/159 | 1,108 | 64.2 | 6.97 | 6 | 3 | 89.3 |
| January | 30/38 | 320 | 78.9 | 8.42 | 2 | 1 | 108.3 |
ESPN.com
Bradford made strides despite playing with a bad offensive line, a hot-and-cold run game and a wide receiver corps that dropped far too many passes. Though some Philly fans might not see a high ceiling with Bradford at the helm, there is some potential here.
ESPN's Adam Schefter reported Sunday that the team could be willing to sign him to a long-term contract while also bringing up a former Eagles quarterback as a potential replacement:
Eagles are not expected to use franchise tag on QB Sam Bradford, per league sources, though they still have some interest in re-signing him.

— Adam Schefter (@AdamSchefter) February 7, 2016
A name to watch with Eagles' off-season QB maneuvers: Nick Foles. Eagles' HC Doug Pederson drafted Foles and is interested, per NFL sources.

— Adam Schefter (@AdamSchefter) February 7, 2016
Contrary to Schefter's scoop, Philly.com's Zach Berman reported the team is still mulling whether or not to use its franchise tag on Bradford, adding that Foles is not in the discussion:
The Eagles have not made a decision yet on whether they will use their franchise tag on quarterback Sam Bradford, according to a league source, despite an ESPN report Sunday that said the Eagles are not expected to use the tag on the quarterback.

The ESPN report also said Eagles coach Doug Pederson is interested in reacquiring Nick Foles, although the source said the Eagles have not had any discussions about Foles. With Chip Kelly in charge last offseason, the team dealt Foles in a package for Bradford that included surrendering the team's 2016 second-round pick.
It is a tough situation for the Eagles. Bradford's limitations and bad luck with injuries are well-documented at this point, but if the team doesn't keep him, they've essentially burned a second-round pick.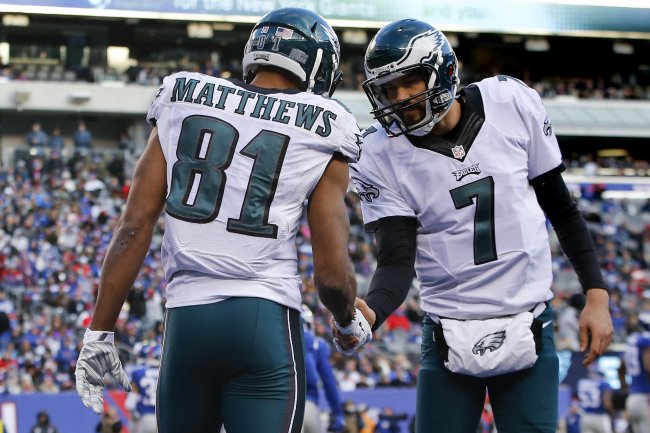 Kathy Willens/Associated Press
If they do keep him—whether it's on a franchise tag or longer deal—he will presumably take up quite a bit of salary-cap space on a team that has plenty of holes to fill and needs time for head coach Doug Pederson to establish a new identity. PhillyVoice.com's Angelo Cataldi is calling his shot, predicting Eagles Executive Vice President of Football Operations Howie Roseman won't bring Bradford back:
In fact, in his first month back as the still-uncrowned GM, he has already signed Vinny Curry, Zach Ertz and Lane Johnson to big new contracts, with Fletcher Cox nearing the biggest deal of all. Those four players represent the best draft decisions Roseman has made as GM, among countless other misfires.

Meanwhile, Sam Bradford has no connection to Roseman, who was in exile last year when Kelly traded Nick Foles (another Roseman favorite) and a second-round pick to get the oft-injured quarterback. Bradford is Kelly's guy, and that affiliation will be a pivotal factor in the decision to let him go.
It seems likely the Eagles will let Bradford go, soldier on with Mark Sanchez—who is locked up for another year—and draft a quarterback that Pederson can develop as he sees fit.
This leaves Bradford to hit the open market, where he should find some suitors, though perhaps not ones willing to pay him an exorbitant amount of cash.
Where will Sam Bradford end up in 2016?
The Houston Texans would be an interesting possibility. Brian Hoyer was excellent during the regular season, but his playoff implosion could have the team second-guessing his efficacy.
Should the Broncos see Manning retire and fail to strike a deal with Osweiler, also a pending free agent, they could absolutely get back to another Super Bowl with Bradford at the helm. Heck, they could seemingly do that with a scarecrow at quarterback so long as that defense remains intact.
Cleveland is perpetually in need of a quarterback, and it's possible Kelly could bring Bradford to San Francisco.
It's a murky situation, and Bradford could just as easily stay in Philadelphia. However, it seems like he will leave and Kelly will bring him into the fold in San Francisco, which has the cap space to run an experiment with him.
Prediction: Bradford to San Francisco 49ers


Eric Berry, S, Kansas City Chiefs
If there's a team that is going to be as keen on retaining it's biggest upcoming free agent as Denver, it would have to be the Kansas City Chiefs, who are looking to keep safety Eric Berry in town for the foreseeable future.
Berry was named the AP's Comeback Player of the Year for the 2015 season, playing in all 16 games and racking up 61 tackles, two interceptions and 10 passes defensed after being diagnosed with Hodgkin's lymphoma in December 2014. He was also named first-team All-Pro for the second time in his career.
Rapoport reported Sunday the team is already working on a new contract for their inspirational talisman:
While #Panthers & #Broncos prepare for #SB50, teams doing business: #Chiefs ramping up talks with Eric Berry for an extension, for instance.

— Ian Rapoport (@RapSheet) February 3, 2016
Berry received a tremendous amount of support from his organization and fans this season. Kansas City is a good team with a real shot at returning to the playoffs next season. Keeping Berry is a no-brainer, health permitting.
If they can lock down Berry and stud cornerback Marcus Peters continues to develop, the Chiefs should have one of the league's better secondaries for years to come.

Prediction: Kansas City keeps Berry
Older Chatter

Eric Weddle, S, San Diego Chargers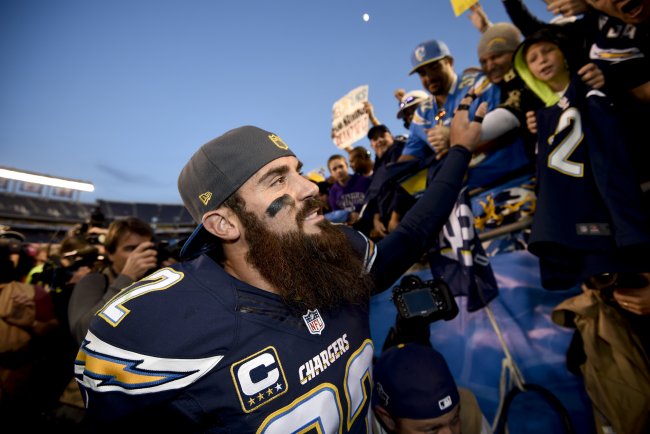 Denis Poroy/Associated Press
Chargers fans have had to come to terms with this situation for awhile now: San Diego isn't going to keep star safety Eric Weddle.
Their relationship began to fray in the summer of 2015 when the Chargers dragged their feet on discussing a contract extension for the three-time Pro Bowler.
A difficult 4-12 campaign in 2015 certainly didn't help matters, and the situation deteriorated further late in the season. The Chargers fined him $10,000 for watching his daughter's dance routine at halftime of a blowout home win over the Miami Dolphins in Week 15. Then the Bolts placed him on injured reserve before the final game of the regular season, which didn't make him happy.
There is simply no coming back after all of that unnecessary drama. Weddle is ready to move on, and has already thought about playing against his soon-to-be-former employer.
"I hope we kill them," Weddle said on Jan. 6, per Michael Gehlken of the San Diego Union-Tribune. "That's the only way I know how to (play). Whoever I'm with, I'm rolling with. … We'll see. I'm sure (the matchup) will happen."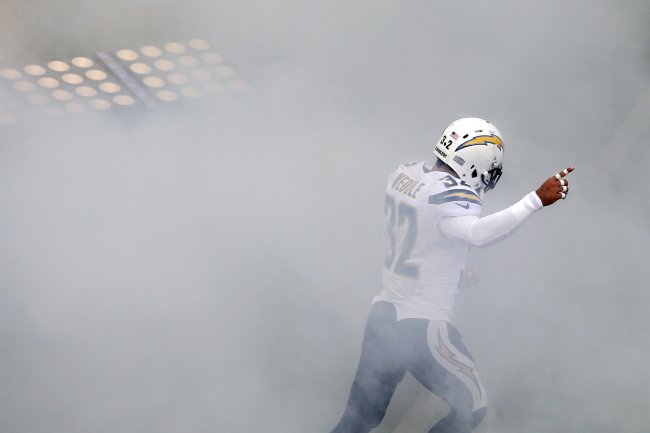 Gregory Bull/Associated Press
As one of the best safeties in the game, Weddle will undoubtedly find plenty of teams willing to bring him into the fold.
The Miami Herald's Barry Jackson suggested in early January that the Dolphins might be in on Weddle, noting, "San Diego's Eric Weddle, an impending free agent, would welcome a Dolphins' offer, but he would be costly."
However, at 31 years old, Weddle doesn't have time to waste with a Dolphins team that is floundering and could be in need of a rebuild. He seems more likely to join a clear up-and-comer, like the Oakland Raiders, or a bona fide Super Bowl contender. Gehlken noted he's keen on the latter situation:
He is focused on winning a Super Bowl — the real one. In free agency, it's expected not to matter how much money, say, the Browns offer. He wants to go someplace where he's convinced he can win right away. That he may play against the Chargers one day is possible, and it has crossed his mind.
Which team will sign Eric Weddle?
The Buffalo Bills are a solid team and could certainly use Weddle to shore up the secondary, perhaps making head coach Rex Ryan more likely to unleash his pass-rushing talent. However, they have big cap issues, and calling them a Super Bowl contender is a bit of a stretch, though they should compete for a spot in the playoffs again this year.
The Raiders are likely two or three years from Super Bowl contention, but they do have money to blow and Weddle could make the Chargers hurt by going to their rival. The AFC West is a tough division, but Oakland could break through for a postseason run in 2016 with the right personnel moves.
The Pittsburgh Steelers would be an intriguing option for Weddle if they can find enough room in the budget.
When everyone's healthy, the Steelers have a world-beating offense. The pass defense was lacking in 2015, and Weddle's talent, leadership and football IQ could improve the secondary in a hurry.
The Steelers don't often go after big-name free agents, but in this case, they could make an exception, especially if Weddle is OK with taking a pay cut.
Prediction: Weddle signs with Pittsburgh