My first impression of Super Bowl 50 is that it reminds me of Super Bowl V.
You probably don't remember Super Bowl V, or even remember many tall tales or old history lessons about Super Bowl V. It's a trivia question, mostly: first Super Bowl with a defensive MVP (Cowboys linebacker Chuck Howley), the only Super Bowl with an MVP from the losing team and a strong contender for Least Watchable Super Bowl Ever, which is saying something considering the number of 55-10 and 52-17 final scores there have been.
That's not to say Super Bowl 50 will be unwatchable, or a low-scoring, 16-13 slog between the Broncos and Panthers. But like Super Bowl 50, Super Bowl V defied the prevailing storylines.
Johnny Unitas was 37 years old when he led the Colts to victory in Super Bowl V after the 1970 season. He was a relic, a 1950s quarterback still hobbling around in the 1970s, refusing to yield the stage just yet to the next generation of teams and quarterbacks. Unitas had already played his final "last legs" game two years earlier, losing Super Bowl III to the Jets and Joe Namath, a quarterback for a new era. Yet Unitas, rickety and turnover-prone, had battled his way to an 11-2-1 regular season with the help of a defense that generated tons of turnovers and a backup quarterback (Earl Morrall) capable of winning a spot start if called upon.
Sound familiar?
Chuck Burton/Associated Press
The Cowboys the Colts defeated were still a few years away from their Golden Age. They were perennial playoff bridesmaids for years before breaking through in 1970. They were innovative, daring, poised to take a new decade by storm with their mix of precision and glamour. They were a little bold and boastful for some tastes, easy to loathe but compelling to watch.
Sound familiar?
Super Bowl V was a defensive battle, hence the low score (even for the era) and Howley as MVP. Super Bowl 50 could shake out the same way.
You know all about the Broncos defense, and you saw what it did to Tom Brady, his offensive line and his receivers Sunday. (Brady's running backs don't really count.) The Panthers defense forced seven turnovers, making Carson Palmer look like Ryan Lindley while erasing memories of last week's near-meltdown against the Seahawks.
Peyton Manning has added this second encore to his career by avoiding postseason turnovers, while Cam Newton has been almost incapable of making a mistake in months, yet they will face defenses so good that a pick-six is possible on every throw.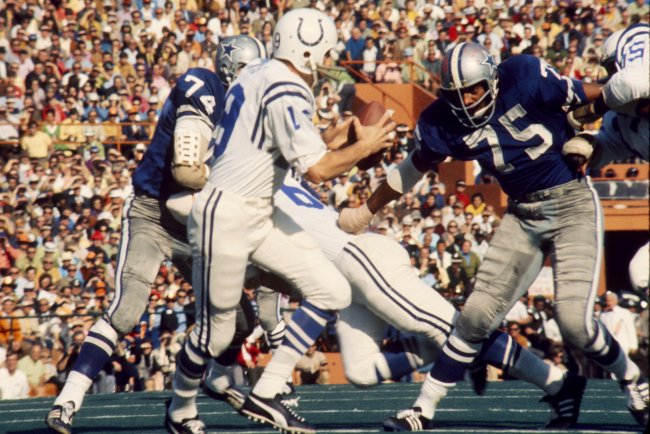 Fred Roe/Getty Images
Super Bowl V was a transition game. It marked the end of the NFL-AFL era; it was the first Super Bowl of the fully merged NFL, with the Colts having just switched conferences to round out the new AFC. The Lombardi Packers had run their course. The Dolphins and Steelers were about to go from second-rate, second-tier football organizations into the history books. The Cowboys were a short step from becoming America's Team. With so much in flux, Unitas snuck up and added an exclamation point to his legacy.
Maybe Super Bowl 50 is Manning's final triumph, a chance to make the Brady-Manning debate eternal. Or maybe the Panthers are now America's Team and Newton is Superman to Roger Staubach's Captain America.
It's too early to start making predictions. All that is certain is that a legacy is a slippery thing. Manning was belly up at the top of the aquarium while we were sitting down to turkey dinner. Newton's critics kept waiting for the football gods to smite him for daring to celebrate his touchdowns even as the Panthers grew better, more unified and more resilient around him. Someone who was NOT SUPPOSED TO WIN is going to win in two weeks.
The Colts won Super Bowl V on a last-minute field goal after a second half full of punts and turnovers. History remembers two teams playing as if they did not know how to win. Considering who the Colts were before that game and who the Cowboys became, it may have been a case of two teams being too stubborn to lose.
That's how Super Bowl 50 will go. The winner will be the team that doesn't follow the script.
Season's-over look-ahead: What the Patriots must do

Step 1: Get a running back
People who claim the Patriots don't need a running game at this point are just being contrary to all the contrary people who have spent 15 years yelling about "establishing the run."
Fourteen carries for 31 yards will never cut it against a top defense. Tom Brady needs his Terrell Davis to help him do more with less in his golden years.
Step 2: Pick five offensive linemen and stick to them
The Patriots have drafted some impressive interior offensive-line prospects the past two seasons, but they have a bad habit of yanking them into and out of the lineup, or shifting them from position to position, in search of the perfect combination.
Josh Kline, Bryan Stork and Shaq Mason weren't up to the task of blocking the Broncos line Sunday. They have the potential to be much better next year. The Patriots could also find a combination that's even better. But their tactic of spending the first half of the season finding out who plays where now yields diminishing returns.
Step 3: Assemble the roster with urgency
When the Patriots acquired Darrelle Revis and Brandon Browner in 2014, it looked like a last-ditch Super Bowl strategy, and it worked.
Lo and behold, this season's Patriots were still awesome without Revis and Browner, just not quite good enough to fulfill several of their goals, starting with a home-field advantage that might have made a difference.
Whether it's a splash free agent or a bold draft-day trade, the Patriots must be willing to make one over-the-top move like they did in 2014 (or in 2007). There are few tomorrows left, but the Patriots remain in great position to make the most of the next one.
Season's-over look-ahead: What the Cardinals must do
Step 1: Figure out what the heck is wrong with Carson Palmer
The guy we saw at the end of Sunday's game looked nothing like the guy we saw late in the season. The guy we saw at the end of Sunday's game looked like he thought he played for the team in white uniforms with black-and-blue trim.
Step 2: Learn from this experience
The Cardinals played the postseason as if the stage was a little big for them. Bruce Arians spoke last week about feeling the pressure of never having won a playoff game as a head coach.
As an organization, the Cardinals need some meaningful takeaways from Sunday about how to adapt to a deep playoff run. It may start with something as simple as being flexible with travel plans when a winter storm threatens to cause scheduling havoc.
Step 3: Acquire a young, high-impact pass-rusher
The Cardinals roster is going to be stacked on both sides of the ball when everyone is healthy next year. A young Dwight Freeney-type, as opposed to the actual Dwight Freeney, would put them over the top.
Freeney is a fine situational rusher these days, but the Cardinals lack an every-snap defender off the edge who can dictate the opponent's protection scheme and allow Arizona to pick and choose its spots to blitz.
With so few other needs, the Cardinals could easily trade up in the draft to get one more big piece for their defensive chessboard.
Around the League
Your roundup of weekly NFL news, closed-captioned for the bull-snot impaired.
BBC claims NFL plans to move a team to London within six years. NFL denies report. The important thing is that no taxpayers or legislators get too comfy now that the Los Angeles market is filling up.
Bills hire Kathryn Smith, the NFL's first full-time female coach. Smith starts out at the bottom of the ladder as a special teams quality control assistant. But it's still a step above Rob Ryan, who was named "Coordinator of Keepin' it Real."
Packers coach Mike McCarthy issues get-in-shape ultimatum to Eddie Lacy. This reporter will begin fat-shaming Lacy as soon as he is done wiping the Alfredo sauce, ranch dressing and chocolate pudding from his chin.
Ed Reed's son is a Patriots fan who doesn't want his father coaching for the Bills. Reed's son is 100 percent on board with Rex and Rob Ryan coaching together for the Bills.
Mike Shula reveals that he doesn't have an agent. With all the head coaching vacancies filled, the Panthers offensive coordinator noted he lacks an agent and has merely "a friend that helps me." SIRI IS NOT REALLY A FRIEND—JUST A COMPUTER PROGRAM, COACH.
Chargers apply for "Los Angeles Chargers" trademark. Rams owner Stan Kroenke counters by claiming territorial rights for the concept of electricity.
Browns receiver Josh Gordon applies for reinstatement under NFL substance abuse policy. Hue Jackson applies for his old job back with the Bengals.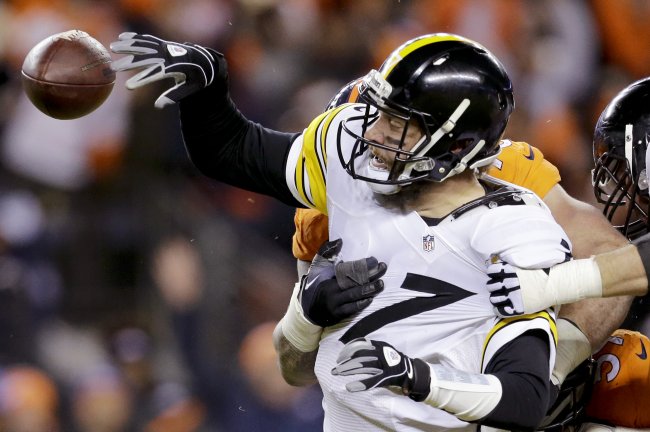 Joe Mahoney/Associated Press
Ben Roethlisberger tells Pittsburgh radio that he does not need shoulder surgery. "I guess the ligaments will, you know, scar up and heal on their own," Roethlisberger told KDKA-FM (quote via Chris Adamski of the Tribune-Review). Roethlisberger doesn't go to a doctor anymore; he just checks WebMD, gets bored after the second paragraph and goes out for pull-ups and a beer.
Chip Kelly claims that the collective bargaining agreement prevents him from talking about Colin Kaepernick at all. He also doesn't use fluoride toothpaste because that's how the government controls your thoughts.
Officials left footballs, air gauges in hotel before Chiefs-Patriots game. Ted Wells last seen climbing the outside wall of the hotel to investigate, falling backward on ladder, landing in swimming pool, saying something in a bad French accent.
Andy Reid says the Chiefs managed the clock right in playoff loss to the Patriots. Peter Jackson also thinks those Hobbit movies needed to be a little longer.
Ron Jaworski, Joe Flacco purchase South Jersey golf course together. I would complain that neither of them called me and invited me in on this venture, but hey, anything that preserves a few acres in the 856 area code from being named after Kelly Ripa is OK in my book.
Titans promote Dick LeBeau to defensive coordinator. The Titans and Mike Shula would have been a perfect combination if only they figured out some way to contact each other.
Last Call
Look for my daily reports and nonstop live tweets about prospects and barbecue restaurants from the Senior Bowl in Mobile, Alabama, this week!
The Senior Bowl is just the start of my draft prep process, so the week of practices and interviews is a great chance for me to fill out mock drafts, get up close and personal with prospects I only know from Sunday morning highlight montages, and discover a pet prospect or two who I will stump as a surefire Pro Bowler for three months until he is drafted in the sixth round and enjoys a distinguished two-and-a-half-season career as a punt gunner.
Here are some of the players I am eager to watch this week.
Carson Wentz, quarterback, North Dakota State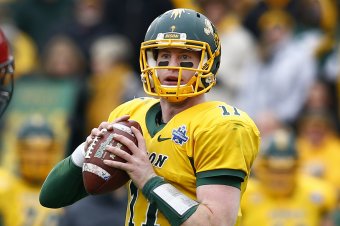 MIKE STONE/Associated Press
Wentz looks like Cam Newton's big brother against FCS competition. He will be this year's Blake Bortles if he shines during the predraft process.
The Senior Bowl is a great chance for him to show how his size-arm-legs package levels up to major-conference competition.
Jeff Driskel, quarterback, Louisiana Tech
The Florida program disintegrated around Driskel and took him down with it. He was reborn as a big-play gunslinger at the mid-major level.
Driskel was a 5-star prep prospect who entered college with near-Tebow-level fanfare (no wonder things went sideways). A competitive, confident Senior Bowl week can put him back on the radar.
Nick Martin, center, Notre Dame
Martin's brother is Cowboys guard Zack Martin. Nick reportedly has both the body and mind of a starting NFL center.
Mobile is a great place both to isolate a center in one-on-one drills to see how he handles those top defensive tackles without a double-team and to hear him talk about his craft.
Braxton Miller, wide receiver, Ohio State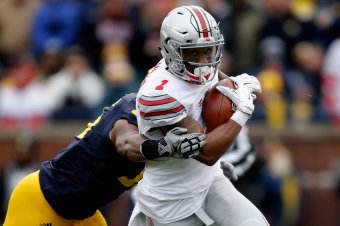 Gregory Shamus/Getty Images
Well, yeah. Famous-quarterback-to-receiver conversions are always worth watching during Senior Bowl week.
Miller showed some real receiving chops as a senior, but the Buckeyes were designing mismatch opportunities for him. This week, we get to see him line up opposite a cornerback, release and run routes on drill after drill.
Paul McRoberts, wide receiver, Southeast Missouri State
Big-play receivers from smaller programs make the best prospect crushes. McRoberts is long and lanky, with a knack for tough catches. He makes great moves with the ball in his hands and shows willingness as a downfield blocker.
Let's see how those skills ramp up against all-star competition.
Jonathan Williams, running back, Arkansas
Rushed for 1,190 yards as a junior, suffered a foot injury and missed the whole year as a senior. Williams is the kind of player the Senior Bowl is made for.
Jeremy Cash, safety, Duke
The Cardinals' success with Deone Bucannon may create a market for safeties who can play like linebackers.
Cash, who lined up as everything from an outside linebacker to a slot corner for the Blue Devils, fits the bill. He's also coming back from December wrist surgery and can show he's ready to go through the full predraft process.
Shawn Oakman, defensive end, Baylor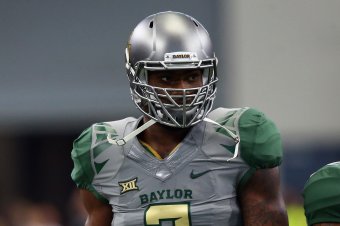 Ronald Martinez/Getty Images
I just want to see him. The dude looks like Drax from Guardians of the Galaxy. He appears to have the wingspan of a prom limo. I just want to see him with his shirt off and stuff.
Is that squicky? It's not meant to be squicky. It's scouting.
Mike Tanier covers the NFL for Bleacher Report.