Bill Belichick doesn't want to talk about his eye.
He doesn't want to talk about strategy or his personnel decisions or why Chandler Jones wound up at the hospital after reportedly getting gone off the K2 on Sunday night, either.
That last incident, reported by Chris Gasper of the Boston Globe (h/t ESPN SportsCenter), and the media's questions about its effects on the team seem to be what pushed the New England Patriots coach back into his eternal resting state of peevishness Thursday morning.
Speaking to a pool of reporters at a press conference, Belichick's responses assumed a familiar sardonic cadence after questions arose regarding whether Jones would play in Saturday's game against the Kansas City Chiefs.
To this, Belichick responded by using "Xerox" as a verb, per the Boston Globe's Ben Volin:
BB on Chandler Jones' usage vs Chiefs: "I can just Xerox you a copy of the game plan, send it over to KC. Might be easier for all of us."

— Ben Volin (@BenVolin) January 14, 2016
Masshole Sports posted a video of Belichick's response:
Heres video of Bill Belichick telling reporter to Xerox a copy of the game plan to KC. What a ball buster #patriots pic.twitter.com/FUnC9hoj9A

— Masshole Sports (@MassholeSports) January 14, 2016
That's good old-fashioned antiquity from Belichick, who is still sporting a shiner of unknown origins on his left eye. He didn't want to talk about that, either, as it happens.
When asked about how his eye felt, Belichick responded, "Great," per CBS Boston's Michael Hurley:
great. https://t.co/XS2e00Pc4v

— Michael Hurley (@michaelFhurley) January 14, 2016
Note Bill's expression: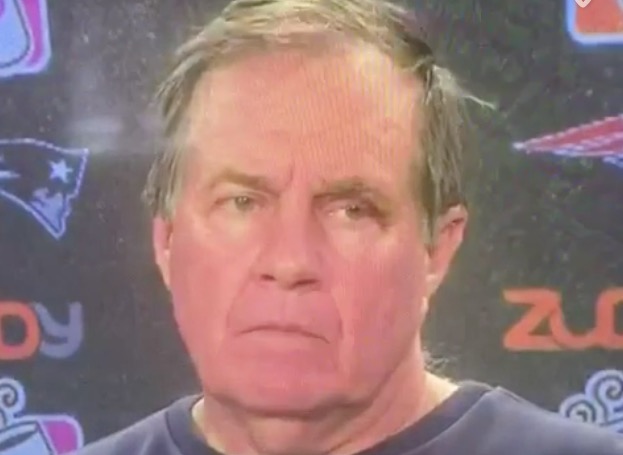 Vine
This is the face of a man hoping a daisy cutter will wipe out the entire stadium so he doesn't have to exist on this podium in front of these people anymore.
Cheer up, Bill. No one is going to Xerox the Chiefs your playbook, mostly because no one has "Xerox'd" anyone anything in a decade and change.
And even if Andy Reid did try to Xerox your plays, he wouldn't be able to crack the encryption and read your files—because he probably doesn't have a zip drive or a German Enigma machine in his office.
Dan is on Twitter. He learned in grade school that the most secure kind of file storage is a maze of folders leading to more folders.