The road to the Super Bowl begins Saturday as the AFC Wild Card Round kicks off, followed by the two NFC games Sunday afternoon.
Unfortunately, this year's playoffs appear to be marred by injuries, but they will give us an opportunity to see some new faces on the NFL's biggest stage.
The complete playoff bracket is featured below, followed by a breakdown and prediction for each of the Wild Card matchups:
AFC Wild Card

Matchups
Chiefs at Texans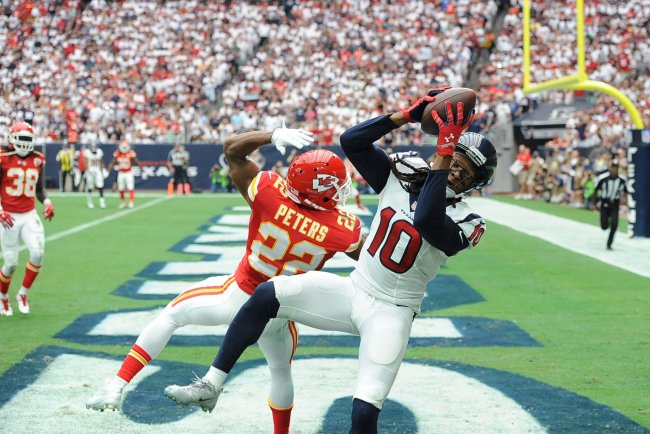 George Bridges/Associated Press
After the way the season started for both franchises, it's hard to believe one of them is going to pick up a playoff victory.
Despite advancing to the playoffs, both the Kansas City Chiefs and Houston Texans have suspect resumes and are primarily here because they feasted on weaker opponents.
The Texans, however, have proved the least against playoff-caliber opponents, going 3-6 against teams that finished with a .500 record or better, including a loss to the Chiefs in Week 1.
For the Texans to pull off the victory, they'll need to ride the connection of Brian Hoyer to DeAndre Hopkins. But that's no small task against the Chiefs secondary.
The Chiefs secondary is home to three of Pro Football Focus' top 50 cornerbacks, arguably making it as equipped as any other team in the league to contain the Texans passing attack.
Prediction: Chiefs win, 23-13.
Steelers at Bengals
The outcome of this matchup could boil down to the health of Pittsburgh Steelers running back DeAngelo Williams.
Ray Fittipaldo of the Pittsburgh Post-Gazette reported that Williams remained sidelined with a foot injury Thursday:
DeAngelo Williams (foot) was the only Steelers player to miss practice with an injury. Will Allen given vet's day off.

— Ray

Fittipaldo

(@rayfitt1) January 7, 2016
Without Williams, the Steelers would have to turn to former Michigan running back Fitzgerald Toussaint, who has just 24 carries in his two-year NFL career.
Even while at Michigan, Toussaint rarely carried the load. During his junior and senior years, he managed just two 100-yard games.
If the Cincinnati Bengals can take away the run and turn the Steelers into a one-dimensional team, it would dramatically limit wide receiver Antonio Brown's impact on the game.
Prediction: Bengals win, 27-21.
NFC Wild Card

Matchups
Seahawks at Vikings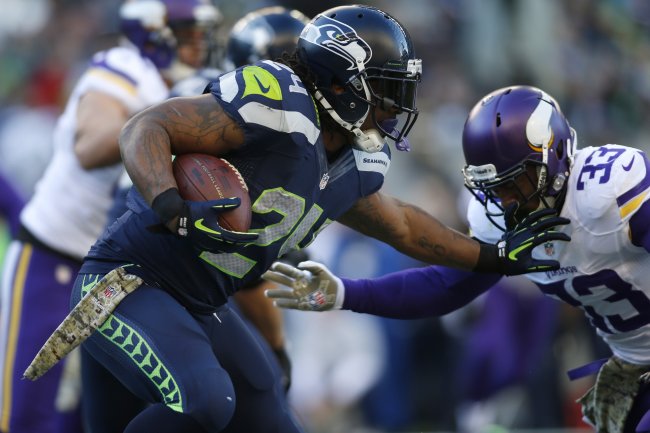 John Froschauer/Associated Press
The weather will be the star of this matchup, as the Weather Channel reported an expected high temperature of four degrees.
In cold-weather games, the team with the better running game typically gains an advantage. However, it's tough to make a case for either team in a matchup that features two of the most accomplished running backs in this year's playoffs.
Seattle Seahawks offensive coordinator Darrell Bevell expects Marshawn Lynch to be back at full health and ready to carry the load, according to Bob Condotta of the Seattle Times:
Seattle OC Darrell Bevell says there's no reason Marshawn Lynch can't have 20-25 carries Sunday. Says if he's playing, he's going.

— Bob

Condotta

(@bcondotta) January 6, 2016
That's great news for Seattle, but Lynch hasn't played since November 15 while recovering from a hernia. Returning to the field for the first time in those temperatures will be a challenge.
One might expect the Minnesota Vikings to hold an advantage because they have more experience in the cold, but this will be a new adventure for both teams.
According to Pro-Football-Reference.com, the Vikings haven't played a game in single-digit temperatures since a road matchup against the Cleveland Browns in December 1989.
Prediction: Seahawks win, 17-13.
Packers at Redskins
The Green Bay Packers are limping into the playoffs after losing two straight games and going 4-6 since their Week 7 bye.
On the opposite end of the spectrum are the Washington Redskins, who are playing their best football of the season behind a red-hot Kirk Cousins.
Since Week 9, Cousins has posted a quarterback rating of 117.7, which is higher than every other starting quarterback except Russell Wilson:
Highest QB Rating Since Week 9

| | | | |
| --- | --- | --- | --- |
| QB | Team W-L | TD-Int | QB Rating |
| Russell Wilson, SEA | 6-2 | 25-2 | 124.3 |
| Kirk Cousins, WSH | 6-3 | 20-3 | 117.7 |
| Cam Newton, CAR | 8-1 | 24-2 | 115.4 |
Pro-Football-Reference.com
Cousins hasn't just taken advantage of the Redskins' weaker opponents. In Week 7 against the Carolina Panthers, Cousins helped the Redskins nearly pull off an upset while completing over 70 percent of his passes and throwing for 207 yards.
While it seemed silly to pick the eventual NFC East winner to advance in the playoffs just a few weeks ago, Cousins has the Redskins looking like legitimate contenders.
Prediction: Redskins win, 31-24.