Fantasy owners that are still alive have one more week to get it right with the NFL's top stars.
It's never easy. Last week, Pittsburgh Steelers quarterback Ben Roethlisberger posted just four points in a good matchup while Brandon Weeden of the Houston Texans posted 21.
Of course, owners still alive know how difficult decisions can be when it comes to star power. Those playing in consolation brackets surely do, too, though through more of a don't-touch-the-stove lesson.
Here's a look at value comparisons for Week 17 and some of the most common names to crop up in questions.
QB
| | |
| --- | --- |
| Matchup | Verdict |
| Cam Newton (vs. TB) vs. Russell Wilson (at ARI) | Cam Newton |
| Tom Brady (at MIA) vs. Drew Brees (at ATL) | Tom Brady |
| Carson Palmer (vs. SEA) vs. Blake Bortles (at HOU) | Blake Bortles |
| Aaron Rodgers (vs. MIN) vs. Kirk Cousins (at DAL) | Aaron Rodgers |
| Ben Roethlisberger (at CLE) vs. Ryan Fitzpatrick (at BUF) | Ben Roethlisberger |
Author's opinion.
Star to Know: Eli Manning, New York Giants (vs. PHI)
Andy Clayton-King/Associated Press
Eli Manning of the New York Giants hasn't exactly been the most reliable player around this year with his four single-digit outings.
Alas, he's a surefire must-start option to close the season. Owners will find fault in two ways. One, he posted just seven points last week. Two, he managed just eight against the Philadelphia Eagles the first time out.
Forget both of those. Manning had to run the offense without Odell Beckham last week, and Philadelphia's a shell of its former self without a head coach now, not only allowing the third-most points to quarterbacks, but coughing up four passing scores last week.
Star to Sit: Derek Carr, Oakland Raiders (at KC)
Oakland Raiders quarterback Derek Carr is a fantasy stud in every sense of the word, with six trips to 20 or more points this year while leaning on wideouts Amari Cooper and Michael Crabtree.
He's the inverse of Manning, though, in that owners have to take a rematch seriously.
Carr managed 13 points against the Kansas City Chiefs in Week 13, but tossed a trio of interceptions in the process. The Chiefs are the league's hottest team right now, allowing the sixth-fewest points to quarterbacks with two passing touchdowns allowed over their last three outings.
With the Chiefs hoping to hit the playoffs with momentum, owners cannot expect Carr to improve upon his last outing against the team.
RB
| | |
| --- | --- |
| Matchup | Verdict |
| Devonta Freeman (vs. NO) vs. Lamar Miller (vs. NE) | Devonta Freeman |
| Adrian Peterson (at GB) vs. Chris Ivory (at BUF) | Adrian Peterson |
| Doug Martin (at CAR) vs. DeAngelo Williams (at CLE) | DeAngelo Williams |
| Todd Gurley (at SF) vs. David Johnson (vs. SEA) | Todd Gurley |
| Matt Forte (vs. DET) vs. Latavius Murray (at KC) | Matt Forte |
Author's opinion.
Star to Know: Doug Martin, Tampa Bay Buccaneers (at CAR)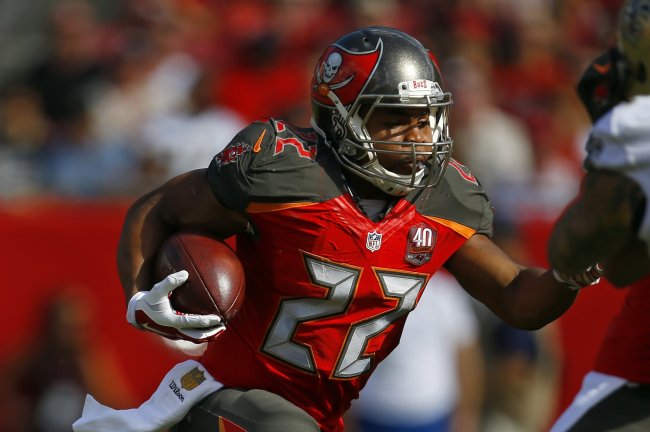 Jeff Haynes/Associated Press
What, don't trust Tampa Bay Buccaneers running back Doug Martin against the Carolina Panthers?
It's easy to scoff at any running back against the Panthers, but it's even easier to forget that the rejuvenated running back posted 19 points against the unit in Week 4 by way of 20 carries for 106 yards and a score.
See? Maybe all hope isn't lost for Martin owners. Keep in mind, too, that the Panthers have coughed up 28 and 14 points to backs over the past two outings, allowing a touchdown in each.
All signs point toward Martin having another strong day against the unit.
Star to Sit: David Johnson, Arizona Cardinals (vs. SEA)
Many fantasy owners would swing and miss when asked who ranks as fantasy's seventh-highest scoring back this year.
David Johnson of the Arizona Cardinals would be the correct name thanks to eight double-digit outings, including four in a row with Chris Johnson and Andre Ellington dealing with injuries.
Johnson's the every-down back, but he's not a surefire play against the Seattle Seahawks. He didn't play against them in Week 10, and Seattle continues to allow the fewest points to the position, having allowed just five rushing scores all year.
It's been a breakout year for Johnson, but Seattle has the talent to make the regular season end on a sour note.
WR
| | |
| --- | --- |
| Matchup | Verdict |
| Antonio Brown (at CLE) vs. Brandon Marshall (at BUF) | Antonio Brown |
| Odell Beckham Jr. (vs. PHI) vs. Allen Robinson (at HOU) | Odell Beckham Jr. |
| Julio Jones (vs. NO) vs. Doug Baldwin (at ARI) | Julio Jones |
| DeAndre Hopkins (vs. JAC) vs. Jarvis Landry (vs. NE) | DeAndre Hopkins |
| A.J. Green (vs. BAL) vs. Larry Fitzgerald (vs. SEA) | A.J. Green |
Author's opinion.
Star to Know: A.J. Green, Cincinnati Bengals (vs. BAL)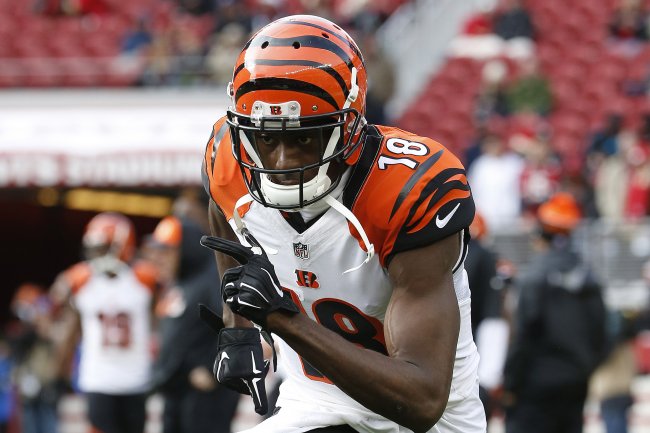 Tony Avelar/Associated Press
Owners might shy away from Cincinnati Bengals wideout A.J. Green with backup AJ McCarron under center and dealing with an injury.
Those who did the same last week, though, missed out on 11 points from Green by way of five catches for 57 yards and a score against an elite Denver Broncos secondary.
It gets a whole lot easier to close the season. The Baltimore Ravens allow the fourth-most points to the position this year, and Green went nuts on the road against the unit in Week 3, posting 10 catches for 227 yards and two touchdowns, good for 34 points.
That's a ceiling, of course, but Green isn't going to have an off day.
Star to Sit: Sammy Watkins, Buffalo Bills (vs. NYJ)
Few players have had as streaky a season as Buffalo Bills wideout Sammy Watkins.
He went from iffy results before a Week 8 bye to rattling off four double-digit performances in a row. The two games before the streak, he mustered just four total points over two games.
One of those games came against the New York Jets, the team he encounters to close the season.
The Jets have allowed just one touchdown to receivers over their past three outings. It pairs nicely with the fact Watkins looks to be on his way to another down stretch after posting eight points last week to make him one of the week's top must-sit stars.
TE
| | |
| --- | --- |
| Matchup | Verdict |
| Rob Gronkowski (at MIA) vs. Delanie Walker (at IND) | Rob Gronkowski |
| Greg Olsen (vs. TB) vs. Antonio Gates (at DEN) | Greg Olsen |
| Gary Barnidge (vs. PIT) vs. Benjamin Watson (at ATL) | Benjamin Watson |
| Jordan Reed (at DAL) vs. Richard Rodgers (vs. MIN) | Jordan Reed |
| Travis Kelce (vs. OAK) vs. Julius Thomas (at HOU) | Travis Kelce |
Author's opinion.
Star to Know: Jordan Reed, Washington (at DAL)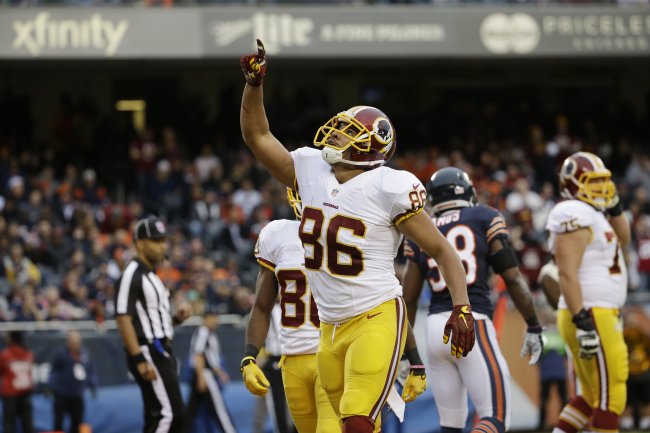 Nam Y. Huh/Associated Press
It's hard to name a fantasy stud hotter than Washington's Jordan Reed right now, who ranks behind only Rob Gronkowski in scoring at tight end.
Reed's been unstoppable over his past three games, totaling 18, 20 and 24 points, respectively, with five touchdowns.
On paper, going to Dallas for an encounter with the Cowboys looks rough. Dallas held him to three points in Week 13 and surrenders the third-fewest points to tight ends.
But Philadelphia surrenders the sixth-most points to the spot and Reed just posted nine catches for 129 yards and two scores for 24 points on the unit, meaning defensive ranks only go so far against a streaking player such as Reed.
Star to Sit: Richard Rodgers, Green Bay Packers (vs. MIN)
Despite catching passes from Aaron Rodgers, Richard Rodgers has yet to break into household-name territory.
He's ninth in scoring at the position with four trips to double digits, making him a smart matchup-based play.
This wouldn't be one of the matchups to like, though.
Rodgers has to deal with the Minnesota Vikings, a team that held him scoreless in Week 11 and hasn't allowed an opposing set of tight ends to hit double digits since Week 10.
In other words, Rodgers won't be able to do it on his own.
All scoring info courtesy of ESPN standard leagues, as are points-against info and ownership stats as of December 31. Statistics courtesy of ESPN.com.