1. The only team that can win in Green Bay
Green Bay will likely beat Dallas in the divisional round this weekend, but drawing the Cowboys was the Packers' worst nightmare.
There is only one team that can beat the Packers at Lambeau. It's not Seattle; not enough offense on the road. It's not Carolina; see Seattle. No team in the playoffs could beat the Packers at home except one: the Cowboys. Worst. Nightmare.
Here's why:
Quarterback: Aaron Rodgers is the best in football. He's the best of his generation, but truth is, Tony Romo isn't far behind. He's been brilliant, and most of all he's been mentally tough. I hate ESPN's QBR stat. It's more marketing than football, but this one is legitimate: Rodgers had the NFL's best QBR at home (93.0) while Tony Romo had the NFL's best QBR on the road (88.9) this season.
That's Romo's strong will at work. Being great on the road is all a mindset. Romo right now has one of the toughest minds going. He led the NFL with a 113.2 passer rating. He had a 114 rating against Detroit.
Diversity: The Cowboys can win in any number of ways. We saw this against Detroit in the Wild Card Round (the Lions beat the Packers in the regular season, by the way). When the Lions slowed Romo and the passing game, the Cowboys went a little more to the running game. When the running game failed, the defense kicked in. Then Romo kicked in. Then the running game. You stop one facet and the Cowboys hit you with another.
Offensive line: Travels anywhere, even the effing cold of Lambeau.
Scoring: Similar to diversity, but there's one thing that should open the eyes of the Packers defense. The Cowboys won a game, against the second best defense in football, without Dez Bryant having a huge day. Unless you count not getting flagged for running onto the field with his helmet removed.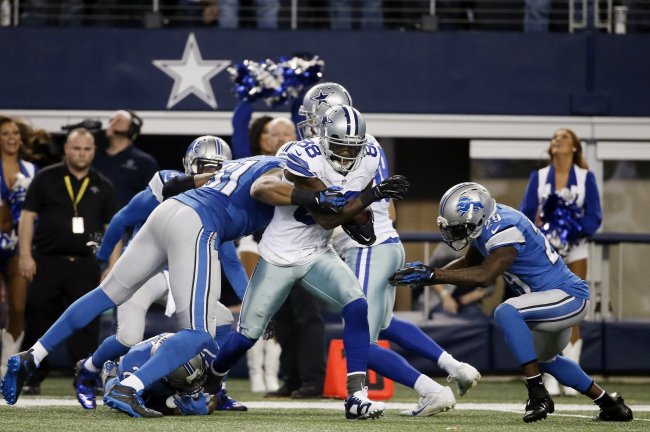 Tony Gutierrez/Associated Press
Defense: Not a great defense but good enough. Yet admittedly, this is the biggest problem for Dallas. Rodgers can shred it.
But again, the Cowboys can hang, because they'll be able to keep up with Rodgers. Green Bay's defense isn't great either.
The NFL says this is the first playoff game in history featuring a hosting team that went 8-0 at home during the regular season against an 8-0 road team.
This Dallas team reminds me of the New York Giants team that went into Green Bay in 2008 and upset the Packers. That team was well-rounded like the Cowboys. The Cowboys are even more so and even more explosive on both sides of the ball.
Again, I expect the Packers to win, but this will be close—because the Cowboys are Green Bay's worst nightmare.
2. More on Romo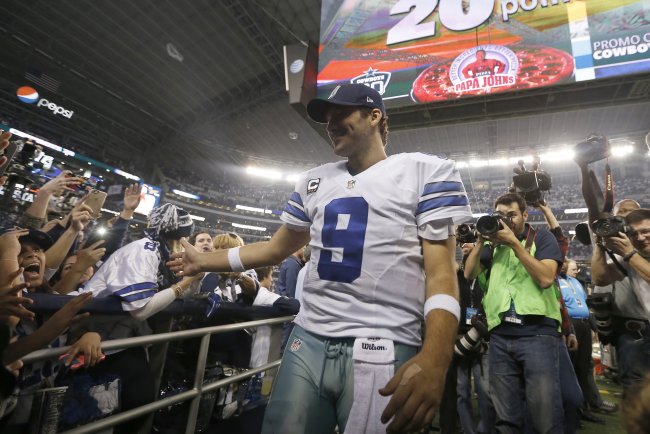 Brandon Wade/Associated Press
This to me from a Cowboys player I've known for several years, speaking on Tony Romo: "He always got a bad rap, to me at least. The thing that always amazed me about him was how when he would get criticized, he never showed it to us. He was always the same guy. Everyone I know that knows him appreciates how mentally tough he is. I respect him more than any player I've ever played with."
3. Winston as an NFL prospect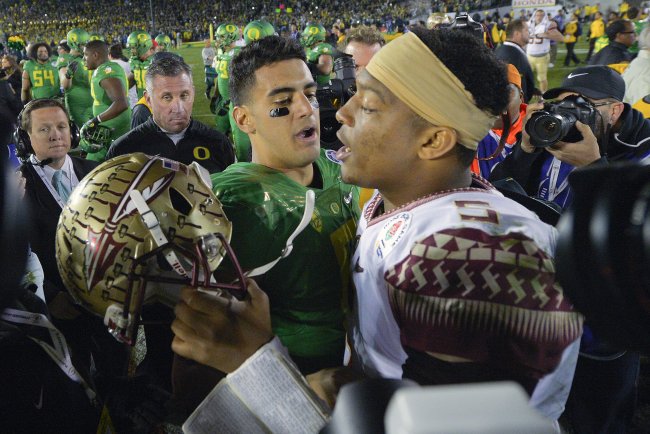 Mark J. Terrill/Associated Press
Two things seem to be crystallizing for Winston, according to scouts I speak to. First, he is shaping up to be the second quarterback taken in the 2015 draft after Oregon's Marcus Mariota.
Second, and most interesting, is that some scouts believe he'd be ranked ahead of Mariota—by far—if it wasn't for his maturity (or lack thereof) and off-field issues. "He's the best pro-ready quarterback in the country," said one scout, "but he's also extremely immature."
"If I picked him first in this draft," the scout explained, "I'd cross my fingers on both hands. If he stayed in college, stayed out of trouble and grew up, I'd draft him and only cross the fingers on one hand."
4. Concussions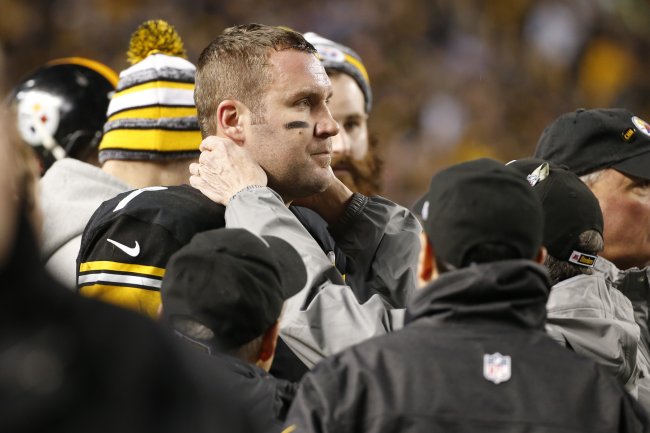 Gene J. Puskar/Associated Press
This story from The Washington Post's Adam Kilgore, on Ben Roethlisberger and concussions, is...kind of scary is an accurate way to put it.
5. Slow coaching search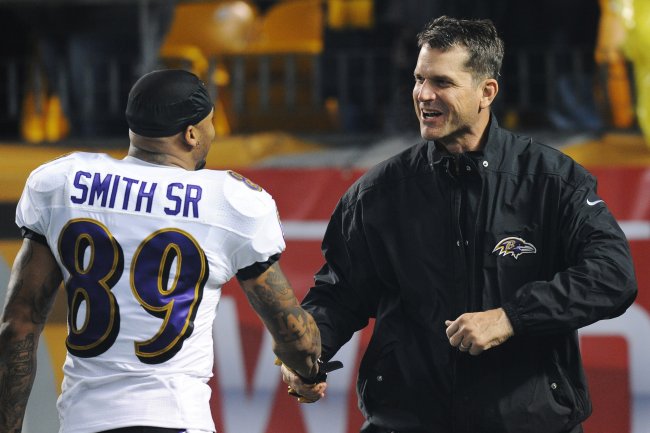 Don Wright/Associated Press
This might be the slowest-progressing coaching search I've seen in some time. Normally by now, with this many openings (six), someone would have been hired. But so far, nothing.
There's one big reason for this, I'm told by team executives. To teams, there is no one knockout candidate. The one knockout candidate is gone. He went to Michigan. That's the way some teams see this.
That type of thinking is lazy, but this has long been the weakness of some general managers and owners. They can't see beyond the big names. This is one reason candidates of color are often ignored. Teams can't project. They are also sometimes afraid of making a face of color the face of the organization. Yes, that still happens.
Meanwhile, names like Mike Shanahan and Rex Ryan are being highly circulated and discussed. Because teams are unimaginative. Ryan failed to develop any kind of offense, in a league that caters to offense, and he may still end up in Atlanta. Which is incredible when you think about it.
And the slow coaching search continues.
6. Unreal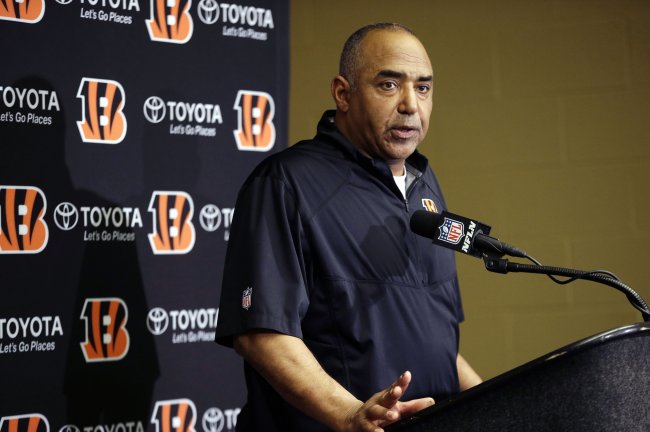 AJ Mast/Associated Press
This stat from Jason La Canfora on Cincinnati Bengals coach Marvin Lewis:
Marv Lewis 0-6 in playoffs. Teams have never trailed by more than 7 at half. I have them outscored by a combined 84-13 in the second half

— Jason La Canfora (@JasonLaCanfora) January 4, 2015
That's incredible. It's almost impossible to be that consistently bad in the second half of playoff games.
I reached out to several scouts for their theories on why this is, and none had an explanation. Not a one. My best stab at this is that it's organizational. There's something Lewis is doing in practices that forces this to happen. But even that makes no sense. Maybe for a playoff game or two. But six?
Part of it might be as simple as the opponents the Bengals have played, that they've been that good. They just lost to the Indianapolis Colts and one of the best young quarterbacks in football. So it might be that simple: They're just getting beat by better teams.
7. Teams looking hard at Lions assistant Austin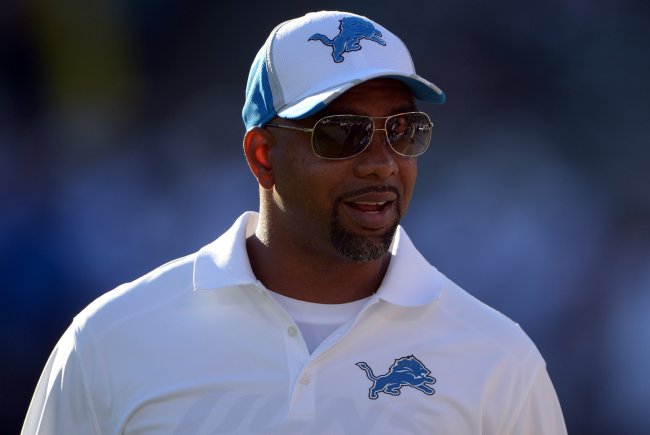 USA TODAY Sports
Lions defensive coordinator Teryl Austin is attracting interest around the league, and he should. The Lions had the second-best defense in football, in yards and scoring. They lost to one of the best offenses in football, and for much of the game fought the Cowboys to a standstill. As a result, Austin is getting genuine looks from teams with vacancies.
He is talented, and there is one advantage Austin has over media troglodytes like Doug Marrone or Josh McDaniels. In addition to being good, he's also personable.
I'm not sure Austin will get hired this round, but he should.
8. Drug tests
When u're closer to 60 than 20 & bang a 53 yarder 3/4 of the way up the upright..This type of thing is expected #GOAT pic.twitter.com/5fq2HtKqi5

— Pat McAfee (@PatMcAfeeShow) January 5, 2015
This is one reason I love Twitter. The picture of the letter Adam Vinatieri tweeted of his drug test notice after he nailed a 53-yard field goal at 42 years old.
It is interesting, the timing of the notice. Yet several sources insist that's really not how the drug testing program works. People who run the program don't sit around, watch games, and when they see an older player make a good play, say, "We need to drug test that dude."
If that were the case, Brett Favre would have been tested daily in his last few years in football.
That's what these sources insist, yet the timing of the test is truly curious.
9. Suh is gone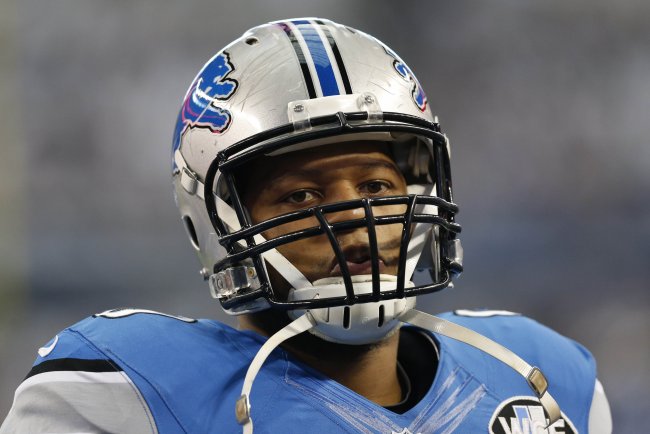 USA TODAY Sports
Ndamukong Suh is all but gone. The Lions can't really afford him, and I think—and a Lions teammate told me he believes this—Suh wants to test free agency.
Suh is a free agent in March. There are basically only two options for the Lions. If they franchise him, it would cost the team $26 million in guaranteed salary for 2015. There's no way the Lions will do that. No way in hell.
The other option is that Suh takes a hometown discount and stays for less money. No way he does that, either. Why should he?
So barring some sort of miracle wrapped in a stunner encased in a do-you-believe-in-miracles-yes!, Suh is gone.
10. More playoff teams coming
If there was ever any doubt that expanded playoffs were coming—and there should not have been—this weekend's wild-card games removed it, as Pro Football Talk's Mike Florio points out. The Pittsburgh Steelers- Baltimore Ravens game drew over 40 million viewers. Let me repeat that. 40 million. That is a staggering number, and the NFL will see it as a green light to expand.
Mike Freeman covers the NFL for Bleacher Report.