The New York Giants rallied behind backup quarterback Curtis Painter and a strong overall performance from the running back corps to defeat the Pittsburgh Steelers 20-16 in their pre-season Week 1 matchup at Giants Stadium.
Some fans may get unbelievably excited for pre-season games, but it appears that many of them keep their excitement confined to their own homes.
ESPN's Dan Graziano noted that the announced attendance didn't quite matchup with the actual results:
Giants say tonight's paid attendance is 74,611. My sense is many paid and decided not to come.

— Dan Graziano (@DanGrazianoESPN) August 10, 2014
Steelers fans were probably hoping to see rookie linebacker Ryan Shazier get his first taste of professional action, but the No. 15 overall pick in the 2014 draft did not suit up for the game, per the team's official Twitter account:
LB Ryan Shazier, TE Michael Palmer, WR Darrius Heyward-Bey and NT Steve McLendon will not play in tonight's game.

— Pittsburgh Steelers (@steelers) August 9, 2014
Giants running back Rashad Jennings' 73 yard touchdown run in the first quarter gave the Giants an early 7-3 lead and proved to be the highlight of the night.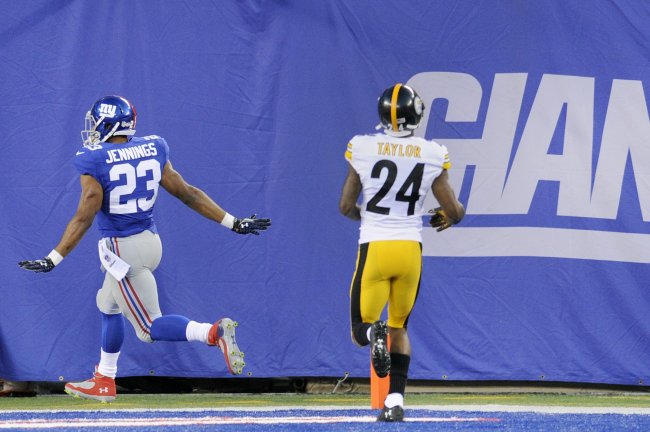 Bill Kostroun/Associated Press
Yahoo Sports' Brad Evans considered the breakout run a strong opportunity to poke fun at Jennings' detractors:
That Rashad Jennings is SO overrated. Only 85 yards and TD on 5 carries? Andre Williams would've gone over 100 yards on FOUR carries.

— Brad Evans (@YahooNoise) August 10, 2014
While WNBC-TV's Bruce Beck was just happy to see a Giants tailback make a big play:
Wow when was the last time @giants had a rusher go 73 yards for a Touchdown? Rashad Jennings!

— Bruce Beck (@BruceBeck4NY) August 9, 2014
Jennings is involved in a training camp battle with Andre Williams to earn the majority of snaps during the regular season and plays like that should do plenty to convince coaches he can handle the starting role. According to Jennings, it's an opportunity he's been waiting to seize.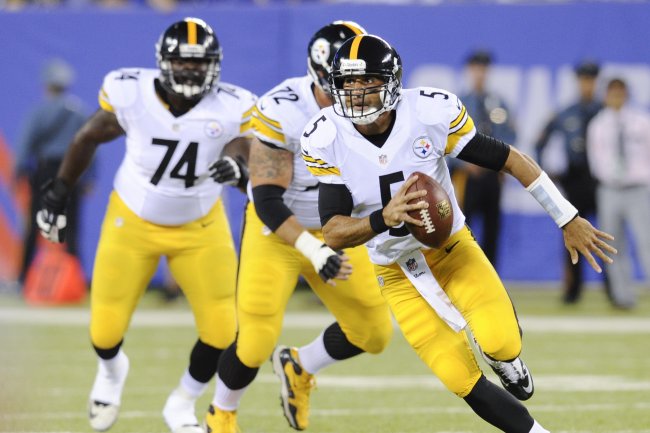 Bill Kostroun/Associated Press
"I've always prepared for this," he said on Wednesday, via the New York Daily News' Ralph Vacchiano. "Any guy who's not is doing himself an injustice." Williams had a solid game with 35 yards on seven carries, but it will take more than that to prove he deserves a big role in the Giants offense this season.

Steelers quarterback Ben Roethlisberger completed just one pass on the night, a 46-yarder to running back Dri Archer. He also played just one series, an unwelcome development for this fan:
Roethlisberger gets ONE series?! ONE?!

— Jordan Hughes (@nadroJH) August 9, 2014
The Steelers could get very little offense going with Bruce Gradkowski out on the field. He finished with a respectable line, going 8-of-12 for 66 yards. However, ESPN's David Todd didn't like what he saw from the veteran signal caller:
Gradkowski not very accurate here and throwing off his back foot. Sushi actually misses from 38. Wow. 10-3 Giants. #Steelers

— David Todd (@DavidMTodd) August 10, 2014
The Steelers' stalled offense allowed the Giants to open up a 13-3 halftime lead.
Neither team offered much in the third quarter, with the Steelers just getting a field goal to cut the Giants lead to seven. They eventually took a 16-13 lead in the fourth quarter thanks to another Shaun Suisham field goal and a fumble return for a touchdown from linebacker Howard Jones.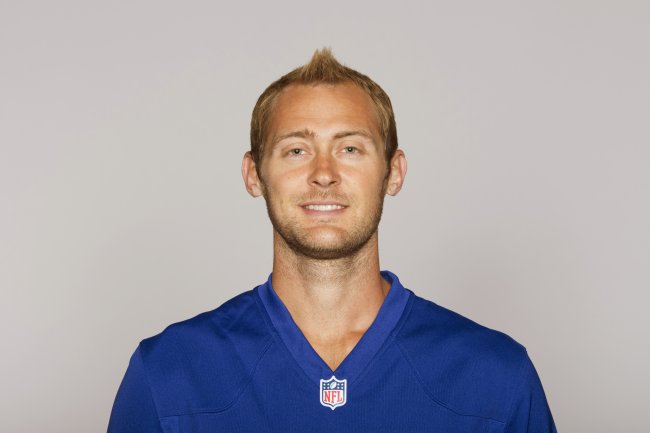 Uncredited/Associated Press
Painter had a strong mop-up performance for the Giants in this one. He completed all seven of his passes and even fired a touchdown to rookie wideout Corey Washington in the fourth quarter.
GiantsInsider praised the way he led the go-ahead drive:
Great job by Painter to engineer that drive. Yes, it's the fourth quarter of a preseason game, but it was impressive nonetheless.

— GiantInsider (@GiantInsider) August 10, 2014
The New York Post's Paul Schwartz praised Washington after the touchdown:
You cannot stop Corey Washington, you can only hope to contain him, which the Steelers did not do just now. #nyg

— Paul Schwartz (@NYPost_Schwartz) August 10, 2014
The big story of the game for the Giants is the effectiveness of the running game. They finished 29th in the league in rushing last season, gaining just 1,332 yards on the ground. Strong performances from both Williams and Jennings should be a welcome sight to Giants fans.
The Steelers might be concerned about the uneven performance from Gradkowski. Roethlisberger is obviously the unquestionable starter, but he has missed at least one game in four of the last five seasons.
If Gradkowski can get comfortable in the Steelers' offense, it should help to quell fans fears of a lost season if Roethlisberger misses more than a game or two. His performance against the Giants shows that there is still plenty of progress to be made before the season begins.