Updates from Sunday, Sept. 21
Rotoworld's Adam Levitan provides a synopsis of ESPN's Chris Mortensen discussing Wes Welker's status for today's game:
On ESPN, @mortreport said he expects Wes Welker to be a third-down role player today. First game off suspension.

— Adam Levitan (@adamlevitan) September 21, 2014
Updates from Friday, Sept. 19
Lindsay Jones of USA Today has an update on Welker's status headed into Week 3:
Wes Welker listed as probable for #broncos-#seahawks.

— Lindsay Jones (@bylindsayhjones) September 19, 2014
ESPN's Jeff Legwold had more detail:
"It's been great," coach John Fox said Friday of Welker's work this week. "He's a veteran guy that attacks preparation, and he's had a great week.''
Updates from Friday, Sept. 12
Mike Klis of The Denver Post provides information on Wes Welker's concussion protocol:
Team has confirmed Wes Welker cleared concussion protocol and would be able to play Sunday if cleared by NFL. Doesn't mean he'll be active.

— Mike Klis (@MikeKlis) September 12, 2014
Updates from Tuesday, Sept. 2
Andrew Mason of DenverBroncos.com has the latest update on Wes Welker's Week 1 status from head coach John Fox:
HC Fox tells @850KOA that Welker has reached the stage in the post-concussion protocol where he is cleared to practice, & will practice Wed.

— Andrew Mason (@MaseDenver) September 2, 2014
Updates from Monday, Sept. 1
Mike Klis of The Denver Post updated Wes Welker's situation heading into preparation for Week 1:
Based on his progress late last week, Broncos slot receiver Wes Welker is expected to practice on a limited basis Monday. If all goes well, he could be cleared to fully participate in practice Wednesday or Thursday. That would put him on pace to play in the season opener Sunday night against the Colts at Sports Authority Field at Mile High.
Jeff Legwold of ESPN later reported on Welker from Broncos practice:
Wes welker in helmet ... Doing individual drills at practice for #Broncos this morning.

— Jeff Legwold (@Jeff_Legwold) September 1, 2014
Updates from Sunday, Aug. 31
ESPN's Jeff Legwold provides a statement from Broncos executive vice president of football operations/general manager John Elway discussing Wes Welker's recovery:
Broncos wide receiver Wes Welker, who suffered a concussion in the team's Aug. 23 preseason game against the Houston Texans, will increase his activity level when Denver returns to practice Monday as he continues to progress in the league's concussion protocol. ...

... "One step at a time, still in the process, in (the) protocol. So, he'll be out running around Monday and continue through the protocol, take it one day at a time," Elway said.
Updates from Thursday, Aug. 28
Chris Mortensen of ESPN reported on Wes Welker's condition and his return to the Broncos:
Don't be surprised if you see or hear Peyton Manning is throwing passes to Wes Welker before Dallas game. They did pitch-and-catch Wed.

— Chris Mortensen (@mortreport) August 28, 2014
Earlier, Mike Klis of the Denver Post had an update on Welker's status for the Broncos game this evening against the Dallas Cowboys:
Wes Welker was cleared to fly with the Broncos for their final preseason game against the Dallas Cowboys.

Welker has not yet been medically cleared from his concussion to engage in contact, so he won't play in the game Thursday night at AT&T Stadium.
Updates from Wednesday, Aug. 27
John Fox talked about Welker's injury, according to Patrick Smythe of the Broncos' PR department:
HC John Fox to @850KOA on Welker health: "He's in the exercise mode right now. He won't be back out there until he's completely well."

— Patrick Smyth (@psmyth12) August 27, 2014
Kevin Patra of NFL.com provided more context for what Fox meant:
Players aren't allowed to be in "exercise mode" until symptoms have begun to subside, so that is a positive step. The veteran receiver still needs to clear concussion protocol before he can play in the Week 1 opener against the Colts.
Updates from Tuesday, Aug. 26
John Fox spoke on Wes Welker's recovery (via Ian Rapoport of NFL.com):
Broncos coach John Fox says Wes Welker is doing "fantastic" in the concussion protocol. Lot of optimism from the team.

— Ian Rapoport (@RapSheet) August 26, 2014
Updates from Monday, Aug. 25
Jeff Legwold of ESPN passed along comments from head coach John Fox on Wes Welker's status:
#Broncos coach John Fox on whether Welker has said anything about retirement: "That's not been brought up at all… I didn't sense that.''

— Jeff Legwold (@Jeff_Legwold) August 25, 2014
Asked about Welker's spirits, Fox said; "Very good, talked to him this morning, he's feeling good … He'll be out there when he's healthy.''

— Jeff Legwold (@Jeff_Legwold) August 25, 2014
Earlier, Mike Klis of the Denver Post has the latest on Welker's timeline:
I believe Wes Welker will play in season opener vs. Indy. It's 2 weeks away. His "concussion helmet" helped absorb D.J. Swearinger blow.

— Mike Klis (@MikeKlis) August 25, 2014
Original Text
Denver Broncos wide receiver Wes Welker, 33, exited his team's preseason matchup with the Houston Texans on Saturday night after suffering a concussion in the final moments of the first half.
Welker was forced to leave the matchup, an 18-17 Texans win, following a helmet-to-helmet hit with Texans safety D.J. Swearinger.
See video of the play here.
Mike Klis of The Denver Post added:
Wes Welker went to locker room after DJ Swearinger was flagged for blast to the helmet. Peyton Manning just flagged for taunting Swearinger

— Mike Klis (@MikeKlis) August 24, 2014
Entering his 11th season in the NFL, Welker has been a durable player. The slot receiver has played in all 16 games during a season six times during his career (four with the New England Patriots).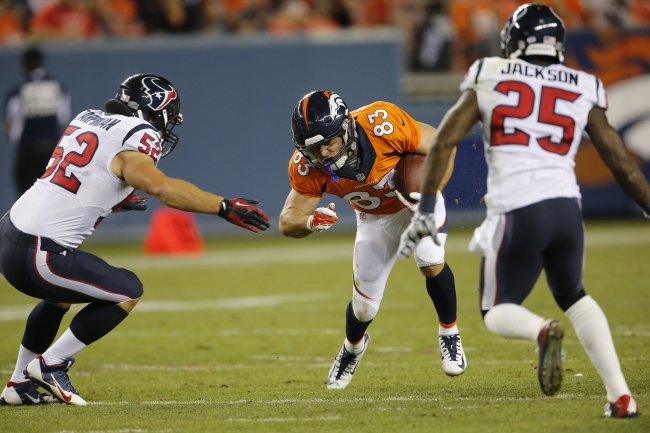 Joe Mahoney/Associated Press
But his streak of two straight seasons without missing a game came to an end in 2013 as he sat out three games after suffering two concussions. Despite those setbacks, Welker came into 2014 looking to exceed expectations, per Troy E. Renck of The Denver Post:
I love it when they say I can't do it, that I am too old. It's something that motivates me, another challenge. From not getting any college offers except from Texas Tech, from going undrafted, from being traded, and from being in Denver now. It's been one thing after another to overcome. Now it's being old. Yeah, I love it.
Playing in 13 games in 2013, his first with the Broncos, Welker remained productive. He quickly became one of Peyton Manning's favorite third-down targets, finishing with 73 receptions for 778 yards and 10 touchdowns.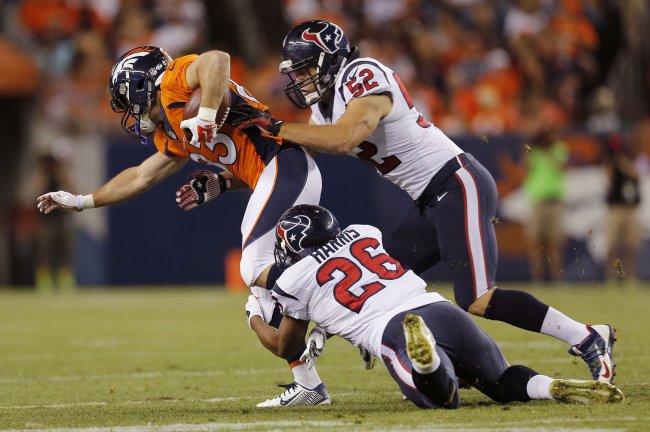 Joe Mahoney/Associated Press
Welker showed flashes of his elusiveness during training camp, as Vic Lombardi of CBS4 notes:
As many of these Broncos DB's are discovering, Welker is almost impossible to cover one on one. He's toasting every guy in line.

— Vic Lombardi (@VicLombardi) July 24, 2014
As for his production during his career, Mike Jurecki of Fox Sports points out how great he's been:
Players w/ the most 100+ catch seasons in NFL history: A.Johnson 5* B. Marshall 5* W. Welker 5* M. Harrison 4 J. Rice 4 R. Wayne 4* Active*

— Mike Jurecki (@mikejurecki) August 7, 2014
Losing that type of player would be huge for most teams, but the Broncos have a plethora of talent in the passing game. If Welker is forced to miss time, veteran Demaryius Thomas, free-agent pickup Emmanuel Sanders, rookie second-round pick Cody Latimer and running back Montee Ball will get more targets.
Welker not being in the slot would also mean more reliance on tight end Julius Thomas in third-down situations. With his size and strength, the 2013 breakout player has a chance to replicate his numbers (65 receptions, 788 yards, 12 touchdowns) with Manning under center.
Follow @RCorySmith on Twitter.