Updates from Tuesday, Aug. 19
Jim Hayes of Fox Sports Midwest provides an update on Yadier Molina's recovery from surgery:
Yadi just told me he hopes to be cleared to start swinging the bat tomorrow or Thursday. #STLCards

— Jim Hayes (@TheCatOnFox) August 19, 2014
Updates from Thursday, Aug. 14
MLB.com's Jennifer Langosch reports the latest on Molina's recovery:
On Thursday, 34 days after undergoing surgery to repair a torn ligament in his right thumb, veteran catcher Yadier Molina crouched down to catch his first bullpen session since the injury.

Manager Mike Matheny noted afterward that Molina is on a quicker-than-expected track to recovery, as the medical staff has given him clearance to reintegrate baseball activities into his daily regimen. It was announced at the time of the surgery that Molina was expected to miss eight to 12 weeks. He will reach the five-week mark on Friday.

"I know right now that he is feeling like he wants to push it," Matheny said. "That's exactly what I would want him to do."
Updates from Monday, Aug. 11
Derrick Goold of the St. Louis Post-Dispatch confirms Yadier Molina is no longer wearing a cast:
Cardinals catcher Yadier Molina, who had thumb surgery the Friday before the All-Star break, had his cast removed this past week.

Molina has been outfitted with several splints, manager Mike Matheny said, and one of them allows for increased movement.
Updates from Monday, Aug. 4
Rick Hummel of the St. Louis Post-Dispatch provides a statement from Cardinals manager Mike Matheny discussing Yadier Molina's recovery:
What we're hearing is good. There's not a lot going on. It's just healing time.

We're trying to keep him from going crazy. He wants to be out there so bad.

When he's around, he's an absolute cheerleader and engaged. But he also knows he doesn't want to come in here and start trying to take control. He knows that relationship has to happen between the catcher and pitcher.
Updates from Friday, July 11
CBS Sports' Jon Heyman reports the Cardinals plan with Molina out:
George kottaras is claimed by cardinals

— Jon Heyman (@JonHeymanCBS) July 11, 2014
Updates from Thursday, July 10
The St. Louis Cardinals provide details on Yadier Molina's thumb injury:
#STLCards place Yadier Molina on the the 15-day disabled list with a torn ligament in his right thumb. Yadi will undergo surgery tomorrow.

— St. Louis Cardinals (@Cardinals) July 10, 2014
#STLCards recall catcher Audry Perez from the @memphisredbirds to take Molina's spot on the Major League roster.

— St. Louis Cardinals (@Cardinals) July 10, 2014
This is only Molina's fourth stint on the disabled list during his 11 year Major League career.

— St. Louis Cardinals (@Cardinals) July 10, 2014
StLSportsPage.com's Rob Rains previously reported the disappointing update on Molina:
Mozeliak says Molina has torn ligaments in right thumb. Will have surgery, expected to miss 8 to 12 weeks. #STLCards

— Rob Rains (@RobRains) July 10, 2014
Cardinals general manager John Mozeliak also spoke about Molina following the announcement (via Jenifer Langosch of MLB.com):
"It's unfortunate," Mozeliak said. "Obviously, when you lose a player of his skill set and leadership, it's tough. But the game doesn't stop and we'll keep going."
Molina also spoke about how he felt when he got the news (via Langosch):
Yadi Molina, on learning the severity of his injury: "I almost cried."

— Jenifer Langosch (@LangoschMLB) July 10, 2014

Jerry Crasnick of ESPN weighed in on St. Louis' potential options:
My sense is that A.J. Pierzynski is not high on the #stlcards list of potential Molina replacements.

— Jerry Crasnick (@jcrasnick) July 10, 2014
Carlos Ruiz not really a fit for #stlcards. He's still owed more than $20M through 2016.

— Jerry Crasnick (@jcrasnick) July 10, 2014
Original Text
St. Louis Cardinals catcher Yadier Molina exited Wednesday night's game against the Pittsburgh Pirates in the third inning after suffering a right thumb sprain while sliding hard into third base on an Allen Craig groundout. The team announced he will be re-evaluated Thursday before a course of treatment is decided upon:
INJURY REPORT: Yadier Molina left the game in the bottom of the 3rd inning with a right thumb sprain. Will be re-evaluated tomorrow.

— St. Louis Cardinals (@Cardinals) July 10, 2014
USA Today's Bob Nightengale had more after the game:
Molina is undergoing MRI on his thumb to determine severity of injury #STLCards

— Bob Nightengale (@BNightengale) July 10, 2014
Molina, 31, appeared to jam his hand into the base during the second inning and came up wincing in obvious pain, though he stayed in the game for the defensive half of the third inning. Manager Mike Matheny and the training staff decided to pinch hit Tony Cruz for him in the bottom of the frame.
It will be interesting to see how St. Louis chooses to deal with the injury in the interim. The Cardinals have one game remaining in this series with Pittsburgh before going on the road for three against Milwaukee prior to the All-Star break. Given the inordinately high risk catchers take with their throwing hands on a pitch-by-pitch basis, Molina might be held out longer than a regular position player with a similar injury.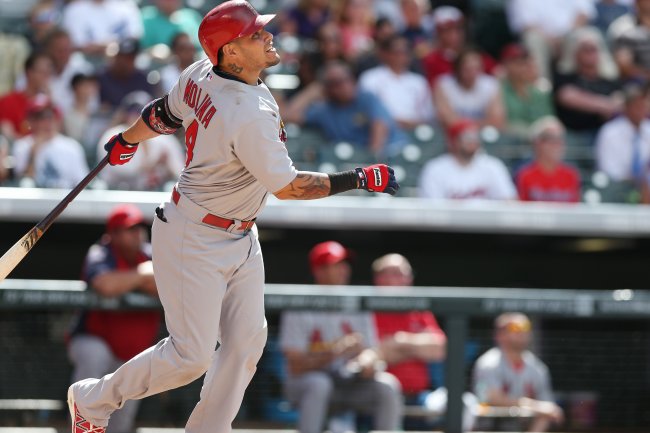 David Zalubowski/Associated Press
Voted in as a National League starter, Molina's injury may complicate his status on the team. He and the Cardinals will not have much time before they need to make a decision, because a replacement will need to be named immediately. Brewers catcher Jonathan Lucroy could be a beneficiary of Molina's absence, as he would likely move into the starting lineup.
Of course, the Cardinals are much more concerned about the potential length of Molina's absence than anything. The six-time All-Star and six-time Gold Glove winner is hitting .287/.341/.409 with seven home runs and 30 RBI while appearing in 83 games. Viewed as perhaps baseball's best two-way catcher, Molina's steadying hand with the pitching staff is as important—if not more so—than his bat.
"He looks like a shortstop behind the plate," Yankees catcher Brian McCann told Tyler Kepner of The New York Times in April. "He makes it look so easy, and it's so hard. Every time I play against him, I watch him closely."
Certainly, #STLCards will be holding breath on All-Star catcher Yadier Molina, who's their most indispensable player.

— Bob Nightengale (@BNightengale) July 10, 2014
The Cardinals currently rank among MLB's 10 best teams in ERA, WHIP and batting average against. Until the last few seasons, Molina's defensive contributions have far outweighed his offensive output. Beginning with his breakout 2012 campaign, though, Molina emerged as perhaps St. Louis' most important player on the roster.
With the Cardinals currently in the thick of a deep NL wild-card race, they hope the prognosis will be positive. Even if it costs him an All-Star Game berth.
Follow Tyler Conway (@tylerconway22) on Twitter.