Updates from Sunday, July 20
Nick Cafardo of The Boston Globe reports one team in the AL East that is intrigued by Matt Kemp:
Matt Kemp intrigues a lot of teams in need of a righthanded bat, including the Red Sox, but with it would come Kemp's attitude. Plus, the Dodgers don't think he can play center field. GM Ned Colletti remains steadfast that despite the outfield logjam in LA, he's reluctant to deal a righthanded bat.
Updates from Friday, July 18
Dylan Hernandez of the Los Angeles Times provides Matt Kemp's take on the prospect of being traded:
Matt Kemp not asking for trade, but acknowledges it's a possibility. Emphasized he has no control over the situation.

— Dylan Hernandez (@dylanohernandez) July 19, 2014
Kemp: "I want to play every day, if it's with the Dodgers, if it's with somebody else. It's not my decision. I don't make that decision."

— Dylan Hernandez (@dylanohernandez) July 19, 2014
Matt Kemp on the #Dodgers: "I want to be here as long as they want me here."

— Dylan Hernandez (@dylanohernandez) July 19, 2014
Updates from Thursday, July 17
Ken Rosenthal of Fox Sports provides an update from Matt Kemp's agent, Dave Stewart:

Whatever they want to do we're favorable to, as long as it gives him an opportunity to play every day," Stewart said. "He'd like to eventually go back to center field. He's not opposed to right or left. But his hope at some point is to get back to center.
Original Text:
It turns out the Boston Red Sox's supposed interest in acquiring Los Angeles Dodgers outfielder Matt Kemp was much ado about nothing.
Rob Bradford of WEEI.com recently reported there is "no momentum" for a deal for the All-Star slugger. Boston has been linked to Kemp in recent weeks after team scouts were in Los Angeles—ostensibly to see him play.
Dodgers general manager Ned Colletti told Nick Cafardo of The Boston Globe that Kemp would not be traded. Colletti cited the dearth of right-handed power bats around the league for the team's decision. That largely falls in line with a report from Fox Sports' Ken Rosenthal, which notes that while Kemp will probably be traded at some point, it will likely not be until the offseason.
MLB.com's Ollie Connolly chimed in on the matter:
The Red Sox spent significant time watching Matt Kemp last week but came away more impressed with Scott Van Slyke

— Ollie Connolly (@OllieUKEZ) June 24, 2014
Kemp has been oft-mentioned in trade rumors because of the Dodgers' logjam in the outfield and his high salary. The 29-year-old center fielder has five years remaining on the eight-year, $160 million deal he signed with Los Angeles before the 2012 MLB season. The deal calls for salaries of more than $21 million per season until 2019.
While the Dodgers have no issue paying a premium for talent, their outfield is clogged with high-cost talent. Kemp, Andre Ethier and Carl Crawford each make eight figures per season. Yasiel Puig, unquestionably the biggest star of the foursome and arguably the face of the franchise, makes just $3.7 million total this year.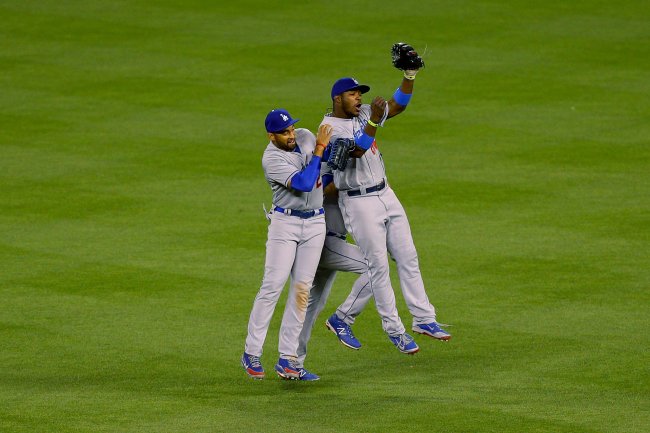 Justin Edmonds/Getty Images
With only three outfield spots, manager Don Mattingly has been left having to creatively juggle his lineups to keep players happy. Crawford's recent ankle injury made things a bit easier from a logistical standpoint, but he'll be back in the lineup soon. Right before Crawford went out of the lineup, Mattingly had pulled Kemp from his starting spot and used him for only one at-bat in a four-day span.
Once considered one of the best all-around players in baseball, Kemp has struggled mightily each of the last two seasons. He's hitting .270/.327/.452 this year with eight home runs and 30 RBI. Couple that with his frustrating and injury-plagued 2013 campaign, and the Dodgers have what amounts to a season-long sample of Kemp being a replacement-level player.
That said, Kemp's trajectory has been pointing upward of late. In June, he's hitting .309/.365/.511 with three home runs and 15 RBI. He has in many ways regained his MVP-level form—or at the very least something close enough to it to justify his presence in the lineup.
"It's tough," Kemp told Robert Morales of the Long Beach Press-Telegram, via the Los Angeles Daily News. "I think it's tough for anybody to try to go from being something to being something else and you're trying to get back to where you were. Sometimes injuries take time to heal. It could be one year, two years, three years. But for me, every year I've had to deal with a different injury."
His regaining of form in theory makes a deal more realistic. The Dodgers aren't going to want to give someone of Kemp's talent away for free, regardless of their roster composition. Contenders for his services—a select few, big-market teams with the resources to take on his contract—are not going to give up top-level prospects for the version of Kemp that showed up the first couple months.
It's a high-cost, high-stakes game of weighing risk and reward. The Dodgers probably need Kemp to keep pace with the San Francisco Giants in the National League West. They also need to hope his recent resurgence continues and is not a mirage that masks a player who is three years removed from his peak and two removed from being consistently effective.
Crawford's contract is toxic. Ethier's is nearing a similar status, and the team wouldn't be able to recoup anything of value in a trade regardless. Kemp is the only tradeable commodity among the four outfielders and at this point might be too important to actually deal.
This situation is one to monitor going forward.
Follow Tyler Conway on Twitter: