The Pittsburgh Steelers turned their attention to the offensive line with pick No. 173. Offensive line wasn't a top priority, but the truth is, you can never have enough good offensive linemen.
And Vanderbilt offensive tackle Wesley Johnson is a very nice value at this point. All other things aside, having 51 starts at tackle in the SEC is an impressive feat.
Johnson started every game of his college career at either left or right tackle. If Johnson couldn't play the position well, that wouldn't happen. He is the picture of consistency. Pittsburgh Tribune-Review beat writer Mark Kaboly offered this little nugget about Johnson that further makes the point:
Steelers 5th rd pick Wesley Johnson (OL) didn't draw first holding penalty of his career as a four-year starter until midway through sr year

— Mark Kaboly (@MarkKaboly_Trib) May 10, 2014
Johnson's overall game is very good. He's a lean, conditioned athlete. He's got nice size at 6'5" and 297 pounds, with a frame that could hold 10 more pretty easily. Johnson struggles in space laterally but does a nice job getting to the second level, if he's headed downhill.
However, what makes Johnson enticing, particularly to the Steelers, is his ability to move around the offensive line. Even though all 51 of his starts were at tackle, he has played guard and center while at Vanderbilt. One thing we all recognize is that the Steelers do like having linemen who are versatile.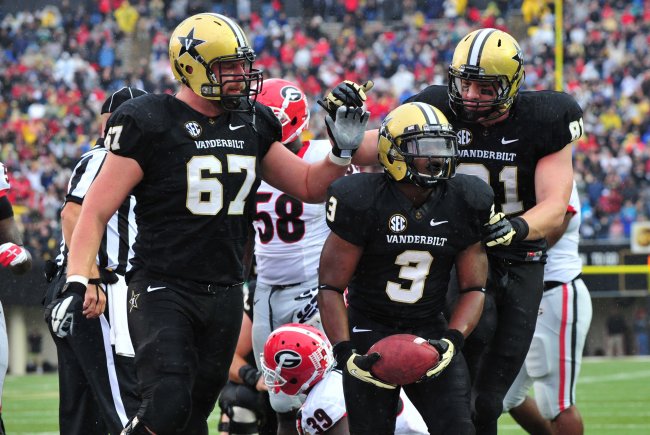 USA TODAY Sports
Last season, when the injuries hit, these guys didn't know where they might be playing from one week to another. Johnson looks more than capable of being a fill-in starter at all five offensive line spots.
The highlight of Johnson's game is in pass protection. He does a nice job mirroring defenders and can use his hands well to re-direct pass-rushers. Johnson's strength isn't where it should be for a power-run game. However, if the Steelers go with more of a zone-blocking scheme, his agility will be nice to have. This team has plenty of big maulers, so it can use a player like Johnson to balance things out.
Where does Johnson fit? Right now, I wouldn't be at all surprised if Johnson didn't push for a starting spot in training camp. Starting left tackle Kelvin Beachum is a much better fit at left guard. It's not unrealistic to think Beachum could supplant Ramon Foster at guard, and either Johnson or Marcus Gilbert start at left tackle.
Or if center Maurkice Pouncey isn't ready to roll in training camp, it could come down to Johnson and Cody Wallace fighting for the starting center spot. I really think that as the training camp goes on, Johnson's skills will start to show themselves.


Height: 6'5"
Weight: 297 pounds
40-Yard Dash: 5.11 seconds
10-Yard Split: 1.73 seconds
Bench Press: 26
Vertical Jump: 29
Short Shuttle: 4.64 seconds
Three-Cone Drill: 7.4 seconds
Combine results courtesy of NFLdraftscout.com.