The Cincinnati Bengals have reached an agreement with starting quarterback Andy Dalton on a contract extension.
ESPN's Adam Schefter and Adam Caplan first reported details of the new deal:
From me and Adam Caplan: Cincinnati and Bengals QB Andy Dalton reached agreement on a 6-year, $115 million contract, per two sources.

— Adam Schefter (@AdamSchefter) August 4, 2014
NFL has yet to receive paperwork on Bengals and Andy Dalton's 6-year agreement, but deal expected to be signed later today.

— Adam Schefter (@AdamSchefter) August 4, 2014
Mike Garafolo of Fox Sports reported more on Dalton's deal:
Andy Dalton's deal with Cincy does indeed have a base value of $96m over 6 years. Gets $18 mil this year. After that, pay as you go.

— Mike Garafolo (@MikeGarafolo) August 4, 2014
Mike Florio of Pro Football Talk also reported on more details in Dalton's contract:
Dalton passed on the opportunity to load injury-only guarantees into the contract, since the Bengals would have wanted Dalton to buy a disability policy similar to the one that the 49ers had Colin Kaepernick buy as part of his six-year extension. The policy cost $2 million in pre-tax dollars, and (as we'll explain in a separate post) creates a bizarre donut hole of protection for the player and the team.

The rest of the base deal is simple. In addition to annual workout bonuses of $200,000, Dalton has base salaries of $10.5 million in 2016, $13.1 million in 2017, $13.7 million in 2018, $16 million in 2019, and $17.5 million in 2020.
The Bengals shared an image of Dalton signing his contract:
NEWS: @andydalton14 signs extension. http://t.co/vdFVLUtpSh #LetsRoar pic.twitter.com/WZ5QrINkvA

— Cincinnati Bengals (@Bengals) August 4, 2014
Dalton also spoke about his new contract on Monday (via Coley Harvey ESPN):
Dalton: "It's crazy to think that after sr yr, I had no idea where I'd end up ... opportunity to play here, sign extension, I'm so blessed"

— Coley Harvey (@ColeyHarvey) August 4, 2014
Mike Brown also discussed Dalton and his new contract (via Harvey and Paul Dehner Jr. of The Cincinnati Enquirer):
Brown is quick to say that his daughter, Katie Blackburn, negotiated the deal. He gave her a lot of credit for that.Said he was proud of her

— Coley Harvey (@ColeyHarvey) August 4, 2014
Mike Brown: "we are betting big on him because we believe in him." #DaltonNado

— Paul Dehner Jr. (@pauldehnerjr) August 4, 2014
Peter King of Sports Illustrated provided a statement from Bengals head coach Marvin Lewis discussing Dalton:
CINCINNATI-Marvin Lewis to me on Dalton: 'We never wavered. I never wavered. Mike Brown never wavered. Andy's our guy, and will be.'

— Peter King (@SI_PeterKing) August 4, 2014
Dalton was set to enter the final year of his rookie deal before he agreed to the extension. There were questions about whether the Bengals were ready to give him any type of long-term commitment due to his lack of playoff success, but those have now been answered.
The fourth-year player out of TCU has been an above-average quarterback during the regular season. He averaged nearly 3,800 yards passing per year over his first three seasons while completing a shade under 61 percent of his throws with 80 touchdowns and 49 interceptions.
Unfortunately for Cincinnati, he's been unable to carry that success over to the postseason. The Bengals are 0-3 under Dalton in the playoffs, due in large part to his lack of success leading the offense. He has just one touchdown to go with six interceptions in those games.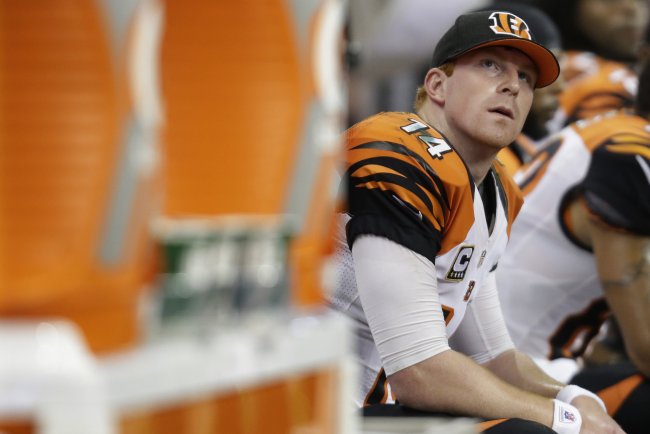 Eric Gay/Associated Press
Despite that, the extension doesn't come as much of a surprise. Chris Wesseling of NFL.com passed along comments Dalton made on SiriusXM NFL Radio in late March, when he said talks were ongoing:
There have been talks about it. There have been a couple of proposals sent over and different things. We're working. Hopefully, we can get something done.

I'm not too worried about it. I know in the right timing, everything is going to happen. Obviously, everyone would like to get something done sooner rather than later.
Ian Rapoport of NFL.com reports how the deal impacts Dalton's teammate, A.J. Green:
AJ Green is next up for the #Bengals. They were waiting to dig into his deal until Andy Dalton got done. Now, Dalton's deal is done.

— Ian Rapoport (@RapSheet) August 4, 2014
Now that the deal is complete, the 26-year-old quarterback will likely become even more polarizing. It's a standoff between those who see a bright future based on the success in the regular season and those who see the postseason failures as a sign the Bengals should have let him play out his deal.
The biggest key for Dalton moving forward is actually quite clear. Pete Damilatis of Pro Football Focus notes the gap between Dalton's good and bad performances is more dependent on getting protection than most other quarterbacks:
Every QB struggles under pressure, but Andy Dalton struggles more than most: pic.twitter.com/8nOiQZq8mS

— Pete Damilatis (@PFF_Pete) February 23, 2014
Giving Dalton an extension means Cincinnati thinks he can work through those issues to become a true franchise quarterback. Ultimately, the success of the new deal hinges on that becoming the case—and that includes playoff victories.
What do you think of the Dalton extension?
Even though Dalton isn't a top-tier quarterback right now, he's been reliable enough during the regular season for the team to stick with him for the short term. There isn't an endless supply of talent at the position, so unless the Bengals have a clear plan to replace him, he's a solid option.
Looking ahead, it wouldn't be a surprise to see the Bengals continue to look at developmental quarterbacks. They selected AJ McCarron in the fifth round of the 2014 NFL draft, but it's unclear if they view him as a long-term option. At the very least, the team used a late-round pick to see if McCarron can develop and eventually put some pressure on Dalton.
Otherwise, the team has committed to Dalton for now, and it will be interesting to see if he shows signs of improvement in his fourth season. The biggest test would come in the postseason, if he's able to lead Cincinnati there once again.
It's likely not all fans approve of the deal, but the Bengals felt the need to lock Dalton up when they had the opportunity.