Following a Triple Crown and two American League MVP awards in two seasons, the Detroit Tigers are about to make Miguel Cabrera a very rich man. Again. The team announced that Cabrera has signed a 10-year deal (with the last two years coming in a vesting option) for just under $300 million:
Cabrera and the Tigers have agreed to terms on an eight-year extension that, when added in with the remaining two seasons on his current deal, is expected to comprise the largest contract in baseball history, a source with knowledge of the talks confirmed to MLB.com.

The agreement will extend Cabrera's current contract through at least 2023. Published reports estimate the value of the extension at $248 million guaranteed. A report by CBSSports.com said the pact will include vesting options for two more years at $30 million each.
Jerry Crasnick of ESPN is reporting the Tigers and Cabrera have finalized a 10-year contract worth just under $300 million to keep the right-handed slugger in Detroit through the 2023 season:
Miguel Cabrera's new deal with #tigers will be for 10 years and just under $300M, says a baseball source.

— Jerry Crasnick (@jcrasnick) March 27, 2014
Neither side has confirmed terms of the agreement at this time, though an announcement is expected soon. Jon Heyman of CBS Sports was the first to report a finalized agreement between the two sides. Jon Morosi of Fox Sports had the final numbers of the contract, which came in at a total value of $292 million:

Miguel Cabrera's total guarantee is therefore 10 years and ~$292 million. This is through 2023.

— Jon Morosi (@jonmorosi) March 27, 2014
Clarification: Cabrera will have highest per-year guaranteed salary in "team" sports. @Forbes has Floyd Mayweather at $34MM.

— Jon Morosi (@jonmorosi) March 27, 2014
Heyman later provided more details:
cabrera commitment could reach $352M. there are 2 vesting options, in yrs 11 and 12, at $30M each. #tigers

— Jon Heyman (@JonHeymanCBS) March 27, 2014
Cabrera, 30, was under contract through the 2015 season. He signed an eight-year, $153.3 million deal with Detroit after coming over in a trade from the then-Florida Marlins in 2008.
Cabrera had quite the reaction to learning of his new deal, according to an Instagram video posted by the slugger's barber:
Cabrera talked about how he felt at Friday's press conference, according to MLB's official Twitter feed:
"I couldn't be more excited to stay in a @Tigers uniform for the rest of my career." - @MiguelCabrera. pic.twitter.com/9r1V4Z8Rmt

— MLB (@MLB) March 28, 2014
James Schmehl of MLive.com added general manager Dave Dombrowski's comments on the contract:
Dave Dombrowski on Miguel Cabrera: "Do I expect him to win a Triple Crown when he's 40? No. May he? Maybe. He's a pretty good player."

— James Schmehl (@jamesschmehl) March 28, 2014
Dombrowski: "Anytime you give long-term contracts you're concerned. That's the way it is."

— James Schmehl (@jamesschmehl) March 28, 2014
Dombrowski on #Tigers owner Mike Ilitch's involvement: "He was involved step by step. He loves Miguel. He's very thankful for what he did."

— James Schmehl (@jamesschmehl) March 28, 2014
Jayson Stark of ESPN gave more details on the two options at the end of the massive deal:
Dave Dombrowski says Cabrera's vesting options become guaranteed if he finishes in top 10 of MVP voting the previous year. No other triggers

— Jayson Stark (@jaysonst) March 28, 2014
An average annual value of just over $29 million would be the second highest in MLB history. Dodgers pitcher Clayton Kershaw signed a seven-year, $215 million contract this offseason, which is slightly more than Cabrera's reported per-season average.
The Tigers are, however, giving Cabrera the largest per-year contract in history for an everyday player, and his extension seasons average out at $31 million per season, per Fox Sports' Jon Morosi. It is also the highest total value contract in history, when factoring in the two already-contracted years.
Heyman initially reported that talks had intensified with the two sides over the last week, though dialogue has been open since last summer.
Winners of three straight AL Central championships, the Tigers have been hard at work this offseason locking up members of their core. They were deep in negotiations with AL Cy Young winner Max Scherzer before he pulled out last week—right about the time Cabrera's talks intensified.
Given Cabrera's limited defensive abilities, Detroit is taking a bit of a risk here. The history of signing aging sluggers to long contracts is littered with hits and misses, and this deal will take Cabrera into his late 30s. The Los Angeles Angels and New York Yankees have lived to regret long-term contracts handed out to Albert Pujols and Alex Rodriguez, respectively, and there's a chance Cabrera could join that list.
FanGraphs' value metric notes that Cabrera has been worth $30 million only during three seasons in his career, though they're admittedly the last three. Bleacher Report's Will Carroll also wondered what this could mean for Angels slugger Mike Trout:
If Cabrera at 30 is worth $300m, what might Trout be worth at 26?

— Will Carroll (@injuryexpert) March 27, 2014
It's still hard to argue that he hasn't earned the raise. The eight-time All-Star hit .338/.442/.636 last season with 44 home runs and 137 RBI, winning his second straight AL MVP. Though he failed to win another Triple Crown, his wins above replacement suggests than he was better in 2013 than he was in his historic 2012 campaign.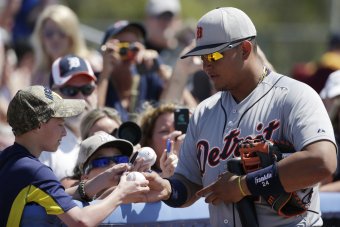 Kathy Willens/Associated Press
Still in his prime at age 30, another slight uptick in play may be coming. The end of Cabrera's 2013 campaign was marred by a bothersome groin injury, which sapped his power during the playoffs and required offseason surgery. He's looked fully healthy throughout spring training, batting .353 with four home runs and 12 RBI.
"Oh my god, I feel free, like I can do anything right now," Cabrera told reporters in February. "I don't worry about anything. I don't worry if it's going to hurt, if it's going to feel good if I do this. I feel free, ready to go."
A much-needed position switch back to first base should help Cabrera's long-term health. He's started an overwhelming majority of his games at third base each of the last two seasons, as Detroit tried making an awkward fit with Prince Fielder work defensively. Fielder was traded for Ian Kinsler this winter, opening up first for Cabrera.
Having less strain in the field should allow Cabrera to concentrate more at the plate, while helping his and the team's overall value. While not necessarily a good first baseman, he's been historically far better there than either in the outfield or at third, per FanGraphs. It will also be easier to give him the occasional off day at designated hitter by alternating Cabrera and Victor Martinez, who can occasionally fill in at first.
It's nevertheless a historic day for Cabrera and the Tigers franchise. We'll just have to see how both sides are feeling about this deal come the turn of the decade.
Follow Tyler Conway on Twitter: