Updates from Tuesday, Mar. 25
The Diamondbacks wished Patrick Corbin a speedy recovery from surgery:
Retweet to join us in wishing Patrick Corbin a full and speedy recovery from Tommy John surgery. #GetWellSoonPC46 pic.twitter.com/Ro1jHB4I6H

— Arizona Diamondbacks (@Dbacks) March 25, 2014
Steve Gilbert of MLB.com provides an update on Corbin's injury and recovery:
#Dbacks Patrick Corbin had Tommy John surgery performed today by Dr. James Andrews.

— Steve Gilbert (@SteveGilbertMLB) March 25, 2014
Updates from Monday, Mar. 24
Jack Macgruder of Fox Sports Arizona has the latest on Patrick Corbin:
CORRECTION, and my apologies: #Dbacks Corbin has only a consult with Dr. James Andrews today. No decision has been made on the next step.

— Jack Magruder (@JackMagruder) March 24, 2014
Original Text
Arizona Diamondbacks ace Patrick Corbin will not be starting the season with the team after suffering an elbow injury during spring training.
Ken Rosenthal of Fox Sports reported the news via Twitter on Sunday:
#DBacks announce Corbin has damage to UCL in left elbow. Not making trip to Sydney. Getting second opinion this week. Miley replacing him.

— Ken Rosenthal (@Ken_Rosenthal) March 16, 2014
The Diamondbacks' official account confirmed the news:
Medical update: Patrick Corbin underwent an MRI last night that showed damage to the ulnar collateral ligament in his left elbow. (cont.)

— Arizona Diamondbacks (@Dbacks) March 16, 2014
The team will get a second opinion this week and Corbin will not make the trip to Sydney, Australia for the Opening Series.

— Arizona Diamondbacks (@Dbacks) March 16, 2014
Corbin spoke about the injury on Sunday (via Bob Nightengale of USA Today):
Patrick Corbin says his elbow had been tight this spring, but thought it was just fatigue #DBacks

— Bob Nightengale (@BNightengale) March 16, 2014
The original diagnosis was partial tear of the elbow, Patrick Corbin says. He will now decide whether to have surgery or try rehab #DBacks

— Bob Nightengale (@BNightengale) March 16, 2014
Patrick Corbin says the pain hit him in the last three pitches when he knew he was hurt. #DBacks

— Bob Nightengale (@BNightengale) March 16, 2014
Following Corbin's outing against the Cleveland Indians on Saturday, teammate Miguel Montero spoke about the pitcher, via Zach Buchanan of AZCentral.com:
He was pretty good. I didn't really notice nothing at all. When he called for the trainers, I thought it was something like his ankle or groin.

(...)

If you look at it, his two-strike counts, he couldn't really put them away with his breaking ball like he normally does. He was just kind of floating out there and kind of backing up. (The arm stiffness) might be the reason why.
The extent of the injury hasn't been announced, and there is no word on whether it will require surgery for the 24-year-old lefty. Wade Miley will replace Corbin on the trip to Sydney, Australia, to take on the Los Angeles Dodgers.
Zachary D. Rymer of Bleacher Report provides his thoughts on who might benefit, highlighting Archie Bradley.
Injuries are just the worst, but D-Backs could be worse off when it comes to starting pitching depth. Notably: Archie.

— Zachary D. Rymer (@zachrymer) March 16, 2014
Bradley just so happens to be the top overall pitching prospect in the MLB, according to Jon Heyman of CBS Sports. The 21-year-old has made a name for himself and could break camp for the D-Backs now with Corbin potentially on the shelf.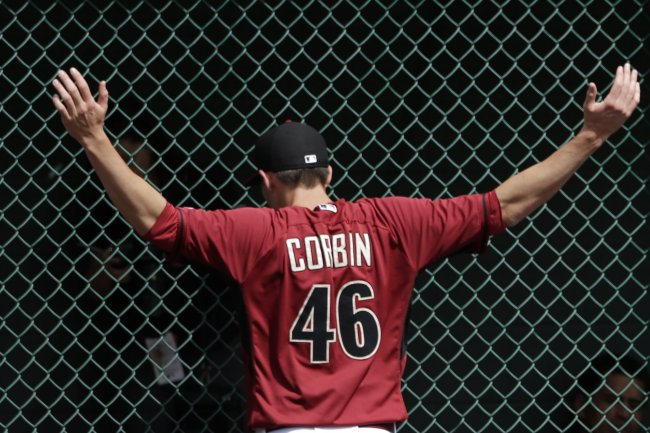 Gregory Bull/Associated Press
But losing Corbin for an extended period of time would be huge. He posted a 14-8 record with a 3.41 ERA and 178 strikeouts in 208.1 innings last season.
The series in Sydney was already being downplayed by the Dodgers. If the team can get Corbin back shortly after the opening series, it shouldn't be an issue moving forward.
Follow R. Cory Smith on Twitter: