The Dallas Cowboys have reportedly reached an agreement with defensive tackle Henry Melton on a multi-year contract.
Fox Sports Southwest's Mike Fisher had the news:
BREAKING: DT Henry Melton is agreeing to a multi-yr deal w #Cowboys get @1053thefan NOW

— mike fisher (@fishsports) March 19, 2014
Clarence Hill Jr. of the Fort Worth Star-Telegram provided details on the contract:
Melton got a One-year deal that gets 3 years extension if on roster first day of league year and kicks in guaranteed $, per source

— Clarence Hill (@clarencehilljr) March 19, 2014
NFL Network's Ian Rapoport added more details on Wednesday:
Terms for Henry Melton's #Cowboys deal: 1st year, $5M. If he's on roster Day 1 of '15, 3 years kick at $8M per year, $9M guaranteed for '15

— Ian Rapoport (@RapSheet) March 19, 2014
What does that mean? If Melton plays like he did in 2012, he'll have a deal that becomes four years worth $29M with $13M guaranteed by 2015

— Ian Rapoport (@RapSheet) March 19, 2014
Melton addressed the move via Twitter:
Thank you chicago for the best 5 years of my life!.... I can't wait to begin the next chapter of my life... With a star on my helmet.

— Henry Melton (@HenMel) March 19, 2014
Melton was one of the most intriguing free agents on the market. His production across the 2011 and 2012 seasons, when he racked up 13 sacks and was emerging as an interior force, and his age (27) suggest he's a key signing for the defensive line.
Unfortunately for the Texas product, he entered the market on a low note after suffering an ACL injury while playing under the franchise tag last season. It obviously raised concerns about his ability to bounce back and pick up where he left off.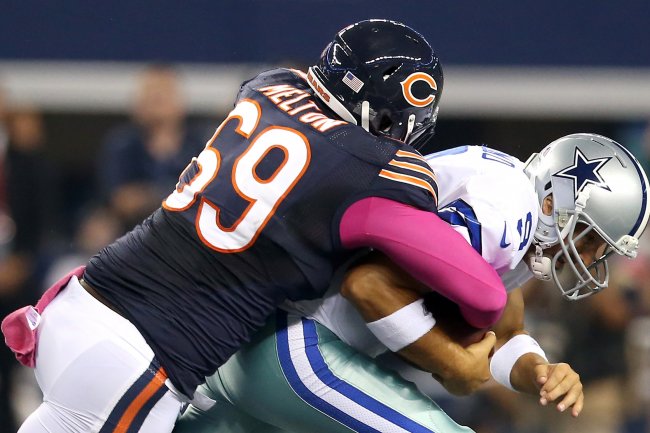 Ronald Martinez/Getty Images
Heading into the process, it was clear he wasn't sure how it would all play out. Brad Biggs of the Chicago Tribune passed along comments from the defensive tackle back in February, and he said he would be open to rejoining the Bears but would keep all options open:
"I honestly have no clue. I've had positive conversations," Melton said. "It's kind of like the draft. You have positive conversations with a lot of teams. They like you but you're definitely not sure until it happens."
While the injury may have caused some teams to shy away, it didn't eliminate his entire market. Michael C. Wright of ESPN reported before the signing period opened that multiple teams had already lined up with interest:
Henry Melton has multiple suitors, according to source. As we said a while back, he fully intends to test market.

— Michael C. Wright (@mikecwright) March 9, 2014
After the initial signing surge, Pro Football Focus ranked him as the best free agent still available and pointed to his upside as the reason why:
Melton had a tough 2012 as he was the latest franchise tagged player to go down hurt and see his dreams of a big deal dwindle. Still, he's ability to penetrate at the line of scrimmage against the run and pass means teams will take a chance on him. The upside is just too much.
Will Melton return to form in 2014?
All things considered, Melton is worth the risk. Even though a serious knee injury can cause major problems at a position that relies so heavily on leverage, as long as he's all the way back to full strength before trying to go full speed, he should return to form.
Assuming that happens, we're talking about a defensive tackle in the midst of his prime capable of penetrating whatever blocking scheme opposing offenses throw at him. That kind of high-impact interior lineman isn't easy to find, which explains why multiple teams were interested despite the injury.
It's no guarantee he'll be a dominant force in 2014, but there's a good enough chance to warrant the free-agent deal.