Just because some of the biggest names are off the NFL free-agent market doesn't mean there isn't plenty of talent still available.
Patience may be a virtue, but it doesn't pay off in free agency. Teams that blinked yesterday ended up losing out on some of the biggest names. However, the well hasn't dried up yet, with some top players still looking for new teams.
Among those without a new deal, these four players are top of the class.
DeMarcus Ware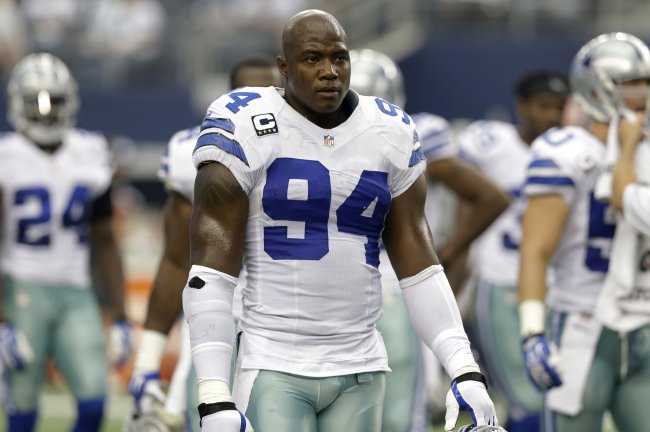 LM Otero/Associated Press
Ware may not be a free agent much longer. ESPN's Adam Schefter reported that the former Dallas Cowboys linebacker is on his way to visit the Denver Broncos. One AFC West scout is already preparing for the nightmare that would be facing a defense with both Ware and Von Miller:
Former Cowboys DE DeMarcuus Ware will be flying to Denver today to visit the Broncos, per source.

— Adam Schefter (@AdamSchefter) March 12, 2014
One AFC West official who tried to get DeMarcus Ware to visit his city said he was told "you're not going to like where he winds up."

— Adam Schefter (@AdamSchefter) March 12, 2014
There's little doubt that the 31-year-old wasn't cut by the Cowboys for lack of production.
Although he recorded six sacks last year—a drop from 11.5 in 2012—he'd likely still be in Dallas if the team wouldn't have saved $7.4 million against the cap by offloading him, as reported by ESPN.com's Todd Archer.
Ware has at least a couple of good years left in the tank and would be the perfect pass-rushing option for the win-now Broncos.
Denver's window is closing fast, so it needs somebody who can provide an immediate impact on the defense. Ware brings just that.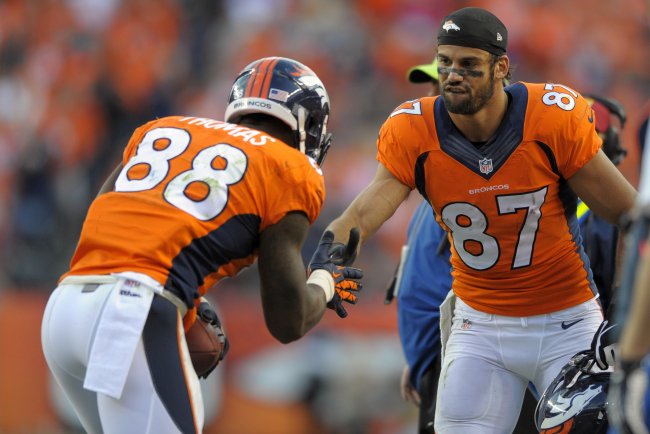 Jack Dempsey/Associated Press
Does it say a lot about this year's crop of free-agent receivers that the top two options have yet to find new homes? Last year, it felt like the Miami Dolphins couldn't have signed Mike Wallace fast enough.
Eric Decker is still sitting there, waiting for a potential suitor.
NFL Network's Kimberly Jones reported that the 26-year-old former Denver Broncos star is visiting the New York Jets on Wednesday:
Eric Decker visiting Jets today.

— Kimberly Jones (@KimJonesSports) March 12, 2014
Although Decker has recorded 172 receptions for 2,352 yards and 24 touchdowns, there's good reason for teams to be a bit apprehensive about signing him. You wonder how good he can be without Peyton Manning as his quarterback, and since he's the best WR available, he's bound to be overpaid.
Still, Decker would be a huge upgrade for a Jets receiving corps bereft of much star power.
Jared Allen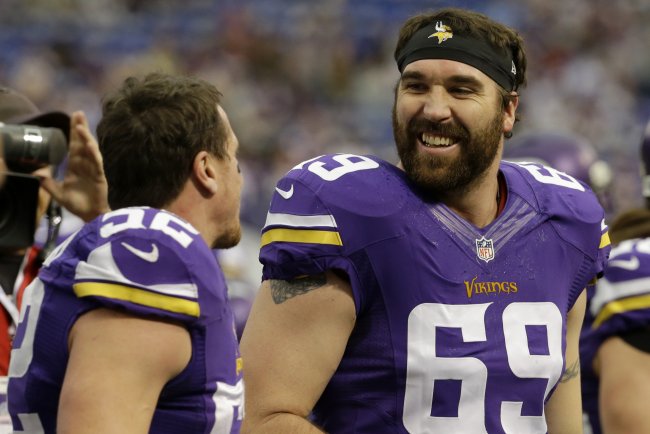 Ann Heisenfelt/Associated Press
It's no major surprise that Jared Allen has yet to find a new home. NFL.com's Ian Rapoport reported earlier in the week that the veteran pass-rusher wasn't going to rush into any decision:
One thing on Jared Allen: Agent Ken Harris told me he'll likely take his time and take visits. So, probably won't have a decision Tues at 4.

— Ian Rapoport (@RapSheet) March 9, 2014
Yesterday, Schefter reported that the Chicago Bears and Seattle Seahawks were in the mix to sign the 31-year-old:
While Denver focuses on DeMarcus Ware…Vikings free-agent DE Jared Allen is talking with the Bears and Seattle Seahawks, per league source.

— Adam Schefter (@AdamSchefter) March 12, 2014
However, Jeff Dickerson of ESPN Chicago reported that the Bears are no longer vying for Allen's services:
Overnight word on Jared Allen is that #Bears are not in the mix to sign him at the moment, per informed sources.

— Jeff Dickerson (@ESPNChiBears) March 12, 2014
Before the Broncos' attention was focused on Ware, Pro Football Talk's Mike Florio reported that Denver was pursuing Allen, though his price tag was a major impediment:
Possible impediment to Jared Allen to Broncos? Allen may want too much money, per league source. And he currently has no other suitors.

— ProFootballTalk (@ProFootballTalk) March 11, 2014
The former Minnesota Viking is the best pure pass-rusher available. In the last seven seasons and eight of the last nine, he's recorded 11-plus sacks.
Henry Melton
Henry Melton's torn ACL in September will likely cost him millions in free agency, but it will also mean that whatever team he signs with will be getting a great deal.
ESPN's Bill Polian spoke about the process for an NFL team trying to sign a player who suffered such a major injury during a teleconference:
The physical exam is critical. Injury history is critical. System fit is critical. Who knows what the doctors will say on the physical exam? But as a general rule you don't even begin to think about pursuing a player unless the doctors say, 'Go ahead.' The trainers do exchange information, so everybody kind of knows the general tenor of what the injury was and what the prognosis is. But everybody that's interested is obviously going to get their hands on him, and they will figure out what they think the risk is with the injury. That's the protocol they will follow.
If he can get back to where he was, Melton offers tremendous value for a new team. He was one of the best defensive tackles in the league in 2012. Of course, there's the chance that his ACL tear will cause more problems down the road.
The Cowboys aren't scared, as Jeff Sullivan of DallasCowboys.com reported that the team is interested and could move fast:
Cowboys are targeting Henry Melton. Like now. Lot of mutual interest. Could happen quickly.

— Jeff Sullivan (@SullyBaldHead) March 11, 2014
If Dallas does pull the trigger, it could be making one of the most underrated moves of the offseason.