Peyton Manning would describe his performance and the Denver Broncos' 43-8 loss to the Seattle Seahawks in the Super Bowl as many things, but "embarrassing" apparently isn't one of them.
The normally amicable quarterback was not pleased when asked if he believed his team's performance was embarrassing, according to Gregg Rosenthal of NFL.com:
It's not embarrassing at all. I would never use that word. There's a lot of professional football players in that locker [room] that put in a lot of work into being here, playing in that game. ... That word embarrassing is an insulting word to tell you the truth.
The term might be insulting, but is it really unwarranted?
The same team that put together the most explosive offense in NFL history was completely shut down through nearly three full quarters. Manning, who set records for touchdown passes and passing yards this season en route to earning 49 out of 50 NFL MVP votes, finished with a Super Bowl-record 34 completions but threw two interceptions and fumbled away a chance as well in the blowout loss.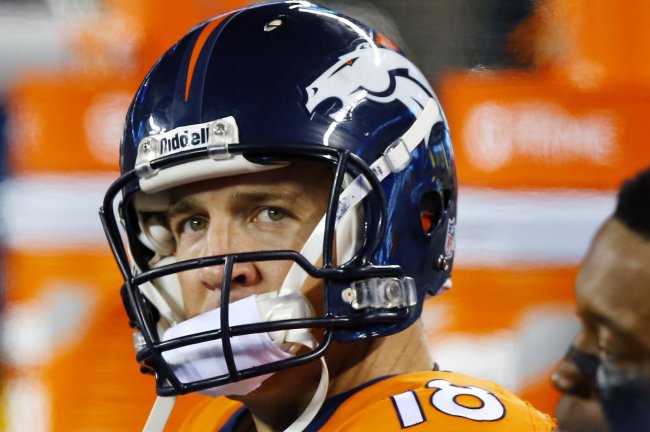 Paul Sancya/Associated Press
Was Denver's performance in the Super Bowl embarrassing?
That sounds pretty embarrassing. And Wes Welker, who is now 0-3 in the Super Bowl, agrees, according to Rosenthal. "This was embarrassing," he said. "No way I expected anything like this to happen."
To be honest, neither did fans of the game in attendance or watching on TV. It was a demoralizing loss at the hands of the Seahawks, who came out and dominated on both sides of the ball to pull out the 35-point win, which tied for the third largest in Super Bowl history, according to ESPN Stats & Info:
The Seahawks' 35-point victory is tied for 3rd-largest margin of victory in a Super Bowl.

— ESPN Stats & Info (@ESPNStatsInfo) February 3, 2014
All the questions coming into the big game about Manning's legacy and whether he would ride off into the sunset were quickly put to bed by Seattle's play.
Apart from the 1-2 record in the Super Bowl, Manning also broke another record that he likely won't want to hear about, according to NFL AM:
Peyton Manning is now 11-12 in the postseason. Peyton now has the most playoff losses by a QB, breaking a tie with Brett Favre.

— NFL AM (@NFL_AM) February 3, 2014
The insulting accusation that the Broncos' performance was embarrassing might irk him, but the fact that the Seahawks thoroughly dominated the Broncos will never be argued.
Manning's past is one thing, but his future is in the hands of doctors. According to ESPN's Chris Mortensen, Manning will have to wait on the results of an offseason examination before continuing his career with the Broncos.
His return to Denver could trigger another return to the Super Bowl with the talent that he has around him. But with the possible loss of Eric Decker to free agency, according to Chris Burke of Sports Illustrated, the pressure on Manning's shoulders will only get greater next season.
With all of these factors taken into account, it could be even more difficult for Manning to have a chance to make the Super Bowl, much less hoist the Lombardi Trophy. Manning's legacy is already secure with his play throughout his career, but the questions won't go away after he laid an egg in the Super Bowl.
Regardless of whether Manning believes the performance should be described as embarrassing, it was a poor display for the group of professional football players that took the field for the Broncos on the biggest stage of all.
Follow R. Cory Smith on Twitter: