After seven NFL seasons with the Green Bay Packers, veteran wide receiver James Jones has a new home. The 29-year-old signed a three-year deal with the Oakland Raiders according to Adam Schefter of ESPN:
Raiders reached agreement with former Packers WR James Jones, per ESPN source.

— Adam Schefter (@AdamSchefter) March 17, 2014
Raiders gave former Packers WR James Jones a three-year, $11.3M deal.

— Adam Schefter (@AdamSchefter) March 17, 2014
The Raiders official Twitter account later confirmed the transaction and snapped a picture of him signing the new contract:
The Oakland Raiders have signed WR James Jones. pic.twitter.com/nIZbdMYKXR

— OAKLAND RAIDERS (@RAIDERS) March 17, 2014
CSN Bay Area anchor Fallon Smith reports on how much guaranteed money Jones will receive:
James Jones' contract with the #Raiders is 3yrs $11.3M w/ $4.5M guaranteed, per league source.

— Fallon Smith (@FallonSmithCSN) March 18, 2014
Jones commented on the move (via Jerry McDonald of InsideBayArea.com):
Raiders WR James Jones plans on leading by example for young WR corps the same way Donald Driver did.

— Jerry McDonald (@Jerrymcd) March 17, 2014
Raiders WR James Jones says coming home (SJSU, Gunderson High) has its appeal, as does weather, having friends and family in area.

— Jerry McDonald (@Jerrymcd) March 17, 2014
According to Ian Rapoport of NFL.com, Jones considered four other teams before choosing Oakland:
James Jones considered #Steelers, #Browns, #Panthers, #Seahawks. In the end, source said, "He grew up wanting to play for the #Raiders"

— Ian Rapoport (@RapSheet) March 18, 2014
Early in January, Jones stated that he was eager to hit the open market, and if the opportunity presented itself, he would have loved to stay with the Packers, per Weston Hodkiewicz of the Green Bay Press-Gazette:
People know what I can do. I'm excited about it. Like I said, I would love to come back. A-Rod's my guy. We've got a great group of receivers and would love to come back and play with those dudes. I've been here for seven years, it's not like I've only been here for three years and now I'm a free agent. Shoot, I dang near spent my whole career here, so I would love to finish here.
He reiterated his desire to remain in Green Bay when speaking on NFL Network in March. However, he added the Indianapolis Colts and San Diego Chargers as possible destinations, per Dan Hanzus of NFL.com:
I've thought about places that I would like to go play, whether it's in Indy or there's coming back home, San Diego or somewhere. Teams have popped up in my head. I can't say I haven't thought about it, but in a perfect world I'd love to go back (to Green Bay).
Hodkiewicz noted that when Jones hit the free-agent market a few years ago, there were few takers. He was coming off a season plagued by drops and spotty production. Nobody but the Packers was willing to make any sort of concerted effort to secure his signature.
Now, however, he's coming off three of the best seasons of his career. Between 2011 and 2013, Jones caught 161 passes for 2,236 yards and 24 touchdowns.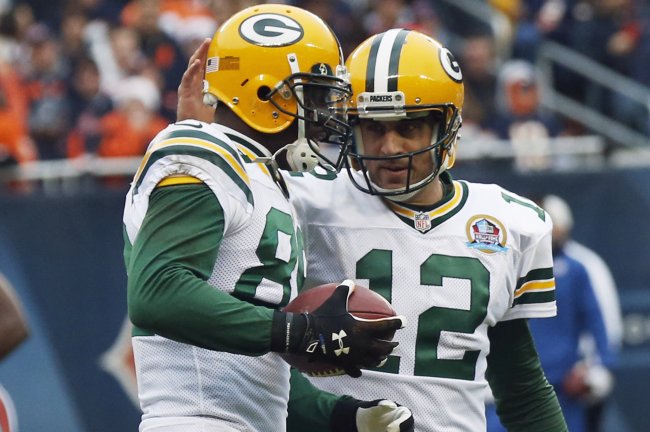 Charles Rex Arbogast/Associated Press
While not the most coveted of wide receivers in this year's free-agent market, Jones had his fair share of potential suitors. At his age, he can't be the top option in a team's passing game, but he's more than capable of filling the No. 2 wide receiver role and uses his size well.
Jones led the league in touchdown receptions in 2012, with 14. This past season, he wasn't able to come close to that mark, with only three touchdowns, but he did set a career high for receiving yards (817), so it was a productive campaign for the wideout.
Is this a good signing for the Raiders?
You also have to take into context the collarbone injury that cost Aaron Rodgers seven games during the regular season. Jones came in and played well in the absence of Randall Cobb, providing a steady target for Scott Tolzien and Matt Flynn.
It's no major surprise that Green Bay felt Jones was expendable. Even with the uncertainty of Jermichael Finley's injury, the Packers have more than enough weapons in the passing attack to not miss a beat without Jones.
Jarrett Boykin came in strong this year, catching 49 passes for 681 yards, so he's essentially made Jones outmoded in the Packers offense. You don't need to have Cobb, Boykin and Jordy Nelson all in the same team.
Jones does make a nice addition to Oakland, though. The Raiders have one more weapon in the passing game, so things should be a little easier in 2014.