2014 Chicago Bears Offseason: Is There Any Hope for Shea McClellin?
January 1, 2014

Jonathan Daniel/Getty Images
Phil Emery had just completed day one of his first draft as the Chicago Bears general manager, and, as he later detailed to Jeremy Stoltz of Bear Report (via Scout.com), the life-long coach already had the media in his ear. TV screens were alive with the faces of pundits second-guessing the day's decisions, and Emery was the center of attention: His bold first-round selection had surprised seasoned football observers and casual fans alike.
In an adjacent room, away from the chatter, then-Bears defensive coordinator Rod Marinelli was deep in conversation with the team's newest member, a speedy defensive end/outside linebacker hybrid out of Boise State.
"Rod, you've got a monster of the Midway," said Emery as Marinelli emerged from the room. "Let's get to work."
He was speaking, of course, about Shea McClellin, the pass-rusher whose selection sent shockwaves through Chicago's fanbase in 2012. Fast-forward to 2013, and it's hard to believe either coach realized at the time just how much work needed to be done.
It's the Draft, Stupid
Chicago is no stranger to frustrating draft picks. For Emery's predecessor, Jerry Angelo, the draft was a glaring, constant weakness. He made 39 picks between 2007 and 2011, and—although you have to give him credit for occasionally finding great defensive talents like Lance Briggs, Charles Tillman and Henry Melton—only nine of his picks remained on the roster at the close of the 2013 season.
Successful teams in the NFL's salary cap era need productive players on relatively cheap contracts. The draft is just about the only place to find such players, but success on that front had eluded the Bears for years.
Emery, with 14 years experience as an NFL scout, was hired to right the ship. As he'd later reveal to ESPN's Melissa Isaacson, Emery had been eyeing McClellin for years. As director of scouting for Kansas City, he had scouted McClellin as an outside linebacker for the Chiefs' 3-4 defense.
Emery's move to Chicago, and to a 4-3 defense, didn't change his mind: In his eyes, McClellin could contribute as a situational pass-rusher "right now, right away." It was only up to McClellin to prove it.
Through 28 career games, he hasn't.
First-year Fiasco
McClellin's NFL career to this point has been underwhelming, to say the least. He spent the 2012 season as a situational pass-rusher, only seeing the field on third downs or in obvious passing situations. In 14 games, Shea recorded only 2.5 sacks—a disappointing number—but the box scores weren't the only reason for concern.
He'd shown a startling lack of strength (although that might have been expected; his 19 bench press reps at the NFL combine were the fewest of any defensive lineman) and couldn't gain separation from blockers. His blistering speed and good instincts had made him a dangerous pass-rusher in college; against the behemoth offensive lines of the NFL, however, he didn't stand a chance.
What's more, he had no knack for defending against the run—getting to the quarterback was his singular, furious focus, and in the process he was opening up running lanes the size of interstate highways.
Chicago's strong and deep defensive line unit helped mask these deficiencies, but that wouldn't last. After a string of injuries in 2013, McClellin was thrust into an every-down role—and the results weren't promising.
Red Flags, Real Problems
If McClellin's 2012 output ignited a flame of doubt about his effectiveness as an NFL player, then surely his 2013 season was a four-alarm fire.
According to Pro Football Focus, McClellin had the second-worst season (ranking 51st out of 52 qualifying players) of any 4-3 defensive end in 2013 who played at least 25 percent of their team's snaps. The same data reveals that McClellin ranked dead last defending against the run and was sixth most ineffective pass rusher at his position league-wide.
Unfortunately, the eye test confirms the story told by the numbers.
If you're looking for a microcosm of McClellin's run defense, it came on a play with 5:35 left in the first quarter against the New York Giants.

Via NFL Game Rewind
The play is a run to the right side, directly attacking McClellin. The Giants are double-teaming Chicago's defensive tackles, Corey Wootton (No. 98) and Landon Cohen (No. 97). McClellin, meanwhile, is left one-on-one with Giants tight end Bear Pascoe (No. 86).
Now watch what happens.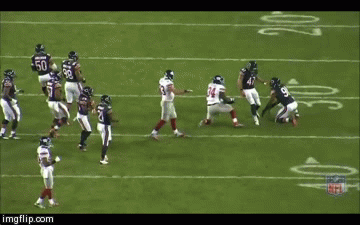 That, folks, is a defensive lineman getting engulfed by a tight end. By the time the run develops, Shea's been taken out of the play so badly that he nearly disappears behind No. 86 and only reemerges by stumbling frantically backward. By this time, the running back is already 15 yards downfield.
McClellin's struggles in the run game aren't merely physical, they are mental as well. Consider this play during the third quarter against the Cleveland Browns.
The Browns are set up in the Wildcat formation—notice quarterback Jason Campbell running off the screen to line up as a receiver—so the running back (highlighted in red) will receive the direct snap. This particular play is an outside run.

via NFL Game Rewind
This is actually the second play in a row the Browns had run out of the Wildcat, and the game tape shows that the defense identified the formation quickly and recognized the trickery. Or so it seemed.

via NFL Game Rewind
Inexplicably, McClellin (No. 99) immediately finds himself wildly out of position—along with linebacker James Anderson (No. 50)— and cannot make a play of any kind. The Browns notched an easy 12-yard gain on the play.
Is There Any Hope For Shea McClellin?

The red flags raised during the course of McClellin's career have all come to fruition. The curious thing is that all of his biggest issues—size, strength and length—were readily apparent on draft night. Emery, then, must have seen something in McClellin that no one else did. But what?
Squint (really squint) and you can see the blurred outlines of a serviceable NFL player. McClellin has blistering speed—he recorded the second-fastest 40-yard-dash among the 2012 class of defensive ends—which, in theory, allows him to get offensive lineman on their heels and quickly disrupt quarterbacks.
He ranked sixth-best at the combine's three-cone drill among defensive lineman, eighth-best at the broad jump and 10th at the 20-yard shuffle. All together this paints the picture of an explosive player who can change directions on a dime.
He has great burst off the line of scrimmage and an excellent motor—McClellin relentlessly pursues the ball-carrier and never gives up on a play. He really does have sharp football instincts and a nose—most of the time—for where the ball is going.
But it all comes back to physicality. Speed doesn't matter if you can't get anywhere in the first place. Explosive burst is useless if it leads you right into a brick wall. The NFL's offensive linemen are mammoths, and Shea McClellin might as well be a mouse.
And here is where the questions start again. Can McClellin's frame handle the extra muscle he needs? Can he gain strength without losing the speed that made him so special in college?
On the surface, it seems like the secret to McClellin's success lies in the weight room. If only it were that simple.
The fact is, very few can learn to set an edge, maintain gap integrity and become a respectable run defender. Very few can learn and perfect an arsenal of pass-rush moves. Very few can compete in the violent war zone we call the line of scrimmage.
Very few can play in the NFL.