Confidence pools are awesome, but in today's NFL, the parity makes them challenging. There are arguably six teams in the NFL that could advance to the Super Bowl.
That unpredictability is entertaining for fans but hell for weekly prognosticators. That said, I try my hand at making heads or tails at every game on the schedule each week.
For those who aren't familiar with the concept of confidence selections, here's how it works. You'll find a a pick for every game on the week's schedule. Each game will have a confidence rating.
The higher the number, the more confident yours truly feels about the prediction. For example, a 16 would denote supreme confidence, while a one would mean little to no confidence.
Here's the prediction chart. Just below is a closer look at three games on the schedule.
Confidence Picks for Week 16

| | | | | |
| --- | --- | --- | --- | --- |
| Sunday, Dec. 22 | Time (ET) | Location | Picks | Confidence Rating |
| Miami at Buffalo | 1 p.m | Ralph Wilson Stadium | Miami | 9 |
| Minnesota at Cincinnati | 1 p.m | Paul Brown Stadium | Cincinnati | 14 |
| Indianapolis at Kansas City | 1 p.m | Arrowhead Stadium | Kansas City | 3 |
| Tampa Bay at St. Louis | 1 p.m | Edward Jones Dome | St. Louis | 12 |
| Cleveland at N.Y. Jets | 1 p.m | MetLife Stadium | N.Y. | 6 |
| Dallas at Washington | 1 p.m | FedEx Field | Washington | 7 |
| New Orleans at Carolina | 1 p.m | Bank of America Stadium | Carolina | 5 |
| Tennessee at Jacksonville | 1 p.m | EverBank Field | Jacksonville | 10 |
| Denver at Houston | 1 p.m | Reliant Stadium | Denver | 15 |
| N.Y. Giants at Detroit | 4:05 PM | Ford Field | N.Y. | 2 |
| Arizona at Seattle | 4:05 PM | CenturyLink Field | Seattle | 13 |
| Pittsburgh at Green Bay | 4:25 PM | Lambeau Field | Pittsburgh* | 8 |
| Oakland at San Diego | 4:25 PM | Qualcomm Stadium | San Diego | 11 |
| New England at Baltimore | 4:25 PM | M&T Bank Stadium | Baltimore | 4 |
| Chicago at Philadelphia | 8:30 PM | Lincoln Financial Field | Chicago | 1 |
| Monday, Dec. 23 | Time (ET) | Location | | Confidence Rating |
| Atlanta at San Francisco | 8:30 PM | Candlestick Park | San Francisco | 16 |
Brian Mazique - *Rodgers' Status Could Change
Positive, Not so Sure and Somewhere in Between
Aside from the three highest point totals, none of the picks in Week 16 were easy selections. Here's the ideology on the simplest, most difficult and the game in the middle.
San Francisco 49ers Will Defeat the Atlanta Falcons—Positive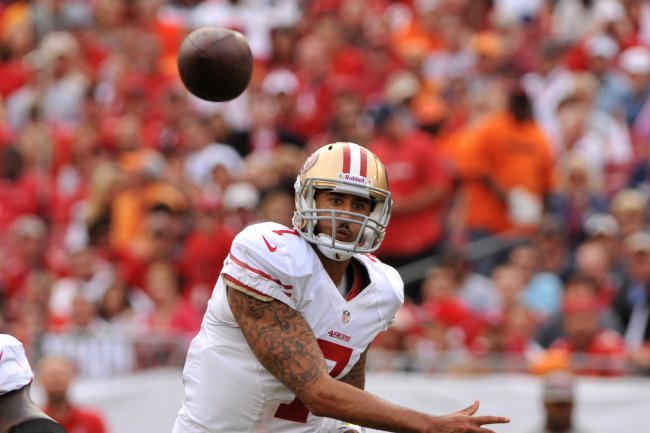 Al Messerschmidt/Getty Images
Are the Niners playing the best football in the NFL?
The Atlanta Falcons have played better in the last three weeks, but running into the Niners at this point in the season would be bad news for just about any team.
San Francisco is on a four-game winning streak, and all facets of the team's game are beginning to click. The team was already ranked in the top 10 in rushing offense as well as rushing and passing defense.
Now, the passing game has become formidable. With Michael Crabtree healthy, Colin Kaepernick has a full complement of weapons, and this team is far too dangerous for Atlanta to defeat at home.
Chicago Bears over the Philadelphia Eagles—Not so Sure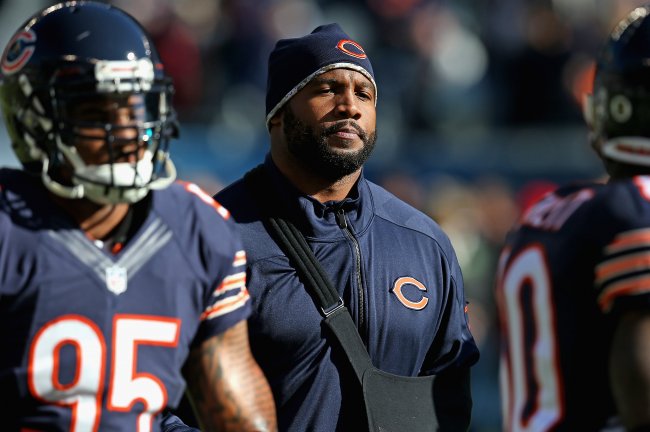 Jonathan Daniel/Getty Images
Both teams have demonstrated explosive offenses and problematic defenses, but in a game that figures to be high-scoring, I give the slight edge to the Bears.
In games like this, it comes down to which defense is capable of making enough plays. Though the Bears are far removed from the turnover-forcing form we saw all of last season and the early part of this year, unit leader and perennial Pro Bowler Lance Briggs seems likely to return from a shoulder injury that kept him out for eight weeks, per Jeff Dickerson of ESPN.com.
In Week 15, the Bears defense played better than it had in weeks. It held the Cleveland Browns under 100 yards rushing and picked off Jason Campbell twice. If Chicago can build on that momentum and plug Briggs in, it could produce its best defensive effort in weeks.
Here's why this is still a shaky pick.
The Eagles offense is very good. Nick Foles has just two interceptions this season, though he has thrown one in consecutive weeks. LeSean McCoy is leading the NFL in rushing, and that would seem to be a potential issue for the Bears, considering their run defense is ranked dead last in the NFL.
The deciding factor in this decision was the Eagles' poor defensive performance in Week 15. Philly surrendered 48 points to a Minnesota Vikings team playing without Adrian Peterson. The well-balanced and dangerous Chicago offense should be able to have a field day in the City of Brotherly Love.
Pittsburgh Steelers Will Defeat the Green Bay Packers—Somewhere in Between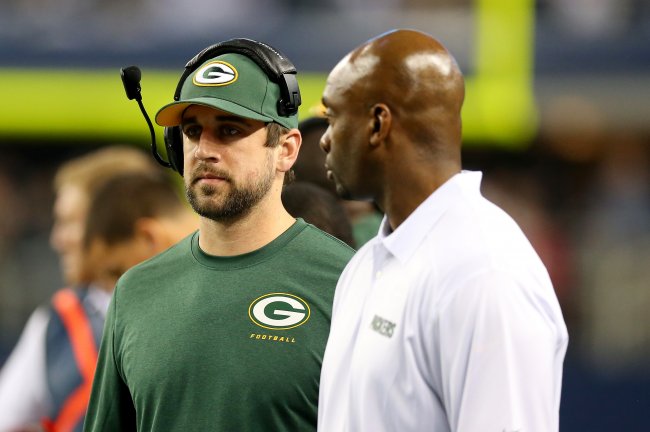 Ronald Martinez/Getty Images
There is an asterisk next to this pick in the chart because it all hinges on whether Aaron Rodgers is cleared to play. Clearly, the Packers are a different team with Rodgers under center.
Green Bay has been cautious with the rehabilitation of its franchise quarterback's broken collarbone. He suffered the injury in the first quarter of the team's Week 9 loss to the Bears.
As of Thursday morning, Rodgers still hadn't been cleared by the Packers' medical staff, per Mike Spofford of Packers.com.
The Packers are just 2-4-1 since, though the team has won two straight nail-biters in a row.
Against a Pittsburgh Steelers defense that is playing its best football since Week 10, the Packers need Rodgers on the field. The Steelers defense has forced 10 turnovers in the last six weeks and has allowed just two opponents to eclipse the 100-yard rushing mark.
A loss would drastically impact the Packers' chances of winning the NFC North and making the playoffs. If Rodgers plays, the Packers win. If he doesn't, Pittsburgh is the pick.
Follow me for news and musings on all things sports.