Peyton Manning is once again atop the charts for most touchdown passes in a single NFL season. The Denver Broncos quarterback threw four touchdowns against the Houston Texans in Week 16 to break the record set by Tom Brady in 2007.
The Denver Broncos noted the accomplishment on Twitter:
RECORD-BREAKER. pic.twitter.com/RjDquSfCvb

— Denver Broncos (@Broncos) December 22, 2013
Broncos writer Paul Klee shared this:
Hugs and handshakes for #Broncos Peyton Manning after he throws No. 51. http://t.co/xq5CNAcDpS

— Paul Klee (@Klee_Gazette) December 22, 2013
After Manning tossed his 50th, he also moved closer to another massive benchmark, as Mike Klis of The Denver Post pointed out:
Peyton Manning now has 5,186 passing yards; 50 TDs. He needs 291 passing yards to break Drew Brees' mark.

— Mike Klis (@MikeKlis) December 22, 2013
Following the game, Manning spoke about the record (via the Broncos):
Peyton Manning on setting the @NFL single-season TD pass record: "I'm sure it's just a temporary record, but I will enjoy it."

— Denver Broncos (@Broncos) December 22, 2013
Manning called the record "a team record."

— Denver Broncos (@Broncos) December 22, 2013
In 2004 while with the Indianapolis Colts, Manning broke Dan Marino's 48-touchdown mark that had stood for two decades by throwing 49. His immense success that year led to a revolution of sorts around the NFL, with passing games taking center stage.
Just three years later, Brady broke Manning's record by reaching the 50-touchdown plateau while leading the New England Patriots to an undefeated regular-season record.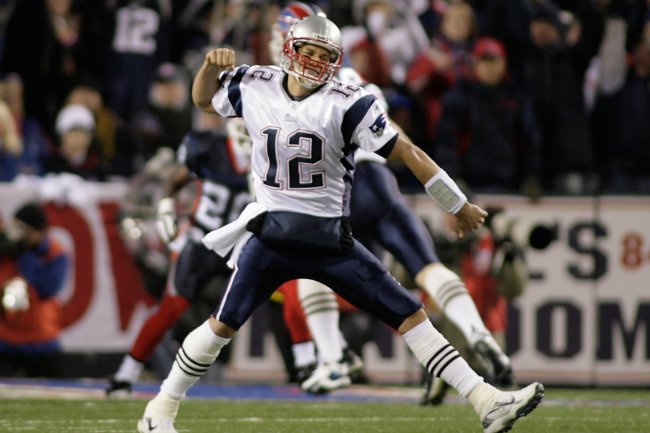 Rick Stewart/Getty Images
Now, less than a decade after Manning broke Marino's mark, seven of the top 10 single-season marks have come since the Tennessee product carved up defenses like nobody in history.
The other factor that will make Manning's latest record-breaking season memorable is his remarkable comeback from injury.
After Manning missed the entire 2011 campaign due to neck problems, obvious questions prevailed regarding whether one of the greatest quarterbacks in history would ever be the same. Since joining the Broncos, he's answered those questions by continuing to play the most important position at an elite level.
Is Manning's season the best by a QB in history?
His passes no longer have the same zip they did when he was drafted with the first overall pick in 1998. Manning has helped offset that loss by studying defenses and then exploiting their weaknesses with precision passes.
There have been times throughout the season where it seemed to take an eternity for the ball to reach one of his receivers, but the accuracy still prevented defenses from making a play. It shows that he continues to adapt, even at age 37.
Of course, the team's running backs, wideouts and tight ends deserve a lot of credit for the success.
Five different players have caught at least 50 passes from Manning this season. Demaryius Thomas and Eric Decker lead the way in terms of yardage, and Knowshon Moreno has been a major asset coming out of the backfield.
But the difference-makers have been Wes Welker and Julius Thomas.
Welker came over from the Patriots, where he was also a major part of Brady's record-breaking 2007 season, and assumed the same role on Denver. Whenever Manning needs to convert a key third down, the predominant slot receiver finds a way to get open.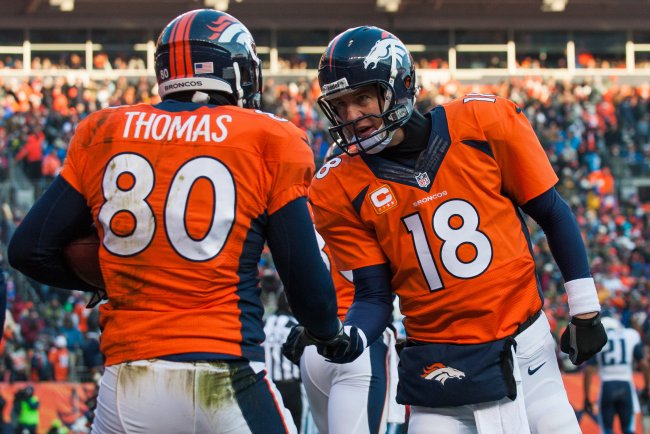 Dustin Bradford/Getty Images
Julius Thomas entered the season as a relative unknown, but his combination of size and athleticism gave Manning a big target in the red zone who's also capable of stretching the middle of the field. He forces defenses to respect him down the seams, giving more space to Demaryius Thomas and Decker on the outside.
When you combine a quarterback of Manning's caliber with a wide range of weapons capable of filling every role in the passing game, it's almost impossible to slow them down. And opposing defenses found that out the hard way most weeks.
While a student of the game like Manning understands the significance of the touchdown record, his focus has to remain on the postseason. It's the only major part of his otherwise amazing legacy that still needs some work.
A Super Bowl title would be the perfect cap to an outstanding season for Manning and the Broncos. Of course, the 11 other playoff teams won't feel the same way.