The MLB Rule 5 Draft has become a staple of the Baseball Winter Meetings, and although it often doesn't make a major impact, most teams view it as a potential lottery ticket. After the 2013 Rule 5 Draft on Dec. 12, perhaps a few of them came away as big winners.
According to MLB.com, the Rule 5 Draft enables teams to select any player not on a 40-man roster who has played four years of professional baseball since being signed at the age of 19, or five years of professional baseball since being signed at the age of 18.
For the Major League portion of the draft, a team must pay another team $50,000 if they select one of their players. That team must keep the player on the 25-man roster for the entire season, or else they are forced to offer him back to his original team for $25,000.
None of the players selected in the Major League phase jump off the page, but All-Stars such as Johan Santana, Dan Uggla, Josh Hamilton, Joakim Soria and Everth Cabrera have been taken in the past, so you never know.
There were also Triple-A and Double-A phases of the Rule 5 Draft held on Thursday, and even though the players selected are seemingly even bigger long shots, there were some intriguing picks that will definitely be worth monitoring.
Along with a full listing of every player taken during the Rule 5 Draft, here are the three biggest storylines that blossomed on Thursday.
Top Storylines
Texas Rangers Select Seattle Seahawks Quarterback Russell Wilson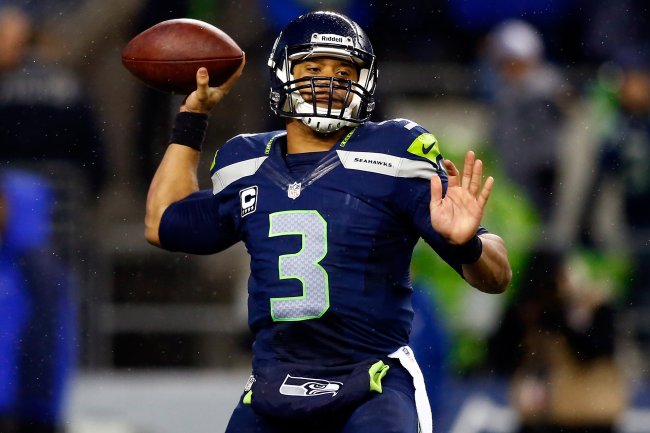 Jonathan Ferrey/Getty Images
Seattle Seahawks quarterback Russell Wilson is only in his second NFL season, but he is already one of the best signal-callers in the league and is the leader of the NFC's best team. With that in mind, it seems implausible that Wilson would consider doing anything other than playing football, but that didn't stop the Texas Rangers from selecting Wilson from the Colorado Rockies' Double-A roster during the Rule 5 Draft, according to Bob Dutton of the Tacoma News Tribune.
#Rangers select 2B Russell Wilson from #Rockies organization. Yes, the #Seahawks quarterback.

— Bob Dutton (@TNT_Mariners) December 12, 2013
Wilson was actually a very accomplished baseball player prior to committing fully to the NFL as he played college baseball at NC State from 2008 through 2010. Wilson was drafted in the fourth round of the 2010 MLB Draft by the Colorado Rockies, and he proceeded to play 93 minor league games for the organization as a second baseman in 2010 and 2011. Wilson ultimately decided that football was his calling, and it was clearly the right decision.
According to MLB.com, it costs $12,000 to make a pick in the Triple-A phase of the Rule 5 Draft, so the Rangers had to pony up in order to nab Wilson. Even though the likes of Bo Jackson and Deion Sanders have played both professional football and baseball in the past, Wilson has never indicated wanting to follow in their footsteps, though he would like to head to camp. If nothing else, though, perhaps the Rangers can get their money's worth out of Wilson by using him in a promotional manner during the NFL offseason. Whatever the case, it certainly got people talking about the Rule 5 Draft.
Houston Astros Trade First Selection
As the MLB's worst team last season, the Houston Astros had the first-overall selection in the Rule 5 Draft. The Astros are a team that can certainly use some bodies for the Major League roster, but they actually made their pick for another team. Houston selected left-handed pitcher Patrick Schuster from the Arizona Diamondbacks' organization and traded him to the San Diego Padres, according to Bernie Pleskoff of MLB.com.
#Astros have traded Rule 5 selection Patrick Schuster to #Padres for cash.

— Bernie Pleskoff (@BerniePleskoff) December 12, 2013
The trade was made in order to provide compensation for pitcher Anthony Bass, who the Astros acquired from San Diego on Wednesday. The Astros agreed to send a player to be named later or cash to the Padres in exchange for Bass, and that player ended up being Schuster.
Schuster wasn't the only player traded as the New York Mets dealt pitcher Seth Rosin, who they selected from the Philadelphia Phillies, to the Los Angeles Dodgers, according to Jonathan Mayo of MLB.com.
Just found out that the @Mets traded Rule 5 pick Seth Rosin to the @Dodgers

— Jonathan Mayo (@JonathanMayoB3) December 12, 2013
It will be interesting to see how Schuster fares as the 23-year-old lefty dominated High-A ball last season with a 1.83 ERA in 55 games. Schuster has never pitched in Double-A or higher, though, so the transition to the Major Leagues could be a difficult one.
Baltimore Orioles Snag Former Major Leaguer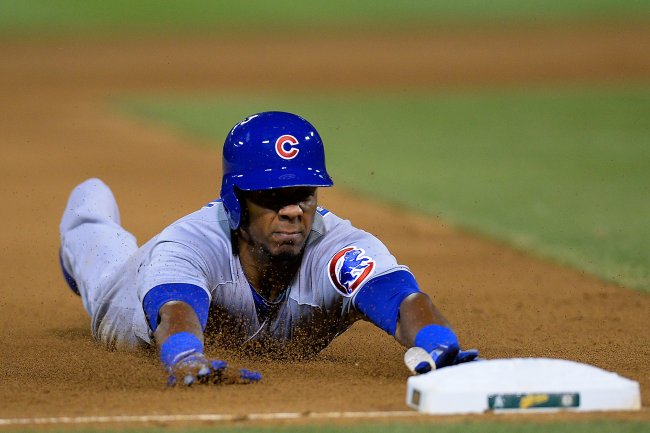 Thearon W. Henderson/Getty Images
After the Major League phase of the Rule 5 Draft, it seemed as though no well-known names would go off the board. That changed when Russell Wilson was taken, but another interesting name selected two picks earlier has been buried amid the Wilson talk. The Baltimore Orioles took outfielder Julio Borbon from the Chicago Cubs' Double-A roster, which was somewhat surprising considering the fact that Borbon has been a regular Major Leaguer in the past.
Bordon played for the Texas Rangers from 2009 through 2011. He played one game for the Rangers in 2013 before being waived, but he was eventually claimed by the Cubs. Borbon played in 72 games for Chicago last season, and although he hit only .202, he is a player who has shown flashes of brilliance in the past. Because of that, Orioles executive vice president of baseball operations Dan Duquette nearly took him in the Major League phase of the Rule 5 Draft, according to Steve Melewski of MASN Sports.
Duquette likes Julio Borbon and said O's discussed claiming him for major lg roster this year. "We almost did that," he said.

— Steve Melewski (@masnSteve) December 12, 2013
Taking him in the Triple-A phase means that the Orioles aren't obligated to put him on the Major League roster, but he could end up there. Borbon is a speedy player who can play all three outfield positions, which could make him a valuable commodity. He hit .276 with three home runs, 42 RBI and 15 steals in 2010. He is only 27 years old as well, so it's tough to blame the O's for taking a flier on the former first-round pick.
Major League Phase Results
Houston Astros: LHP Patrick Schuster (ARI)
Chicago White Sox: C Adrian Nieto (WAS)
Philadelphia Phillies: RHP Kevin Munson (ARI)
Colorado Rockies: RHP Thomas Kahnle (NYY)
Toronto Blue Jays: LHP Brian Moran (SEA)
New York Mets: RHP Seth Rosin (PHI)
Milwaukee Brewers: LHP Wei-Chung Wang (PIT)
Arizona Diamondbacks: RHP Marcos Mateo (CHC)
Baltimore Orioles: 3B Michael Almanzar (BOS)
Triple-A Phase Results
Houston Astros: OF Ravel Santana (NYY)
Miami Marlins: 1B Justin Bour (CHC)
Chicago White Sox: LHP Evan Crawford (TOR)
Chicago Cubs: C Charles Cutler (PIT)
Minnesota Twins: RHP Kevin Thomas (STL)
Toronto Blue Jays: RHP Roberto Espinosa (PIT)
New York Mets: RHP Jonathan Velasquez (MIN)
Milwaukee Brewers: OF Kevin Mattison (MIA)
San Diego Padres: SS Jacob Lemmerman (STL)
Los Angeles Angels: RHP Jose Valdivia (SEA)
Arizona Diamondbacks: RHP Michael Lee (ATL)
Baltimore Orioles: OF Julio Borbon (CHC)
Will Russell Wilson ever play for the Texas Rangers or one of their minor league affiliates?
Washington Nationals: OF Theodis Bowe (CIN)
Cincinnati Reds: Michael O'Brien, RHP (NYY)
Texas Rangers: 2B Russell Wilson (COL)
Tampa Bay Rays: RHP Enderson Franco (HOU)
Pittsburgh Pirates: RHP Tyler Sample (KC)
Oakland Athletics: RHP Tim Atherton (MIN)
Boston Red Sox: SS Jonathan Roof (PHI)
St. Louis Cardinals: SS Gregory Miclat (TEX)
Houston Astros: LHP Carlos Vazquez (NYM)
Miami Marlins: OF Brady Shoemaker (CWS)
Chicago White Sox: C Omar Narvaez (TB)
Minnesota Twins: LHP James Fuller (NYM)
Toronto Blue Jays: LHP Richard Bleier (TEX)
Milwaukee Brewers: 3B Vincent Catricala (OAK)
San Diego Padres: C Adolfo Reina (DET)
Arizona Diamondbacks: LHP Hector Hernandez (STL)
Washington Nationals: RHP Martires Arias (NYM)
Pittsburgh Pirates: RHP A.J. Morris (CHC)
St. Louis Cardinals: 3B Jesus Ustariz (DET)
Miami Marlines: 3B Tony Thompson (OAK)
Toronto Blue Jays: RHP Scott Shuman (SF)
Pittsburgh Pirates: RHP Felipe Gonzalez (NYY)
Double-A Phase
Houston Astros: LHP Blaine Sims (ATL)
Miami Marlins: RHP Kelvin Castro (NYY)
Follow @MikeChiari on Twitter