Robert Griffin III's sophomore season in the NFL hasn't exactly gone to plan, and the result has been escalating drama surrounding the Washington Redskins.
Now, NFL reporter Michael Silver reports that RG3 has requested the Redskins' coaching staff eliminate his "bad plays" from the film study:
.@MikeSilver: RG3's "bad plays" weren't put up on board in team meetings while at Baylor; has asked Redskins to do the same but they haven't

— NFL Media PR (@InsideNFLMedia) November 24, 2013
.@MikeSilver: "Inside the building when you talk to people familiar with this situation they perceive RG3 as kind of insecure."

— NFL Media PR (@InsideNFLMedia) November 24, 2013
UPDATE: Tuesday, Nov, 26, at 12:37 a.m. ET
After the Redskins 27-6 loss to the 49ers on Monday, RG3 responded to the rumors (via Zac Boyer of The Washington Times):
Griffin on film report: "People are trying to character assassinate me and that's unfortunate."

— Zac Boyer (@ZacBoyer) November 26, 2013
---End of update---
Silver also points out that Griffin is apparently frustrated with head coach Mike Shanahan:
From @MikeSilver: "RG3 has expressed to teammates his dissatisfaction with Mike Shanahan and this could be coming to a head."

— NFL Media PR (@InsideNFLMedia) November 24, 2013
Shanahan has since denied the reports to Mike Jones of the Washington Post:
Mike Shanahan on report @RGIII requested him not show negative plays in film review: "That's completely false. Robert wouldn't do that."

— Mike Jones (@MikeJonesWaPo) November 24, 2013
Shanahan said he never discusses private conversations w players but saw this as "character assassination" & needed to set record straight

— Mike Jones (@MikeJonesWaPo) November 24, 2013
If these reports are accurate, Griffin can expect endless criticism from fans and talking heads around the league. While being "insecure" is certainly nothing to be ashamed of, NFL players—especially franchise superstars—must be able to hold themselves accountable when they make mistakes.
Although there a number of people to blame for Washington's poor play, including the coaching staff, offensive linemen, wide receivers and running backs, Griffin's inaccuracy and poor decision-making at times have definitely added to the problems on offense.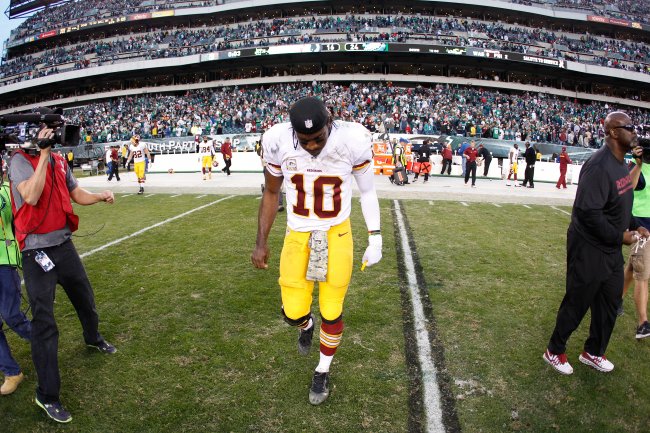 Rob Carr/Getty Images
The former Heisman Trophy winner is only completing 59.7 percent of his passes this season and currently ranks 21st in the league in that department. Griffin also has 10 interceptions through 10 games after tossing just five all of last season.
His game-ending pick in Week 11's loss to Philadelphia led veteran wideout Santana Moss to essentially call out the second-year signal-caller for not taking responsibility for his mistake. Moss said on 106.7 The Fan, via CBS DC's Chris Lingebach:
At the end of the day, I was seen with the ball in my hand last, as a quarterback I'm saying, and if it didn't get done then I'm going to let you know it was me. ... [A]s a leader, you understand that if you're involved in the situation, whether you're the receiver, the quarterback, the guys making the tackle, whoever, regardless of the outcome, good or bad, you have to at some point, stand up and say "me" or "I."
Surprisingly, the 3-7 Redskins are only 2.5 games off the pace in the NFC East.
But Washington has a challenging schedule to conclude the year that's highlighted by Monday night's matchup with the San Francisco 49ers. A third straight loss would all but bury the defending NFC East champions.
Follow Bleacher Report Featured Columnist Patrick Clarke on Twitter.