Robinson Cano Rumors: Latest Buzz and Speculation Surrounding Second Baseman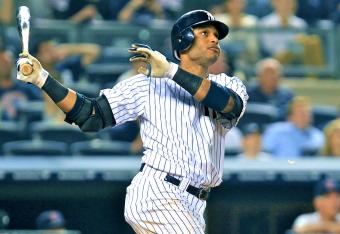 Getty Images
Updates for Friday, Dec. 6
New York Daily News reporters Bill Madden, Teri Thompson and Mark Feinsand reported on the happenings from Thursday night:
Cano and his entourage arrived in Seattle with what sources described as basically an eight-year, $200 million deal in hand along with assurances that Seattle would go to nine years and $225 million, a figure confirmed late Thursday night by the Daily News.
From Fox Sports' Ken Rosenthal:
Source: Talks between Cano, #Mariners still alive.

— Ken Rosenthal (@Ken_Rosenthal) December 6, 2013
From CBS Sports' Jon Heyman:
The Mariners are closing in on a deal with Robinson Cano, sources told CBSSports.com

One source with Seattle connections said the deal will be for "at least" $225 million, suggesting it will likely be more.
Heyman later confirmed the deal is done:
deal for cano and mariners is $240M, 10 years according to @Enrique_Rojas1. can confirm it's agreed to.

— Jon Heyman (@JonHeymanCBS) December 6, 2013
Updates for Thursday, Dec. 5
From Mike Axisa of River Ave. Blues:
"[The] Mariners let Cano know they would be willing to pay between $230 and $240 million for the next 10 seasons." http://t.co/HJ1GhpFxWM

— Mike Axisa (@mikeaxisa) December 5, 2013
From MLB.com's Bryan Hoch:
Cashman won't be surprised if Cano signs elsewhere; said NYY has already offered more than planned. "I hope it's us. I can't guarantee it."

— Bryan Hoch (@BryanHoch) December 5, 2013
More Cashman: "We're not waiting for Robbie. Robbie is not waiting for us. We're out there trying to sign players."

— Bryan Hoch (@BryanHoch) December 5, 2013
From Fox Sports' Ken Rosenthal:
Sources: Cano asked #Mariner for 240/10. M's made offer, but not over 200. Cano on plane to Seattle. Meeting with club officials later today

— Ken Rosenthal (@Ken_Rosenthal) December 5, 2013
Joel Sherman of the New York Post later tweeted the latest financial figures:
source confirms @jonheyman report #Mariners willing to go to 9-$225M for Cano. #Yankees vow will go nowhere near that #momentoftruthnearing

— Joel Sherman (@Joelsherman1) December 5, 2013
Updates for Wednesday, Dec. 4
Jeff Passan of Yahoo! Sports has the latest on the negotiations between the Yankees and Robinson Cano following the signing of Jacoby Ellsbury:
Source: Not only do the Yankees believe they've got room for Ellsbury and Cano or Choo, they still plan on signing at least one SP as well.

— Jeff Passan (@JeffPassan) December 4, 2013
However, according to the Kevin Kernan of the New York Post had a productive meeting with the Mariners today:
The Mariners are giving this their best shot. Robinson Cano's representatives met with Mariners officials Tuesday in Seattle, according to an industry source.

"The meeting went very well," the source told the Post Wednesday.

The Yankees want Cano to return to The Bronx, but they are not willing to go near Cano's asking price. The free-agent second baseman's latest ask was for nine years in the $250 million-$260 million range. The Yankees countered with a seven-year offer for $160 million-$175 million. The Mariners, desperate to land two big bats, have targeted Cano as one of them.
Updates for Monday, Dec. 2
Jack Curry of YES has the latest on negotiations between the Yankess and Robinson Cano:
Yankees are very comfortable with 7-year, $160M offer to Cano. They're adamant about not going to an 8th year or an offer starting with a 2

— Jack Curry (@JackCurryYES) December 2, 2013
While Yankees could increase offer slightly, they have no plans to go near Cano's 9-year, $252M proposal. It includes a $28M vesting option

— Jack Curry (@JackCurryYES) December 2, 2013
Updates for Sunday, Dec. 1:
CBS Sports' Jon Heyman reports updated contract negotiations surrounding Robinson Cano and the Yankees:
Star second baseman Robinson Cano's camp presented a $260-million request of the Yankees at their recent meeting, leaving the sides with a sizable gap of about $100 million that couldn't reasonably be expected to be bridged anytime soon.

The Yankees are believed to have officially offered Cano about $160 million, though it is expected they'll go to at least $170 million, which would at least bring the difference between the parties to something below $100 million.
Andy Martino of the New York Daily News previously reported that Cano is denying that he's requesting $300 million:
OK, but we're pretty confident that his representatives did. "I've never asked anybody for $300 million," the free agent second baseman told the Dominican website El Dia on Thursday, during a ceremony to honor the Dominican Republic's World Baseball Classic Championship earlier this year.

Cano went on to say in Spanish that "nobody has ever heard that come out of my mouth ($300 million) and you're never going to hear it."
Ken Davidoff of the New York Post followed:
Cano's most recent offer to the Yankees, in a meeting last week, was a nine-year contract for between $250 and $260 million, the source said. The Yankees have countered with a seven-year deal for between $160 million and $175 million, a figure that would put Cano among the top five or six compensated position players in the game.
ESPN added more detail:
Cano, sources said, asked for a nine-year deal at $28 million a year, with a vesting option for a 10th year at $29 million this past week. That deal, at $252 million, would match Alex Rodriguez's 2000 deal with the Texas Rangers in guaranteed value.

The Yankees, sources told Olney, upgraded their offer to the $170 million range, leaving a gap of about $80 million. According to published reports and information from sources who spoke to ESPNNewYork.com, the Yankees had previously offered Cano a seven-year deal worth approximately $160 million.
Updates for Wednesday, Nov. 27
Mark Feinsand of the New York Daily News has an update on talks between Robinson Cano and the Yankees:
Source: Yankees and Cano's camp spoke but did not meet again Wednesday. Will pick up talks again after the holiday weekend.

— Mark Feinsand (@FeinsandNYDN) November 27, 2013
According to source, the $310M demand from Cano's side remained until Tuesday, though it was lowered "very slightly." Sides still far apart.

— Mark Feinsand (@FeinsandNYDN) November 27, 2013
Updates for Tuesday, Nov. 26
Wallace Matthews of ESPN New York talked to New York Yankees president Randy Levine about Robinson Cano's massive salary demands during free agency:
"We want Robbie back; we think Robbie is terrific," Levine said Tuesday in a telephone conversation with ESPNNewYork.com. "But we have no interest in doing any 10-year deals and no interest in paying $300 million to any player. Until he gets a little more realistic, we have nothing to talk about.''
Meanwhile, Ken Davidoff and Dan Martin of the New York Post report that Cano's representative, Jay Z, met with the Mets officials on Monday, Nov. 18, to discuss the second baseman's free agency:
The hip-hop impresario joined Mets COO Jeff Wilpon, general manager Sandy Alderson and assistant general manager John Ricco for dinner at a posh Manhattan hotel to discuss Cano's free agency, two sources familiar with the situation told The Post. Cano's group, which also featured agents Brodie Van Wagenen and Juan Perez, initiated the meeting; Cano himself didn't attend.

Alderson went on record last week to say he couldn't envision the Mets taking on another player with a nine-figure contract to join David Wright, and Cano sure as heck wants nine figures. He asked the Yankees for a 10-year, $310 million contract, and the Yankees countered with a seven-year offer for between $161 and $168 million.
Andy Martino of the New York Daily News later confirmed Davidoff and Martin's report:
Confirming #Mets brass met with Jay-Z, others on Cano last night. Team wouldn't have taken meeting if no interest, but ....

— Andy Martino (@MartinoNYDN) November 19, 2013
... They didn't talk numbers. Hard to see a financial fit. Meeting was at NoMad Hotel on Broadway/28th St. Story up soon.

— Andy Martino (@MartinoNYDN) November 19, 2013
Important to note that Cano side called meeting with #Mets. As we've previously reported, he wasn't much on their radar before.

— Andy Martino (@MartinoNYDN) November 19, 2013
Ken Rosenthal of Fox Sports notes that there's little hope that the Mets land the talented second baseman:
Sources: #Mets told Cano's agents, before agreeing to meet, that chances of deal slim. Did not want to say no. Possible business in future.

— Ken Rosenthal (@Ken_Rosenthal) November 19, 2013
Updates for Monday, Nov. 18
Andrew Marchand of ESPN New York has an update on Robinson Cano's free agency and demands from any prospective suitor:
Robinson Cano has not budged off his request of a 10-year, $310 million contract, a source with knowledge of the asking price told ESPN New York on Monday.

The Yankees remain very interested in keeping Cano, but not at that money or length. If the Yankees keep consistent with their current plans, Cano is going to need to drop about $100M-$120M off the sticker price. Since Cano is the best player on the market, there is expected to be a pretty good sized market. Texas has led speculation for awhile, but other clubs are sure to emerge.
Andy McCullough of The Star-Ledger states the Yankees have confirmed they are scheduled to meet with Robinson Cano's representative:
Hal Steinbrenner says the Yankees plan to sit down with Robinson Cano's agents next week.

— Andy McCullough (@McCulloughSL) November 13, 2013
Updates for Monday, Nov. 11
Robinson Cano officially turned down the Yankees' qualifying offer, making him a free agent, via Mark Feinsand of the New York Daily News:
Source: Robinson Cano has turned down the Yankees' qualifying offer as expected. He is now officially a free agent.

— Mark Feinsand (@FeinsandNYDN) November 11, 2013
Anthony McCarron of the New York Daily News provides a statement from Yankees general manager Brian Cashman discussing his expectations for Cano's free-agency process:
"Robbie will control the urgency," Cashman said. "It sounds like he's in no hurry and wants the process to play out and he's earned that. We can't hurry it. He's earned the right to be a free agent.

"It's a fluid situation. We'll be engaged, as well as anybody else who has an interest. He can direct how the process will work, the player and his agent. He knows we have interest. We've made the phone calls, the offers. They'll make their counter offers and the process will play out."
Fox Sports' Ken Rosenthal previously provided insight into the contract negotiations between Robinson Cano and the New York Yankees:
Cano made his 10-year, $300 million-plus request before the All-Star break, according to major-league sources. At the time, that was his price for foregoing the open market, sources said.

[...]

Cano, like most players, valued his opportunity to become a free agent, sources said. He essentially wanted the Yankees to buy him out of the opportunity, and it did not happen.

The Yankees, according to the New York Post, offered Cano a seven-year deal for about $165 million. The interest of other clubs is unclear, but two factors will work in Cano's favor – the consistency of his performance, and the increase in each team's annual national television revenue from $25 million to $52 million starting next season.

[...]

A news conference announcing Cano's return to the Yankees is still the most likely outcome, but his early $300 million request no longer applies.

That number, sources said, was Cano's price at a specific stage of the negotiations. It is not necessarily his price now.
Andy McCullough of The Star-Ledger reports the Yankees will make a qualifying offer to Robinson Cano:
The Yankees will make a qualifying offer to second baseman Robinson Cano and starter Hiroki Kuroda on Monday.
---Original Text---
It isn't every year that a player of Cano's ilk is available, particularly at a scarce position such as second base. Cano may not quite be a five-tool player, but he certainly has at least four tools as he can hit for both average and power, has an excellent glove and arguably boasts the strongest throwing arm of any second baseman in the league.
All of that will make Cano a very popular player on this year's market, and he could very well command a contract that rivals the largest deals of all time.
Whether or not that contract equals the reported absurd asking price that Cano's camp is seeking remains to be seen, but it will be massive regardless.
According to Andrew Marchand of ESPNNewYork.com, sources reported that Cano wants a 10-year, $300 million deal, which would trump Alex Rodriguez's contract as the richest in baseball history. Cano is certainly deserving of being one of the league's highest-paid players, but most agree that the initial asking price is far too steep.
Count Yankees owner Hal Steinbrenner among them as he intimated that Yankees wouldn't be willing to pull the trigger on such a big contract, according to Marchand.
We'll see. I know that is a number that is out there now. We'll see if he gets it, how much he wants to be in New York. But, again, I can promise it is going to be a very, very solid offer that we do make because we are going to try. We are going to try the best we can to keep him.
Steinbrenner went on to say that signing Cano isn't an absolute must, but he admitted that the organization is willing to go to great lengths in order to keep him.
"I'm optimistic and I know that we are going to make him a very, very good offer," Steinbrenner said. "Is anybody an absolute must-to-sign? No. And that's nothing against Robby. [It's] just not reasonable to assume that about anybody. We are going to do what we can. We've certainly conveyed to Robby we want him back and we want him to be a career Yankee. We'll just have to see what transpires here."
The main thing going against Cano is that he is 31 years old, and considering how much A-Rod's contract is currently hamstringing the Yankees, New York and other clubs may be reluctant to offer Cano such a long term.
Cano is absolutely deserving of a big contract from a production standpoint. He has hit .302 or better with 25 or more home runs in five straight seasons, and he has at least 94 RBI in each of the past four seasons as well. Add in two Gold Gloves and three top-six finishes in the American League MVP voting, and there is no question that Cano is an elite player.
If the Yankees fail to step up and sign Cano, Marchand speculates that there are plenty of teams who are willing to break the bank. The Texas Rangers top the list in his estimation as they reportedly called the Yanks and inquired about Cano's availability earlier in the year.
Adding Cano to an already solid lineup would arguably make the Rangers favorites in the AL next season, but Marchand also believes that the Los Angeles Dodgers, Philadelphia Phillies and a host of others are lurking.
There is still a lot of mystery when it comes to how Cano's situation might play out, but expect the hot stove to truly heat up once the World Series reaches its conclusion.
This article is
What is the duplicate article?
Why is this article offensive?
Where is this article plagiarized from?
Why is this article poorly edited?