NFL Trade Rumors: Top Offensive Talent That Could Change Destinations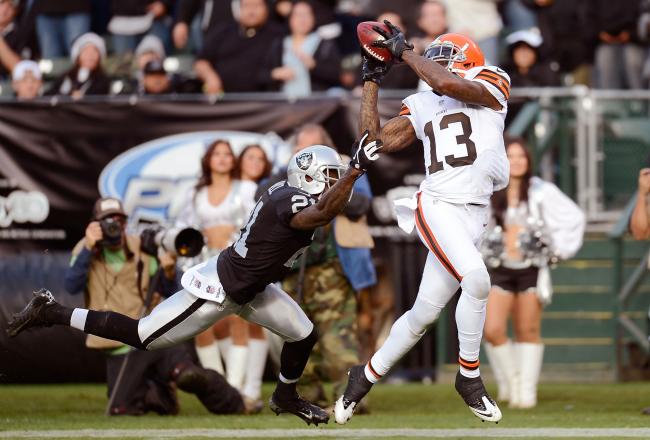 (Photo by Thearon W. Henderson/Getty Images)
The NFL is not normally known as a hotbed for trading, but a few marquee skill players could switch towns before the trading deadline.
Teams have until Tuesday, Oct. 29 at 4 p.m. ET to complete a deal. Unlike with other major team sports, the NFL trade deadline often ends with a whimper rather than a bang.
Then again, the Cleveland Browns embraced a rebuilding mentality prevalent in both the MLB and NBA when they sent Trent Richardson to Indianapolis for a 2014 first-round draft pick. Other cellar-dwelling squads could catch on and follow suit, and the Browns might not yet be done retooling for the future.
If the price is right, these three offensive players could potentially don a new uniform for Week 9.
Josh Gordon
Richardson's departure neatly coincided with the Browns rattling off three straight victories, but that resulted more from Josh Gordon's return.
After sitting out the first two games due to a suspension, Cleveland's primary deep target has accrued 27 catches for 450 yards and two touchdowns through five games. The second-year receiver is one of the team's prized assets, but Cleveland is still listening to bids from interested suitors.
According to ESPN's Adam Schefter, two unnamed teams have offers on the table for Cleveland's dynamic wideout. The 22-year-old played a sloppy game against the Green Bay Packers in Week 7, collecting just two receptions for 21 yards. He later admitted that the constant trade talk is wearing him down (via ESPN.com's Pat McManamon.)
"I'm tired of it," Gordon said on Wednesday. "I honestly wish if it was going to happen it would have happened already, instead of dragging on."
For Cleveland to part with such a skilled offensive weapon, the team must either hold significant concerns about his off-the-field maturity or receive a substantial offer they can't refuse. Either way, a team such as the San Francisco 49ers would amp up the offense by obtaining Gordon.
Maurice Jones-Drew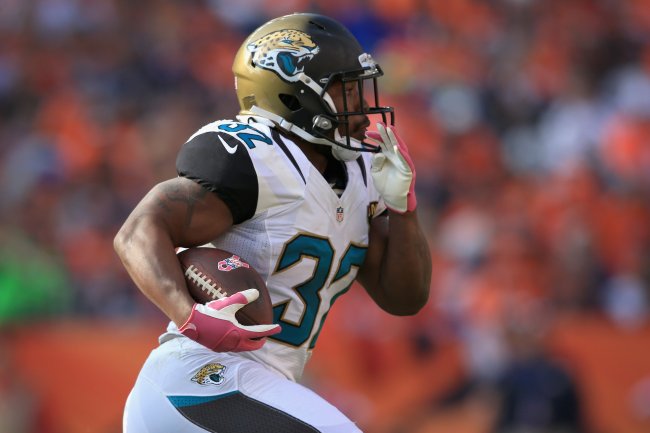 /Getty Images
The Jacksonville Jaguars are 0-7 and show no signs of shifting the tide. Maurice Jones-Drew is a banged-up rusher approaching the death sentence that is being a running back turning 30 years of age.
Testing the trade market seems like a logical move for Jacksonville. Pro Football Talk's Mike Florio reported that the Jaguars would consider dealing their franchise stalwart for the right return.
Which of these NFL players is most likely to be dealt before Tuesday's trade deadline?
After missing 10 games last season with a foot injury, Jones-Drew is averaging just 3.1 yards per carry in 2013, more than a full yard less than his worst per-carry average for a year. Even if he can regain his burst and at least return north of the 4.0-yard plateau, he can't save a franchise that badly needs a new quarterback and defensive makeover up front.
ESPN.com's Greg Garber tossed out an interesting scenario, proposing that Bill Belichick take a chance on revitalizing Jones-Drew's career by bringing him to New England. The Patriots have taken a gamble on underachieving, big-name players before, and it worked well with Corey Dillon and Randy Moss.
That's pure speculation on Garber's part, but it is an interesting thought. For a mid-to-late-round draft pick, Jones-Drew could be a worthwhile risk for a contender in need of a sturdy back to consume some tough carries.
Formerly a potential top-five NFL wideout, Hakeem Nicks is now the third-best option on his team.
Nicks has recorded just 27 catches on 55 targets for an uninspiring 49.1 percent success rating. His problems were showcased front and center against the Minnesota Vikings, when he let a few well-thrown balls fall off his fingertips. Nicks caught two passes on 10 targets while second-year receiver Rueben Randle caught his fourth touchdown in the last three games.
The Daily News' Ebenezer Samuel wrote that rumors are floating around the NFL regarding a trade with Nicks, whose contract expires at the end of the season. He also said that many New York Giants, including Nicks, were unwilling to accept this season as a lost cause.
I'm a Giant, and I love playing for the Giants...I haven't been getting any whiff of anything like that (trade talk). I'm a Giant right now, and I'm going to enjoy it, and we've got to start winning games.
Even if the Giants defeated the Philadelphia Eagles to maintain a shred of hope for the playoffs, one has to wonder if Nicks is essential to such a rally. After awarding Victor Cruz a hefty extension before the season, they're unlikely to keep Nicks beyond the 2013 campaign anyway.
This article is
What is the duplicate article?
Why is this article offensive?
Where is this article plagiarized from?
Why is this article poorly edited?