After what was an incredibly ugly game on Monday Night Football, we're officially approaching the halfway point of the NFL season, and it's time to look at where every team stands after Week 7.
The New York Giants were able to win their first game of the season, but it wasn't a convincing one in any way, shape or form. The Minnesota Vikings started Josh Freeman, and he seriously struggled, completing just 37.7 percent of his passes for 190 yards and an interception.
With Week 7 wrapped up, let's take a look at the latest power rankings, followed by a breakdown of some of the most interesting teams in the standings.
NFL Power Rankings

| | |
| --- | --- |
| Rank | Team |
| 1. | Kansas City Chiefs |
| 2. | Denver Broncos |
| 3. | Indianapolis Colts |
| 4. | New Orleans Saints |
| 5. | Seattle Seahawks |
| 6. | San Francisco 49ers |
| 7. | Green Bay Packers |
| 8. | Cincinnati Bengals |
| 9. | New England Patriots |
| 10. | New York Jets |
| 11. | Chicago Bears |
| 12. | Dallas Cowboys |
| 13. | Detroit Lions |
| 14. | Miami Dolphins |
| 15. | San Diego Chargers |
| 16. | Baltimore Ravens |
| 17. | Atlanta Falcons |
| 18. | Carolina Panthers |
| 19. | Arizona Cardinals |
| 20. | Philadelphia Eagles |
| 21. | Buffalo Bills |
| 22. | Tennessee Titans |
| 23. | Washington Redskins |
| 24. | St. Louis Rams |
| 25. | Pittsburgh Steelers |
| 26. | Houston Texans |
| 27. | Cleveland Browns |
| 28. | Oakland Raiders |
| 29. | New York Giants |
| 30. | Minnesota Vikings |
| 31. | Jacksonville Jaguars |
| 32. | Tampa Bay Buccaneers |
Power Rankings by Tyler Brooke
26. Houston Texans
Oh, how the mighty have fallen.
After winning the AFC South and making the playoffs in 2012, the Houston Texans are falling fast this year, sliding all the way down to No. 26 in the latest rankings.
Things were looking good to start the season, with the Texans winning their first two games. However, things quickly started going downhill as they have now lost their last five games.
The quarterback situation is a mess right now, as Houston has played three different quarterbacks in the past two games. Case Keenum had some solid moments in the loss to the Kansas City Chiefs, but it wasn't enough and he didn't exactly prove himself to be worthy of a starting job.
The defense has been solid, but that could quickly change after Brian Cushing's leg injury. According to Sports Illustrated, Cushing will miss the rest of the year with a torn LCL and broken fibula on the same leg that he tore his ACL on in 2012.
Texans' Brian Cushing out for 3 months with LCL tear, broken fibula: http://t.co/ou9mer5X9d

— Sports Illustrated (@SInow) October 21, 2013
As we saw in 2012, the defense wasn't nearly as dominant without Cushing, and if that's the case this year the Texans could become one of the worst teams in the league.
10. New York Jets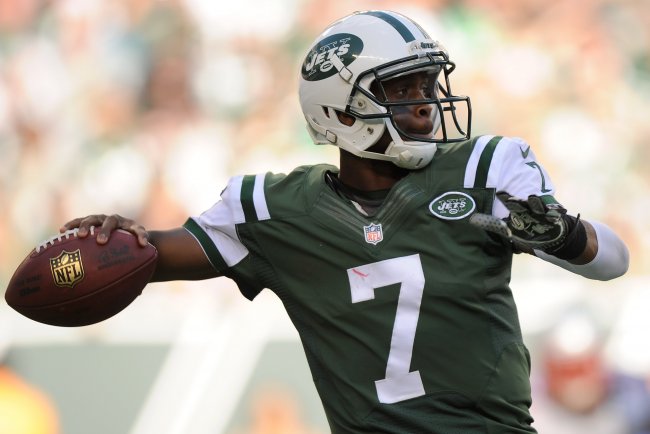 /Getty Images
It hasn't been pretty, but the New York Jets have become a legitimate contender for a playoff spot this season in the AFC.
The team that was a laughing stock in 2012 is currently 4-3 after winning a huge game against the New England Patriots in overtime. Sure, the ending was a bit controversial, but the Jets put themselves in the situation to win by doing a great job containing Tom Brady and giving Geno Smith chances to make plays.
The defense is what's keeping the Jets in games, and they're deadly at stopping the run and making teams one-dimensional. According to Pro Football Focus (subscription required), the Jets have the highest run defense grade in the league at 60.5, with the Kansas City Chiefs in second at just 37.7.
As good as the defense is, the success of this team has depended on Geno. In wins, he's thrown for seven touchdowns and four interceptions with a 93.7 passer rating. In losses, he's thrown just one score along with seven interceptions and just a 51.6 passer rating.
Still, there are a lot of solid pieces on this team, and they have a shot to give the Patriots a run for their money in the AFC East.
3. Indianapolis Colts
They don't have the flashiest offense or the most dominant defense, but the Indianapolis Colts play great football and have a balanced team that's proven that they can play with the best teams in the NFL.
Andrew Luck showed up his predecessor on Sunday Night Football, taking down Peyton Manning and the previously undefeated Denver Broncos. He was huge in the win, throwing for 228 yards and three touchdowns while also grabbing another touchdown on the ground.
I was tempted to put the Colts at No. 1 this week, but it wasn't all good for the team on Sunday. Reggie Wayne went down late in the game, tearing his ACL and meniscus, as reported by Ian Rapoport.
#Colts have officially placed WR Reggie Wayne (torn ACL, meniscus) on Injured Reserve. Filled his spot with free agent CB Jalil Brown

— Ian Rapoport (@RapSheet) October 22, 2013
The Colts won't be completely doomed, however, as they have still have key weapons in T.Y. Hilton, Darrius Heyward-Bey and Coby Fleener. Still, Wayne was Luck's safety blanket, and it's going to be almost impossible to make up for his absence.
The defense has continued to step up for Indianapolis as well. After being one of the weaker defenses in the NFL for so long, the Colts are now holding opponents to just 18.7 points per game, the sixth-best mark in the NFL.
With wins over the Broncos, Seattle Seahawks and San Francisco 49ers, the Colts officially look like one of the elite teams in the NFL.