Latest Updates on Aaron Hernandez Murder Investigation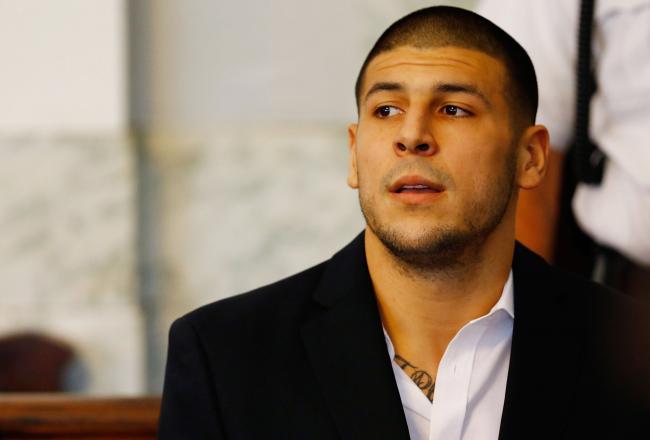 Jared Wickerham/Getty Images
Former New England Patriots tight end Aaron Hernandez remains in custody after being arrested and charged for the murder of Odin Lloyd.
Hernandez is also being investigated for his role in connection with a 2012 double homicide. According to ESPN, authorities have also reached out about a 2007 murder Hernandez was previously questioned about.
Updates for Tuesday, Dec. 3:
From Boston Globe reporters Travis Andersen and John R. Ellement:
Shayanna Jenkins, the fiancee of former New England Patriots player Aaron Hernandez, lied at least 29 times to a grand jury probing the murder that the athlete is accused of committing, prosecutors said in court papers.

William McCauley, the lead Bristol County prosecutor in Hernandez's case, wrote in papers filed in Bristol Superior Court here that Shayanna Jenkins gave false testimony when she testified under oath in August.
After a successful career at Florida, Hernandez's NFL draft stock reportedly plummeted due to character concerns. He ultimately landed with the Patriots, who selected him in the fourth round. Hernandez saw tremendous success in the NFL and was seen as one of the league's up-and-coming stars, performing at a Pro Bowl caliber as one half of the best tight-end duo in the NFL.
That all seems like a distant memory, as the 23-year-old's current legal woes have drowned out his prior accomplishments on the field. Hernandez returned to a Massachusetts court for a pretrial hearing on Wednesday for the first time since being arraigned on a murder charge in the death of 27-year-old semi-professional football player Odin Lloyd.
As seen in this tweet, courtesy of FOX 25 News Boston, Hernandez was present alongside his attorneys:
Defense attorney asks to have @AaronHernandez's handcuffs removed. pic.twitter.com/sBOOxKV1rX

— FOX 25 News Boston (@fox25news) October 9, 2013
Several motions were discussed, but the most significant involved prosecutor Bill McCauley's request that Judge Susan Garsh remove herself from the proceedings, according to NESN:
Prosecutors in Aaron Hernandez Murder Case Want Judge to Recuse Herself http://t.co/YnRlkzvR5j

— NESN (@NESN) October 9, 2013
Defense attorney James Sultan said he plans to object to the motion, which he has one week to respond to in writing, according to Travis Anderson of The Boston Globe:
Sultan says he told McCauley "you can raise whatever you want to raise at sidebar" but def will object to recusal motion #Hernandez

— Travis Andersen (@TAGlobe) October 9, 2013
Sultan says def can respond in writing w/I a week to pros motion to recuse #Hernandez

— Travis Andersen (@TAGlobe) October 9, 2013
In addition, Sultan called for tighter regulations on information from the case being leaked to the media, citing his concern about Hernandez receiving a fair trial, per Kami Mattioli of Sporting News:
Hernandez's attorney on media's coverage, usage of "blind" sources: "Hernandez's right to a fair trial has already substantially impaired."

— Kami Mattioli (@kmattio) October 9, 2013
Garsh dismissed this motion, but told all attorneys involved that they should continue to handle the case with care.
Garsh says rules of prof conduct make it unnecessary to issue order clamping down on public statements at this time #Hernandez

— Travis Andersen (@TAGlobe) October 9, 2013
Kathryn Sotnik of NECN provides details on potentially lost or destroyed case evidence, as well as the judge's ruling on the matter:
Defense: not claiming there's lost evidence but if there is, the prosecution should tell us what is lost/why it was lost and when. @NECN

— Kathryn Sotnik (@kathrynsotnik) October 9, 2013
Judge rules: state must notify defense IF evidence is lost or destroyed in the case @NECN

— Kathryn Sotnik (@kathrynsotnik) October 9, 2013
Finally, the court addressed a potential conflict of interest regarding defense attorney Michael Fee. The wife of prosecutor Patrick Bomberg is a partner at Fee's firm of employment, so Hernandez was asked whether he wanted to retain Fee as an attorney. The Sun Chronicle has the details:
Fee told judge he knows Bomberg's wife but has never worked on cases with her. Fee says they don 't work on same floor.

— The Sun Chronicle (@TheSunChronicle) October 9, 2013
Hernandez ultimately decided to stick with Fee, as FOX 25's Ted Daniel indicates:
HERNANDEZ off the stand - Michael Fee will remain as co-counsel

— Ted Daniel (@TedDanielFOX25) October 9, 2013
Brian Fraga of The Herald News gives details on the recusal hearing:
* Correction: Oct 21 is the recusal hearing #AaronHernandez

— Brian Fraga (@BfragaHN) October 9, 2013
While several important pieces of the case were discussed on Wednesday, there is no question that there is plenty more to come in the following weeks and months.
Follow @MikeChiari on Twitter
This article is
What is the duplicate article?
Why is this article offensive?
Where is this article plagiarized from?
Why is this article poorly edited?