Week 5 NFL Picks: Early Predictions for Every Game on the Schedule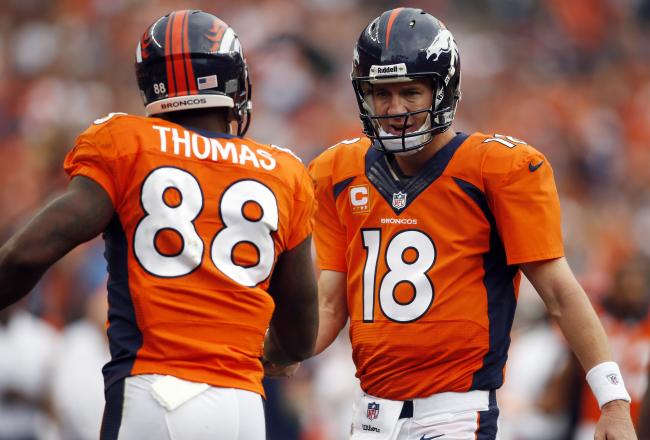 Chris Humphreys-USA TODAY Sports
Believe it or not, the 2013 NFL regular season is already a quarter of the way over for 30 of the league's 32 franchises. It seems like just a blink of an eye ago that Peyton Manning was thrashing the defending Super Bowl champs to the tune of seven touchdown passes.
Manning's Denver Broncos are one of a select few "sure things" at the quarter pole. The Seattle Seahawks, despite their still prevalent road woes, are another.
But littered across the remainder of the NFL, the uncertainty is ubiquitous. About whether flailing preseason contenders are worse than we thought or if we should express patience. About whether the New Orleans Saints and Kansas City Chiefs are for real, or if their 4-0 starts are merely a facade. About what in the hell is going on with the Tampa Bay Buccaneers.
All of these and plenty more questions remain over the next 13 weeks. And that's why it's become so difficult on a week-to-week basis to properly gauge the spreads and matchups to come up with reliable picks. Just when you think you can circle the Cleveland Browns as an every-week loss, Brian Hoyer turns out to be competent and they reel off two straight wins.
The only thing predictable about the NFL is its unpredictability. So, with that statement out of the way, let's get right into some Week 5 predictions. As if this were leading to anything else.
Week 5 NFL Predictions

| | | | | |
| --- | --- | --- | --- | --- |
| Away Team | Home Team | Spread | Winner (Spread) | Winner (Straight Up) |
| Buffalo Bills | Cleveland Browns | CLE -4 | Browns | Browns |
| Kansas City Chiefs | Tennessee Titans | KC -2.5 | Chiefs | Chiefs |
| Baltimore Ravens | Miami Dolphins | MIA -3 | Ravens | Ravens |
| Jacksonville Jaguars | St. Louis Rams | STL -11.5 | Rams | Rams |
| New England Patriots | Cincinnati Bengals | CIN -1.5 | Patriots | Patriots |
| Seattle Seahawks | Indianapolis Colts | SEA -2.5 | Seahawks | Seahawks |
| Detroit Lions | Green Bay Packers | GB -7 | Lions | Lions |
| New Orleans Saints | Chicago Bears | PK | Saints | Saints |
| Philadelphia Eagles | New York Giants | NYG -2.5 | Giants | Giants |
| Carolina Panthers | Arizona Cardinals | CAR -1.5 | Panthers | Panthers |
| San Diego Chargers | Oakland Raiders | SD -5 | Raiders | Chargers |
| Denver Broncos | Dallas Cowboys | DEN -7 | Broncos | Broncos |
| Houston Texans | San Francisco 49ers | SF -6.5 | Texans | 49ers |
| New York Jets | Atlanta Falcons | ATL -9.5 | Falcons | Falcons |
Spreads via Vegas Insider
Best of Week 5
Early Afternoon: Detroit Lions (3-1) at Green Bay Packers (1-2)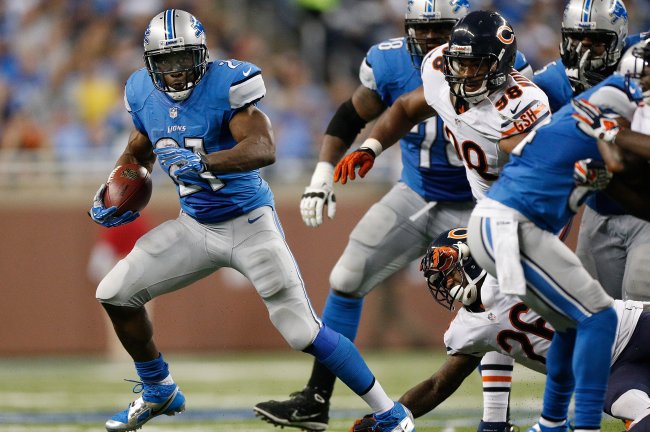 Gregory Shamus/Getty Images
As per usual, the NFL gave its fans the pick of a stellar litter for the 1 p.m. Eastern games. Pretty much any game not involving two NFC East teams or the Browns and Bills could have gotten the early-afternoon spotlight.
The choice to highlight Detroit-Green Bay is merely selfish; it's my most off-the-beaten path prediction of the week, and it may wind up being Sunday's most exciting contest.
The prevailing school of thought is that the Packers will win this game because they "need" it. Green Bay is the battle-tested playoff team just three years removed from a Super Bowl win taking on a Detroit squad that has historically had the discipline of a toddler. It's all a very tight narrative that fits into a little bow and can be sent out to the masses, who will nod their heads in agreement.
Only it would completely ignore what's happened in 2013.
Detroit, which lost nine games by one possession last season, has won each of the past two weeks by a score. On the other side, the Packers have twice blown fourth-quarter leads and lost as many one-possession contests. Did you know that Aaron Rodgers is 5-17 in games decided by four or less points?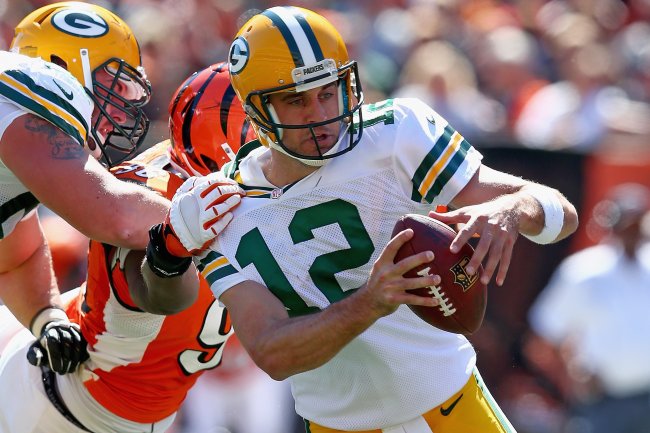 Andy Lyons/Getty Images
The numbers simply don't back up the preconceived notions. The Packers are as bad, if not worse than the Lions in close contests. This game will come down, as it always does (duh), to which team is playing better and which is better prepared.
The answer you're looking for is Detroit.
Last Sunday's 40-32 win over the Chicago Bears was a one-possession win in only the most superficial sense. The Lions abjectly destroyed Chicago on both sides of the ball. Ndamukong Suh and Nick Fairley made Jay Cutler's life miserable, pressuring him constantly and helping force three interceptions. Matthew Stafford continued his solid start, taking what the Bears secondary gave and not making big mistakes.
All of the good things about the 2011 Lions are returning this season, only they've been heightened. Detroit has helped Stafford avoid turnovers by simply getting the ball out of his hand as fast as possible. According to Pro Football Focus (subscription required), no quarterback releases the ball as quickly as Stafford. That's helped the Lions signal-caller rank as the third least-pressured quarterback in football, despite massive changes across his offensive line.
Here's a great time to remind you that the Packers rank 31st in the NFL in defensive DVOA. A week off might have helped the Packers get a leg up in preparation, but this Lions team is far different than the one they beat twice last season.
Score Prediction: Lions 31, Packers 28
Mid-Afternoon: Denver Broncos at Dallas Cowboys
Dustin Bradford/Getty Images
Remember that whole spiel about having difficulty highlighting an early game from like six seconds ago? Yeah, not so much in the late afternoon. Outside the NFL's most unstoppable force taking its talents to Jerry's World, you'd probably be better off spending your mid-afternoon seeing how long a spoon could stick to your nose than watch any of the other action.
Luckily, we do have Peyton Manning's Broncos taking their scoring brigade down to Texas.
You've all heard enough gushing about Denver to sue Betty Crocker. I'm sure it's getting a little tiresome, and a little bit of Schadenfreude will start to creep in once the Broncos drop below the 30-point barrier for a week.
Just don't expect it to happen against Dallas. The Cowboys secondary is built to get thrashed apart by Dr. Manning and Associates. They've given up the sixth-most passing yards per game on average and don't get much of an opponent adjustment to fall back on. Football Outsiders ranks Dallas 20th in pass defense DVOA, giving up 14.2 percent more production than a replacement-level unit would against similar opponents.
I'm pretty sure making Manning 14.2 percent better than what he has been this season will rip open the space-time continuum. The future Hall of Famer is on pace to shatter the passing-touchdowns (64) and passing-yardage (5,880) records. He's completed three quarters of his throws this season. Eric Decker, Wes Welker and Demaryius Thomas are all top-15 in the NFL in receptions.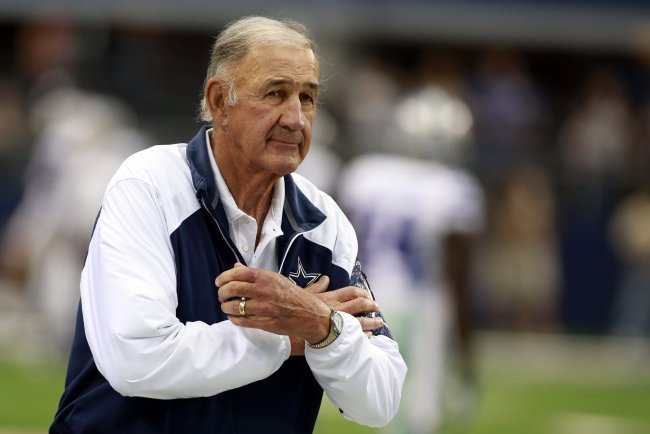 Tim Heitman-USA TODAY Sports
The Broncos are playing Madden 25 on rookie mode this year. And they'll be taking on a Dallas secondary that's still obviously adjusting to the full-time Cover 2; no team has given up more touchdown passes this season.
In a nutshell: Peyton Manning, playing the best football of his life, is taking on a mistake-prone zone defense. I don't think I have to spell out where this can and will go wrong.
Tony Romo and the Cowboys offense will have success against an equally concerning Denver secondary, but just not enough to catch up. Broncos win big. Again.
Score Prediction: Broncos 42, Cowboys 27
Prime Time: Houston Texans at San Francisco 49ers
You'd have a pretty hard time finding two fanbases of preseason Super Bowl contenders that feel more wariness than these two. The Texans and 49ers come into Week 5 with matching 2-2 records, staring at a divisional picture far different than they expected coming into the season.
San Francisco is sitting two games behind the Seattle Seahawks in the NFC West, having already lost once to its division rival. Houston only tops the lowly Jacksonville Jaguars in the AFC South. While neither club is out of the race by the longest stretch—hell, I mean, Jacksonville is still mathematically playoff eligible—neither team can feel all that comfortable with where it's at.
The similarities don't just stop with records. Quarterback play has become the prevailing storyline on each sideline, with Matt Schaub and Colin Kaepernick both facing scorn.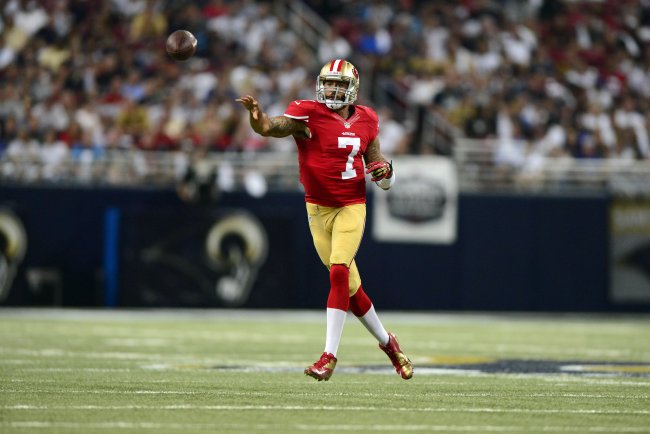 Jeff Curry-USA TODAY Sports
The hand-wringing in regard to Kaepernick has mostly focused on whether he's been "figured out." Last season (and especially in the playoffs), the proliferation of the read-option became a top storyline thanks in large part to Kaepernick's excellence. He torched a dumbfounded Packers defense for a 181 yards in the divisional round and nearly led the greatest comeback in Super Bowl history by using his multitude of abilities.
After a Week 1 torching of those same Packers through the air, it looked like Kaepernick had tapped into some superhuman breed of quarterback. Two dreadful showings and one unspectacular performance have followed. There was some talk that Kaepernick's solid outing (15-of-23 passing for 167 yards and two touchdowns) was a return to form. And, I mean, it was if Jim Harbaugh were looking for a redux of the Alex Smith era.
What is the best game of Week 5?
Kaepernick has had one game where he's rushed for more than 25 yards all season. While I have a feeling a good deal of that is by Harbaughian design, it's left the San Francisco offense feeling as hollowed out as at any point in the pre-Kap era.
Meanwhile, same Schaub. Same Gary Kubiak. Same Texans.
For three quarters last week, Houston dominated the Seahawks. J.J. Watt and the pass rush made Russell Wilson look arguably worse than ever, as Schaub and Arian Foster combined to drive a straight tunnel through the league's strongest defense. Schaub was efficient, checking down, hitting open receivers and avoiding any big mistakes to give Seattle the momentum.
And then the fourth quarter happened. Wilson reverted from frog to prince, Schaub from prince to frog and the whole scene at Reliant Stadium felt like a baroque tragedy. Fans burned jerseys and raised all kinds of hell in the type of display that makes me understand why some players hate the people who root for them.
I'm not quite sure which team is ultimately more viable long term. But Kaepernick's wounds are favorited tweets. Schaub's are people symbolically burning him in effigy.
I'll take the 49ers in a close one.
Score Prediction: 49ers 24, Texans 20
Follow Tyler Conway on Twitter:
This article is
What is the duplicate article?
Why is this article offensive?
Where is this article plagiarized from?
Why is this article poorly edited?