After two unsuccessful seasons, Dale Sveum's time with the Chicago Cubs has come to a screeching halt. From the team's official Twitter feed:
Just released: #Cubs have relieved Dale Sveum of his duties as manager.

— Chicago Cubs (@Cubs) September 30, 2013
UPDATE: Thursday, Oct. 3, at 2:22 p.m. ET
From Bob Dutton of The Kansas City Star:
#Royals add just-fired Cubs manager Dale Sveum to coaching staff.

— Bob Dutton (@Royals_Report) October 3, 2013
---End of update---
Mark Gonzales of the Chicago Tribune followed with a statement from the Cubs and Theo Epstein:
Statement says Cubs hope to have replacement by GM meetings (Nov. 11), if not sooner

— Mark Gonzales (@MDGonzales) September 30, 2013
Theo :I believe a dynamic new voice – and the energy, creativity and freshness that comes with this type of change – provides us with ...

— Mark Gonzales (@MDGonzales) September 30, 2013
"the best opportunity to achieve the major league environment we seek."

— Mark Gonzales (@MDGonzales) September 30, 2013
"We have not yet contacted any candidates or asked permission to speak with any candidates, but that process will begin tomorrow morning."

— Mark Gonzales (@MDGonzales) September 30, 2013
Bill Arnold of MLB.com's Beyond the Box Score provided historical context for Sveum's firing:
Dale Sveum was the 52nd different manager the Cubs had hired and then let go since 1900.

— Bill Arnold (@sfgwire) September 30, 2013
The longest single term Cubs managers: Frank Chance (8yrs), Charlie Grimm (7) and Leo Durocher (7).

— Bill Arnold (@sfgwire) September 30, 2013
Ken Rosenthal of Fox Sports was first to report the North Siders, fresh off their fourth losing season in a row, decided to sever ties with their manager:
Source: #Cubs fire Sveum.

— Ken Rosenthal (@Ken_Rosenthal) September 30, 2013
Joel Sherman of the New York Post followed with some speculation on who will take Sveum's place:
Can confirm @Ken_Rosenthal report that #Cubs have fired Dale Sveum as mgr. Gentelmen start your Girardi rumors #Yankees

— Joel Sherman (@Joelsherman1) September 30, 2013
Sveum later commented on his firing, via Patrick Mooney of Comcast Sportsnet:
Sveum met with Theo for an hour and got the news: "You get a job like this, you want to see it through."

— Patrick Mooney (@CSNMooney) September 30, 2013
Sveum: "We accomplished a lot. Obviously, it wasn't good enough, but I'm proud of everything our coaching staff has done."

— Patrick Mooney (@CSNMooney) September 30, 2013
The Cubs hired Sveum, 49, shortly after Theo Epstein came on as general manager following the 2011 season. There was real hope that he would help turn things around for the Cubbies, who haven't won a postseason game since 2003.
He enjoyed success as an assistant with the Boston Red Sox, winning a World Series with Epstein in 2004. He later moved on to the Milwaukee Brewers, where he undertook a variety of roles and even won seven games as interim manager in 2008.
Chicago was Sveum's first full-time managing gig at the MLB level, however, and the optimism surrounding him quickly dwindled.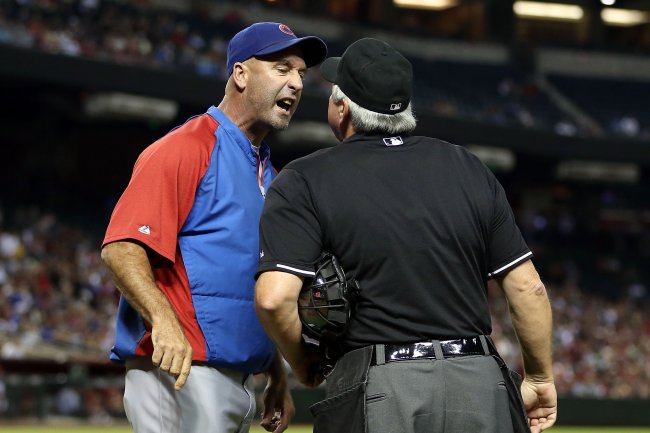 Christian Petersen/Getty Images
The Cubs went 61-101 in 2012 and 66-96 in 2013, marking their worst two-year span since the early 1980s. It's difficult to place the blame squarely on Sveum considering the middling talent at his disposal, but it's clear the organization wasn't happy about what he was bringing to the table.
Was this the right move for the Cubs?
The young team's lack of progression likely played a large role in his firing. Potential studs such as shortstop Starlin Castro and first baseman Anthony Rizzo failed to develop as many expected they would under Sveum's tutelage, taking significant steps back in 2013 after promising 2012 campaigns.
It's unclear who is currently on the Cubs' wish list, but whoever takes the job is going to have a difficult task in front of him.