Fantasy Baseball: Week 25 Start 'Em or Sit 'Em Breakdown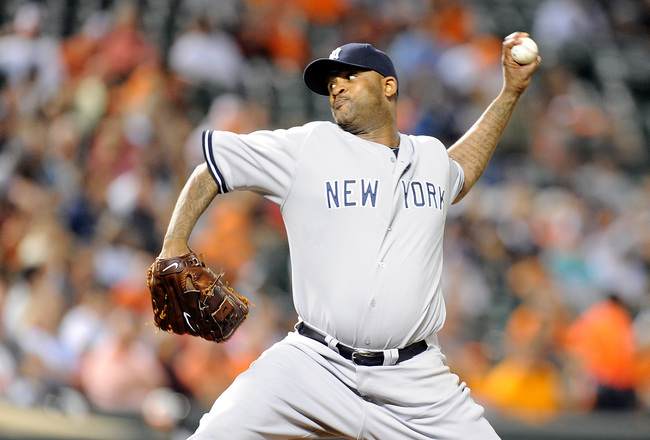 Can C.C. Sabathia's fantasy baseball owners trust the fading ace with their league on the line?
Greg Fiume/Getty Images
Two weeks remain on the MLB calendar before fantasy baseball embarks on a six-month hiatus.
It's hard not to get nostalgic about all the fun times we've had. We streamed an endless supply of pitchers against the Miami Marlins, counted the days until Jeff Locke finally regressed and also watched Corey Kluber blossom into a fantasy darling.
OK, I promise I won't devote another slide to Kluber this week, but he has two starts against the Kansas City Royals and Houston Astros, so....
The season's penultimate week means head-to-head managers are preparing for their semifinal bouts, while rotisserie players have precious little time left to gain ground. Either way, it's important to finish strong.
Last week, Ubaldo Jimenez helped some smart readers win their pitching categories, while the other honorees were alright but nothing special. This time around, we'll highlight some post-hype sleepers sprinting toward the finish line and some aces of old who no longer deserve our adoration.
So sit back, relax and enjoy the baseball season before it ends; just make sure you set your lineup first.
Note: All statistics are courtesy of FanGraphs.com, unless otherwise noted.
SP Andrew Cashner, San Diego Padres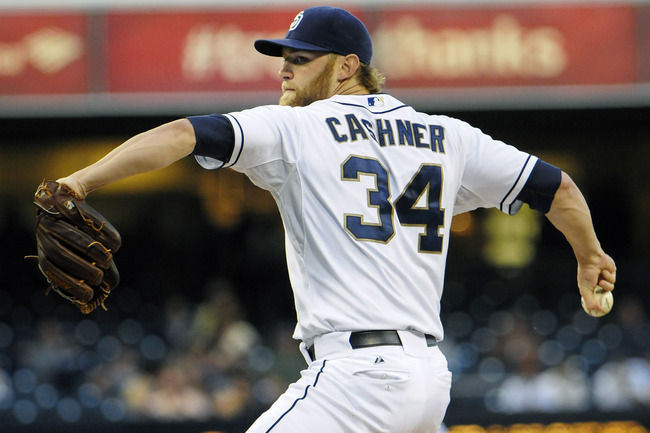 Andrew Cashner is well worth starting this week.
Denis Poroy/Getty Images
Scheduled Start: Monday at Pittsburgh Pirates; Saturday vs. Los Angeles Dodgers
Andrew Cashner usually gets a mention in this column when he receives the security blanket of pitching at Petco Park. If he still frequents the list with a road start, a "Sit" recommendation usually accompanies him.
The way he's pitching lately, one home start is more than enough to strongly encourage everyone to add him and start him this week.
He has pitched solidly all year, so his 3.40 ERA and 1.21 WHIP should not sneak up on anyone. Those numbers, by the way, are right on par with Kansas City's James Shields (3.37 ERA. 1.27 WHIP).
Projected as a major power arm, Cashner's lackluster strikeout numbers have underwhelmed. He has tallied 114 strikeouts through 159 innings this season, giving him an average 6.45 K/9 ratio.
But the K's are finally coming. The 27-year-old has notched seven strikeouts in each of his past three outings. He has also hurled eight quality starts in his past nine outings, boasting a 7.1 K/9 rate during that stretch.
Cashner fires a fastball at an average speed of 94.5 miles per hour and complements his heater with a sharp slider, so his stuff has never been an issue. He is honing his craft during his first full season as a starter, and he should be considered a must-start with two favorable matchups on his calendar this week.
Verdict: Start
SP Yusmeiro Petit, San Francisco Giants
Scheduled Starts: Tuesday at New York Mets; Sunday at New York Yankees
Sometimes it takes a near perfect game to get our attention.
Yusmeiro Petit, a 28-year-old hurler who never lived up to his top-prospect packaging, fell one out short of etching his name in history against Arizona on Sept. 6 before a lazy fly ball fell on the outfield grass.
Anyone who diverted their attention to football once September arrived hadn't even realized Petit occupied a big-league rotation, but the righty was rolling even before he chased perfection.
In five starts this season, Petit boasts a 2.53 ERA and 1.00 WHIP. But that's just a lucky stretch, right?
Actually, Petit has performed even better than those numbers suggest. He's sporting a 1.71 FIP and .309 BABIP with 37 strikeouts and six walks through 32 innings. Wow.
Achieving his success against the Arizona Diamondbacks, Cincinnati Reds and Colorado Rockies (once at home, once at Coors Field), Petit has not simply picked on subpar, fatigued offenses. He can, however, do that on Tuesday when he plays a Mets team crawling to the finish line.
He will then take a short ride from Queens to the Bronx to face a tougher lineup in a smaller stadium on Sunday. In leagues with daily lineup changes, play him against the Mets and use that outing to determine whether he merits a start against the Yankees.
If that luxury is not available, take the plunge on the scorching starter.
Verdict: Start
SP Garrett Richards, Los Angeles Angels
Garrett Richards has tossed two-straight solid outings.
Jeff Gross/Getty Images
Scheduled Start: Tuesday at Oakland Athletics
Garrett Richards has not quite panned through on the promise he displayed when hurling a two-hitter against the Detroit Tigers in April, but a pitcher with a 3.56 FIP is nothing to sneeze at.
The 25-year-old has spent the season bouncing back from the rotation and bullpen, but he has performed better as a starter. He sports a 3.81 ERA and 1.25 WHIP as a starter, beating his 4.10 ERA and 1.44 WHIP as a reliever.
That makes him an interesting sleeper for 2014 drafts, but don't pick him up for this week's deceiving matchup.
The O.co Coliseum is a nice place to pitch, suppressing more long balls than 26 other MLB ballparks this season. Despite the dimensions, though, the A's quietly possess one of the hottest offenses in baseball.
Oakland ranks second in slugging percentage since the All-Star break, and no other American League squad has generated more home runs during that stretch.
Keep Richard's name stored in your memory bank as a late-round option for next year, but don't jump the gun by rolling with him during these trying times.
Verdict: Sit
*All statistics on this slide courtesy of ESPN.com.
SP Bartolo Colon, Oakland A's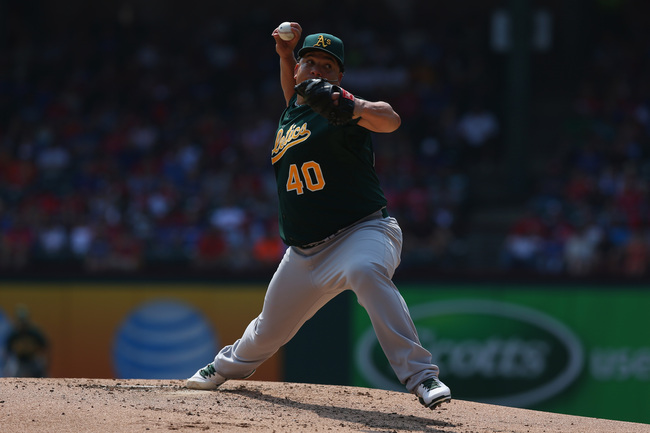 So much for Bartolo Colon fading down the stretch.
Ronald Martinez/Getty Images
Scheduled Start: Thursday vs. Minnesota Twins
I'm man enough to admit when I'm wrong.
Two weeks ago, I confessed to giving up on Bartolo Colon when he took a trip to the disabled list. Even though he made a speedy recovery, I still didn't want him on my team during the season's final weeks.
So naturally, he has allowed one earned run in each of his four outings simce resuming play, posting a 1.50 ERA. His pinpoint accuracy has not soured, either, as he's only issued two walks through those 24 innings
I wanted nothing to do with him because of his inability to manufacture any strikeouts, but Colon has 14 punchouts during his last two outings. Sigh.
Colon enters the final week with a 2.73 ERA and an enticing start against the Minnesota Twins, whose offense lacked pop even before they traded Justin Morneau and placed Joe Mauer on the disabled list. Without those two former MVPs, the team is relying on the likes of Clete Thomas and Brian Dozier.
Those who start Colon live in constant fear of his 90 mph fastball eventually getting blasted like a pinata, but the Twins might as well be swinging blindfolded right now. Instill your faith back in the 40-year-old to help guide you to the championship.
Verdict: Start
SP Tim Lincecum, San Francisco Giants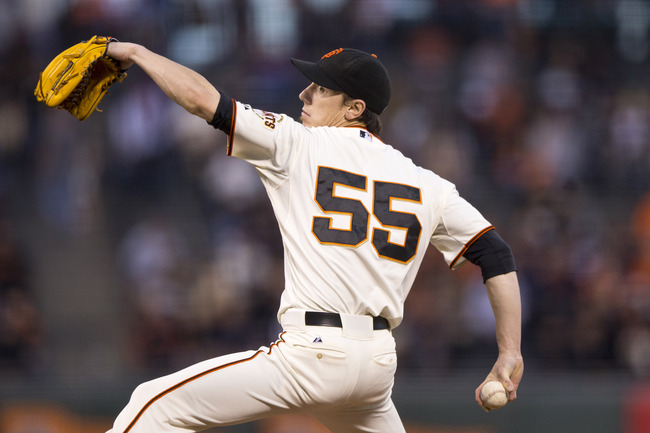 Tim Lincecum is a risky option at Yankee Stadium this week.
Jason O. Watson/Getty Images
Scheduled Start: Friday at New York Yankees
I want to support Tim Lincecum, but the "Freaky Franchise" makes it mighty difficult at times.
He should be better, and the peripherals are crying for a return to normalcy. His 4.40 ERA towers over his 3.75 FIP, and his 69.1 stand rate should be better for a pitcher with his ability to generate strikeouts and ground balls.
But the same arguments applied last year, and yet here he is providing his owners with more migraines than a foghorn. How much longer can we stand by his side?
He showed the Lincecum of old when he tossed eight strong innings against the Milwaukee Brewers on Sept. 9, but that start was followed by messy outing in San Diego. The former Cy Young-winner could not capitalize on the alluring matchup, walking four batters and surrendering two homers in the large venue.
Despite his strikeouts and the numbers hinting at better days, his 3.52 BB/9 rate and dip in velocity could hinder his return to glory. Playing in a hitter's haven against an offense that has awoken from a long slumber, this version of Lincecum is too erratic to trust with so much at stake.
Verdict: Sit
C.C. Sabathia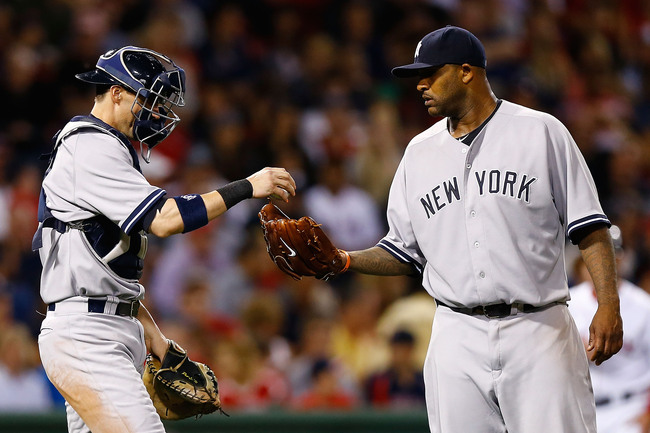 No, what are you doing? Don't give Sabathia the ball!
Jared Wickerham/Getty Images
Scheduled Start: Friday vs. San Francisco Giants
Lincecum's opponent on Friday is also a former Cy Young-winner whom I'm not trusting right now.
Through his past 11 starts, Sabathia has allowed less than three runs just once. That stretch has yielded a 6.18 ERA for the former ace, so you're probably not playing for much right now if he still resides in your lineup.
The 33-year-old has spiraled out of control, issuing 24 walks during his past seven starts. Usually a master of command, his walk rate has quickly bloated, probably because opponents are shattering his offerings in the strike zone.
We could spend time analyzing San Francisco's lineup, which is one of baseball's worst yet presents some danger with Pablo Sandoval heating up and Brandon Belt emerging as a future All-Star.
But honestly, there's not a matchup in the world that would justify playing Sabathia at this point in time. In fact, a junior college club could probably assemble some hits against him right now.
Don't remain overly loyal to the big names who have fueled you to victory in past seasons. There's no point boost for past performance or name recognition, and right now, Sabathia is simply a struggling, below-average starter who could sink your title hopes if you stay by his side.
Verdict: Sit (and drop)
SP Yovani Gallardo, Milwaukee Brewers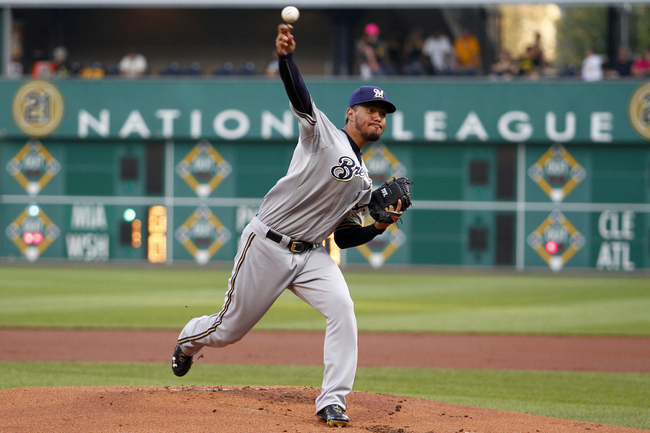 Yovani Gallardo has allowed five runs in his last five starts.
Justin K. Aller/Getty Images
Scheduled Start: Saturday vs. St. Louis Cardinals
Look who's back.
Yovani Gallardo's hamstring must have really been bothering him, as he was exiled to the disabled list at the end of July with a 5.79 ERA. Since returning from his injury, however, Gallardo has registered a 2.29 ERA through five starts.
Say what you want about Gallardo, but the electric righty has always displayed honorable stats despite his maddening inconsistency. The journey featured many bumps and pot holes, but he has tallied 200-plus strikeouts in each of the past four seasons—something only Clayton Kershaw, Felix Hernandez and Justin Verlander have also accomplished.
That streak will end this season, though, as he only has 131 strikeouts with two starts remaining. The least he can do is finish his tumultuous campaign with dignity as a peace offering to those fantasy owners he has scorned.
Starting him against the Cardinals seems risky, but the Birds are only slugging .251 since the All-Star break. The offense has hit a snag without Allen Craig, so make peace with Gallardo and let him redeem a horrific year with a bright conclusion.
Verdict: Start
Keep Reading