Fantasy Baseball: Week 24 Start 'Em or Sit 'Em Breakdown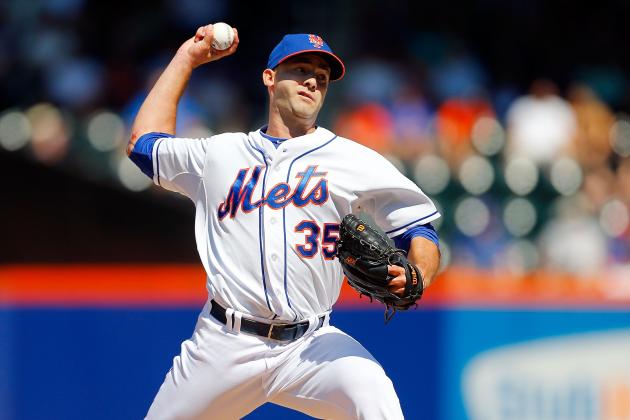 Jim McIsaac/Getty Images
This is a good week to get Dillon Gee in your starting lineup.
The playoffs are upon us for head-to-head fantasy baseball gamers, and that sure amplifies the pressure to get your lineup right this week.
A typical head-to-head format awards the top-six teams a playoff nod, with the two premier squads receiving a bye week to pay attention to their family and friends. That doesn't mean this week means nothing to rotisserie managers, though—since the season ends in three weeks, every day from here on out constitutes crunch time.
Last week's article featured Oakland's Sonny Gray, who racked up the strikeouts against the swing-happy Houston Astros, but Chicago's Travis Wood could not capitalize on a promising matchup against the Miami Marlins.
This time around, an old friend of the column returns just in time to save the day, some unheralded starters make their case to help your championship pursuit, and one usually sturdy veteran is on thin ice.
Time is of the essence, so let's get down to the nitty-gritty.
Note: All statistics, unless otherwise noted, courtesy of FanGraphs.com.
Begin Slideshow

»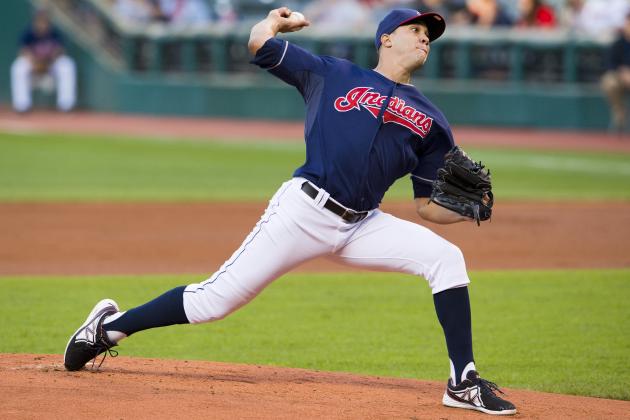 Jason Miller/Getty Images
Ubaldo Jimenez has a 2.22 ERA since the All-Star break.
Scheduled Starts: Monday vs. Kansas City Royals; Saturday at Chicago White Sox
Ubaldo Jimenez is that friend you have to convince yourself to trust. You want to believe he's there for you when it counts, but he has a habit of letting you down when you need him the most.
He could let us down, but the table is set perfectly for Jimenez to deliver a commendable week for fantasy owners. If he can deal with an average Kansas City Royals offense that features little pop, he will then receive a White Sox lineup that stacks amongst the league's worst without Alex Rios.
In eight starts since the All-Star break, Jimenez boasts a 2.22 ERA and 1.23 WHIP.
While he entered his last start with two-straight double-digit strikeout outings, his effort against the Baltimore Orioles on Sept. 3 was more impressive. A fringe starter facing the Orioles would usually have "Sit" written all over him, but Jimenez tossed six shutout innings against them last week, allowing just six baserunners.
The biggest red flag is Jimenez' lack of the control, as the 29-year-old sports a 4.58 BB/9 ratio. His wildness blocks him from deserving a regular fantasy roster spot, but this week, he faces two teams that swing early and often.
Although the Royals strike out less than any team in baseball, they rank 24th in walks, and the White Sox fare even worse, rating 27th. If Jimenez avoids giving them a free pass, he's in store for a big week.
Verdict: Start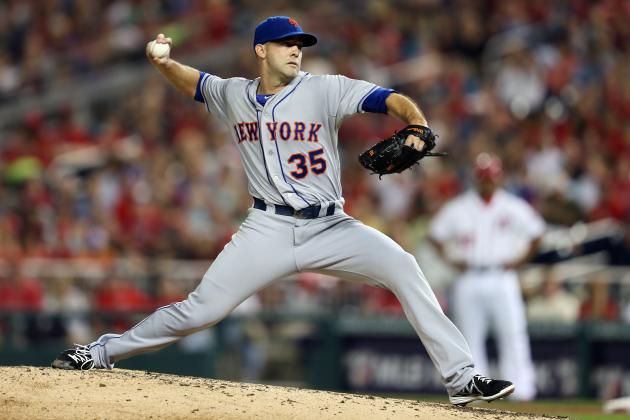 Rob Carr/Getty Images
Dillon Gee has been a quiet revelation during the past three months.
Scheduled Starts: Tuesday vs. Washington Nationals; Sunday vs. Miami Marlins
It might be a little late to tell you all this, but Dillon Gee has pitched really well for the past three months.
The right-hander entered his final start of May with a 6.34 ERA, and his starting rotation spot was in dire jeopardy of being snatched away by Zack Wheeler. He needed to turn the corner quickly in order to save his job, so he struck out 12 New York Yankees at Yankee Stadium in his next start.
Since then, Gee has registered a 2.48 ERA and 1.13 WHIP. An unlucky May (he posted a 5.46 ERA, despite a 3.68 FIP) played a large role in his catastrophic start, but his pinpoint accuracy has greatly aided his recovery.
In 116.1 innings after that gem against the Yankees, Gee has allowed just 26 walks. So despite tallying average strikeout numbers, he has transformed into a worthwhile fantasy option.
A schedule discrepancy also helps explain his tale of two halves. After starting road games at Colorado, Philadelphia and St. Louis early in the season, Gee has seen much more favorable opponents in better circumstances in the second half. That will continue this week.
The Nationals are making a move, creeping out of baseball's bottom-10 in terms of runs scored. They're no longer bad enough to target on their own while Bryce Harper and Jayson Werth are rolling.
However, after facing the Nats on Tuesday, Gee gets the Marlins, who are awful at getting on base and scoring runs.
While the Marlins proved against Wood that even a blind squirrel can hit up a starter for four runs occasionally, all the numbers still indicate them being baseball's worst offense.
Verdict: Start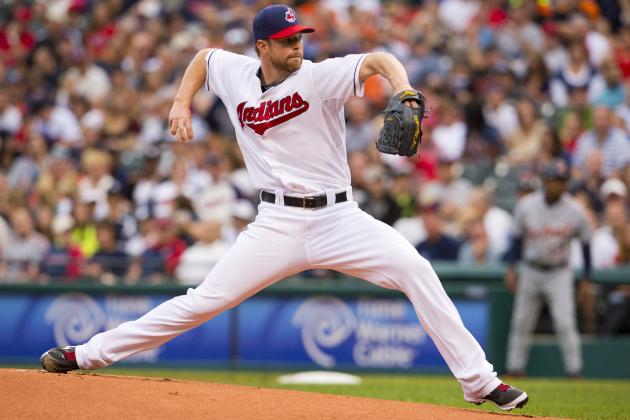 Jason Miller/Getty Images
Corey Kluber was on a roll before landing on the disabled list.
Scheduled Start: Thursday vs. Chicago White Sox
Corey Kluber is back!
I've written extensively about my Kluber infatuation. The last time he occupied real estate in this column, he tossed a gem against a fierce Detroit Tigers offense on Aug. 5, then promptly landed on the disabled list with a sprained finger.
For those looking at the glass as "half full," Kluber's injury cleared a rotation spot for the incredibly talented Danny Salazar, who is now a must-own as long as he holds a rotation spot.
As for our old pal Kluber, he returned on Saturday against the Mets, allowing two runs and one walk with five strikeouts through five innings.
Before the injury ruined fantasy players' growing romance with Kluber, the 27-year-old was posting a 3.15 FIP and 4.46 K/BB rate. Managers were finally coming around to the undervalued stud right before he took a leave of absence. Now that he's back and facing a subpar Chicago offense, it's time to jump back on board.
And those who never bought a ticket on the Kluber bandwagon can still purchase a comfortable seat at a highly reasonable rate. After this week, Cleveland exclusively faces the Royals, White Sox, Astros and Twins. A healthy Kluber can make all the difference during the fantasy stretch run.
Verdict: Start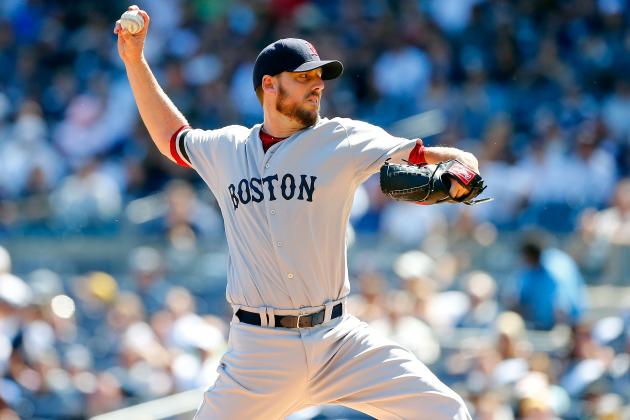 Jim McIsaac/Getty Images
John Lackey struggled in his last start against the New York Yankees.
Scheduled Start: Friday vs. New York Yankees
On one hand, John Lackey has pitched sensationally well this season, orchestrating the most unlikely of bounce-back campaigns. On the other hand, he's a slumping veteran trapped in a brutal series for pitchers.
The Yankees and Red Sox turned the clock back a couple years with their slugfest of a four-game series over the weekend. Boston outscored New York 37-29, producing games that routinely stretched well past four hours.
After Boston's 2012 swoon and New York's slew of injuries hampering its offense for most of last season, both of these squads are back to raking.
This section could belong to nearly any Yankees or Red Sox pitcher with the misfortune of pitching in the next series between these two squads, which is set for this weekend. Hiroki Kuroda almost got the call here, but he's a much harder pitcher to argue against, especially after stopping the offensive parade on Sunday. Even C.C. Sabathia and Jon Lester are scary starts.
However, despite holding a 3.48 ERA and 1.20 ERA, it is Lackey that should be taking a seat on your bench.
The 34-year-old surrendered seven runs to the Bronx Bombers on Saturday. Looking at the full spectrum, New York's offense is hardly a strength, but this is a different club with Alfonso Soriano, Curtis Granderson and Alex Rodriguez in the middle of its batting order. The Yankees can hit again.
Lackey has allowed three or more earned runs in seven of his past 10 starts, so his ERA might start veering closer to his 3.71 FIP. Try to avoid pitchers entrenched in this weekend's latest Yankees/Red Sox clash.
Verdict: Sit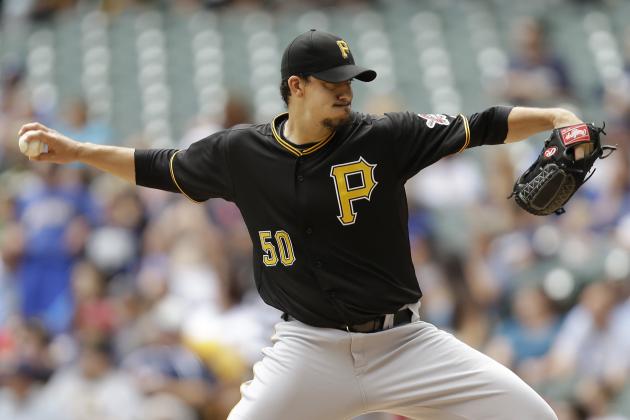 Mike McGinnis/Getty Images
Charlie Morton's hot streak ended on Sunday against the St. Louis Cardinals.
Scheduled Start: Friday vs. Chicago Cubs
Charlie Morton entered Sunday's start against the St. Louis Cardinals with a 3.00 ERA and a cushy "Start" verdict waiting for him on this week's list. Then he got destroyed.
The Pittsburgh Pirates hurler surrendered eight baserunners and five runs to the Cards before he could escape the second inning, skyrocketing his ERA to 3.44. After re-evaluating the fringe pitcher, Morton is still worth a start on Friday, though.
After all, he fell to the National League's top offense on Sunday; it happens. In fact, it already happened on Aug. 1, when he surrendered 10 hits and five runs to the Cardinals.
After that poor outing, he allowed two or fewer runs through at least six innings over his next six starts. That streak lasted until the Cardinals pummeled him again on Sunday.
Morton can redeem himself against the Cubs, who are indeed not the Cardinals. Against one of the league's worst offenses, Morton still warrants a spot start; just don't go thinking he's now an ace.
Verdict: Start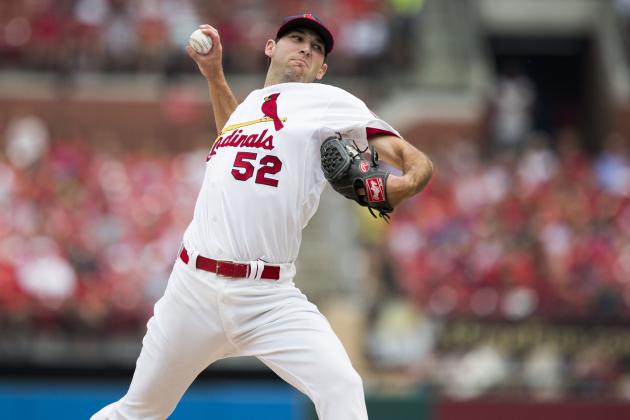 David Welker/Getty Images
Michael Wacha is on a roll.
Scheduled Start: Saturday vs. Seattle Mariners
Another amazing young player is just what the Cardinals needed.
Michael Wacha has tossed 19.2 consecutive scoreless innings to decrease his ERA to 2.72, and two dominant starts over the Pirates and Cincinnati Reds have placed the 22-year-old firmly in the spotlight for the stretch run.
Wacha also owns 42 strikeouts and 13 walks through 46.1 innings, sturdy rates that will propel the young righty toward continued success. It's time to give him some usage in fantasy leagues during the final weeks.
Although Seattle's offense boasts some pop, it also is full of free swingers who will frequently strike out. Wacha has only surrendered four homers so far, and he should succeed against the Mariners as long as he avoids the long ball.
Reel Wacha in if he is still floating on your league's waiver wire.
Verdict: Start