Fantasy Baseball: Week 23 Start 'Em or Sit 'Em Breakdown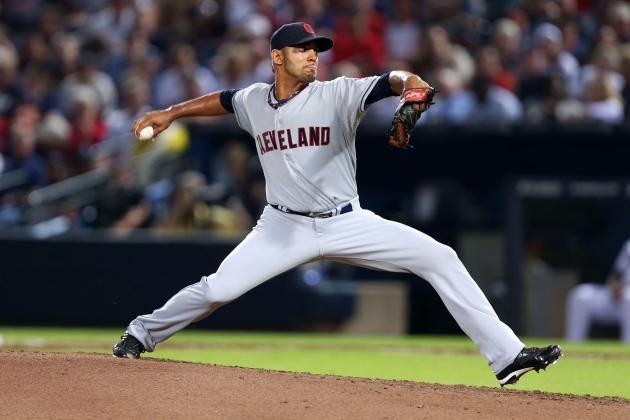 Mike Zarrilli/Getty Images
Danny Salazar could make a major fantasy impact this September.
Don't take the Green Day approach to running your fantasy baseball team.
For some managers, 162 games is about 87 games too long. Unless they've assembled a winner, they'll abandon their team, leaving a tragedy of injured starters occupying a desolate starting lineup.
By July, that owner tells the league to "Wake Me Up When September Ends." (See, the lead kind of had a point.)
But you're better than that, so you won't commemorate Labor Day by letting complacency sink in. This is the time to buckle up and finish your season strong.
A short span left in the season allows managers to play the matchups more than ever. Dumping a big name in May hurts, but with playoff season approaching, you can't stand idly by and let the brand names crush your chances.
Aside from Ryan Dempster winning a quality start (not that you should really regret missing 6.1 innings and three runs allowed), last week's predictions came through rather well. Now that we're entering the final month, let's stay clutch in these high leverage situations.
Note: All statistics, unless otherwise noted, are courtesy of FanGraphs.com.
Begin Slideshow

»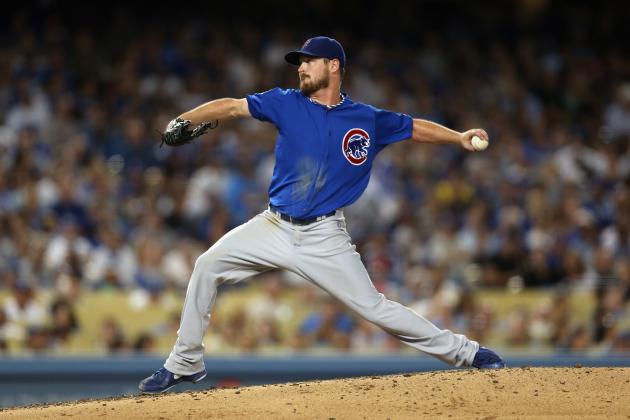 Jeff Gross/Getty Images
The numbers say Travis Wood is due for a regression, but the Miami Marlins are not the team to ignite it.
Scheduled Start: Sept. 2 vs. Miami Marlins, Sept. 8 vs. Milwaukee Brewers
I'm not a huge Travis Wood fan. His 6.38 K/9 ratio is nothing special, his 6.8 HR/FB ratio is crazy-low for a fly-ball pitcher and his 3.09 ERA and 1.10 WHIP owes his .238 BABIP (tied with Clayton Kershaw for the lowest in baseball) a thank you.
With all that said, he had me at "vs. Miami Marlins."
It may feel like I've picked on the Marlins all season long and that's because I absolutely have. They rank last in runs scored, batting average, on-base percentage, slugging percentage and home runs. They're not good at hitting the baseball.
This pick could anger the baseball gods, who may inflict punishment for ignoring the regression signs and choose to unleash it all when we least expect it.
If he faced an offensive dynamo in his second start, then I might play it safe and stay away. While the Brewers are dangerous with Aramis Ramirez gaining traction and Khris Davis filling in admirably for Ryan Braun, they're still an average offense.
It's risky, but show some faith in Miami's ineptitude and use Wood for the week.
Verdict: Start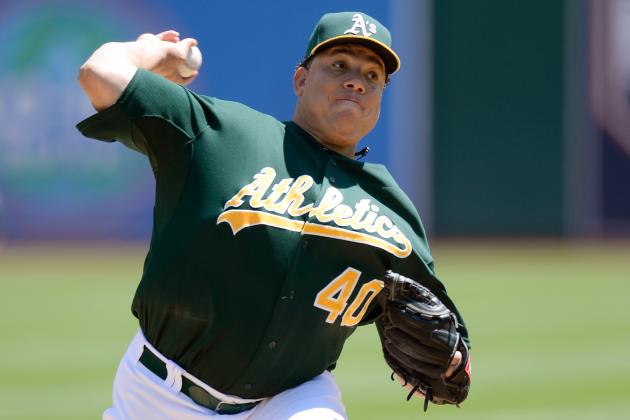 Thearon W. Henderson/Getty Images
Bartolo Colon is back, but don't be so quick to jump back on board.
Scheduled Starts: Sept. 3 vs. Texas Rangers, Sept. 8 vs. Houston Astros
A few weeks back, a 14-game winner with a 2.75 ERA whom I owned suffered an injury and I felt oddly relieved for the sake of my fantasy team.
I, of course, do not wish harm on Bartolo Colon and am glad he returned to action after serving his 15-day trip to the disabled list, but the injury gave me an excuse to drop him from my team.
You may be wondering why I wanted a reason to justify dropping a guy greatly aiding my squad. His visit to the disabled list followed two five-run defeats that felt long overdue for the 40-year-old soft-tosser. Colon took his leave of absence before he could make his second start of the week and I feared what was likely to come during that outing.
Pitchers with an 85 mph fastball and 4.74 K/9 ratio just don't touch Colon's level of dominance leading up to August. His 3.35 FIP and a .294 BABIP are right around his career average and don't suggest luck has contributed to his success, but he'd be lucky to keep this going.
A two-start week tests this weariness, especially with one start against the Astros. Then again, one of those ugly August outings resulted from Houston's lukewarm bats.
He's a liability in the strikeout department and gamers can't bank on the wins to keep piling up. We wringed out all the value inside Colon. Now it's time to left someone else deal with the drop-off.
Verdict: Sit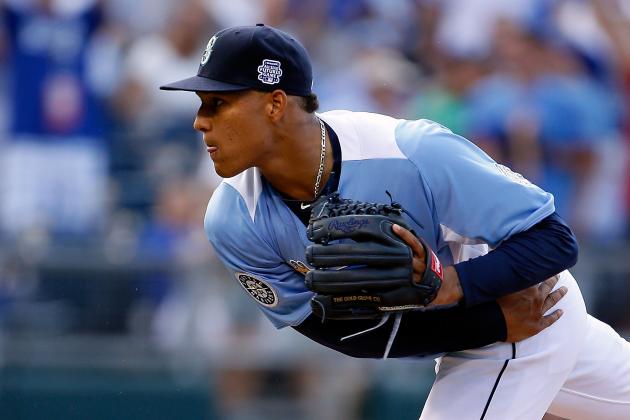 Jamie Squire/Getty Images
Taijuan Walker gets a chance to impact fantasy playoff matchups in his first taste of MLB action.
Scheduled Start: Sept. 4 at Kansas City Royals
Is now really the time to leave your fate in the hands of an untested rookie?
Long out of playoff contention, the Seattle Mariners are giving top prospect Taijuan Walker a chance to ease into the majors with a late-season promotion.
He's a name you had better learn going forward. Anyone in a keeper or dynasty league without a farm system should grab him immediately. The 6'4" righty has ace upside and there's ample time for the 21-year-old to realize that ceiling.
But let's not expect him to replicate Felix Hernandez' resounding jump to the big leagues. While Walker struck out 160 batters through 141.1 minor league innings, he also walked 57. He issued 27 free passes during 57.1 innings in Triple-A, amounting to an unappealing 4.24 BB/9 rate.
While he initiated his career with five impressive innings, allowing three baserunners and no earned runs, he also only struck out two Astros. Houston hitters lead the majors in punchouts by a considerable margin.
Don't let the enticing youngster blind your sensibility. Walker is still an unpolished product who needs some seasoning.
Verdict: Sit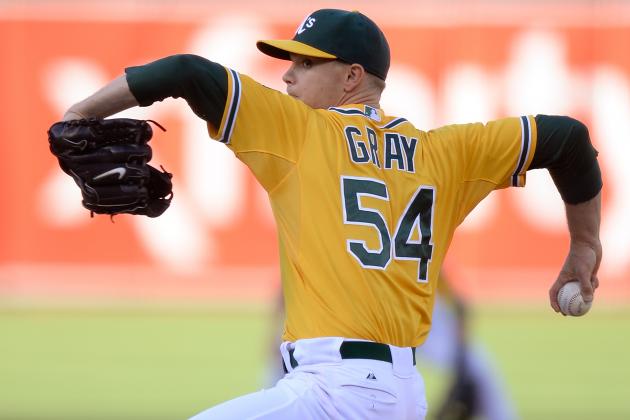 Thearon W. Henderson/Getty Images
Sonny Gray has proven himself as a useful fantasy starter.
Scheduled Start: Sept. 5 vs. Houston Astros
An under-the-radar pitcher who racks up strikeouts meets a mediocre offense that constantly whiffs. Sounds good.
Another young hurler from the American League West, Sonny Gray's promotion did not receive the same fanfare as Taijuan Walker's arrival. Yet the 23-year-old was sitting on an 8.97 K/9 ratio, 2.97 BB/9 rate and 2.74 FIP prior to getting the call to Oakland.
He has dazzled so far for the Athletics, posting a 2.57 ERA and 2.52 FIP through 35 innings while amassing 37 strikeouts. An anticipated stop-gap to keep Colon's rotation spot warm, Gray's dominance caused Oakland to instead demote Tommy Milone.
In his first start against Houston on Aug. 15, Gray tossed eight shutout innings, collecting nine strikeouts as only five batters reached base. Aside from his one poor start against a forceful Baltimore Orioles offense, Gray has delivered one fantastic stat line after another.
If nobody in your league has caught on to Gray's quiet success, scoop him up and capitalize on an intriguing matchup.
Verdict: Start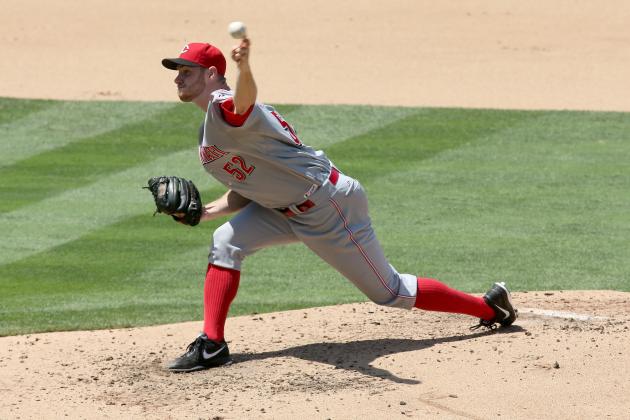 Stephen Dunn/Getty Images
Tony Cingrani is expected to return this week.
Scheduled Start: Sept. 5 vs. St. Louis Cardinals
Tony Cingrani, a man with 112 strikeouts in just 97.2 innings, is owned in less than half of Yahoo! leagues. Did that many people cast him aside after landing on the disabled list, or are that many leagues dead?
According to MLB.com's Mark Sheldon, the Cincinnati Reds believe their young pitcher will return on Thursday, Sept. 5 to face the Cardinals. Assuming he gets the green light from his medical staff, should he get one from your fantasy squad?
Anyone with those strikeout numbers is awfully enticing, so it would take a lot to justify benching a pitcher with a 10.32 K/9 ratio. His health would have to be a question mark, his underlying numbers would have to indicate some imminent decay and a top offense would have to lay in his path.
Check, check and check.
This is Cingrani's first season in the majors, and the Reds were likely to shut him down or move him to the bullpen had the injury not come first. The recent Matt Harvey bombshell probably has teams extra-concerned about their young investments, so Cingrani might only be afforded five innings in his return.
Despite his glowing strikeouts and 2.76 ERA, he also sports a 3.60 FIP, .235 BABIP and 81.8 percent strand rate. It's usually the Alex Woods and Bartolo Colons of the world sneaking through the cracks, but Cingrani does not get a complete free pass despite his nasty stuff.
Then there's the issue of facing the National League's premier offense. Last time Cingrani faced the Cardinals, he walked five batters and gave up three runs in five innings. Even if Cingrani is ready to take the mound, let him work back his strength.
Verdict: Sit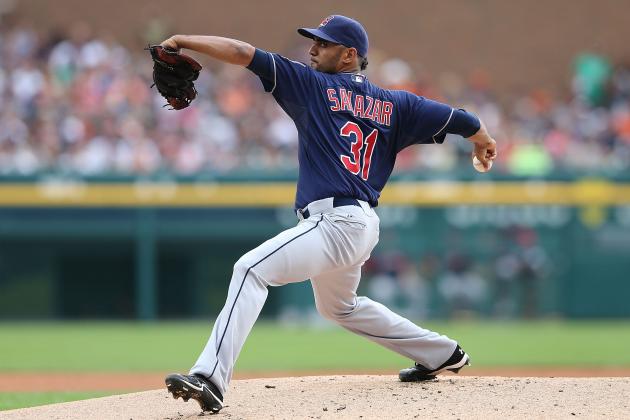 Leon Halip/Getty Images
Seriously, go add Salazar.
Scheduled Start: Sept. 7 vs. New York Mets
The Detroit Tigers aren't so scary when you don't have to worry about Miguel Cabrera.
In his second major league start, Danny Salazar was in the midst of firing a gem before Cabrera—whom Salazar previously struck out three times—extracted his revenge with a three-run homer. Salazar finished with 10 K's, but surrendered four runs in a no-decision.
After plowing through a tough two-start week against the Tigers and Atlanta Braves, Salazar now faces the Mets. Ever get rewarded with ice cream as a kid after completing a difficult test? This is just like that.
An injured David Wright is watching from a safe distance, where he'll now receive some company in a resurgent Ike Davis. Marlon Byrd is in Pittsburgh and there's scarcely any talent left.
Salazar gets a lineup of young guys trying to secure a regular gig for 2014 and Daniel Murphy represents New York's most potent bat.
There's also the fact that Salazar is a highly impressive young pitcher with a 3.00 ERA, 1.00 WHIP, 37 strikeouts and nine walks through 33 innings. Want a potential game-changer for the stretch run who remains available in 79 percent of Yahoo! leagues? Go get Salazar.
Verdict: Start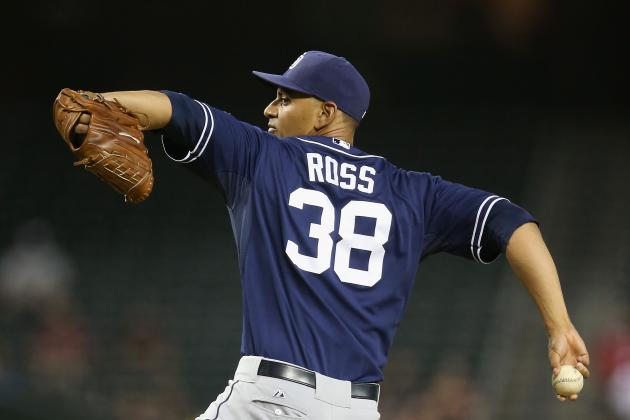 Christian Petersen/Getty Images
Tyson Ross compiled double-digit strikeouts against the Los Angeles Dodgers on Sunday.
Scheduled Start: Sept. 7 vs. Colorado Rockies
It's probably time to pay attention to Tyson Ross.
The latest San Diego Padres pitcher to ride Petco Park to glory, Ross owns a 2.99 ERA and 1.19 WHIP on the season, with a 2.58 ERA and 1.04 WHIP at home. There is, however, more than just his park to spark trust in the 26-year-old.
After striking out 10 Los Angeles Dodgers on Sunday, he has 92 punchouts in 96.1 innings. The starting rotation has also treated the right-hander kindly. Since moving to the rotation, Ross has earned a 2.76 ERA through 11 starts.
When the Padres face the Rockies, the game's venue makes all the difference in the world. You're staying away if they played this game at Coors Field, but he's well worth the look pitching in San Diego.
Away from Colorado, the Rockies are a mediocre offense with a .247/.299/.382 slash line. Without Carlos Gonzalez, there's very little depth to this lineup. Don't let their Coors Field-induced success fool you into shying away from a favorable matchup.
Verdict: Start