20 Worst Beatdowns In Sport Last Decade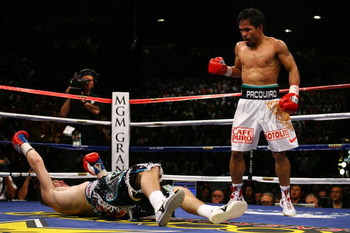 To define a beatdown is difficult in some sense, for one, if in a team setting, you cannot ignore injuries, or the sometimes vast distance between teams or players in terms of ability and greatness.
For instance, in the 2007 Australian Open in Men's Singles,, where Rodger Federer didn't drop a set, Novak Djokovic breezed through his first round opponent 6-1,6-1,6-0, Djokovic was ranked 14th at the time, while Massaue, a once Top 10 ranked player, was in decline. Some could point to that as a beatdown, but consider it was in the first round, and even though Djokovic was ranked 14th instead of say, 2nd, it was still a relatively noticible gap in betting odds. In the same tournament, Rodger Federer faced Andy Roddick, the 6th seed in the semifinal, and proceeded to pound away to a 6-4,6-0,6-2 victory.
Which victory was more of a beatdown should be obvious.
Enjoy the list.
20. 2004 NBA Final, Game 3, Pistons beat Lakers 88-68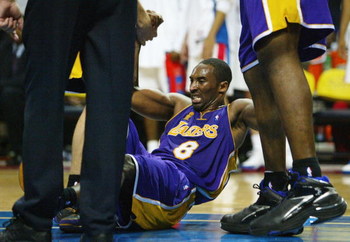 The NBA Finals sometime end in sweeps, but the scores are not so lopsided. A 20 point margin of victory is, but what makes it even more embarrassing is the circumstances. First off, the series was tied 1-1, secondly, the Lakers had not been held under 70 points in a game ALL season, talk about picking the wrong time to take a dive. The team had also only been held under 80 points twice.
19. 2004 MLB American League Championship, Game 7, Red Sox beat Yankees 10-3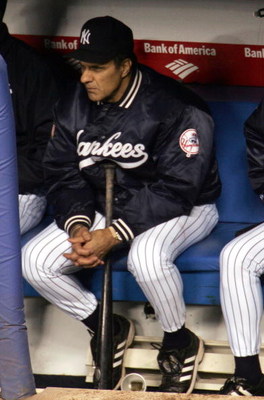 I as many thought that after the Game 3 joke of a victory for the Yankees at 19-8 over the Red Sox, the series was over, but back came Boston.
If you didn't know how home field advantage works, in the 2004 ALCS, the higher seed got Games 1,2,6 and 7. The fact the Sox won Games 4 and 5 to stay in the series and go back to New York was one thing, but beating the Yankees at home in Game 6 was another. Then came Game 7, surely, even with such a collapse the New York Yankees would mount something, surely, at Yankee stadium. But no, in one of the worst games I have ever seen in terms of competition, the Red Sox won 10-3, and believe me, the game was not even close. Boston lead 8-1 going into the 7th inning, and it seemed the game was already over. Although New York mustered 2 runs in the bottom of the 7th, the Sox won with ease 10-3. The Red Sox vs. Yankees rivalry had never been so....quiet.
Boston would go on to win the World Series in a sweep.
18. 2001 NBA Western Conference Final, Game 3, Lakers beat Spurs 111-72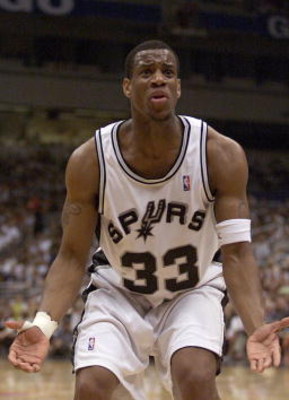 After winning the first two games of the series, the Shaq and Kobe tandem went back home, and slaughtered the Spurs like a ripe mule. The final score of 111-72, a 39 point margin of victory, proved to be the worst playoff defeat of the last decade. The score was 86-64, but I guess
it wasn't enough for the Lakers as they went to town 25-8 in the 4th quarter.
17. 2003 AFC Wild Card, New York Jets defeat Colts 41-0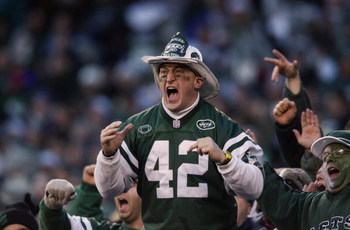 Shutouts are rare in the NFL, so when a team gets shutout, you know the offense was put down, or the defense rose up, whichever way you want to look at it. The playoffs only hold 12 teams, you know, the teams who played hard all season and made it in. Even though the Wild Card round is the first round of the NFL playoffs, that doesn't justify 41-0 drubbings. A little back story to the 2002 regular season, Jets finished 9-7 and first in the AFC East, the Colts finished behind the Titans second in the AFC South at 10-6.
The game was in New York, but common, these were the Colts with Peyton Manning, and Marvin Harrison. Their worst loss of the season was 18 points, and the fewest points they ever scored was 10.
How did this happen? Oh wait I know, Manning is a poor playoff Quarterback, in his third playoff game, he would lose for the third time, in the worst of fashion.
Manning was 14 of 31 for 137 yards and two Interceptions.
So he wasn't that terrible, but the Jets were really good, their offense was lights out, and a 41-0 victory went down in the books as one of the worst in playoff history.
16. 2002 NHL Western Conference Championship, Game 7, Wings beat Avalance 7-0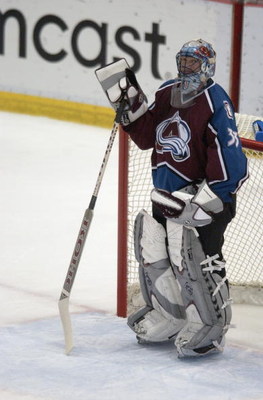 Now no, not every Game 7 of a Stanley Cup Playoff series ends in a close finish. There are no shortages of lopsided scores, even shutouts have happened, 3-0, 4-0, something like that. However this becomes less likely when you get to the Final Four teams. To think that a Game 7 of a Conference Final series would end in a 7-0 drubbing would be madness, perhaps joyful homerism, but who made a realistic bet on this must be sipping champagne on his or her yacht right now.
15. 2005 World Junior Hockey Championships Final, Canada defeats Russia 6-1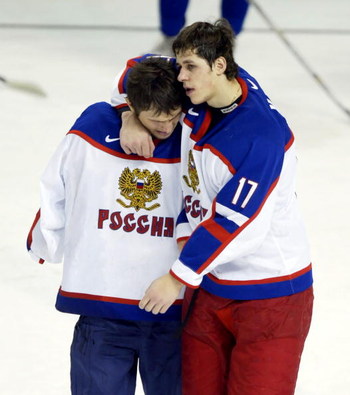 In recent times, most of the elite teams boast rosters of young NHL players. Sure there's an element of amateur play, but Russia, Canada, Sweden and Czech Rep seem to deliver on a constant basis.
In the 2005 tournament, Canada was the defending Champions, they did go undefeated in group stage, including 8-1 victories over Finland and Sweden.
However their opponent in the final was of an arguably better quality, though not undefeated due to the 5-4 loss to the United States in group play, Russia had beaten the Finland 3-0 in the quarterfinal and the United States 7-2 in the semifinal ( after the U.S. beat Sweden 8-2 ). It was pretty much Russia and Canada head and shoulder above everyone else this tournament, but Canada played close against the Czechs winning 3-1 and as noted Russia beat the Americans 7-2 in the same round.
Not to say Canada or Russia were favorites, it was even footing, fans must have been expecting 4-3, 5-4 game, instead they got a massacre on the ice, Canada defeated Russia, with the likes of Ovechkin and Malkin, 6-1.
14. Super Bowl XXXVII Bucaneers defeat Raiders 48-21.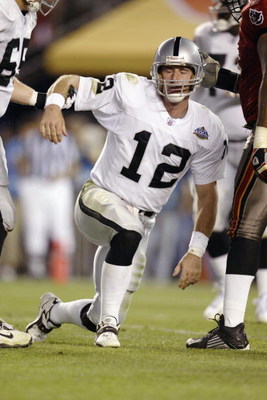 If you're still wondering how much of a beating the game was, I'll analyze it for you.
The Tampa Bay Bucs, although the best defense in the league, and statistically better than even the 85 Bears ( if not counting the playoffs ) came in as 4 point underdogs to the powerhouse offense Raiders.
The Oakland Raiders boasted two time first team all-pro and the league MVP at the time in Quarterback Rich Gannon.
He proceeded to throw a Super Bowl record 5 interceptions.
And although the final point deficit for the Raiders was 27, the score going into the 4th quarter was 34-9.
Also consider the game was tied 3-3 after one quarter.
So in a span of only half the game, the Bucs tied down Oakland, and had their way with Rich Gannon.
13. 2009 PBA World Championship, Norm Duke defeats Chris Barnes 259-189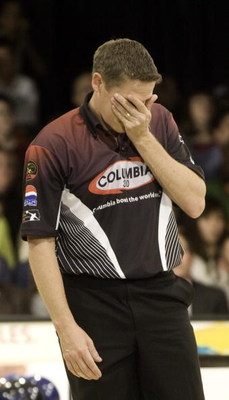 In Bowling, like in Golf and Tennis, there are some major tournaments, one of the big major tournaments is the PBA Championship.
Now Norm Duke is like the Roger Federer currently in bowling. Now regardless of your stature, in the pros, bowling anything below a 200
does not make you look good, some can even question your ability, even if you are having a bad day.
In fact the lowest score to win the PBA Championship since 1999 was 202, by Norm Duke in 2008. Now in that Final, Duke was able to win with only 202 pins due to his opponents ineptitude with a mere 165.
In 2009 he came back to repeat with the highest score in the tournament's Final history, 259. His opponent was unlucky to have been playing him that day and only mustered 189 pins, for a margin of a whopping 70 pins.
If you don't understand bowling, there's a fine range, 300 is the highest you can ever get in a game, while if you have a hard time passing 100, you are a terrible bowler.
The range for professionals is roughly 200-250, give or take, often the players who get to the Final of a major tournament can depends on getting at least around a 210.
So a 70 pin victory is a pretty big one, the second largest margin in the tournament's final history was 55, set in 02 by Doug Kent with a 215-160 win.
12. 2006 World Junior Hockey Championships Final, Canada defeats Russia 5-0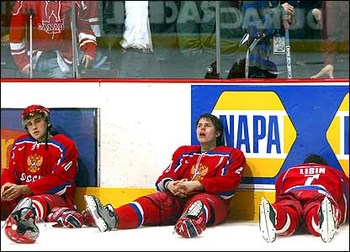 Although team Russia would lose Ovechkin and have only one standout star in Evgeni Malkin, they improved from the previous tournament.
They finished 4-0 in tournament play, with big wins in 7-2 against the Czech Republic, 6-2 against Slovakia and 5-1 against Sweden.
Although Canada remained undefeated as well, they lacked big time wins of the past, beating America and Switzerland by only a goal in group stage and only beating Norway 4-0, a team they often beat by 10 or more.
In the elimination round, Canada would beat FInland 4-0 in the semifinal, while Russia beat the United States 5-1.
Both teams were miles ahead of everyone else, with some giving the advantage to Russia, but Canada won in a route, 5-0.
11. 2007 World Series, Game 1, Red Sox defeat Rockies 13-1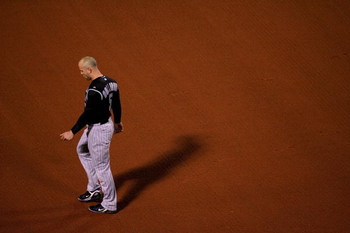 Even if it was a home game for Boston, a 13-1 victory can go down on any day, against any team, as an embarrassment. Let alone in the
World Series.
The Red Sox would win a sweep, but the 13-1 massacre by the Sox in Game 1 must have made the road to victory that much easier.
10. 2000 UEFA Euro Championship, Quarterfinal, Netherlands defeats Yugoslavia 6-1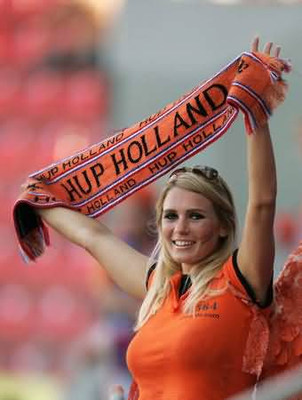 In most international competition, European Football can see 1-0, 2-0 or 2-1 scorelines, and does, quite often.
A considered large margin of victory starts at 3-0 and 4-0 is usually looked at as an embarrassment. In fact if you look at the scorelines for the last two Fifa World Cups and last three European Championships, you will be hard pressed to find teams scoring 5 goals in a game.
Of course there was that 8-0 victory by Germany over Saudi Arabia in the 2002 Fifa World Cup group stage, but it was after all group stage, and it was Germany, against Saudi Arabia, a David and Goliath match up in itself.
What occurred in the quarterfinal match up between the Netherlands ( Holland ) and Yugoslavia ( Federal Rep ) at the 2000 Eruo Championships, was a global travesty to laugh at.
Although the Yugoslav team did lose a group stage game to Spain 4-3, no team in the 7 elimination games scored more than 2 goals, except of course the Netherlands over Yugoslavia in a 6-1 annihilation. The score was 2-0 at the half and with over 30 minutes to go was upped to 4-0. The game would have ended 6-0 had the star of the Yugoslav team, Savo Milošević not scored a meaningless goal at the 91st minute of play. Netherlands went on to lose to Italy in the next round 3-1 in Penalty Kicks.
9. 2004 OFC Nations Cup Final, Australia beats Solomon Islands 5-1 and 6-0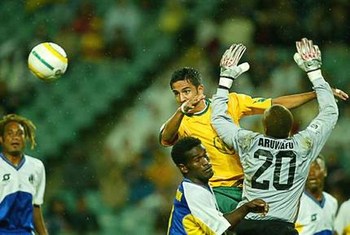 If you haven't heard, the " continent " of Oceania has its own European Football Championship, the tournament is a FIFA qualifyer and the winner is almost guaranteed a spot in the FIFA World Cup.
The 2004 Final of the tournament was made to be a two legged match, as in, two games.
Australia destroyed the Solomon Islands 5-1 in the first game, forcing the Soloman Islands to have to beat Australia by at least 4 goals in regulation of the second game, and instead got rocked again, 6-0.
The previous final, saw a final score of 1-0 for New Zealand over Australia and the final before saw Australia beat New Zeaqland 2-0.
Safe to say this was a surprising destruction, even though New Zealand barely lost out to go to the final in group play, by a single point, finishing 3 wins and 2 losses ( to the Solomon Islands 3 wins, 1 tie and 1 loss ).
Australia opted to leave the OFC and join the Asian Football Confederation 2 years later, most likely for more of a challenge.
8. 2001 World Series, Game 6, Arizona defeat New York 15-2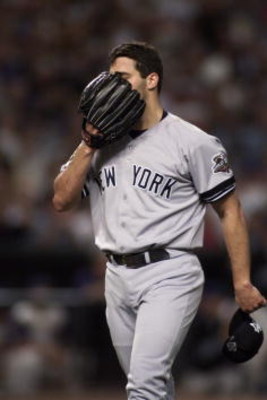 After falling 3-2 in the series, the Diamondbacks returned home to Arizona, where they proceeded to beat the living daylights out of the Yankees. In a game they needed to win, at home, they piled dug a shallow grave, then danced on it.
The score stood as 15-0 until the top of the 6th inning, where the Yankees scored 2 runs, and then called it a night.
In case you were wondering, the Diamondbacks would go on to win Game 7 by a close score of 3-2, scoring 2 runs in the bottom of the 9th inning.
It is amusing to think how lopsided Game 6 was in comparison to the closeness of the rest of the series.
7. 2003 Cricket World Cup FInal, Australia defeats India by 125 runs.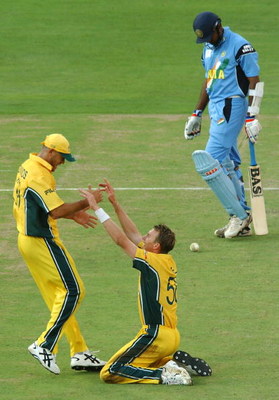 If you do not fully understand how Cricket works, you are not alone, it might seem simple enough, but it can get a bit complicated. What you should know is that most national teams of top caliber have no problem getting over 100 runs in a game, with 200 runs a good possibility. Now 300 runs is rare.
Since it was first held in 1975, the Cricket World Cup Final has seen 9 Champions, only one has scored over 300 runs. If allowing the most runs in World Cup Final history wasn't bad enough for India in 2003, they scored 234, not a small number by any means, but still a glaring margin of victory, the largest ever, of 125 runs, second most was 92 runs in the second ever Final.
6. 1999 National Lacrosse League Champion's Cup Semifinal, Toronto defeats Phialdelphia 13-2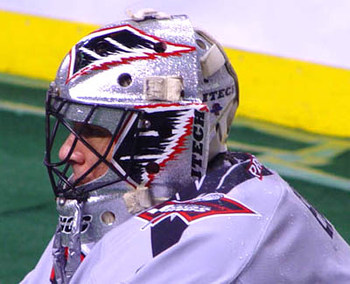 It's a bit hard to get a fair range of what an ordinary score in Lacrosse should be. However I can tell you a few things. It is common for at least one team to score 10 or more points, while scoring 20 or more points is rather rare.
With that knowledge now passed on to you dear reader, I hope you agree, a 13-2 victory, is not a hard fought contest. This was the most lopsided score in NLL Champion's Cup playoff history.
5. 2001 NFC Conference Championship, Giants defeat Vikings 41-0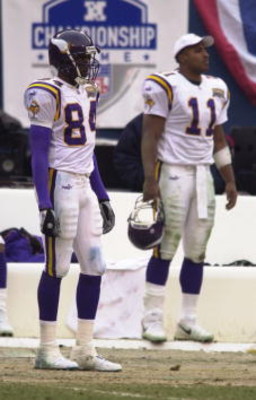 Aside from European Football, shutouts, as in where a team fails to score any points on the opposition are not a common occurrence. In Hockey, a team may get shutout roughly ten times in 82 regular season games. The single season record for shutouts in a season by a goaltender in the NHL is 22, set in a 44 game season in the 20s when the game was much, much different. The record in an 82 game season is 15 by Tony Esposito who played 63 games that year.
That's hockey.
In the NFL, shutouts are quite rare, perhaps more rare than in Major League Baseball.
The reason for this is most defensive tactics when a team is up by a large margin. In most cases if a team is up, say 28-0 going into the fourth quarter, the coach may choose to run a prevent defense, allowing some gains for the losing team in so called, garbage time, meaning that a pity score late in the game is more than possible.
Shutouts in the playoffs are even harder to come by.
There has not been a single shutout in the last 40 NFL playoff games, the last coming in 2005, with the Carolina Panthers defeated the New York Giants 23-0 in a Wild Card Game, the next most recent playoff shutout came 3 years earlier, in a 41-0 victory for the Jets over the Colts, but, again in the Wild Card Round.
The Vikings had only 1 less win all season, and lost in the Conference Championship, 41-0, I'm sure a three legged dog would do better in a race against a horse.
4. Heavyweight Boxing, Mike Tyson defeats Lou Savarese in 38 seconds.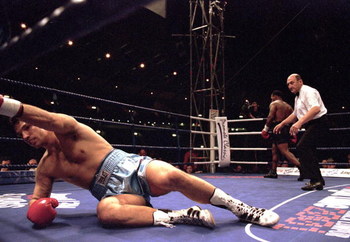 Lou Savarese was 39-3, with 32 wins coming by Knockout, Mike Tyson was 47-3, with 42 Knockouts.
As you can imagine, the match up was not as lopsided as the outcome.
Tyson was Tyson, but Savarese was no pushover. In his previous two fights he had beaten undefeated 18-0 Lance Whitaker and lost to undefeated 28-0 Michael Grant by unanimous decision.
Although Savarese was not officially Knocked out by Tyson, he was dropped in roughly 6 seconds and proceeded to take a beating after getting up, the ref had to pull Tyson away and declared the fight over, no doubt to prevent Savarese from a possible brain hemorrhage.
3. 2004 Summer Olympics, Men's Basketball Group Stage, Peurto Rico defeats U.S.A 92-73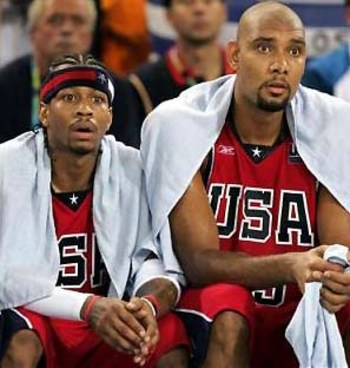 Although the winning streak had to end sometime for the so called Dream Team which was the American Men's National Basketball team since the Olympic committee allowed players from the NBA to participate, nobody expected it to end the way it did.
Perhaps in a semifinal or final of the tournament in a nail biting finish with the Americans losing by a point or two yes?
But not in group stage, to Peurto Rico....and by almost 20 points.
This was not only a national embarrassment, it was a reason for the entire world to point and laugh.
Peurto Rico if you were curious would go on to lose in the quarterfinal to Italy 83-70.
2. 2008 French Open FInal, Mens Singles, Nadal beats Federer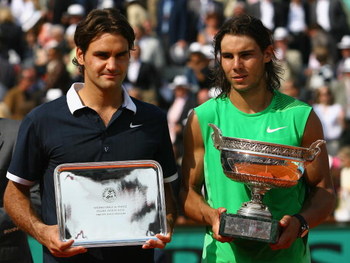 When all was said and done, and all the hype made about a third straight Federer vs. Nadal final on clay, the scoreline read 6-1,6-3,6-0 for Rafael Nadal.
Not only was it an embarrassment that would be taken as such in any case, but was the worst defeat in the Men's FInal in some time. Truly, epic.
Also considering the victor was the #2 seed, over the #1 seed.
The impact of the scorching failure by Federer came to be seen in the next Grand Slam's Mens Final, at Wimbledon.
1. 2000 AFC Divisional, Jaguars defeat Dolphins 62-7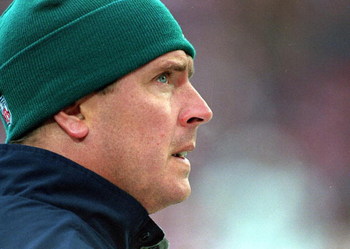 This could well be put as the cruelest or most saddest defeat in NFL history.
In what would prove to be Dan Marino's last game in the NFL, the Dolphins laid down and allowed the Jaguars to put on the greatest margin of victory in the Super Bowl Era....EVER.
For those who don't know NFL history, every year most teams never come to score 50 points in game in the regular season, those that do tend to only do it once in a season, the mighty undefeated 2007 New England Patriots eclipsed 50 points in a game only twice. The 40 point plateau is also somewhat difficult to reach, the 2008 NFC Champion Arizona Cardinals only had one game where they put up over 40 points on the opposition, and this counting the playoffs in a span of a total of 20 games.
Playoff games tend to have closer outcomes.
Although the Jaguars of the 1999 season had the best regular season record in the league at 14-2, after downright violating the 9-7 Dolphins in the Divisional Round, the team went on to lose to the 13-3 Titans 33-14, who in turn went on to lose to the 13-3 NFC Champion Rams.
To make a further note, no team has scored 60 points in a game since.
Keep Reading