New York Yankees' 2013 All-Prospect Team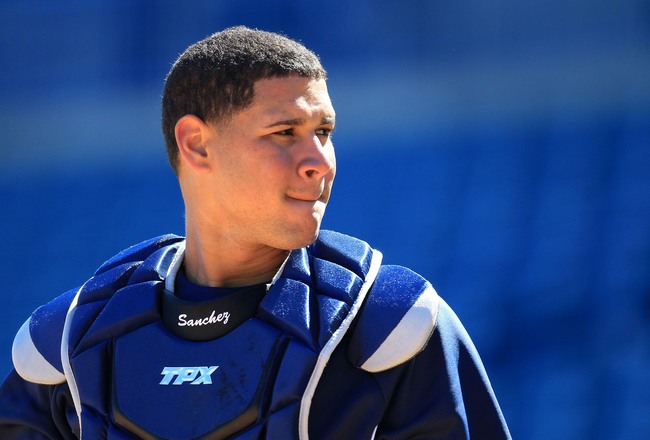 The Star-Ledger-USA TODAY Sports
The minor league season has come to an end, and Bleacher Report's stock up, stock down pieces have come to an end as a result. With the youngsters' season over, it's worth establishing the all-prospect team for the New York Yankees.
There was a lot to digest this season, as a plethora of injuries and inconsistent performances occurred throughout the Yankees system. That doesn't mean there wasn't a lot to like, though. Several players stepped up and made strides in their progression, and the Yankees should be pleased to know that some of their top prospects could be looking at major league playing time within the next few seasons.
For this all-prospect team, I've chosen one player for each position on the field (the outfielders don't necessarily have to be from left, center and right field), another position player to serve as a designated hitter and then both a left-handed and right-handed starter in the rotation and the bullpen. In total, the all-prospect team for the Yankees will include 13 players.
Many members of the weekly stock pieces have cracked the all-prospect team, while several other players not mentioned in them have earned spots on the squad. If nothing else, the diversity of players on the list proves what type of talent the Yankees have coming through the system.
Catcher: Gary Sanchez
Gary Sanchez is by far the team's most-talented prospect, making him a lock at catcher for the all-prospect team.
Sanchez worked his way up to Double-A Trenton in 2013 after posting solid numbers in the lower levels. Overall, Sanchez compiled a .253 batting average with 15 home runs and 71 RBI. What's best about Sanchez is his patience at the plate. Even though his batting average was a mere percentage point worse than it was at High-A Tampa, his on-base percentage rose substantially. He posted a .364 mark at Double-A, giving him a .324 OBP on the season.
The Yankees expect big things from Sanchez moving forward. After letting Russell Martin walk this past offseason, the Yankees seemed poised to turn over the reigns to Sanchez when his time comes. They didn't want to have a catcher under contract when that time comes, so they seem prepared to bide their time with Austin Romine, Chris Stewart and potentially Francisco Cervelli.
Sanchez could earn a September call-up next season, with a full-time gig a possibility by 2015.
1st Base: Greg Bird
In Greg Bird's first full season in the minors, the young first baseman put on quite a show at the plate.
The lefty mashed 20 home runs, drove in 84 and posted a .288 batting average. Perhaps most impressive about the rookie was his incredible .428 on-base percentage. He also tacked on 36 doubles and three triples for good measure.
Bird mashes right-handed pitching but can also hold his own against lefties. He hit .264 against southpaws this season with six home runs and 20 RBI.
Not many people knew about Bird heading into the 2013 season, but there will certainly be plenty of people that know his name now. He has the potential to rise the ranks quickly after such a strong season and could represent the future top prospect in the Yankees system if he continues to progress.
2nd Base: Robert Refsnyder
Angelo Gumbs was a staple of the stock pieces from Week 1 of the 2013 season, but the Yankees second baseman at High-A Tampa outproduced him by the end of the season. Gumbs had the most potential at the onset of the season, but his terrible production at the plate could change the way the organization views him.
Robert Refsnyder, on the other hand, put together a stellar season at the dish. He hit .293 with six home runs, 57 RBI and 23 stolen bases. His OBP of .413 was quite impressive as were his 32 doubles and three triples.
He played in just 46 professional games in 2012, so 2013 really was his first substantial taste of professional baseball. He stepped up to the challenge and put together a great season. The young middle infielder will likely start the season back in Tampa but could find himself playing in Trenton if he starts hot.
Rushing prospects along is never a good idea, but there's no sense in leaving a guy down if he has the tools to play at a higher level.
3rd Base: Dante Bichette Jr.
The Yankees didn't really get great production from any of their minor leaguers at the hot corner this season, so the honor of making the all-prospect team should go to the guy with the best tools and highest potential.
Without question, that player is Dante Bichette Jr.
Bichette struggled in 2013, though, hitting just .214 with 11 home runs and 61 RBI. This comes as a major letdown considering his strong 2011, a year in which he posted a .335 average with four home runs and 48 RBI.
Bichette has actually regressed each year since 2011, so 2014 will be a make-or-break year for the young third baseman. He has a ton of power and a decent eye at the plate, so 2014 will be all about finding consistency.
The future at third base for the Yankees is up in the air with Alex Rodriguez a question mark moving forward, so the team could be in need of a quality third baseman in a few year's time. Bichette could be that guy if he pulls it all together.
Shortstop: Cito Culver
Similarly to the selection at third base, Cito Culver gets the nod at shortstop based on talent—not his 2013 numbers.
To his credit, Culver wasn't a complete disappointment offensively. He hit .248 with nine home runs, 34 RBI and 13 steals and, for a guy that doesn't project as much of a threat at the plate, that can be expected. The problem with these numbers is that they don't exactly project to any level of success at the big league level.
Culver displayed more power this year than in previous seasons, clearing the fences a total of three more times than he did in 2010, 2011 and 2012 combined. While that's a good sign, the Yankees would be even more pleased if his batting average came around.
Flashy with the glove, Culver is a pretty one-dimensional shortstop at this point. He has the talent to turn it around and become a more complete player, but he'll have to show improvements in 2014. Unfortunately for the Yankees, he's the best they have at the position right now.
Outfielder: Mason Williams
Mason Williams played well enough at High-A Tampa to earn a promotion to Double-A Trenton, even if his numbers weren't spectacular. Overall, Williams showed that it'll take some time before he really adjusts to the pitching of a higher level.
On the season, he hit .248 with four home runs, 28 RBI and 15 steals. Not much of a run producer, Williams projects to be a Brett Gardner-type with a bit more pop at the major league level. He hasn't put on the size necessary to drive the ball over the fence, as his current frame results in gap power. That's worked for him up to this point, but he may need to bulk up a bit to make an impact at a higher level.
Having battled Gary Sanchez for the top spot in the stock rankings nearly all season long, Williams deserves a spot on this list—even if his numbers weren't the best.
Williams proved this season why the Yankees are so high on him, and he deserves the praise. Assuming he continues to progress next season, he could be in the Yankee outfield by 2015.
Outfield: Slade Heathcott
Prior to injuring himself on August 10, Slade Heathcott was quietly putting together a pretty strong season. He started off the season slow but worked all the way back to respectability after a late-season push.
He finished the season at .261 with eight home runs, 49 RBI, seven triples and 15 stolen bases. He is perhaps the most gifted outfielder in the Yankees system in terms of five-tool talent, but it'll take some reigning in before he's ready to make a big-time impact with the Yankees.
He plays so passionately that his body is often subject to injury, and that's something that has to worry the organization. It's not necessarily a negative aspect of Heathcott's game, but the last thing the Yankees want is to see a top prospect get injured season after season.
Similarly to Williams, Heathcott could find action in the big leagues come 2015. All he needs to do is prove he can play a full season while maintaining consistency at the plate.
Outfield: Tyler Austin
Tyler Austin put together an extremely disappointing season, but his exploits from past seasons are simply too good to overlook. He posted averages of .354 and .322 in 2011 and 2012, respectively, so looking past his .265 mark from this season isn't all that difficult.
Austin's 2013 was mired by injury, and most of his issues at the plate can likely be attributed to just that. A healthy Austin doesn't hit .265 with just six home runs. After hitting a total of 23 home runs in the two seasons prior, big-time power was expected of him in 2013 and beyond.
Once considered one of the most mature prospects in the lower levels of the organization, Austin will have to re-establish his value in 2014. If he can get back up around the .300 mark and post respectable power numbers, the sky is the limit.
He has the skills to be a contributor in the bigs and will make an impact one day, if he bounces back.
DH: Randy Ruiz
The designated hitter's spot really came down to Ramon Flores and Randy Ruiz, but Ruiz's production at the higher level in the system gave him the advantage. Simply put, Ruiz was a weapon for Triple-A Scranton/Wilkes-Barre in 2013.
He posted a .304 average with 23 home runs, 62 RBI and 22 doubles. His OBP of .362 was great, as was his OPS of .892. Because he doesn't really have a position on the field (he's even listed as a DH), finding a spot for him on the Yankees was difficult.
He can play first base if need be, but Ruiz is really best suited in a role that requires him to bat once every few innings. He's a liability in the field but can rake with the best of them at the dish.
Ruiz is a career minor leaguer, playing his first professional season in 2005. He's starting to lose that "prospect" tag and, if he doesn't get the call to the bigs soon, it may be time to start labeling him as a lifetime minor leaguer.
Right-Handed Starter: Rafael De Paula
Rafael De Paula was the Yankees' only representative in the MLB Futures Game, and for good reason. He has some electric stuff and can strike batters out seemingly at will.
His two problems are easily correctable, and that's something you like to see from a young starter. For one, he walks entirely too many batters. Issuing free passes will prohibit him for climbing the ranks of the system, and 53 in 113.1 innings is entirely too many.
Secondly, De Paula needs some help limiting the damage. Because he puts so many runners on base, he often finds himself in jams that are very difficult to wiggle out of. This results in him overthrowing, which usually turns into more walks for the opposition. Once De Paula matures and learns to stay within himself, this should straighten itself out.
De Paula has a future in the Yankees rotation if he can work out his minor issues within the next season or so. He's lucky that they are both correctable, and both really come with maturity. It's a matter of learning how to pitch and not relying on just his stuff.
Left-Handed Starter: Nik Turley
Nik Turley was a latecomer to the weekly stock pieces but definitely earned his spot with a strong season. He went 11-8 with a 3.79 ERA, with 26 of his 27 starts coming at Double-A Trenton.
Turley is an innings eater that can also strike out his fair share of hitters, evidenced by his 141 strikeouts in 145 innings. What's even better is his propensity to keep the ball in the ballpark. He allowed just 11 home runs all season.
Like De Paula, though, Turley has a problem with his control from time to time. He issued 76 free passes this season, and his control is something that needs to be fixed before making any more significant jumps through the system.
Luckily for Turley, he is more of a pitcher than De Paula at this point in his career. Not as many of those walks came back to hurt him because of his ability to pitch out of jams and focus on getting out the batter as opposed to the baserunner(s).
Teams are always looking for quality left-handed starters, and Turley could be one of those eventually. He just needs to work out a few kinks.
Right-Handed Reliever: Jose Campos
Jose Campos spent nearly all of the 2013 season in the rotation, but a late-season move into the bullpen proved to be the right choice for the Yankees organization. While many still view him as a starting pitcher, it's hard to overlook the results out of the pen.
He made five appearances in relief to end the season, with the final four being scoreless. Each appearance lasted two innings, and he racked up seven strikeouts. He did not walk a single batter and even picked up two saves.
Campos is a talented pitcher whom the Yankees acquired in the Michael Pineda-Jesus Montero swap, and there's a great chance he ends up becoming the best player dealt in that trade. Only time tell will tell if that is true, though.
Campos has a future as either a starter or a closer, and it's not unfair to suggest that he could find himself closing games in the Bronx within the next three seasons. It's hard to project that far ahead for a young pitcher, but Campos has the tools to do so. His good stuff and good control (just 16 walks in 87 innings) bode well for his future in the organization.
Left-Handed Reliever: Francisco Rondon
Francisco Rondon is one of the best pitchers in the organization who nobody talks about. He's a left-hander from the Dominican Republic that can strike out a high volume of hitters.
He compiled a pedestrian 3.92 ERA in 2013 but allowed just seven home runs in 82.2 innings pitched. He set down 85 on strikes. The opposition hit just .203 against him, showing just how difficult his pitches are to square up. On the other hand, he walked 54 batters.
Like many young pitchers in the organization, Rondon will need to learn how to control his pitches and keep the ball around the plate. Doing so will result in less walks, worse contact and more outs. If he can learn to paint the corners or throw the ball just off the plate with consistency, hitters will be forced to swing outside of their comfort zones and hit weak grounders to the infielders.
Rondon profiles mostly as a left-handed specialist, though there is potential for more. Lefties hit .195 against him but, then again, righties only mustered a .206. He's dominant and exciting to watch.
Keep Reading

New York Yankees: Like this team?