NFL Scores Week 1: Highlighting Sunday's Most Revealing Matchups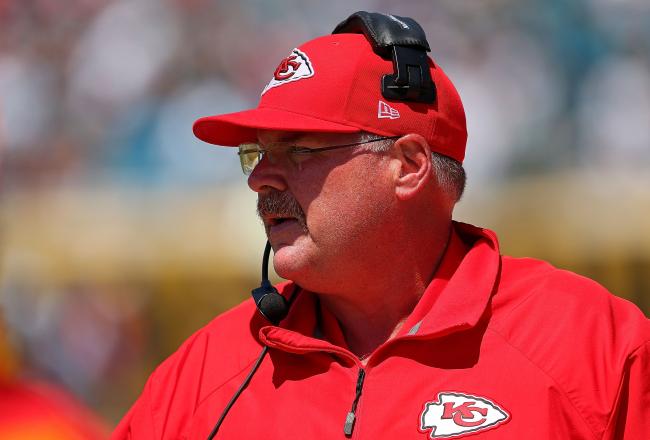 Mike Ehrmann/Getty Images
It's just Week 1 of the NFL season, but Pittsburgh Steelers fans should already be worried, while Saints fans should be taking to Bourbon Street to celebrate their team's form.
While it is dangerous to draw too many conclusions from any one game in the NFL, this is the opening week, and I'm excited to have real football to dissect. The matchups on Sunday gave us a lot to digest.
Take a look at the complete scores on NFL.com, and then I'll break down Sunday's three most revealing matchups.
NFL Week 1 Scores

| | |
| --- | --- |
| Denver Broncos 49 | Baltimore Ravens 27 |
| New England Patriots 23 | Buffalo Bills 21 |
| Chicago Bears 24 | Cincinnati Bengals 21 |
| Miami Dolphins 23 | Cleveland Browns 10 |
| Detroit Lions 34 | Minnesota Vikings 24 |
| Indianapolis Colts 21 | Oakland Raiders 17 |
| New Orleans Saints 23 | Atlanta Falcons 17 |
| New York Jets 18 | Tampa Bay Buccaneers 17 |
| Tennessee Titans 16 | Pittsburgh Steelers 9 |
| Seattle Seahawks 12 | Carolina Panthers 7 |
| Kansas City Chiefs 28 | Jacksonville Jaguars 2 |
| St. Louis Rams 27 | Arizona Cardinals 24 |
| San Francisco 49ers 34 | Green Bay Packers 28 |
Titans 16, Steelers 9
The Pittsburgh Steelers were handed a gift of two points on their opening kickoff when this happened: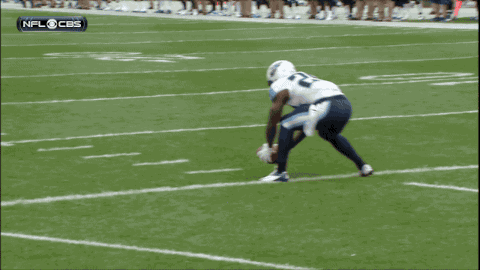 The Steelers did not add another point on the board until quarterback Ben Roethlisberger threw a four-yard touchdown to Jerricho Cotchery in the fourth quarter. This was a stunning display of offensive ineffectiveness against a defense that struggled last year.
The Tennessee Titans defense deserves a lot of credit. That group looks vastly improved from last season.
Still, the Steelers' inability to run the ball must be a concern for Pittsburgh.
The Steelers ran for just 32 yards on 15 carries. With 19 yards, LaRod Stephens-Howling led the Steelers in rushing, and he was way better than Isaac Redman. Redman lost one of his two fumbles and gained just nine yards on eight carries.
Keep in mind that the Titans finished last season 24th in rushing defense.
After this game, two things are clear: The Titans are going to be vastly improved on run defense from a year ago, and the Steelers are going to have a hard time running the ball.
It's an issue that will only be compounded by this unfortunate news:
Steelers fear Maurkice Pouncey has a torn ACL and MCL and is done for year. Team also had bad news on Larry Foote. http://t.co/sEBvTUl7wy

— NBC Sports (@NBCSports) September 8, 2013
Chiefs 28, Jaguars 2
This game strongly reinforced many preconceived beliefs about these two teams. The first being the Jacksonville Jaguars are going to be an epic train wreck, and the second being the Kansas City Chiefs will be vastly improved from last year.
Andy Reid made his debut on the sidelines for the Chiefs in style. The 26-point win was the biggest margin of victory for the Chiefs in a season opener in 50 years. And the game wasn't even as close as the score indicated.
The Chiefs offense only tallied 291 yards on the day, but it didn't have to worry about piling up big plays.
That's because, after the Jaguars earned an early safety, they had little hope of adding to their score.
Jacksonville mustered just 178 yards of offense, and even the rushing game, which has kept this team from being an albatross over the last few seasons, struggled. The Jags rushed for 71 yards on 23 carries.
The Chiefs displayed the kind of balance it takes to be a playoff contender in this game, while the Jags proved it is going to be another long season in Jacksonville.
Saints 23, Falcons 17
Drew Brees threw for 357 yards and two scores in this battle of offensive powers, but that's not what was revealing about this game.
That fantastic stat line is worth noticing, but this is Drew Brees we are talking about, and I think most expected him to be outstanding against a thin Falcons secondary, as his head coach Sean Payton returned to the sideline after a year-long ban.
What should really have Saints fans excited is that New Orleans held the Falcons to 17 points.
The Saints were at or near the bottom of the league in almost every defensive category anyone would care to look at last year.
With the wealth of options quarterback Matt Ryan has to work with on the Falcons offense, I thought they'd cross the 20-point barrier around halftime.
While the Saints defense didn't dominate the action, it did put up a solid performance.
Drew Brees' postgame press conference (VIDEO) http://t.co/HiAdB4Z4Tq #ATLvsNO

— New Orleans Saints (@Saints) September 9, 2013
I'm certainly not going to rush to judgement on the Falcons' season. Atlanta is still a contender. However, I do feel it is safe to say that New Orleans is ready to return to the postseason.
This article is
What is the duplicate article?
Why is this article offensive?
Where is this article plagiarized from?
Why is this article poorly edited?