Stock Up, Stock Down for Cincinnati Reds' Top 10 Prospects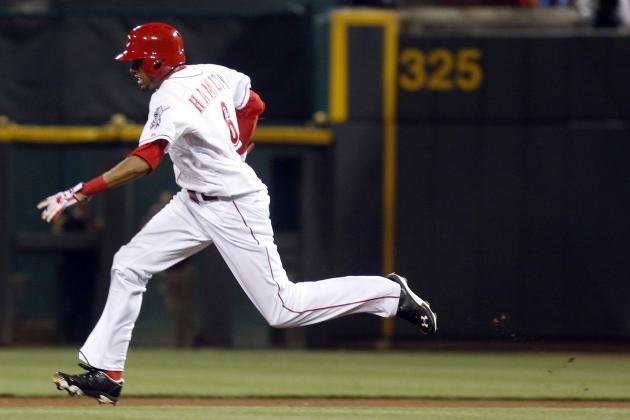 David Kohl-USA TODAY Sports

As the minor league season comes to an end, the Cincinnati Reds have a timely opportunity to see some of their top prospects in the majors with the September call-ups.
Reds fans finally have had the chance to witness the unbelievable speed of Cincinnati's No. 1 prospect—Billy Hamilton. Hamilton has only been a pinch-runner in two games, but he's collected two stolen bases and two runs in that time.
It certainly is an exciting time for Reds prospects, but as the minor league season fades away—there's plenty to take away from their seasons.
Focusing on the Reds' top prospects according to their official site, here are the stock reports for the top 10 prospects.
All statistics courtesy of MiLB.com unless otherwise noted.
Begin Slideshow

»
2013 Stats
21 GS, 7-11, 4.86 ERA, 57 BB, 89 K, 120.1 IP
Overview
The end of the season wasn't necessarily kind to Sal Romano as he struggled during the month of August. However, when things got rough in his games, it more often than not turned for the worst.
Romano led his Low-A club in earned runs and was second in most walks. Just in his last 10 games, Romano gave up 60 hits. Romano's kryptonite is keeping runners off the bags.
When Romano gives up five hits or fewer, he allows less than three runs in the game.
Romano isn't even 20 years old, but he still has plenty of adjusting to do in the minors. Don't count out the young righty, but don't expect him in the majors anytime soon.
Stock
Down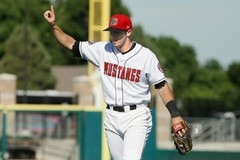 2013 Stats
.053/.174/.053, 0 2B, 0 HR, 2 RBI, 1 R 19 AB
Overview
Sean Buckley has been on the disabled list since early April this year and will have to wait until next season to join his High-A club in Bakersfield.
Buckley was envisioned as the Reds' next third baseman, but his full-year injury has certainly set him back.
He was ranked higher in the Reds' system before his injury, but the organization will have to wait until next season to see any improvement.
Buckley is also the son of one of the Reds' top scouts in the organization.
Stock
Down
2013 Stats
.265/.311/.384, 23 2B, 8 HR, 52 RBI, 53 R
Overview
It's tough to say who will be in line to take Brandon Phillips' spot at second when his contract ends in 2017. The Reds might have Ryan Wright easily ready by then, but don't hold your breath.
Wright has had a bit of a roller-coaster season. In the last 10 games, Wright hit .171 with two extra-base hits, one walk and a .190 OBP.
His average was on the rise, but it seems like his trouble with getting on base caught up to him. Wright has shown signs of decent power but likely isn't going to ever hit more than 15 home runs in a season.
It was an overall decent year in the minors, but his offense could use some help.
Again, Wright had a drastic difference in home and away games. His average at home was .323 and only .210 on the road.
Stock
Down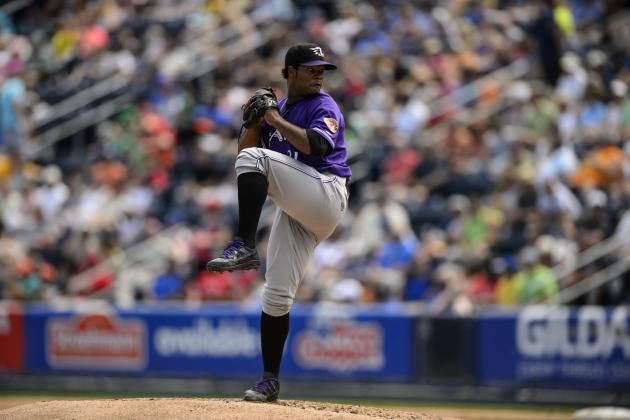 Howard Smith-USA TODAY Sports

2013 Stats
23 GS, 7-14, 5.86 ERA, 73 BB, 90 K, 129.0 IP
Overview
Daniel Corcino will simply have to start new next season. Corcino was once one of the top three Reds prospects, but after a lackluster season in Triple-A, Corcino has dropped to seventh.
He has never really shown a dramatic improvement this season, but the Reds certainly still have hope.
Corcino did lead his team rotation in walks, earned runs, runs and WHIP. Corcino's biggest problem is walks and earned runs. He gave up 20 earned runs, 33 hits and allowed 26 walks in the last 10 games.
Corcino can still flash signs of greatness. His strikeouts per game can sometimes get high, but his consistency isn't there.
Look for Corcino to make major changes in 2014, or he might continue to fall off the Reds' prospect list.
Stock
Down
2013 Stats
22 G, 1-1, 3.00 ERA, 4 SV, 13 BB, 19 K, 21.0 IP
Overview
Michael Lorenzen was quickly promoted through the Reds' minor league system from the Arizona League to Double-A ball in only a few months.
Lorenzen is a first-round draft pick from this year and was projected as both a center fielder and a relief pitcher. The Reds are using him primarily as a closer and getting him ready for relief assistance.
Lorenzen was off to a fantastic start but better hitting quickly caught up to the young hurler.
While he didn't give up a single run in Low-A Dayton, Lorenzen did start to show vulnerability in High-A Bakersfield.
However, that didn't keep the Reds from promoting him to Double-A ball in his first few months of minor league baseball. Lorenzen struggled a little in Double-A, but he should certainly be an arm to watch in 2014.
If the Reds move him quickly enough, he could end up as a September call-up next season or making the roster at some point.
Stock
Even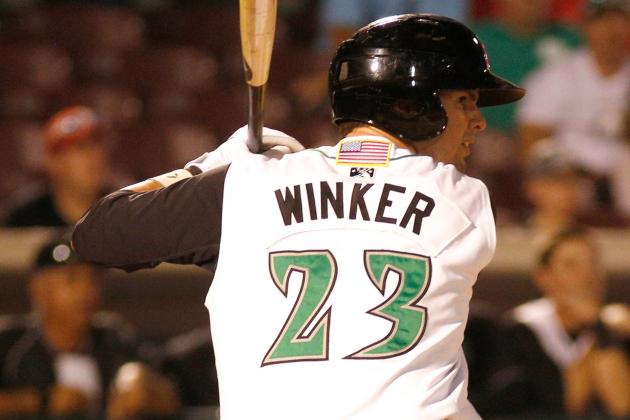 David Kohl-USA TODAY Sports

2013 Stats
.281/.379/.463, 18 2B, 16 HR, 76 RBI, 73 R
Overview
If there were an argument for anyone to be promoted at the start of next season, I'd put Jesse Winker at the top of the list.
His consistent hitting was certainly noticed in the Reds organization. He led his Low-A club in home runs, walks and runs. Winker is nearly at the top of all of the team's offensive stats and held a very notable .841 OPS.
The young left fielder still has plenty of time to move up through the minors since he's only 20 years old. He might've even been promoted if not for landing on the disabled list before the season ended.
However, 2014 could be a killer season for Winker. If he continues his hitting, there's no reason why he shouldn't be making it higher in the minor leagues.
Keep your eye on this prospect. He should probably be in the top three on this list.
Stock
Up
2013 Stats
.331/.425/.564, 11 2B, 8 HR, 35 RBI, 34 R
Overview
Much like the other Reds 2013 first-round draft pick, Phil Ervin was off to a very hot start. While Ervin has a little more time playing college ball, he's still earning his minor league promotions.
Sadly, Ervin's last game came on August 10 before landing on the DL for the rest of the season. While Ervin was hitting .326 with eight home runs and 29 RBI in the Pioneer League, many wondered if his offense could transfer to Low-A Dayton.
Not only did Ervin handle Low-A pitching, but his average rose to .349 and his OBP was .451 in Dayton.
Ervin is easily one of the young and exciting players coming through the Reds organization. He's certainly looking the part of a first-rounder.
The Reds can only wait until next season to watch him continue to mature through the minors.
Stock
Up
2013 Stats
17 GS, 7-4, 4.63 ERA, 27 BB, 61 K, 81.2 IP
Overview
Nick Travieso may only be 19 years old, but the kid certainly has potential for the Reds rotation in the not-so-distant future.
While Travieso's ERA has been all over the place in his first full year at Low-A Dayton, he began to settle down toward the end of the season.
Travieso had trouble all season staying in games when things began to get ugly. He had a lot of two-inning games with four-plus earned runs.
However, Travieso finished the season with 13 earned runs in August. When he was able to pitch at least five innings, he allowed four or fewer runs in his last 10 starts.
Travieso will have to continue to learn how to keep his cool when games start to get away from him, but look for the young righty to continue to develop in 2014.
Stock
Even
2013 Stats
18 GS, 7-5, 2.67 ERA, 22 BB, 118 K, 97.2 IP
Overview
While Billy Hamilton is the Reds' most exciting prospect offensively, Robert Stephenson is easily at the top of the hill for best pitching.
Stephenson started the season in Low-A Dayton where he posted a 2.57 ERA with 96 strikeouts in 77 innings pitched.
Stephenson finished the season with a few promotions to Double-A ball in Pensacola. However, in the few innings he pitched in Double-A (16.2), Stephenson had a 4.86 ERA with 18 strikeouts.
The biggest stat to take away from his promotions is his walk totals. Stephenson walked only 20 in Low-A (77 IP), two in High-A (20.2 IP) and 13 in only 16.2 IP at Double-A.
It's a small sample size, but Stephenson will have to adjust to better batters the further he continues his professional career.
It shouldn't be anything to worry about, and Stephenson still has a ton of potential to end up in the Reds rotation. If he pitches at all like he did in 2013, the Reds will have a great arm waiting in their system.
Stock
Even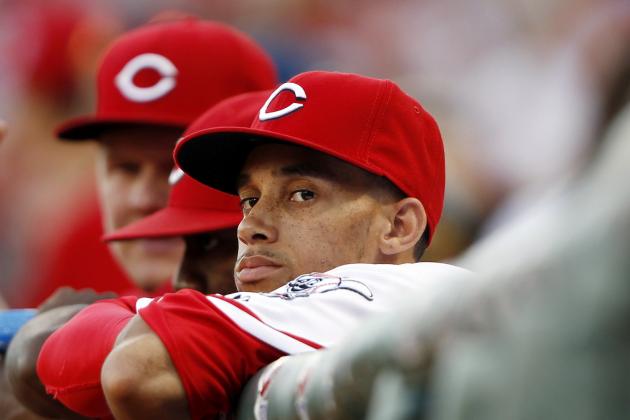 Frank Victores-USA TODAY Sports

2013 Stats
.256/.308/.343, 18 2B, 6 HR, 41 RBI, 75 R, 75 SB
Overview
Thank the baseball gods for September call-ups because Reds fans are finally able to see their top prospect in the organization.
However, fans shouldn't get too overwhelmed with the buzz surrounding Hamilton's major league debut. He'll be 23 years old in a few days, but he still might need some more time in the minors to work on his hitting.
2013 was a drastically different year for Hamilton. He moved up to Triple-A Louisville for the full year and transferred to center field from shortstop.
While Hamilton's numbers weren't quite eye-popping, he still put together a pretty great year. His 75 steals led all of the minor leagues and after the Triple-A All-Star game, Hamilton collected a .283/.324/.367 slash line.
Hamilton certainly has the advantage to add some spark into the major league club. If he continues to steal bases like he has this past week, Hamilton could be a very useful weapon if the Reds are playing baseball in October.
Hamilton might not have the starting job in center field next season, but there's no doubt that he's a treat to watch at the major league level.
Stock
Up
Do you have a top prospect not listed? Comment below or follow me on Twitter to talk all things baseball!