Fantasy Baseball 2013 Waiver Wire: Top 10 Pickups for Week 22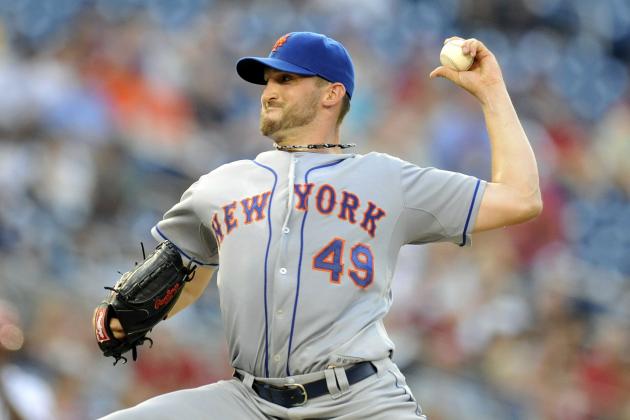 Joy R. Absalon-USA TODAY Sports
Since coming off the disabled list, Jonathon Niese has pitched more like fantasy owners expected him to earlier this year.
A new week, another batch of waiver-wire additions, just the way you like 'em: hot and fresh out of the oven.
Some players mentioned last week—including Jedd Gyorko, Zack Wheeler, Martin Perez, Roy Halladay, Emilio Bonifacio and Scooter Gennett—are already owned in many leagues by now, but they remain quality pickups if they are still available.
In the interest of keeping the names new, though, let's avoid any repeats. Here are the top 10 waiver-wire pickups for Week 22 of the 2013 MLB season.
All ownership percentages come from ESPN Fantasy Baseball. Players owned in more than 51 percent of leagues were not considered.
Begin Slideshow

»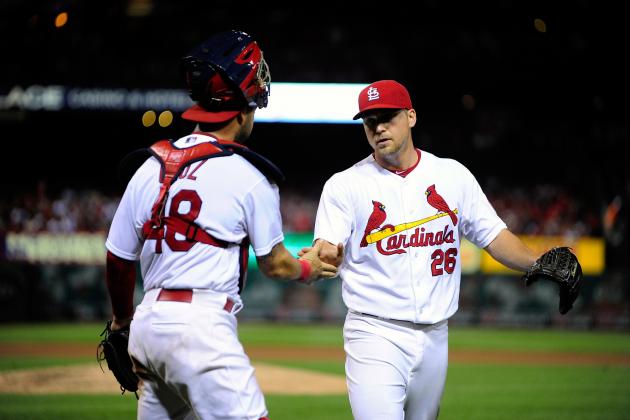 Jeff Curry/Getty Images

Donnie Murphy, 3B, Cubs (24.4 Percent Owned)
The 30-year-old journeyman is here only because he's been out-of-nowhere hot this month (8 HR, 15 RBI), but we're not exactly buying into a guy with a .213/.280/.406 career line.
L.J. Hoes, OF, Astros (7.3 Percent Owned)
This 23-year-old rook has been hot since coming over in the Bud Norris deal, hitting .329 with a homer and seven swipes in his first 22 big league games.
Trevor Rosenthal, RHP, Cardinals (18.5 Percent Owned)

Should something go wrong with Edward Mujica, who's dealing with arm fatigue and some soreness on his side, it might be worth a preemptive strike to add Rosenthal (pictured), who's whiffed 86 in 61.1 frames and would make a dynamite closer for a few weeks.
Tommy Hunter, RHP, Orioles (8.7 Percent Owned)
Jim Johnson's struggled most of the season, but he's still hanging onto the ninth inning, perhaps only by the skin of one more blown save. If that happens, Hunter and Francisco Rodriguez are worthy backups.
Charlie Morton, RHP, Pirates (6.2 Percent Owned)
Morton, 29, isn't an elite option by any stretch, but he's very steady and has hit a nice stride over his past four turns, over which he's allowed just seven runs in 27.2 innings with a 17:6 K:BB.
Joe Kelly, RHP, Cardinals (17.4 Percent Owned)

After spending the first part of 2013 in a relief role, Kelly has transitioned to the rotation rather well. He hasn't been able (or allowed) to go very deep into games, but he's still 5-0 with a 2.33 ERA in eight starts since July began.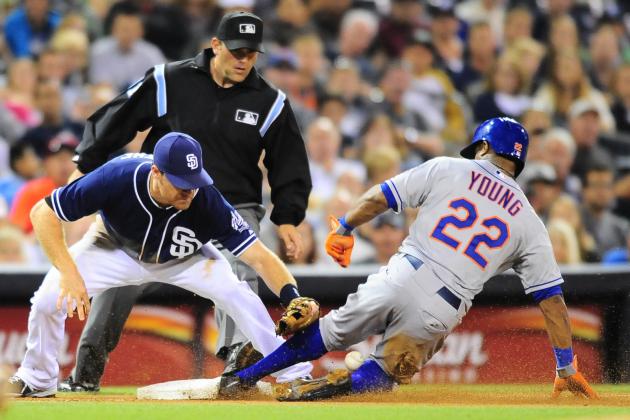 Christopher Hanewinckel-USA TODA

Eric Young Jr. doesn't do much more than run—but he runs fast.
The former Rockie-turned-Met has notched 21 steals since joining New York in mid-June, which is the second-highest total in baseball behind Rajai Davis's 28.
Young is also hitting exactly .250 as a Met and has scored 31 runs in 58 games, so he wont hurt in those categories. Really, though, it's all about the SBs.
A preseason sleeper in the eyes of many, Marco Estrada hasn't quite panned out as plenty of owners had hoped, or even expected.
The 30-year-old had a 5.32 ERA through his first start in June, at which point he injured his left hamstring and missed more than two months.
Since getting back to the Brewers in early August, though, Estrada has been trying to make up for lost time—and that disappointing pre-injury performance—as he's allowed just five earned runs on 14 hits over 24 frames, while posting a 21-to-3 strikeout-to-walk ratio.
Looks like Estrada could be a late-season sleeper, just like he was a year ago when he sported a 2.83 ERA over 11 starts from the eighth month on.
It's understandable if it's taken Ryan Ludwick a bit of time to get his timing and rhythm. After all, he only missed more than four months after suffering a torn labrum in his right shoulder while sliding awkwardly into third base...on Opening Day, no less.
The 35-year-old, who returned August 12, actually didn't get his first hit of 2013 until August 17. Since then? He's 9-for-21 (.429), and he hit his first long ball on Saturday.
Ludwick smashed 26 of those a year ago, so don't forget about him even if all the other owners in your league have.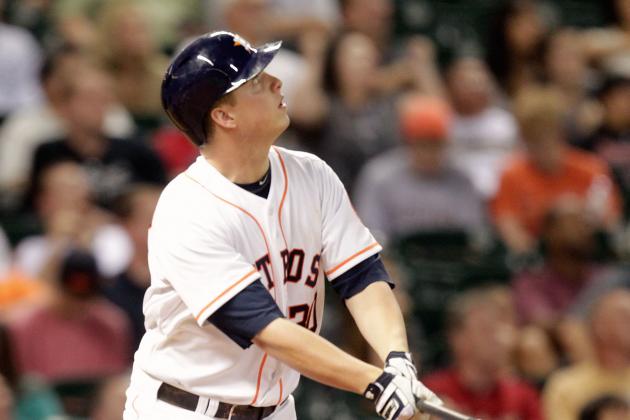 Bob Levey/Getty Images

In his first full season in the majors, Matt Dominguez has shown how streaky a young hitter can be.
In May, for instance, the soon-to-be 24-year-old racked up eight homers—albeit with a .229 average—and then hit just six more until mid-August.
A large reason for the above is his miniscule 4.5 percent walk rate, which Dominguez is going to have to work on if he's going to improve at the dish.
But for now, Dominguez is on another power binge, having knocked four out of the park over his past nine games, bringing his total to 18 on the year.
Speaking of streaky hitters, Matt Joyce is another one who always seems to leave owners expecting and wanting more since his "mini-breakout" 2011, when he went .277-19-75, mainly on the strength of a big first half.
Let's face it: The 29-year-old is what he is at this point. That's not a bad thing, as long as you can catch him when he's going well. A .340/.418/.638 line this month, as well as three homers and seven RBI in his past eight contests, qualifies as "going well."
Joyce, who has 17 four-baggers, is close to surpassing his career-high home run total—set during that 2011 campaign—and if he can stay hot, he could approach 25 or so.
Kelley L Cox-USA TODAY Sports

You may recall that, as a rookie last year, Will Middlebrooks' career started off like gangbusters, as he hit .331 with nine homers and 33 RBI through his first 40 games.
The 24-year-old cooled dramatically over his final 35 contests, though, batting just .240. He did, though, manage six more homers and 21 more RBI, because what Middlebrooks lacks in plate discipline (5.3 career walk percentage), he makes up for with power.
Aside from a three-homer game in early April, the start to 2013 was nowhere near as promising—he was hitting just .201 with only seven bases on balls before an injury halted his regression in late May.
Middlebrooks then lost the starting hot corner job to Jose Iglesias, but he's regained it since Iglesias was traded to Detroit in July. Since Boston recalled him from Triple-A on August 10, he's hitting .356 with a pair of homers.
Better yet, he's walked seven times in 14 games. Small sample? Heck, it's a puny one, but if Middlebrooks can make some adjustments amid the potent Red Sox lineup, his power makes him dangerous.
Coming off a ridiculous performance at Triple-A and a brief but impressive MLB debut in 2012, Adam Eaton was all set to be one of the top hitters in the NL Rookie of the Year race.
A late-spring elbow injury, though, derailed those plans, and then a setback cost Eaton three-plus months in the majors.
Arizona has been deploying the 24-year-old carefully and conservatively since he made it back on July 9, but Eaton has started to come on in August, especially of late.
Over his past eight games, Eaton is 13-for-36 (.361) with seven runs, seven RBI, a homer and a steal. The D-backs' leadoff man has the ability to hit for average, get on base, and while there, steal a few and score aplenty.
Recently, when Jonathon Niese hasn't been breaking jaws, he's been dropping them.
OK, that line might be a tad inappropriate considering that Niese's errant (and unintentional) fastball fractured Braves outfielder Jason Heyward's mouthparts last week. Fact is, though, the veteran southpaw's performance since getting off the DL has been mighty impressive.
In his three turns following a month-and-a-half injury sabbatical, Niese has given up just six earned runs on 18 hits in 19 innings while whiffing 23 (against just five free passes).
His 4.03 ERA and 1.53 WHIP aren't close to what was expected from a guy who put up a 3.40 and 1.17 in those categories a year ago, but Niese looks to be getting back on track.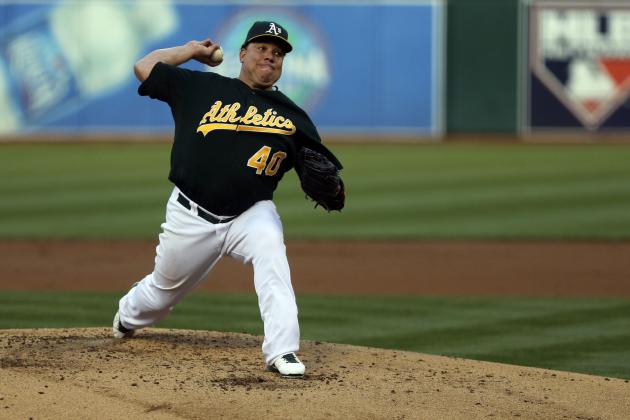 Kelley L Cox-USA TODAY Sports

A few bad starts and an injury, and suddenly everyone loses faith in Bartolo Colon again, huh?
That's somewhat understandable, given that this is a 40-year-old who gave up 10 earned over 6.2 innings across his two most recent starts in August before hitting the DL with a strained left groin.
But prior to that, Colon was 14-3 with a 2.50 ERA and a 1.12 WHIP, making him one of 2013's biggest surprises—and a fantasy find for any owner who snatched him up early on.
Well, the time has come to re-snatch, as John Hickey of the San Jose Mercury News reports that Colon is set to throw a bullpen session Monday, with a chance to return to the rotation later in the week.
If Colon was dumped in your league, add him but allow for a start before inserting him into your lineup.
This is stretching the bounds of this column's ownership percentages qualifier to the brink, but Ricky Nolasco is proving he's worth doing just that.
Owned in exactly 51.0 percent of ESPN leagues through Sunday, the 30-year-old has been pretty stellar since joining the red-hot Dodgers after serving as a usable fantasy asset while with the Marlins.
To wit, Nolasco's ERA with L.A. is a perky 2.53 and his WHIP is a tasty 1.14. He's also 5-1 with the Dodgers, matching his win total from his time with the Fish—in half as many starts.
The strikeout rate ain't great (6.8 K/9), but if he's going to continue to put out quality starts, while occasionally tossing a gem like Friday's eight scoreless against the Red Sox, Nolasco's worth owning in just about every league.
Which means we won't have to worry about pushing the limits to recommend him again this year.