Fantasy Baseball 2013 Waiver Wire: Top 10 Pickups for Week 21
Denis Poroy/Getty Images
If Zack Wheeler is somehow still available in your league, please remedy that.
A new week, another batch of waiver-wire additions, just the way you like 'em: hot and fresh out of the oven.
Some players mentioned last week—including Justin Smoak, Brandon Beachy, Dan Haren, LaTroy Hawkins and Darin Ruf—are already owned in many leagues by now, but they remain quality pickups if they are still available.
In the interest of keeping the names new, though, let's avoid any repeats. Here are the top 10 waiver-wire pickups for Week 21 of the 2013 MLB season.
All ownership percentages come from ESPN Fantasy Baseball. Players owned in more than 51 percent of leagues were not considered.
Begin Slideshow

»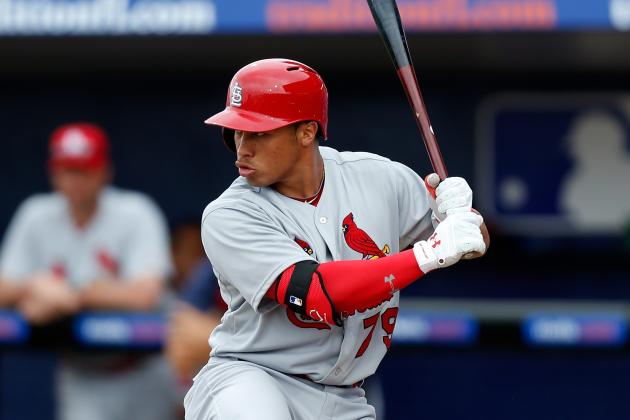 Chris Trotman/Getty Images

Kolten Wong, 2B, Cardinals (2.5 Percent Owned)—pictured
Travis d'Arnaud, C, Mets (1.0 Percent Owned)
Dane De La Rosa, RHP, Angels (18.9 Percent Owned)
Yovani Gallardo, RHP, Brewers (39.4 Percent Owned)
Brad Peacock, RHP, Astros (0.2 Percent Owned)
Chia-Jen Lo, RHP, Astros (13.5 Percent Owned)
Brett Oberholtzer, LHP, Astros (7.4 Percent Owned)
Scooter Gennett, 2B, Brewers (7.7 Percent Owned)
Emilio Bonifacio, 2B/OF, Royals (11.6 Percent Owned)
Francisco Rodriguez, RHP, Orioles (24.3 Percent Owned)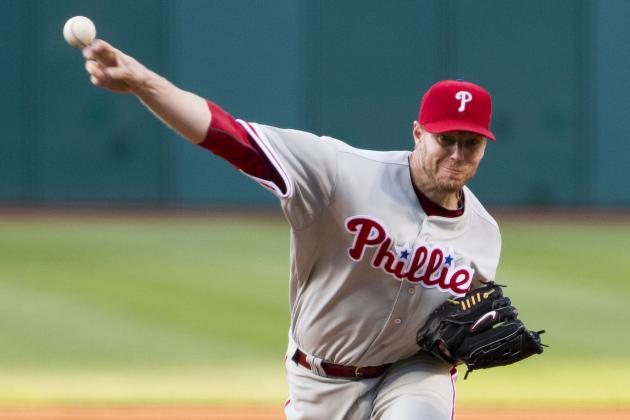 Jason Miller/Getty Images

This is just a friendly reminder not to forget about Roy Halladay—you know, the two-time Cy Young Award winner who is making a comeback from midseason shoulder surgery and who could certainly be a boost for your rotation if he returns in time to make a handful of starts.
The 36-year-old was pretty brutal over the first month-and-a-half this year—and let's face it, he wasn't good in 2012 either—but he clearly needed to repair his shoulder. Now that he has, he's worth a look.
His first rehab outing was a bit of a mixed bag, stats-wise, but the significant thing is that he threw six innings, and Bleacher Report's injury expert Will Carroll tweeted that a scout in attendance told him that "he's ready now."
Halladay is aiming to pitch again Tuesday at the Class-A level and, according to Matt Gelb of the Philadelphia Inquirer, he could make it back to the Phillies before the month is over.
Martin Perez, it seems, has finally figured it out. After being a top prospect in the Rangers system—and all of baseball—for years, the 22-year-old is having his first success in the majors.
On the season, his 3.48 ERA and 1.29 WHIP are more than adequate, and while he's had so-so strikeout numbers the past couple years, his 6.2 K/9 rate isn't look-the-other-way bad.
He's still hittable (9.0 H/9) and a tad homer-prone (1.1 HR/9), so there's always the risk that he gets knocked around—like he did on the road against the Indians back on July 26 (3 IP, 6 ER, 8 H). Since that outing, though, Perez has allowed just seven runs and 29 baserunners in 29.2 frames, while winning three of his four starts.
Oh, and he even struck out 24 batters over that time.
In his 10 games since being called up after being acquired from the Detroit Tigers in the deadline deal involving Jake Peavy, Avisail Garcia has gone 11-for-37 (.297) while notching at least one hit in eight contests.
The 22-year-old has been particularly hot lately, too, with three multi-hit games in his last six contests to go along with four extra-base knocks and five RBI.
There's enough power and even a little speed here, too, so don't be surprised to see Garcia, who was one of the Tigers' top prospects, post some solid numbers for Chicago over the final six weeks of the season.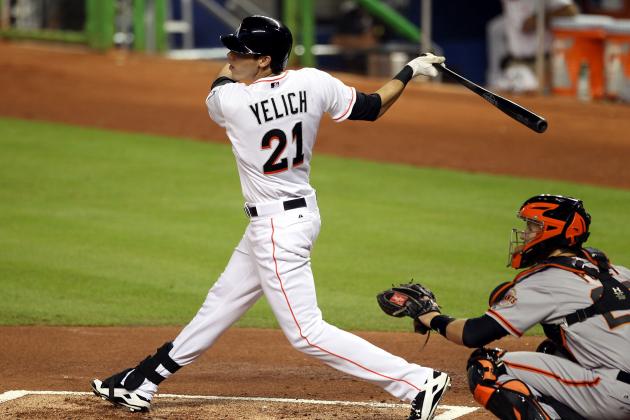 Marc Serota/Getty Images

Christian Yelich ranked atop last week's prospect and rookie waiver-wire list, and he's earned his spot here, too.
The 21-year-old top prospect is slashing .288/.345/.375 through his first 104 big league at-bats. Don't expect more than a few homers or a handful of steals the rest of the way, though, and know that the Marlins' lineup is going to keep his runs and RBI down, too.
But Yelich is the rare rookie who has the ability to help your batting average. To that point, Yelich already has four three-hit games in his young career, all of which have come since August 2.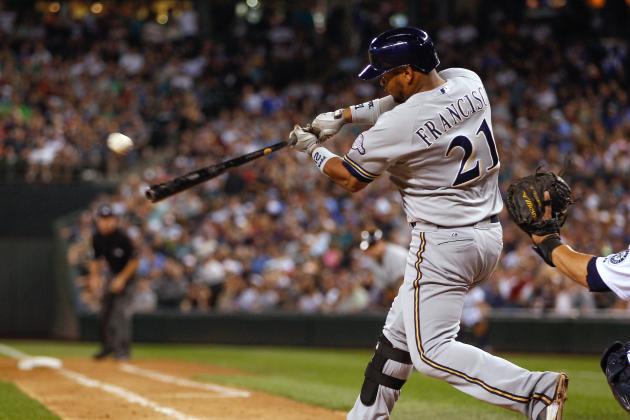 Otto Greule Jr/Getty Images

Juan Francisco is going to have the quietest 20-plus home run season of 2013.
Part of the reason is that the 26-year-old lefty masher was traded from the Braves to the Brewers back on June 3, so he's done most of his damage—13 homers and 30 RBI in 60 games—with an injury-riddled and well under-.500 Milwaukee club.
Between the two teams, Francisco has totaled 18 four-baggers and has driven in 46 runs, so a 25-homer campaign is possible, especially if he keeps up his recent pace (Francisco has four homers and 10 RBI in his past 14 contests).
Just realize that he's pretty much all power, though, as he's hitting below .250 and striking out 35 percent of the time.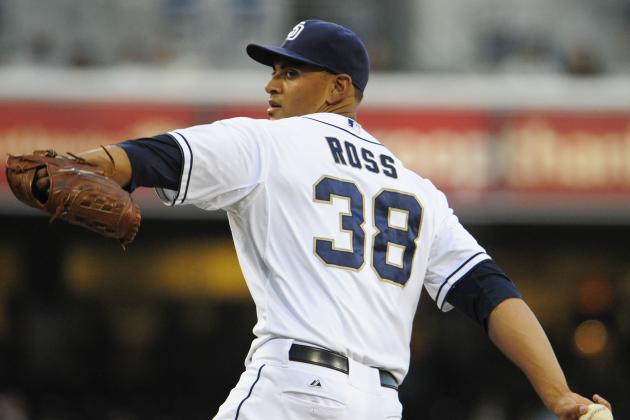 Denis Poroy/Getty Images

Maybe Tyson Ross just needed more time than expected.
Still only 26, Ross flashed enough potential to intrigue in the past, but it was tough to put much fantasy faith in a guy who sported a 5.33 career ERA coming into 2013.
In his first year with the Padres, though, Ross has been better than many realize, thanks to a 2.62 ERA, 1.17 WHIP and 8.0 K/9.
And since rejoining the beleaguered San Diego rotation in late July, Ross has made five very strong starts with a 1.32 ERA, 0.79 WHIP and 36 strikeouts in 34 innings.
Get some of that while you can.
If Juan Francisco is in line for a quiet 20-homer year, what does that mean for Chris Carter?
The 26-year-old slugger has 23 long balls and 62 RBI, putting 30 home runs well within his reach. It hasn't always been pretty—Carter is leading the majors with 162 whiffs and is hitting just .214—but when he's on one of his hot streaks, the power boost can really help.
To wit, Carter has four bombs and 10 RBI in his past 10 contests. If you need readily available production in those two categories, here's your add.
If Sonny Gray's first two starts in the majors are any indication of what's to come, this top Athletics prospect won't be available in any leagues pretty soon.
After a mighty fine inaugural start (6 IP, 2 ER, 4 H, 5:3 K:BB) on the road against the Blue Jays on August 10, the 23-year-old was downright dominant against the Astros his last time out, hurling eight scoreless innings with nine strikeouts.
The 2011 first-round pick is set to start against the Mariners on Tuesday, so get him on your team in time for that outing.
You're more than familiar with Zack Wheeler by now, but that doesn't mean we won't keep suggesting you put him on your team if you happen to play in a league where he's still available.
The 23-year-old rookie might have taken some time to adjust to the majors—his ERA was north of 5.00 through his first three starts—but Wheeler has been dealing of late.
In his past seven starts, the No. 6 pick in 2009 has a 3.00 ERA, 1.26 WHIP and 41 whiffs in 42 frames. By the way, his last start was his best yet: six innings of one-run ball with 12 K's.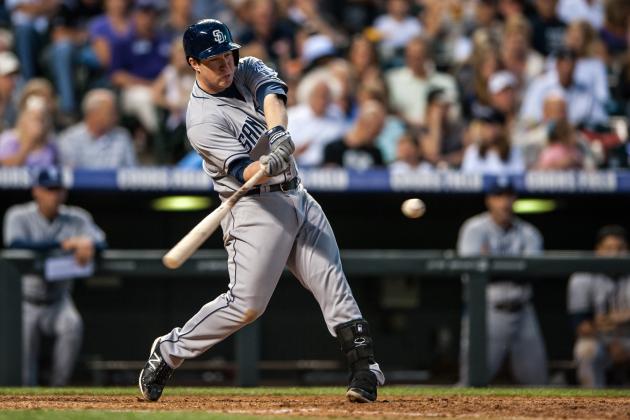 Dustin Bradford/Getty Images

We're suckers for upside, as a third-straight rookie caps off this week's top pickups.
Jedd Gyorko, 24, was hitting .284/.341/.461 and really putting things together in his first season when he got hurt and missed most of June along with the first two weeks of July.
It took him some time to get back up to speed, but since August started, Gyorko is a solid 14-for-52 (.269) and has taken his power to another level with four doubles, five homers and 10 RBI in 14 games.
Owners who could use help at either second or third base would do well to bring him aboard to see if he can finish strong in Year 1.