Las Vegas Boy Hits 11 Consecutive Home Runs, Is Generally Awesome at Baseball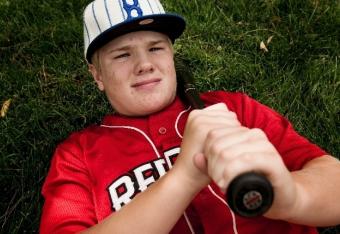 Photo Credit: Las Vegas Review-Journal

Trace Evans is a 12-year-old kid who just had the hitting streak of his life, slamming 11 consecutive home runs at a tournament held at the Cooperstown Dreams Park in Cooperstown, N.Y.
Go ahead and clear a spot for him in the Hall of Fame.
The Las Vegas Review-Journal's Ron Kantowski (h/t Yahoo! Sports' Cameron Smith) reports Evans helped his hometown Las Vegas Baseball Academy Lightning reach the championship game with a remarkable run at the dish.
Baseball fans love streaks. Winning streaks, hitting streaks, scoreless inning streaks. Hell, even losing streaks are captivating.
Well, Evans' feat might interest you.
Kantowski does note that there were some walks and a sacrifice fly peppered into the mix, which makes sense when you consider how hot this kid was at the plate.
He still managed to belt a homer for every consecutive official at-bat, a baseball marvel that demands your attention. At least, that is what coach Mike Martin offered in text messages he apparently sent out during the barrage.
"In my 46 years of playing at every level and coaching I have never seen anything like this," read one from the former Chicago Cubs catcher.

"The young man has 11 consecutive home runs. It's a new Cooperstown Dreams Park record. The old record was 9," read another.

"This feat needs national attention. How does one see to it that this amazing feat is recognized nationally?" read a third.
We are going to do our best to get the word out, because Evans was even hotter than Yasiel Puig during this tournament.
The young slugger's dad, Glen Evans, does want to inform you that his son is certainly working on PEDs: "Pigs, eggs, dairy." If that's all it takes, we should be hitting home runs shortly.
While a well-rounded diet helps, perhaps some of Bryce Harper's talent rubbed off as well. Evans met the Nationals slugger a while back when Harper played for Glen's travel ball team.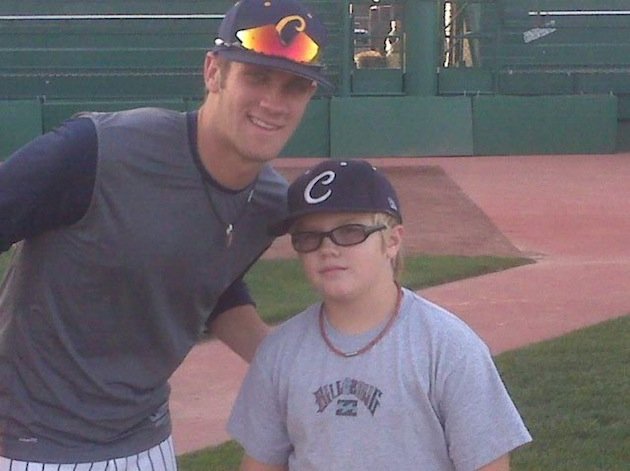 At the time, Harper gave Trace a bat that was far too big for him. Apparently, he is almost big enough to swing the lumber now—although he seems to be doing just fine with whatever bat he currently uses.
Despite hammering home runs at a record pace, Kantowski writes the 12-year-old kid is just that, a kid—one who was hoping there might be a bit more entertainment when he visited the actual Hall of Fame at Cooperstown and one who seems to be a tad shy about his recent power.
Plus, unlike a lot of kids who hit balls into trees and parking lots at a young age, he's pretty bashful. He mostly spoke about his new teammates — young Trace was a late addition to the Lightning roster — and how cool it was to help them win the giant trophy.

"Yes," he said with a sheepish nod when asked if he was amazed by hitting all those taters. "When I hit five in a row I was amazed."
We are amazed as well.
Soon, school will start up, and kids from all over the nation will mope like young zombies wanting to keep the summer going just a bit longer.
Perhaps there will be a spring in Evans' step as he travels back to Las Vegas, because he has a whopper of a story to tell his friends.
Hit me up on Twitter:
This article is
What is the duplicate article?
Why is this article offensive?
Where is this article plagiarized from?
Why is this article poorly edited?