B/R MLB 500: Top 35 Third Basemen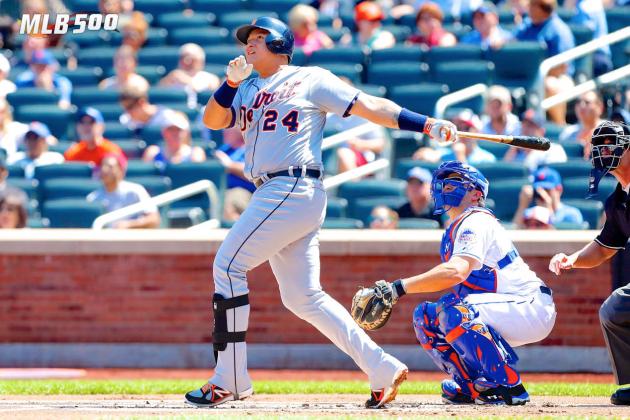 Jim McIsaac/Getty Images

The B/R MLB 500 series has just one position on the infield left to visit: the hot corner.
Like first base, third base is a primarily offense-oriented position. But since third base is undoubtedly a more important defensive position than first base, we came up with the following scoring system.
Third basemen get 30 points for hitting, 30 points for power, 10 points for baserunning, 20 points for defense and, like all players, 10 points for health. Add it all up, and you get 100 points.
As always, hitting entails more than just what happens after the ball leaves the bat. Results do count for something, but so does the process. Each player's approach will be taken into account.
Power is less complicated, but results will be taken into account just as much as scouting reports. A player may have tremendous natural power, but his score will be lowered if he has a hard time making it show up in games.
For baserunning, it's all about whether a guy can steal bases and how well, and whether he can get around the bases better (or worse) than the average player.
Defense is also simple. How well can a guy do the things third basemen are supposed to do, and can he do anything extra?
For hitting, power, baserunning and defense, keep the following in mind: A score that's 15 out of 30 is not a failing score. That's an "average" score. Anything better is above average. Anything worse is below average.
As for health, that's basically 10 free points unless there's a reason(s) to dock points. The scoring is subjective, but the general rule of thumb is that a player is only getting less than five points if he has a potentially career-altering injury.
Lastly, here's a reminder that the whole idea is to round up guys we'd want on a team in 2014. That means top prospects who could potentially make an impact are in play, and they may be ranked higher than you think. And if there are any ties, the edge goes to the player we'd rather have.
That's all there is to it, so let's put this thing in third gear and get to talking about third basemen.

Note: All prospect write-ups/scores were created by B/R's MLB Prospects Lead Writer, Mike Rosenbaum.
Begin Slideshow

»
The statistics that informed the following analyses came from all over, so we'd certainly be remiss if we didn't dish out some shout-outs.
Baseball-Reference.com was the go-to site for basic statistics. FanGraphs provided more complex data, most notably the data concerning plate discipline. Brooks Baseball also helped with that, and the site's tracking of spray charts for hitters is another thing that came in handy.
And if you're wondering where all the injury information comes from, the credit is owed to the injury databases kept by Baseball Prospectus.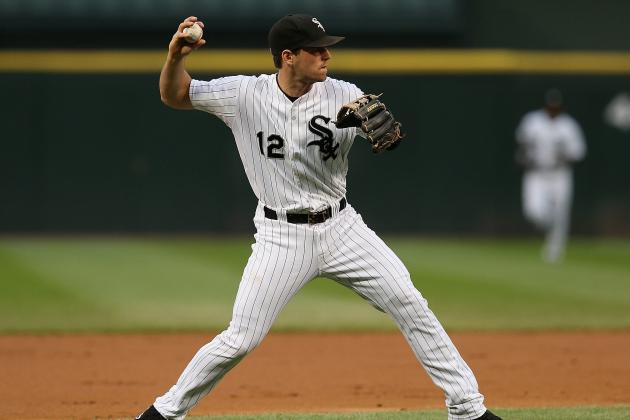 Jonathan Daniel/Getty Images

Conor Gillaspie's patience and plate discipline are both solid, so his respectable walk habit definitely adds up. He also handles fastballs well, so he has that part covered. His bigger problems include hitting off-speed stuff and going the other way effectively. He also hits the ball in the air way too often for a guy with his power, and that's something he needs to correct in order to be a solid BABIP merchant.
Most of Gillaspie's power production has been racked up at U.S. Cellular Field, which is traditionally one of the best power-hitting parks in the majors. Realistically, what he has is gap power that should translate into doubles. Whether or not he can up his line-drive rate so he can tap into it more consistently is the question.
Gillaspie's not a base-stealing type, yet he has proven to be a solid baserunner. He can go first to third, and he hasn't been responsible for an excess of outs on the basepaths. Nothing special, to be sure, but passable for a corner infielder.
Gillaspie plays a serviceable third base, but not much more than that. He doesn't wow you with his reactions, his athleticism or his arm, and he hasn't proven to be the most sure-handed defender at the hot corner.
Gillaspie battled a respiratory infection in May and was dealt a left hand contusion in August. His injury history consists of those injuries and...nothing else.
There's not much that's particularly exciting about Gillaspie. He's not a good hitter, power hitter, baserunner or fielder. However, he's good enough at each of these things to make the cut for this list.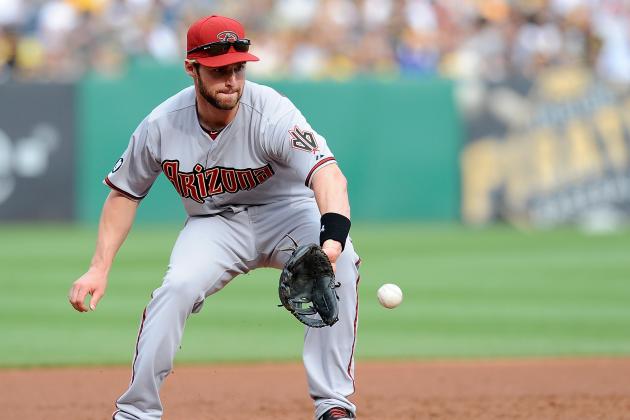 Joe Sargent/Getty Images

Matt Davidson is a patient right-handed hitter who works counts and waits for pitches to drive, looking for something out over the plate where he can extend his arms and utilize a strong top hand. However, he has a tendency to clear his hips too early, which leads to a high number of whiffs as he swings over and pulls off too many pitches. Still, Davidson demonstrates a consistent approach in which he utilizes the entire field, and he should be capable of producing a .260-.270 batting average in his prime.
Since Arizona drafted him in 2009, power has always been Davidson's best tool. At 6'2", 225 pounds, he has a physically mature frame with a strong lower half that allows him to generate plus raw power to all fields—and even more to the pull side. His swing features a strong point of contact that enables him to generate impressive extension through the ball, creating significant backspin carry to all fields. Assuming his power translates at the major-league level, which it should, multiple 20 home run campaigns seems to be a feasible projection.
Given his thick build and lack of quickness, Davidson likely will never offer much of anything on the basepaths. With four career stolen bases to his name in five minor league seasons, his name will appear in the everyday lineup for the power potential, not the wheels.
Knocked for his defense at third base early in his career—he actually saw significant playing time at first base in 2011—Davidson has developed into an average defender after improving his footwork and angles to the ball. Meanwhile, his plus arm strength is more than enough for the position and should allow him to compensate for some of the defensive shortcomings.
Since appearing in 72 games during his professional debut in 2009, Davidson has logged at least 134 games in each of the last three seasons—or 404 total games.
Davidson has been extremely consistent throughout his career, moving through the Diamondbacks' system quickly at a level-per-year pace and reaching the major leagues for the first time on Aug. 11. While his swing and defense both need refinement, he's ready for the challenge of playing every day at the highest level. Davidson will never wow anyone with his overall play, but he has the ability to be a decent hitter with above-average power, and he could even make an All-Star team or two if he continues to improve on both sides of the ball.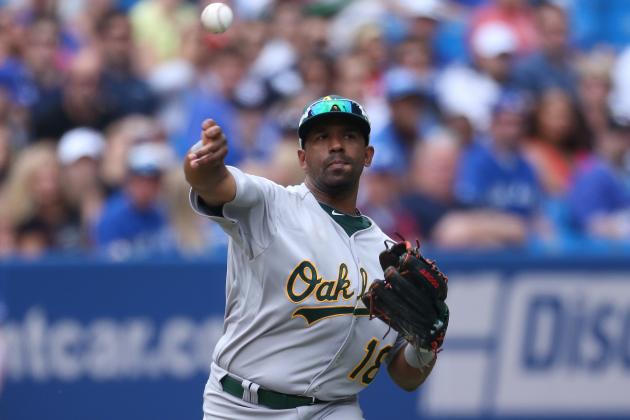 Tom Szczerbowski/Getty Images

There's one thing Alberto Callaspo does extremely well as a hitter, and that's make contact. He's also a good bet for a line drive, especially this year with a line-drive rate in the neighborhood of 25 percent. These habits earn him some modest props here, but only modest because of how he's not as good of a BABIP merchant as he should be because he insists on hitting fly balls that don't go anywhere.
Callaspo has lost some home run power this year, but fortunately he's replaced it with doubles power brought on by his impressive line-drive rate. He's not a threat to hit the ball over the fence at any given moment, but the gaps are always in play. He's a below-average power hitter for the position, but he could be doing a worse job of saving face.
Callaspo has given up trying to steal bases this year, and he's also not taking as many extra bases on the basepaths as he's accustomed to doing—especially not since joining the A's. He's gone from being an above-average baserunner to quite an average baserunner.
The A's are using Callaspo almost exclusively at second base as a platoon partner for Eric Sogard, and that's for the best from a defensive standpoint. Josh Donaldson is a very good defender at third, whereas Callaspo is only solid. This hasn't been a good year for him defensively at third either, as he's had some issues with his throwing. But since he's generally good at the hot corner, we'll give him a slight pass.
Callaspo missed about three weeks with a calf strain earlier in the season, but that was his first time to the DL with a physical injury, and he really doesn't have much of a track record when it comes to leg injuries. So we'll let it slide.
Callaspo was more than just a viable regular a few years back, but his bat is subpar for the position and his defense has taken a step back in 2013. He can earn his keep, but there are obviously plenty of better options at third base.
J. Meric/Getty Images

Trevor Plouffe's plate discipline has improved this season, yet it hasn't paid off in more walks and fewer strikeouts. Quite the opposite is happening, in fact. And while Plouffe has helped his BABIP by posting an increased line-drive rate, he's still a bit all-or-nothing on fly balls. Balls in the air off his bat are either going over the fence or staying in the yard, and the latter happens far more often than the former.
Mercifully, Plouffe does provide some solid pop to go along with his "meh" hitting. His main home run alley is to left-center, so he doesn't hit cheapies when he does hit the ball over the fence. His improved line-drive tendency has also granted him some extra doubles power, and he can vouch from his success at home that doubles power is a good thing to have at Target Field.
Plouffe isn't the base-stealing type, and in general he's been of little use on the basepaths in 2013. He's been less aggressive about taking the extra base, rendering himself more of a station-to-station guy.
Plouffe comes from a shortstop background as a minor leaguer, so it's no surprise that his first foray into regular third-base duty last year didn't go so well. He booted a ton of balls and generally didn't have a good feel for the position. He's made some progress in terms of cutting down on his boots, but he's still not the kind of guy who's going to do much besides catch and throw balls hit right at him.
Plouffe had to go on the concussion DL in May and then had to hit the DL again with a lower leg strain. That wasn't entirely out of left field, as he had lower leg issues during camp as well. These be red flags.
Plouffe is far from a star-caliber player, as his bat and defense are just too inconsistent. But since he has some decent pop, he can stay.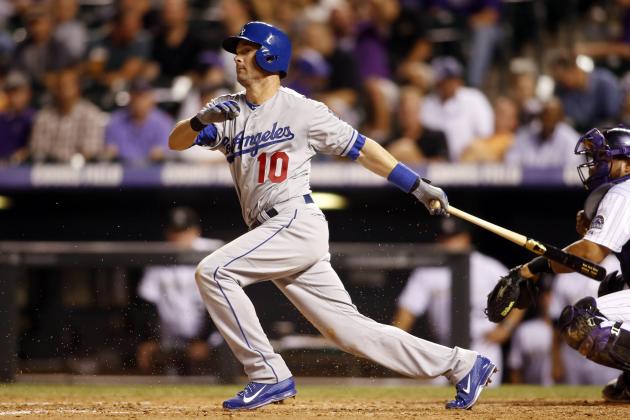 Chris Humphreys-USA TODAY Sports

After looking like a lost cause in 2012, Michael Young has looked much more like himself at the plate this season. He's been considerably more patient and has showed off better plate discipline, resulting in more walks and better pitches to hit. He hasn't been spraying line drives around like he was in 2011, but he's maintained a respectable BABIP with some well-placed grounders. He's not the hitter he once was, but he's not completely done just yet.
Young is far from the doubles machine he used to be, in part because those grounders that are sustaining his BABIP are doing that and not much else. While he's been able to sneak a few balls over the fence this year, the bulk of those came at Citizens Bank Park, a known haven for hitters. Realistically, Young's best chance at hitting for power is liners in the gaps. Fortunately, he can still handle those well enough.
Young doesn't move as well as he used to, so stolen bases are pretty much out of the question. A life as a station-to-station baserunner is now the life for him.
There's a reason #PADMY (Past a Diving Michael Young) is a meme on Twitter. Young has been a poor defender his whole career, and he's a very poor defender at this stage. He's slow to react, has absolutely no range and doesn't have very good hands to boot. It really is that ugly.
Young's injury track record is hardly spotless, but he's never been on the DL in his career, and the only thing that really bears monitoring is his recent history with Achilles pain. For a guy who's going to turn 37 in October, Young is in remarkably good health.
Young's bat isn't what it once was, but it's still major league-caliber. The rest of his game...not so much.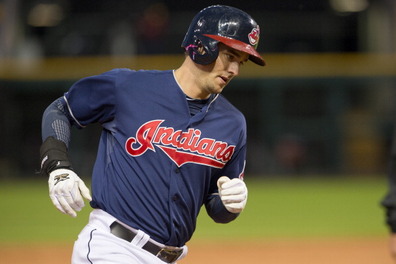 Jason Miller/Getty Images

What Lonnie Chisenhall has shown in the majors hasn't been pretty. He doesn't like fastballs or sliders, and he's still working on his plate discipline. If he can get these things squared away, he has a shot. But given that he's had several auditions now and hasn't shown much improvement, nothing should be taken for granted. A well-below-average hitter is what he looks like.
Chisenhall was only ever projected to be a quality power hitter rather than a great power hitter, and that sounds about right in light of what he's shown in the majors. He has some solid power to his pull side but less pop the other way. He has the goods to be a decent source of homers and doubles, and that's good enough for a slightly above average grade here.
Chisenhall is not a base stealer, so scratch that notion. However, he does have some athleticism that he can and has put to use on the basepaths. He's not hopeless when it comes to taking extra bases. And in his largest sample size of major league action yet, he's been good at not running into outs.
Chisenhall wasn't billed as a top-tier defensive prospect, and he hasn't proven the scouts wrong with what he's shown at the major league level. He does have OK range, but he's had issues with boots that he still needs to clear up. He has the look of a guy who can hold his own at the hot corner, but that's about it.
Chisenhall had some trouble with injuries in 2012, battling a calf strain early in the season and then suffering a broken right forearm on a hit-by-pitch in late June. But he was generally healthy before 2012 and hasn't had to deal with any injury issues in 2013.
The jury is out on whether Chisenhall is a major league-caliber hitter, but he has some decent power at his disposal and isn't a value vacuum on the basepaths or in the field. In other words: could be worse.
The hit tool has emerged as Mike Olt's biggest weakness as he's moved up the ladder, as he struggles to make consistent contact due to fringy pitch recognition and a swing that has too much length at times. Even though there's considerable swing-and-miss to his game, Olt demonstrates decent pitch recognition that should continue to improve as he logs experience against advanced pitching. While he'll never offer much in terms of batting average, Olt should be able to sustain a .240-.250 clip as an everyday player in the major leagues.
Like most promising third basemen, Olt's greatest asset is his plus power. With a swing geared toward clearing fences, the 6'2", 210-pounder has a tendency to get long to the ball, which too often results in weak contact and empty swings. Still, when he's feeling good at the dish, the right-handed hitter has the ability to jump the yard at any time, and he should be able to post multiple 25-plus home run seasons in his prime.
Given his thicker build and projection as a power-oriented hitter, Olt likely won't be a factor on the basepaths. He moves decently for his size and can move station-to-station, but he will never steal more than a handful of bases in a season.
Olt is an average defender at third base with a consistent glove, sufficient range and a plus arm that's suitable for the position. He's athletic enough to warrant the occasional look as a first baseman or right fielder, but his immediate future is undoubtedly at the hot corner.
Olt has missed significant time due to injury in each of the last three seasons. During his full-season debut in 2011, he missed roughly two months after suffering a fractured clavicle during a collision at the plate. Last year, he missed the final month of the season following a promotion to the major leagues due to a lingering case of plantar fasciitis. This year, Olt has been limited due to ongoing vision issues that led to corrective surgery (LASIK) around the midseason mark.
Olt's prospect stock has taken a hit over the last year, as he's struggled to remain on the field and produce as expected. However, his future projection significantly improved when Texas dealt him to the Cubs around the trade deadline, as he now has a clearer path to playing time than he did as a member of the Rangers organization. Assuming he regains his feel at the plate and that the vision issue that plagued him earlier this season is a thing of the past, Olt should be able to post a .250 batting average with 25-plus home runs in his best seasons.
A 6'2" left-handed hitter, Garin Cecchini has a fluid swing with plus bat speed and superb bat-to-ball ability that gives him the potential for an above-average-to-plus hit tool. His compact swing yields consistent, hard contact, as he gets extension after a deep point of contact and drives the ball across the entire field. Meanwhile, Cecchini's plate discipline and pitch recognition are arguably as polished as any young hitter in the high minors. In his prime, Cecchini should have the potential to post multiple seasons in which he bats above .300.
Cecchini features mostly gap power at the present, though it could evolve into solid-average power in the big leagues and result in roughly 10-15 home runs once he adds strength to his projectable frame. The only concern regarding Cecchini's power is whether it will be enough to remain at third base long-term, as it's a position typically reserved for more consistent power hitters.
Cecchini is one of the best baserunners in the minor leagues, possessing slightly above average speed. He has innate instincts to seize extra bases with ease. Additionally, Cecchini is an advanced base stealer who understands how to read opposing pitchers and pick intelligent spots to run.
With the background of a middle infielder in high school, Cecchini has made a smooth transition to third base since turning pro. He has giving hands and demonstrates fluid defensive actions and body control at the position, though his feet can be a bit choppy at times. His superb instincts give him slightly above average range, while his plus arm is his best defensive tool and will allow him to stick at the position. Although he'll remain a third baseman for the time being, Cecchini's combination of hit-tool potential and above-average defense also projects favorably at second base.
Cecchini missed his senior year of high school to undergo reconstructive knee surgery and missed roughly 40 games during his professional debut in 2011 after suffering a fractured wrist. However, Cecchini has remained healthy since moving up to a full-season level in 2012.
Cecchini has hopped onto the major league radar this season with his overwhelming success at the High-A and Double-A levels, showing a polished approach and hit tool while flashing above-average defense at third base. Once he has a clear path to everyday playing time in the major leagues, Cecchini has the potential to be an annual .300-plus hitter with a high on-base percentage, 30-plus doubles and 15-25 stolen bases.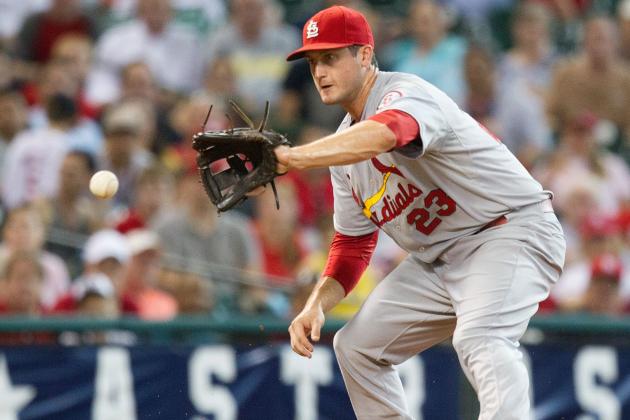 Bob Levey/Getty Images

The BABIP gods haven't been on Freese's side like they were in 2012, when he hit .293 with a .372 OBP, and he has himself to thank for that. It's line drives that please the BABIP gods, and Freese has been hitting fewer and fewer. He's at a point now where he's far more likely to hit the ball on the ground, which is not the best way to be. But more ground balls is better than more fly balls, and Freese still has a disciplined approach at the plate. His hitting is still a few steps up from average.
Freese's power has taken a turn for the worse, and it's not overly surprisingly given his increasing tendency toward ground balls. He's kept the doubles coming by spraying line drives in the gaps, but his power numbers aren't much to look at without the home runs. He's hitting fly balls at a rate less frequent than his career mark, and his HR/FB rate is roughly half what it was in 2012 even after a recent power surge.
Freese isn't one to steal bases, but he can go first to third on singles, and he's careful about not running into outs on the bases. He has committed a few TOOTBLANs over the last two seasons, but a good chunk of them have been at home. That's not always on the runner.
The advanced metrics say Freese has been god-awful in the field this year, and that doesn't come as too much of a shock. Freese wasn't a great defender to begin with, as he's not quick at the crack of the bat, and he doesn't have a particularly strong or accurate arm. These things have been exploited this season.
Freese has been on the DL only once since the start of 2012, but in that time he's dealt with a ton of nagging injuries: lower leg problems, ankle problems, wrist problems, back problems, you name it.
In 2012, Freese was one of the league's better third basemen. He's been one of the worst in 2013, especially on the defensive side of the ball. To say his stock has fallen is definitely fair.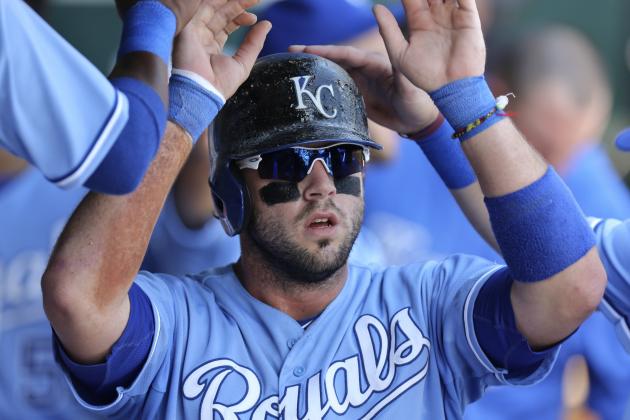 Ed Zurga/Getty Images

Mike Moustakas doesn't wait around at the plate, which is fine to the extent that he doesn't strike out much. But it's less fine to the extent that he meets with little success when he puts the ball in play. Right now his biggest problem is that he hits a ton of fly balls without a lot of home runs to show for them. That's really killing his BABIP. The good news is that Moustakas has shown modest signs of life since the All-Star break, so there's hope for him heading out of 2013.
Moustakas plays in a bad park for power, but he can't use that as an excuse because his home/road power splits are about even. His bigger problem is that he has power only to right field, and it's easy for hitters to stay away from it by pitching him away. However, Moustakas' power stroke has shown even more promise since his hitting since the break. It bodes particularly well that the bulk of his power has come on pitches away from the typical lefty wheelhouse on the inside corner.
Moustakas swiped the occasional base in 2012 but has been far less successful in that arena this year. He's also been a frustrating presence running the bases, taking few extra bases while still running into outs. This is another area where improvement is needed.
Moustakas was one of the best in the business at third base in 2012. He hasn't been as impressive in 2013, and it's discouraging that he hasn't kicked the problem with errors that plagued him last year. The skills are certainly there for Moustakas to be an above-average defender, as he has a strong arm and a good first step. One wonders if what's been happening this year is a matter of him taking his offensive struggles out to the field with him.
Moustakas hasn't had it particularly easy with his health in 2013. He's missed a few games with quad tightness, a calf strain and strep throat (a devil of an illness, to be sure). It's the leg problems that give one pause, as this is the second year in a row he's missed games due to pain in his wheels.
It's not a question of talent with Moustakas. It's a question of him making adjustments. He's shown some hope in that regard since the All-Star break, but he still has a ways to go.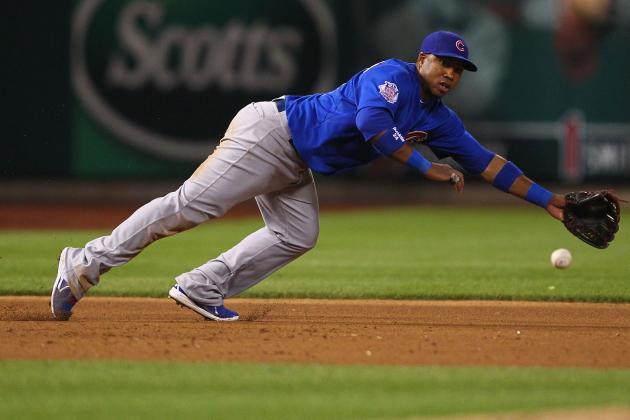 Dilip Vishwanat/Getty Images

Luis Valbuena's OBP has benefited from a noticeable walk spike this year, and he has an improvement on what was already quality plate discipline to thank for that. He's also gone from being a guy who used to get eaten up by changeups to a guy who has eaten them up. But platooning against right-handed pitching has certainly helped, and his ability to actually hit the ball isn't as impressive as his ability to walk. Valbuena isn't and really has never been much of a line-drive hitter, and this year he's hurt his BABIP by hitting the ball in the air too often.
Valbuena's tendency to hit the ball in the air hasn't been totally for naught, mind you, as the habit has paid off in the form of a few extra long balls. He has power only to his pull side, however, and his lack of a consistent line-drive habit has hindered his ability to add some doubles to his pile of home runs. Otherwise, he'd be rating as more than just a decent power hitter here.
He's not a base stealer, but Valbuena does a decent job of taking extra bases when they're there to be taken and he hasn't had a problem with running into outs in 2013. All told, pretty good stuff.
Valbuena can play all over, but there's not much doubt that third base is his best defensive position. He has more than enough range for the hot corner to go along with a steady glove and a reliable, if not very strong, throwing arm.
After being in good health his whole career, Valbuena finally landed on the DL in early August with an oblique strain. Those are tricky injuries, but this was Valbuena's first problem with an oblique. So we'll let it slide while noting that he's also still young with his 28th birthday due up this offseason.
It's hard to get excited about guys like Valbuena, but his ability to get on base has to be appreciated. So does his glove.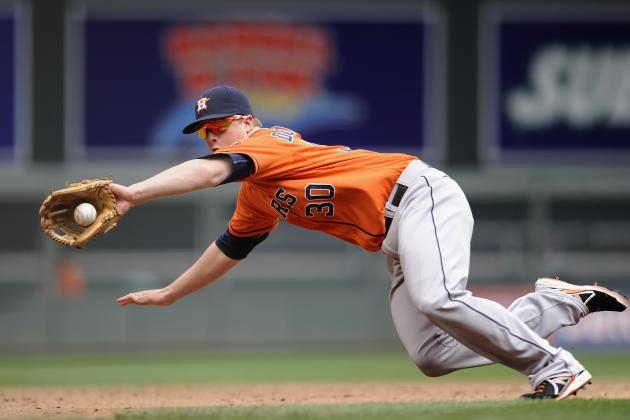 Hannah Foslien/Getty Images

Matt Dominguez fits the mold of a stereotypical young hitter. He doesn't wait around at the plate and has only a basic awareness of the strike zone. He avoids strikeouts well enough but doesn't walk enough. That makes him the subject of the BABIP gods, and what they're demanding of Dominguez is more line drives. He must work on appeasing them.
Dominguez's power numbers don't look so bad at first glance, but they're a little misleading. He's dumped a fair number of cheap home runs into the short porch at Minute Maid Park. That doesn't mean he's a bad power hitter, mind you, as he does have some home run power, and it hasn't been entirely absent on the road.
Dominguez isn't and presumably never will be a stolen-base threat. He also has some learning to do about running the bases, as he's had a knack for racking up TOOTBLANs in the early goings of his major league career, with the bulk of them coming at second and third. That's not a good habit.
Dominguez was talked up as a very strong defender at third base as he rose through the ranks as a prospect, and he's passed the eye test as a major leaguer. He reacts well and has good hands and a strong arm, at times looking like one of the best in the business. But he has had issues with throwing errors this year, a sign that there's still work to be done.
Dominguez battled some quad issues in May, but those only cost him one game. Aside from those, there's nothing in his injury history to get up in arms about.
There's a lot of potential in Dominguez's glove, but the key for him is becoming more consistent at the plate. He's not without hope there, but there is work to be done.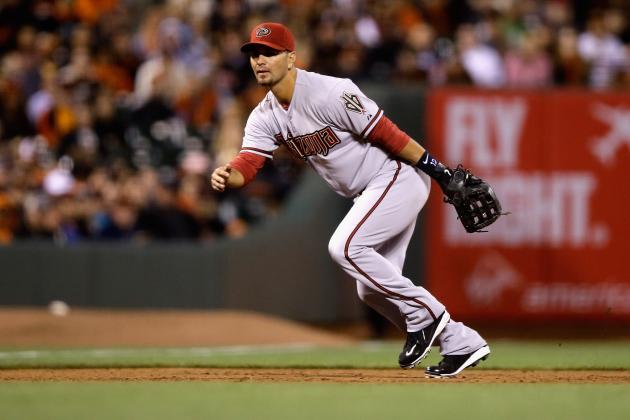 Ezra Shaw/Getty Images

Eric Chavez isn't as patient as he was in his heyday, as he's developed a chasing habit that has contributed to a major decline in his walk rate. He's also not hitting fastballs as hard as he was in 2012 when he enjoyed a renaissance season. Still, the ability to use the whole field is there, and Chavez has retained the ability to hit the ball on a line that he had last year. The one catch is that his job is made a lot easier by the fact that he plays almost exclusively against right-handed pitching.
Though he's not hitting the ball over the fence with the same kind of extreme regularity, Chavez has been able to maintain the power revival he enjoyed last year. He's been driving the ball all over the field, hitting for just as much power to left field as he does to right field. If he was doing it on an everyday basis and against both left- and right-handed pitchers, his score would be a lot higher than this.
Chavez was a very strong baserunner earlier in his career, but age and injuries have conspired to put a stop to that. Though he's not as useless in terms of taking the extra base as you might think, he's undoubtedly much more of a station-to-station guy at this juncture.
Chavez was once one of the most gifted defensive third basemen in the league, but the only thing he still has from those days is his hands. He won't boot the ball over at the hot corner, but he just doesn't have the range that he used to thanks to a slower first step and a general lack of quickness.
Chavez is still good for at least one DL stint every year, and this year he's had two: one with an oblique strain and another with knee and hip injuries. His injury history is now book-worthy, and it's worth noting that he turns 36 this winter.
Chavez is too old to be a defensive gem, and injuries come with the territory, but his bat is still useful against right-handers, and there's still quite a bit of power to be found in it.
Even though he's known for his light-tower power, Kris Bryant is a much better hitter than given credit for with a line-to-line approach and decent pitch recognition. The right-handed hitter has some swing-and-miss to his game; however, that should steadily improve as he gains professional experience. Bryant won't contend for a batting title and likely will be pitched around regularly at the major league level, but he has the approach and bat speed to be a consistent .270-plus hitter.
Bryant had the best power in the 2013 draft class. Now, he has some of the best power in the minor leagues. At 6'5", 215 pounds, Bryant possesses effortless 70-grade power that will undoubtedly translate at the highest level. He does an excellent job of using his height and size to his advantage, hitting down on the ball to create backspin carry to all fields. At maturity, he should be good for 30-plus home runs in a given season.
Although Bryant is a respectable athlete for his size, he's not exactly fleet-footed. At the same time, he's far from a non-zero on the basepaths, with enough speed to amass a few additional extra-base hits and steal a few bases here and there.
If Bryant is eventually forced to move off third base, it won't be because he can't handle the position defensively. With average range and actions as well as a plus arm, Bryant's overall defensive skill set is a clean fit at the hot corner. However, due to the presence of several other players in the Cubs system, he may ultimately move to a corner outfield position, where he has the potential to be an average defender.
Considering that Bryant's professional career began roughly a month ago, it's difficult to make a fair assessment about his health. However, based on his track record and overall dependability at the University of San Diego, there appears to be no reason for concern moving forward.
The No. 2 overall selection in the 2013 draft, Bryant has the potential to move quickly through the Cubs system thanks to an advanced approach and gaudy power. While there's some uncertainty as to whether he'll remain at third base or move to a corner outfield spot, his bat could have him in the major leagues midway through 2014 (or even before, a la Mike Zunino). In his prime, Bryant should serve as a force in the middle of the Cubs lineup, as well as one of the top sluggers and run producers in the game.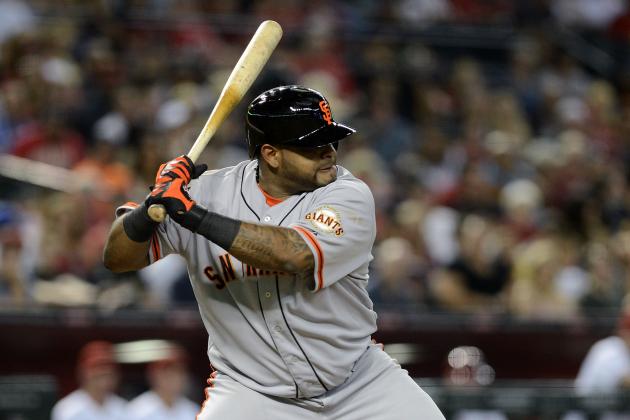 Jennifer Stewart/Getty Images

Pablo Sandoval is more or less the definition of a free-swinger. He doesn't take pitches and doesn't keep his swings confined to the strike zone. He makes enough contact to justify the habit, but his success is totally at the mercy of the BABIP gods. The good news is that they've been much kinder to Sandoval in the second half, in which he's gotten in better shape and looked much more comfortable at the plate. That'll do for a positive sign going forward.
Sandoval's power has played surprisingly well at AT&T Park throughout his career. It helps that he can take advantage of the gaps the park offers. But just like the hits, the power hasn't really been there for Panda this season. It's come in spurts, but this is shaping up to be another year of merely OK power production from the Panda. He's had more of those than he's had good power seasons.
Panda can move pretty fast when he gets going, and he's gotten better about not making outs on the bases ever since racking up the TOOTBLANs earlier in his career. But it's no sure thing that he's even going to be able to go second to home on a single, let alone first to third.
Sandoval definitely has a strong arm, but he hasn't been very accurate with it this year with a new career high for throwing errors. The good news is that he's always been surprisingly agile for a big guy. To that end, the narrative hasn't really changed in 2013. But while he's capable of playing elite defense when he's in shape, counting on him to be in shape has never been the best idea.
Panda seems to be good for at least one stint on the DL every year, and you have to worry in particular about his wheels. A hamstring injury landed him on the DL last year, and a foot injury did the trick this year. More recently, he's had some pain in his back.
Sandoval has had years in which he's been one of the best in the business at third base both offensively and defensively. But 2013 has been another in what's a growing collection of mediocre years, so we're not taking it for granted that the good Panda is going to show up in 2014.
Mike McGinnis/Getty Images

Aramis Ramirez hasn't been seeing a ton of pitches in the zone this season, and he's passed the test by tightening up his plate discipline and drawing more walks. Getting on base is something he can still do. Yet he's hit for a lower average than the one he's used to. Inconsistent playing time brought on by injuries hasn't helped, but low batting averages do tend to happen when an increased strikeout rate meets regression in BABIP and HR/FB. Ramirez also hasn't been crushing fastballs like he usually does, so there's a reasonable doubt that we've seen the last of him as a .300/.360 hitter.
Ramirez had one of his best power seasons in 2012, but it was thanks in no small part to the hitter-friendly confines of Miller Park. He's actually managed to reverse the trend this year by hitting for more power on the road, but his overall power performance has been disappointing. His doubles power hasn't been helped by a decrease in line drives and an increase in ground balls, and he's developed a curious case of warning-track power. He's obviously still good, but not as good as he usually is.
Ramirez stole nine bases in 2012, but those masked the fact that he wasn't good for much when it came time to actually run the bases. He went first to third four times all season and also scored from second on singles only half the time he actually had a chance. Such is the story of his 2013 season, and indeed the story of his career.
Ramirez actually rated as a quality defensive third baseman in 2012, but that's not the norm for him. He's always been a below-average defender, with little range and a tendency to make mistakes. The problem with boots went away in 2012 but promptly came back this year, and he's also gone back to being largely immobile.
Ramirez is playing now, but it doesn't look so good that he's had to hit the DL twice this season with left knee sprains. That's especially true in light of his age, as Ramirez is 35 years old and has plenty of miles on his body.
For all the time I just spent saying Ramirez has gotten a bit of a reality check from the baseball gods this season, this much must be said: the guy can still hit and that's good enough.
Thearon W. Henderson/Getty Images

Juan Uribe…productive hitter? Yup, that's what it's come to. He has a reputation of being a hacker, but his plate discipline has been better in 2013 than it usually. In particular, he's been taking far more swings in the zone than he did in 2012, and this habit has helped him hit balls more squarely.. He's currently working with his best line-drive rate in years, and his BABIP is loving it.
Uribe's mission to remake himself into a more dependable hitter has impacted his power. He's been keeping the ball out of the air more regularly in the last two seasons, which generally isn't the best thing for one's home run power. He can still pop the occasional double and home run, however, and his power production indeed hasn't been helped by Dodger Stadium.
Take one look at Uribe, and you don't see a guy who would be good at running the bases. But he's surprisingly good at it, taking his share of extra bases without running into many outs. To boot, he's stolen a few bases this season. Baserunning is something he does well.
Uribe may not look much of an athlete, but he still has some of his old shortstop's range, and he still has a very strong arm. With more regular playing time at the hot corner than ever before, this season has seen Uribe make as many plays outside his zone as some of the best defenders at the position. That he's managed to do so while making very few errors makes his 2013 performance all the more impressive.
This has been a pretty good season for Uribe health-wise, but he does have an extensive injury track record that recently includes DL stints for left wrist inflammation and a sports hernia. Now in his mid-30s, you have to think he's probably not done racking up the hurts.
Uribe has become useful as a hitter again, and his defense at the hot corner must not be overlooked. Somewhat quietly, he's remade himself into one of the more productive third basemen in the league.
There were serious questions about Miguel Sano's hit tool heading into the 2013 season, as he's always been a player more likely to jump the yard or strike out than make consistent contact. However, the right-handed hitter has drastically improved in that regard this season, tightening his strike zone and showing better barrel control without sacrificing his robust power. Furthermore, his pitch recognition—especially as it relates to breaking balls—has noticeably improved this season and played a major part in his overall success.
No prospect in the game has as much power as Sano. A physically strong right-handed hitter at 6'3", 235 pounds, Sano showcases effortless elite power to all fields, lofting the ball with big-time backspin carry. With legitimate 80-grade power, he has the potential to be one of baseball's best sluggers upon arriving in the major leagues and is more than capable of hitting 35-plus home runs in his prime.
As a middle-of-the-order third baseman, Sano's speed and baserunning will always be his least valued assets. Although he has a thick, bulkier frame, he moves decently for his size and should be capable of swiping anywhere from five to 10 bases in a given season.
One of the weaker aspects of his game, Sano's defense was another major question mark heading into the 2013 season, as many believed he'd be forced to move to either first base or right field as he moved up the minor league ladder. However, after working with Paul Molitor this spring, his glove and footwork have noticeably improved at the position.
Sano has remained healthy since joining the Twins system in 2010 and played in more than 120 games for the second consecutive season this year.
Sano's prospect stock blew up in a big way this season thanks to the significant improvements he's made on both sides of the ball. While the power will always be his calling card in the major leagues, his hit tool and defense both have the potential to be slightly above average. When all is said and done, Sano will be a middle-of-the-order threat capable of hitting 35-plus home runs and driving in 100-plus runs during his prime.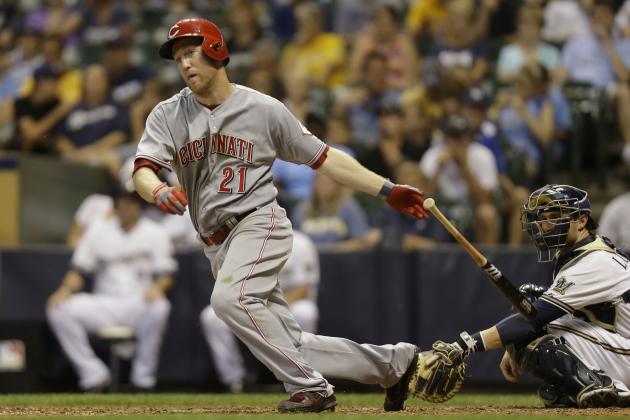 Mike McGinnis/Getty Images

Todd Frazier has seen his share of ups and downs at the plate in 2013. He's helped keep his OBP afloat by drawing more walks, but he still has a swing-and-miss tendency that hasn't helped him. In particular, he's extremely susceptible to sliders from right-handed pitchers. He's also not hitting line drives like he did in 2012, which hasn't helped his BABIP. Strip away the walks, and Frazier's hitting talent would look even worse.
In 2012, Frazier hit for just as much power on the road as he did at home. It hasn't been the same story in 2013, as his power numbers at home dwarf his power numbers on the road. Balls that have gone out at Great American Ball Park have stayed in the yard elsewhere, and Frazier's decreased line-drive percentage hasn't helped him save face with more doubles. The big picture is that of a step backward in the power department.
Frazier can steal an occasional base, but he's better at doing the little things than he is at running the bases. He advances on pretty much any chance he gets, and he's very good about not making outs on the basepaths. Baserunning is an underrated part of his game.
Frazier didn't really get a chance to settle in at third base last year, but it was obvious when he played there that it was where he belonged. The story hasn't changed this year, as Frazier has given the Reds quality defense thanks to plenty of range beyond the bag and very sure hands. He's a guy who really doesn't get enough credit for his defense.
There's nothing in Frazier's injury history that's even so much as worth noting. As of early September, he's only missed one game in his career due to an injury.
Frazier's bat has been a disappointment following his strong offensive showing as a rookie last year. But it's really only declined to average territory, and Frazier's baserunning and defense more than make him worth the trouble.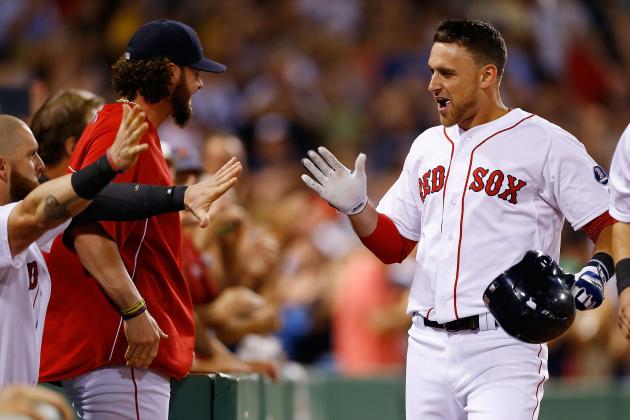 Jared Wickerham/Getty Images

Will Middlebrooks was struggling earlier in 2013 because pitchers found a weakness that he had against high fastballs. He began pressing and his whole approach quickly fell apart. But ever since he returned from the minors in early August, it's been night and day. Middlebrooks' struggles with high fastballs are gone, and he's benefited from no longer trying to hit the ball 100 miles every time he swings. He's hitting far more liners than he was earlier in the season, and his BABIP approves.
Power production wasn't an issue for Middlebrooks earlier in the season and shouldn't be an issue for him period. The ball comes off his bat well, and he can hit the ball out of the park to both left and right field. Those fields are also in play for hard-hit line drives that go for doubles. Short version: He's got power covered.
Middlebrooks showed off an ability to steal bases in 2012 but hasn't bothered in 2013. It hasn't helped that he hasn't been on base that much, of course. Either way, he's not the kind of guy who's cut out to be a big-time asset running the bases. He'll fall in line with all the other average baserunners the hot corner has to offer.
Regarded as a legit defensive prospect while he was in the minors, Middlebrooks has only shown flashes of plus defense in the majors. There's no denying the talent is there, as he's smooth around the bag and has a very good arm. But he's had issues with errors, particularly of the throwing variety. He's average until he proves otherwise.
Middlebrooks had his 2012 season come to an early end thanks to a broken wrist, and he then had a scare with it during spring training. But he hasn't lost any power as a result of that injury, so it can be chalked up as a non-factor. He also had some back pain in May, but that's subsided and was a first for him to begin with.
Middlebrooks got hit with some serious growing pains earlier in 2013, but he's patched up his weaknesses and looks ready to be an offensive force that he teased himself as in 2012.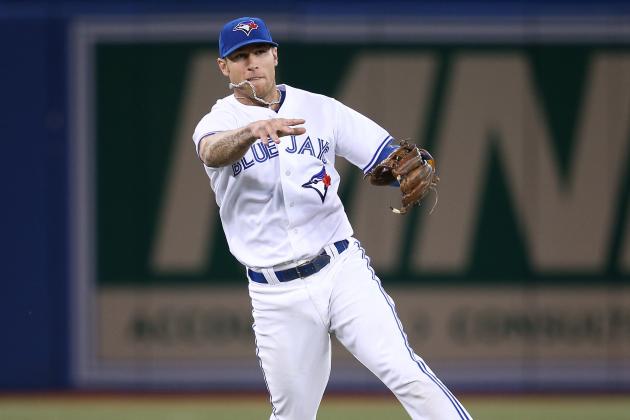 Tom Szczerbowski/Getty Images

Brett Lawrie looked like a hitting star in the making in 2011, but his weaknesses quickly went on display. This season saw him struggle against changeups and curveballs and develop a whiff problem born out of a tendency to chase that wasn't there in 2011. But things have been looking up since the All-Star break, as Lawrie has been doing better against changeups and curves and has cashed in some ground balls for line drives and fly balls. If he can keep this up, average production in 2014 is possible.
Lawrie's power output in 2012 was disappointing largely because half the balls he hit ended up on the ground. Those don't tend to go for extra bases, much less over the fence. He's back to hitting the ball in the air this year, and has been rewarded with more home runs. He's a solid enough power hitter as is, and he'll be even better in 2014 if he learns to mix in some more line drives.
Lawrie should probably give up trying to steal bases given his tendency to get caught, but he runs the bases like a bat out of hell and manages to do more good than harm in the process.
There's definitely a flavor of recklessness to Lawrie's defense at the hot corner. His collection of boots will vouch for that. But he has cut down on those in 2013, and his aggressiveness does pay off in the form of him getting to a lot of balls that most other third basemen can't get to. It's not always pretty, but Lawrie's defense at third base is pretty darn effective.
Lawrie hasn't been in the league very long, but he's already developing a reputation for being injury-prone. In 2013, he's been undone by a ribcage issue and an ankle sprain that have cost him over 50 games. Given the way he plays, you have to think the injury bug isn't about to leave him alone.
Lawrie has improvements to make as a hitter, but it's a good sign that his power seems to be making a comeback, and his glove is terrific.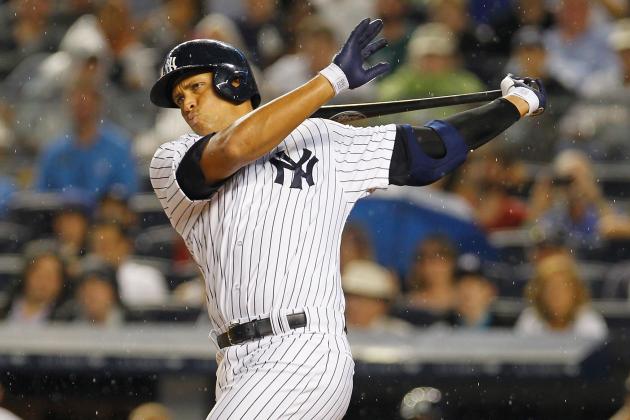 Mike Stobe/Getty Images

For all that's been made of Alex Rodriguez's demise, he could still hit a fastball, work a walk and put the ball in play with some authority in 2012. His power was down, but that was partially by design as he adopted more of a line-drive approach that paid off in the form of a respectable .323 BABIP. While we don't have much of a sample size to judge him by since he returned from injury this year, you have to admit that he's looked pretty darn good. His plate discipline has been characteristically terrific, and he's been driving the ball with more authority than any of us probably expected him to. And speaking of that...
Rodriguez's explosive power was long gone several years ago, but power is another area where he was pretty well covered last year before Felix Hernandez broke his hand with a fastball. He was on pace to hit about 25 homers, which is perfectly acceptable for a third baseman at his age (or any age, really). Since he's returned from injury, he's done enough to make it clear that he still has pop by driving the ball well to all fields for a solid collection of doubles and homers.
A-Rod doesn't move like he used to and shouldn't be expected to at his age. But he did show that he was capable of stealing an occasional base in 2012 and could be trusted to at least stay out of trouble on the basepaths. So far in his return to action, he's shown that he can still steal a base and that he can still run the bases well enough. And in style, to boot.
The 2012 season wasn't a good one for A-Rod defensively, but even then he wasn't much worse than average. We don't have much to go on in terms of his defense this year, but much like his hitting, A-Rod's defense has been better than expected. He's been sure-handed, he still has a strong arm and his range could be a lot worse for a guy in his late 30s with ruined knees and hips.
Rodriguez has been an injured mess for several seasons now, and there's certainly a limit to how much he can be trusted to stay healthy going forward. In addition to two hip surgeries, he's also had surgeries on both knees in his career. He may be back, but would you bet on his health holding up?
Is Rodriguez what he once was? No. Will he even play in 2014? Nobody knows for now. But in his brief time back, he's made it clear enough that he still has some good baseball left in him.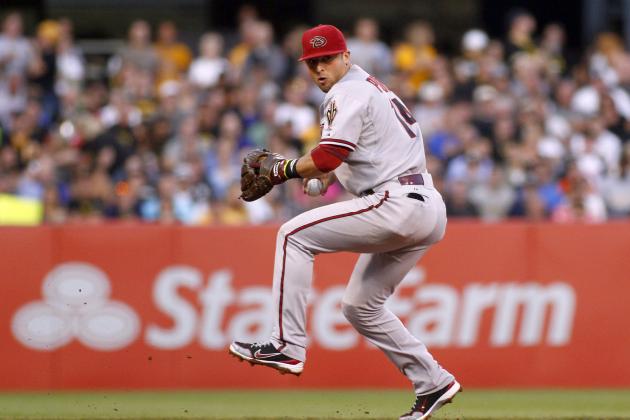 Justin K. Aller/Getty Images

Martin Prado isn't a big fan of taking walks, but he makes contact with the best of 'em, and he tends to favor contact that's good for BABIP (namely liners and grounders). He's at it again this year, and it's worth noting for those who haven't noticed that Prado has been on an absolute tear ever since late June, hitting over .300 by way of a healthy line-drive habit to all parts of the yard. He's looked like the guy who hit .301/.359 in 2012.
Prado has a track record as one of the best doubles hitters in the business, and he's still racking up his share this year. But he's seemed more keen on pulling the ball than usual. That's helped him hit more balls over the fence, but when he's right he's using the right-field line to pick up extra-base hits. He's gotten away from that habit this year and hasn't even picked it up again in his hot stretch.
Prado is generally a good baserunner, but the whole gritty Arizona thing seems to have gone to his head. He hasn't had a good year stealing bases, not taking many extra bases while running into too many outs. He'll have to get this part of his game squared away in 2014.
Prado was a revelation playing left field in 2013, but the Diamondbacks have kept him mainly at third base. He's been decent there, as he always is. He doesn't have the strongest arm in the world, but he does have sure hands and enough athleticism to make plays away from the bag. There are better defenders than him at the hot corner, but he passes for above-average defensively.
Prado had it pretty rough with injuries in 2010 and 2011, but not over the last two seasons. He's only had to deal with nagging injuries, and they've barely cost him any games.
It was looking a little dicey for a while there, but Prado has rescued his 2013 season by waking up at the plate and hitting like his 2012 self.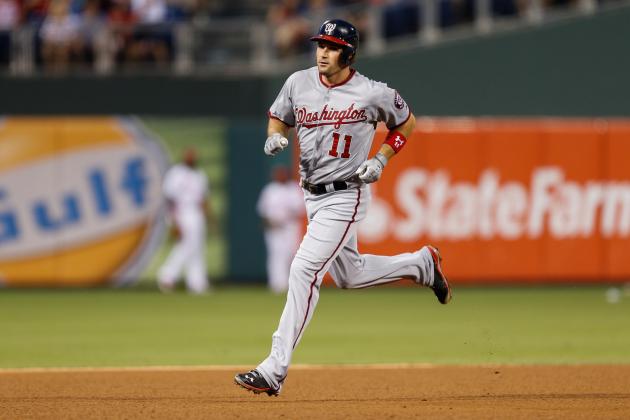 Brian Garfinkel/Getty Images

Ryan Zimmerman has been seeing a few more pitches in 2013, and that's been the double-edged sword that it usually is. He's drawn more walks but has also attracted more strikeouts. The good news is that he's keeping his swings largely confined to the strike zone and is hitting line drives more frequently than he has in years. That high BABIP of his is no joke.
It would seem that Zimmerman's power peaked a few years back. He actually has a HR/FB rate above his career norm, but it's only good for so much given that he's not hitting the ball in the air as often as he used to. He can still give the ball a ride even when he doesn't hit it over the fence, though, making him a solid source of doubles to go along with his still-respectable home run power.
Zimmerman's a third baseman who can steal an occasional base, and he's also a guy who can take extra bases when the opportunities present themselves. Baserunning is something he's done well his whole career, and he's still at it.
You never know what you're going to get when Zimmerman uncorks a throw. Throwing errors were an issue for him even when he was viewed as an elite defender, and the problem isn't getting better. This trend would be easier to overlook if Zimmerman was still making brilliant plays on a regular basis at third base, but he's not. A possible move to first base has been mentioned by Nationals manager Davey Johnson, and it doesn't sound like such a bad idea at this juncture.
Zimmerman's health is not such a sure thing. He's gone on the DL once in each of the last three seasons with abdomen, shoulder and hamstring injuries, and his right shoulder appears to be damaged goods.
Zimmerman still hits and runs the bases well enough to qualify as a top third baseman, but his defense may get him removed from the ranks altogether pretty soon.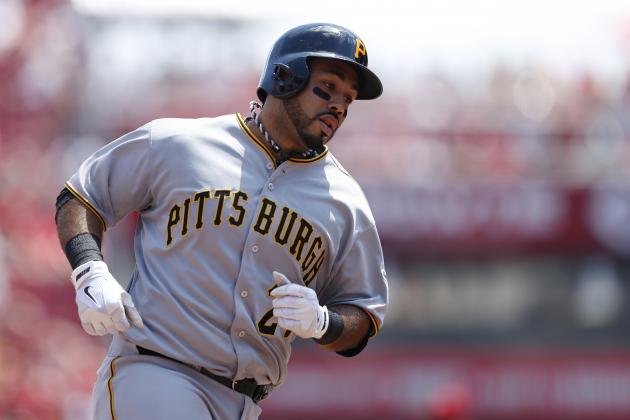 Joe Robbins/Getty Images

It's his second full season in the big leagues, and Pedro Alvarez's habit of swinging and missing at pitches out of the strike zone has gotten worse rather than better. He's still striking out a ton and walking less often to boot. And since everything he hits on the ground goes to his pull side, he's an easy hitter to defend. It's going to be hard for him to become a BABIP merchant until he makes some adjustments.
Alvarez may not be much to look at when it comes to the craft of hitting, but any ball he makes contact with stands a chance of never being seen again. He cemented himself as a high HR/FB guy in 2012, and has only been more prolific this year as he's pushed his HR/FB closer to 30 percent. He's one of the game's elite home run hitters, no questions asked.
Not surprisingly for a guy who prefers to jog around them, running the bases is not Alvarez's cup of tea. He's not hopeless enough to be called a station-to-station guy, however, as at least he doesn't push his limits. Alvarez is and has been very good at avoiding outs on the bases.
You never know if Alvarez is going to field the ball cleanly when it's hit in his direction, nor do you know if he's going to make a clean throw even if he does apprehend the ball. Errors remain a huge problem for him. While he has been more assertive making plays out of his zone in 2013, that's not necessarily a good thing given his not-so-trusty hands.
Alvarez suffered a bad quad strain in 2011 that kept him out of action for close to two months, but the last two seasons have seen his health behave much better. At the age of 26, he's in good shape.
Alvarez can't hit, run or field, so it's a good thing the ball goes a long way when he does make contact.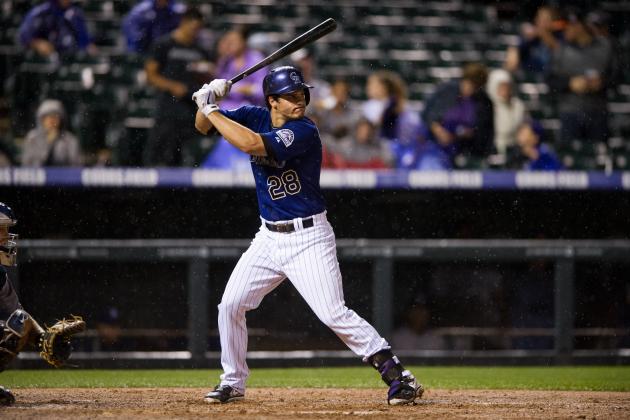 Dustin Bradford/Getty Images

So far, Nolan Arenado looks like the kind of hitter who lacks patience, swings at everything, expands the zone too often and doesn't make enough solid contact to justify any of it. But he has been putting things together in the second half of the season, putting the ball in play a bit more often and racking up tons of hits. That's thanks in no small part to the fact that he's been spraying line drives all over. He's not a good hitter yet, but there's clearly potential for decent production over a full season.
Arenado plays his home games at Coors Field, so you can guess where this is going. His power has indeed showed through more there than it has elsewhere, partly because Arenado's line-drive approach plays quite well at Colorado's home digs. However, his home run power has showed up better on the road, and he did hit for some impressive pop in the minors. So he would hardly be hopeless if he was put in a neutral power setting.
There's not much to see with Arenado's baserunning. He's neither a burner who's going to steal a lot of bases nor a guy who's going to take a lot of extra bases. So far in his MLB career, he looks perfect willing to settle into life as a station-to-station guy.
Manny Machado has gotten all the attention as MLB's resident wizard at third base, but Arenado has quietly been just as good. He has great instincts around the bag, a good first step, good range and a terrific arm. Add these things up, and you get a downright terrific defensive third baseman.
Arenado finally managed to hurt himself in early September, jamming his right thumb on a swing. That's all there is to talk about when it comes to his injury history.
Arenado's bat is still unproven, but the signs of life have been there in the second half. Even if he becomes only an average hitter down the road, his glove is good enough to put him among the game's top third basemen.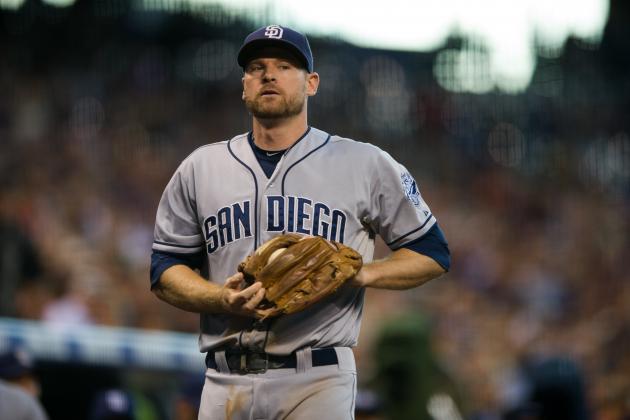 Dustin Bradford/Getty Images

Chase Headley hasn't built on his breakout 2012 season in 2013. His walk rate has deflated, and in turn, so has his on-base percentage. He just hasn't been as selective at the plate, and he hasn't demolished fastballs like he did in 2012. Aside from that, however, it's odd that Headley's BABIP would be down despite an increased percentage of line drives. There's been some bad luck at play in the season he's had.
Headley's second-half power surge in 2012 came by virtue of an absurd 30.3 HR/FB rate that he never had a shot at sustaining. Sure enough, his HR/FB rate this year is much more in line with his career norm, and his overall power production bears a striking similarity to his power production from the first half of 2012. If I didn't know any better, I'd say Headley was playing at being something other than a merely average power hitter in the second half of last season.
Headley can steal bases, but it's something he hasn't been doing very often in 2013. He's also never been a guy who has been much for nabbing extra bases, and he hasn't become a guy like that this season.
Headley's defense is no longer a well-kept secret after he won a Gold Glove in 2012, and he's up to his same old tricks this year. He hasn't been making as many plays away from the bag as he did last season, but he still has better range than your average third baseman and some terrific hands that help him avoid mistakes.
Headley missed the early portion of 2013 with a thumb fracture, but that came courtesy of a freak play in spring training. His only other DL stint as a major leaguer also came courtesy of a broken bone. The bigger question mark has to do with the back pain that recently sidelined him for about a week, but he doesn't have a notable history of back problems.
He's not the elite power threat he was masquerading as in the second half of 2012, but Headley is definitely a well-rounded player with a solid bat and a more-than-solid glove.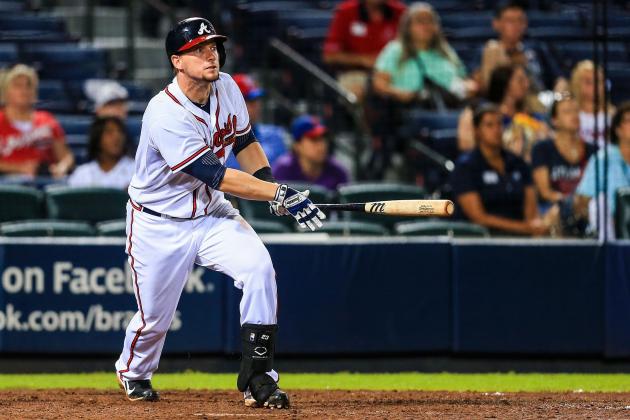 Daniel Shirey-USA TODAY Sports

When you're leading the league in hitting, you're bound to draw a few eyes. Chris Johnson's success this season isn't a mirage, as he's been cranking out line drives and hard-hit ground balls like it's nobody's business. He's also done himself a big favor by cutting down on his strikeouts. Improving against breaking balls was a big part of that process. The only thing that could make his season any better is a high walk rate so he could have an OBP that was as impressive as his batting average.
Johnson's mission to remake himself as a hitter has coincided with a slight downturn in his power production. He's not hitting as many home runs, in part because he's cashed in some fly balls for the line drives and ground balls that are feeding his BABIP. He does have some considerable doubles power now, though, and that will have to do.
Johnson flashed an ability to steal bases in the past, but he hasn't been bothering with the Braves. He's also devolved into more of a station-to-station guy on the basepaths. At least that has meant fewer TOOTBLANs at second and third base.
Johnson has typically rated as an atrocious defensive third baseman. He's been less atrocious this year, committing significantly fewer boots than he did in 2012 and being slightly more assertive about making plays away from the bag. But he's still nothing special to look at, and the truth is that the best thing he can do on defense is stay out of Andrelton Simmons' way.
Johnson doesn't have the cleanest injury history, but it's been several years since he last went on the DL, and the only injury he's dealt with this year is the toe injury that sidelined him for one game in August.
Johnson's bat has come around in a big way this year, and for that he deserves plenty of credit. But if it's an all-around third baseman you're looking for, there are better options out there.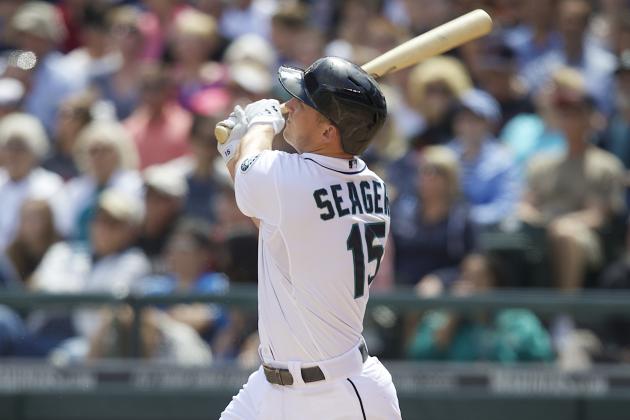 Stephen Brashear/Getty Images

Kyle Seager's progression is what you hope for with young hitters, as he's gotten more patient and has developed a walk habit while cutting down on a strikeout habit. He doesn't expand the zone or whiff as much, and he's gotten better and better at hitting major league hard stuff. He's now an easily above average hitter, and he'll be even better once he learns to go the other way with more consistency.
Seager's power naturally shows up more frequently away from Safeco Field, which is still a tough place to hit even with the fences moved in. As it is, he has the line-drive habit to hit plenty of doubles at all parks, and it's a good sign that his HR/FB rate has gotten better while his fly-ball habit has become a bit more frequent. Beware the scary truth: Seager's power is growing.
Seager hasn't been as active stealing bases in 2013 as he was in 2012, but he's still capable of swiping bags and is one of the best third basemen in the business at going first to third and getting around the bases in general.
Seager is no real prize defensively at the hot corner. He played mostly second base in the minor leagues, and the main reason he's at third is because he just doesn't have the range to cut it as a middle infielder. His range really isn't much better at third base, and he's not particularly sure-handed and he doesn't have a great arm either.
There's nothing to report here. Seager's only major league injury came by way of a ball he fouled off himself. That was last June, and it only cost him one game.
Seager was a well-kept secret last year, and he's been an even better-kept secret in 2013. Lacking in star power though he may be, he just keeps getting better and better.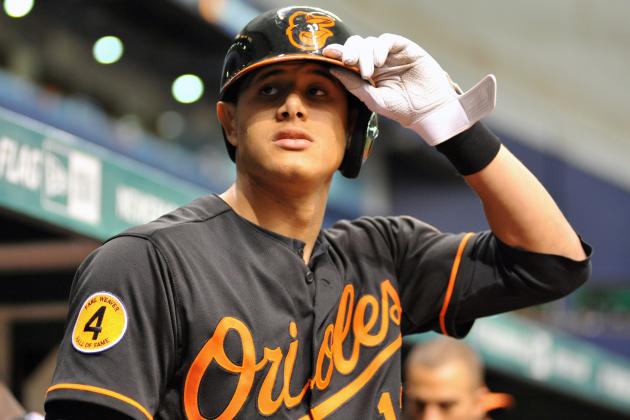 Al Messerschmidt/Getty Images

Manny Machado is about as aggressive as the next 21-year-old hitter, but that's the only thing he has in common with other hitters his age. They don't hit bullets quite like he does, much less to all fields. Really, the only complaint to be made about him is that he rarely walks, which makes his batting average out to be a real tease. This isn't going to change until he starts working some longer at-bats.
Machado obviously has as much doubles power as anybody in the big leagues, but it takes more than doubles power to be a top-tier power-hitting third baseman. But just wait. Machado is a candidate to pack on some pounds, and many of the doubles we're seeing now are going to start finding their way over the fence when he does.
Machado has some fine-tuning to do with his baserunning. He's never going to be a stolen-base threat, but he's had issues with pickoffs, with a couple TOOTBLANS on the side. However, there is a point to be made about how surprising it is he's made so few outs at second base in light of his doubles habit.
Third base is not his natural position, but you'd never know it from watching Machado play the hot corner. His solid range at shortstop makes for outstanding range at third, and he also has good hands and a plus arm. No doubt you've gleaned as much from all the highlights.
Machado's body barely has a scratch on it at this early juncture of his career. He suffered a knee injury as a minor leaguer in 2011 that kept him out for a while, but nothing either before or after that.
Machado isn't as productive a hitter as his batting average and collection of doubles make him out to be, but there's still plenty of untapped potential in his bat. There's also no denying the brilliance of his glove.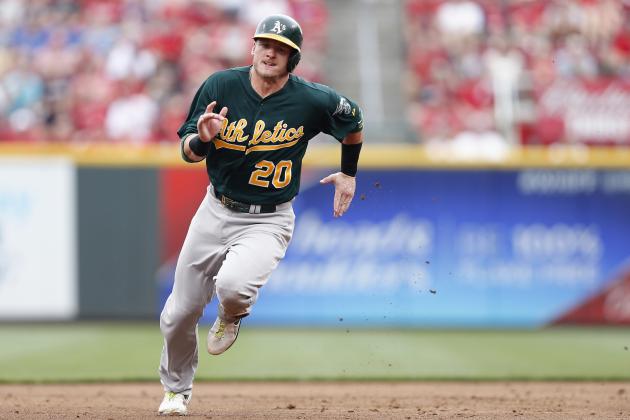 Joe Robbins/Getty Images

Josh Donaldson is a hitter who likes to make pitchers work, and in 2013 he's improved on what was already solid plate discipline. Another improvement he's made is in his ability to go the other way, and another still is his dwindling tendency to strike out. So those numbers he has? Those are no joke.
Donaldson has found extra doubles and home run power in 2013. Part of that is owed to his newfound ability to use the opposite field. He's also just been putting more of a charge into his fly balls. He's not hitting more of them than he did last year, but more are finding their way over the fence. He hasn't even had trouble muscling up at O.co Coliseum, which is not a good park for home run hitters.
Donaldson is a solid athlete, but he doesn't steal bases or run wild on the bases. But since he's more than just a station-to-station guy and he doesn't run into that many outs, an average score is warranted here.
A converted catcher, Donaldson has taken well to third base. In fact, you'd never know from his athleticism that he had once been confined to the squat, as he has good range for the hot corner. His catcher's hands and arm also come in handy, even if his throwing accuracy isn't quite up to par. He's no Manny Machado, but Donaldson's defense at third base is not to be underestimated.
Donaldson's injury history is almost as spotless as it gets. A left knee injury sidelined him for a while when he was a minor leaguer in 2010, but he hasn't been attacked by the injury bug since then.
He doesn't get a lot of national love, but Donaldson emerged as an intriguing player late in 2012 and has built on that success in 2013. His bat and glove are both legit, and put together they make him one of the game's best third basemen.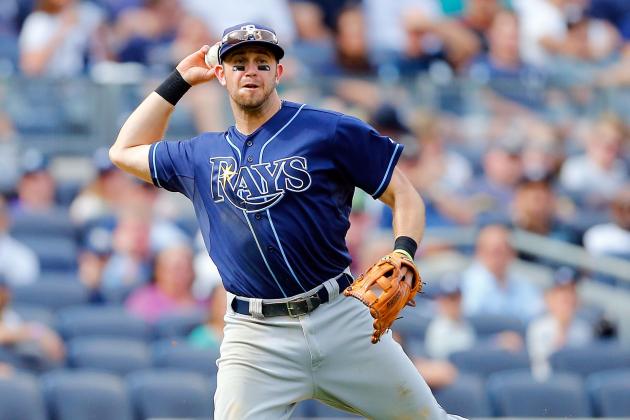 Jim McIsaac/Getty Images

Evan Longoria went into a bad slump in July that has killed his numbers, but his numbers are still fine across the board, and there's plenty to like about the season he's having. Never much for going fishing in the first place, he's going outside the zone even less often than usual this year and has done a fine job of using the whole field. One would prefer to see more line drives, but he has an uppercut swing that makes that hard. But that's OK, because...
Longo can hit for some serious power. He's been hitting more fly balls than he usually does this year. His HR/FB rate hasn't skyrocketed, but it's remained high enough to justify the extra fly balls. He's also maintained his doubles power, a solid portion of which have gone the other way to right field.
Longoria isn't as up for stealing bases as he was earlier in his career, which is understandable given the issues he's had keeping his wheels healthy. He's also not one to take extra bases, choosing instead to play it safe. He has made some outs on the bases, but the majority of them have been at home. Not all his fault, those.
He hasn't found himself in the highlight reels as much as Machado has this season, but Longo is certainly still in the discussion as the best defensive third baseman in the business. His instincts are impeccable, and he has the athleticism and the arm strength to make plays a lot of other third basemen don't make. It's worth noting that this is also shaping up to be one of his best seasons in terms of avoiding errors.
There haven't been any DL stints for Longoria this year, but he obviously doesn't have the cleanest injury history. A major hamstring injury sidelined him for three months in 2012. He's had foot surgery and hamstring surgery, and it's not the best of signs that he battled plantar fasciitis earlier this year. It's a good thing he's still on the good side of 30.
Longoria's health is a question mark, and he has his flaws as a hitter. However, his combination of power and defense is plenty good enough to make him one of the game's great players at any position.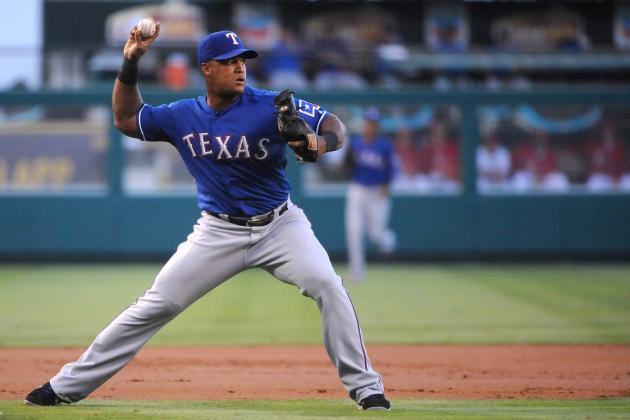 Jonathan Moore/Getty Images

Adrian Beltre is not typically one to wait around in the batter's box, so it's a good thing for him that he can hit pretty much anything thrown in his general direction. He doesn't strike out much, and he can hit balls well whether they're in or out of the strike zone. It's not an accident that he's been a consistent .300 hitter ever since he left Seattle.
Beltre's power hasn't been as explosive in 2013 as it was in 2011 and 2012, but it's still pretty darn good. He has home run power to all fields, and his ability to hit screamers to the wall makes him a solid source of doubles as well. And before you chalk his success up to Rangers Ballpark in Arlington, just know that Beltre's home/road splits are actually pretty even this year.
Beltre's still a great athlete, but he's at an age where he's not bothering with stolen bases anymore. He can still go first to third, however, and is doing so quite often this year. More often than he ever has before, in fact. By quite a lot.
Beltre has been having some trouble with errors this year, and the defensive metrics will say "meh" if asked to assess Beltre's defense. The eye test says otherwise, as Beltre's instincts, range and arm strength all still appear to be in working order. He still looks like one of the greats to ever play the hot corner.
Beltre hasn't been on the DL since 2011, but his track record of nagging injuries is…well, "extensive" doesn't really cut it. He soldiers on as well as anybody, but you wonder how much longer he can keep that up now that he's into his mid-30s.
Beltre's at an age where he really should be slowing down. But he's not. His bat is still lethal, and there are few better with the glove.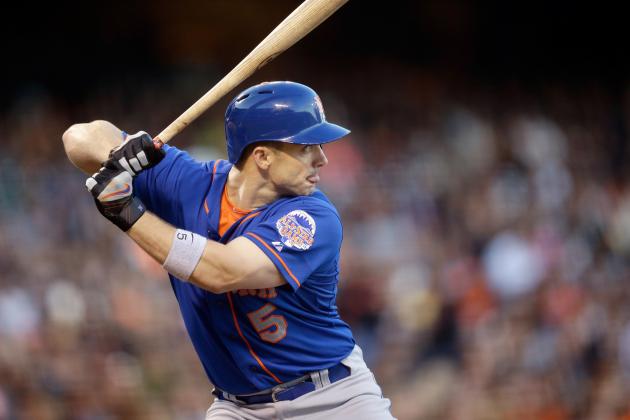 Ezra Shaw/Getty Images

David Wright isn't on the same level as some other third basemen who we'll be talking about in just a minute, but he's a patient hitter with outstanding discipline, and he has a smooth swing that produces bullets to all parts of the yard. He hit over .300/.390 in 2012, has done so again this year and probably does so in his sleep.
Wright still hasn't rediscovered the power that he had earlier in his career, but he's gotten pretty close this year, and there's very little to complain about regarding his power in the first place. He has home run pop to all fields and is a solid source of doubles and triples thanks to his ability to hit hot smashes on a line to the warning track.
Wright is the best baserunning third baseman going right now, and there's not even really a close second. He's still very much capable of stealing bases and doesn't play it station-to-station when the ball is in play. Like most Mets players, he's very good at taking the extra base.
Wright's defense used to be erratic, as a lot of times his mind was willing but his body just wasn't able to keep up. He's gotten better in the last couple years, cutting down on his errors in a big way and turning his impressive athleticism into plenty of plays outside of his zone. He's now one of the best in the business at the hot corner.
It had been two years since Wright's last DL stint, but then he had to go and strain his hamstring. It was a serious injury, and it's going to make it two injury-shortened seasons in the last three for Wright. For the record, he'll turn 31 this winter.
He's not the third baseman you would most want on your team, but there's little question Wright is the best all-around player the position has to offer.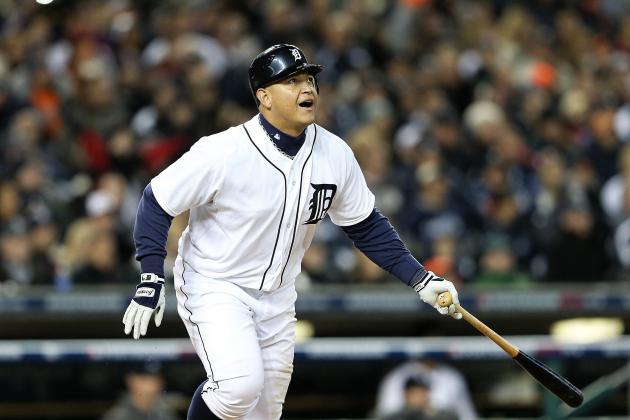 Leon Halip/Getty Images

Yes, five bonus points for Miguel Cabrera's hitting talent. Nobody else is getting bonus points for anything, but Miggy getting them here shouldn't cause an uproar. He's the best hitter in baseball by a mile and a half and is in the middle of what is easily the best season of his career. He can hit any pitch, use the whole field and isn't shy at all about taking his walks. He is hitting perfection.
And yes, five more bonus points here. Assigning him a mere 30 points would have been underrating his power, as right now the elite power-hitting club in MLB consists of him, Chris Davis and nobody else. Cabrera's home run power goes from foul pole to foul pole, and his ability to take tough pitches and turn them into balls in the gaps or flies to the warning track is downright ridiculous. For more on Cabrera's power, go check out the GIF that FanGraphs' Drew Sheppard made in May.
Maybe Miggy heard everyone geeking out over Mike Trout and his baserunning value last year, because he's quietly been a very effective baserunner this year. He's scored from first base more than he ever has in his career, he's swiped a couple of bags and, most importantly, he's hardly run into any outs on the bases. That's significant, as he made 11 outs on the bases in both 2011 and 2012.
This is where the Cabrera love has to quiet down. He has a strong arm that fits well at the hot corner, but he's not sure-handed, he's slow to react and he has very little range. As much as his apologists want to pretend he can hold his own at third base, he's playing out of position there. He should either be playing first or DHing.
In addition to his immaculate bat, one thing that has made Miggy so special all these years is his ability to stay healthy. But his age-30 season has thrown that reputation for a loop. His midsection has been the source of much frustration, throwing back, hip and general abdominal pain in Miggy's direction. Now on the wrong side of 30, so many years of wear and tear appear to finally be getting to him.
Cabrera isn't a perfect player. He would be if he had better legs and a better glove, but he doesn't. It's a good thing he's more dangerous with a bat in his hands than anyone else alive. Miggy is the very rare hitter that is so elite in those categories that it actually compensates for and overrides his deficiencies in other key areas of the game.