B/R MLB 500: Top 35 Shortstops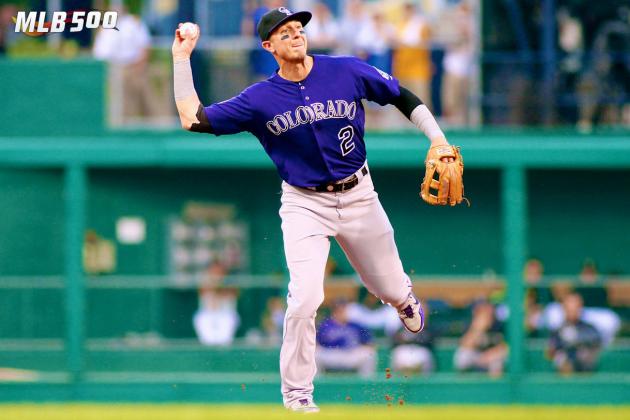 Ezra Shaw/Getty Images

The B/R MLB 500 series has taken care of the guys on the right side of the diamond. Now it's time to move over to the left side, starting with the most demanding position on the infield: shortstop.
The shortstop position tends to be a place where you find some of the best all-around players in the game, and it's also the most important defensive position on the diamond outside of catcher. As such, coming up with a fitting scoring system presented some challenges.
But here's what we eventually came up with: 20 points for hitting; 20 points for power; 20 points for baserunning; a whopping 30 points for defense; and, like with all other players, 10 points for health. Add it all up, and you get 100 points.
As always, hitting entails more than just what happens after the ball leaves the bat. Results do count for something, but so does the process. Each player's approach will be taken into account.
Power is less complicated, but results will be taken into account just as much as scouting reports. A player may have tremendous natural power, but his score will be lowered if he has a hard time making it show up in games.
For baserunning, it's all about whether a guy can steal bases and how well and whether or not he can get around the bases better (or worse) than the average player.
Defense is also simple. How well can a guy do the things shortstops are supposed to do, and can he do anything extra?
For hitting, power, baserunning and defense, keep the following in mind: A score that's, say, 10 out of 20 is not a failing score. That's an "average" score. Anything better is above average. Anything below is below average.
As for health, that's basically 10 free points unless there's a reason(s) to dock points. The scoring is subjective, but the general rule of thumb is that a player is only getting fewer than five points if he has a potentially career-altering injury.
Lastly, here's a reminder that the whole idea is to round up guys we'd want on a team in 2014. That means top prospects who could potentially make an impact are in play, and they may be ranked higher than you think. And if there are any ties, the edge goes to the player we'd rather have.
That's all there is to it, so let's cut this intro short and get to talking about shortstops.
Note: All prospect write-ups/scores were created by B/R's MLB Prospects Lead Writer, Mike Rosenbaum.
Begin Slideshow

»
The statistics that informed the following analyses came from all over, so we'd certainly be remiss if we didn't dish out some shout-outs.
Baseball-Reference.com was the go-to site for basic statistics. FanGraphs provided more complex data, most notably the data concerning plate discipline. Brooks Baseball also helped with that, and the site's tracking of spray charts for hitters is another thing that came in handy.
And if you're wondering where all the injury information comes from, the credit is owed to the injury databases kept by Baseball Prospectus.
Carlos Correa's bat has proven to be far more advanced than anyone expected this year in his full-season debut. The right-handed hitter has a simple, direct swing with which he attacks the ball and utilizes the entire field. However, it's the advanced plate discipline and pitch recognition that will make him a special hitter in a few years.
Despite his size and present strength, Correa has a swing geared toward consistently hard contact rather than over-the-fence pop. That being said, he's already an extra-base machine who will undoubtedly develop more power as he matures physically.
Correa is an excellent athlete with above-average speed that plays on both sides of the ball. But as a base stealer, he's a bit on the passive side, as he's still learning how to effectively read pitchers and get consistent jumps.
The 6'4" 190-pounder has fluid actions despite his size, showing excellent instincts with above-average speed. His arm is a legit plus-plus tool (an absolute cannon) that's ideal for a career at shortstop. Even though he has soft hands and a smooth transfer, Correa can struggle with body control at times and is still learning some of the intricacies of the position.
He is yet to encounter an injury and has stayed on the field since turning pro last season.
Correa is a physically blessed shortstop with the potential for five above-average or better tools at maturity. He's still growing into his large but athletic frame and will likely endure some rough stretches along the way, but there's no reason to believe that he won't be a top-tier shortstop with legitimate MVP potential.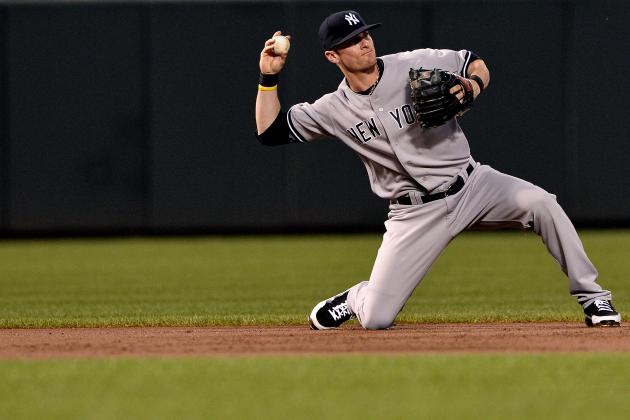 Patrick Smith/Getty Images

Inconsistent playing time hasn't helped Ryan this year, but no amount of playing time can help the fact that he can't be bothered to make hard contact and also has a strikeout habit that's gotten worse. That's what happens when you start going outside the zone more often to swing at nothing but air. Lest you think this score is too harsh, just know that Ryan has the worst batting average of any player over the last two seasons (minimum 700 plate appearances). His OBP isn't much better.
Ryan deserves this much credit: He's not entirely without power. On rare occasions, he can yank a fly ball down the line that has just enough on it to get over the fence. But while a hitter of his variety should have some gap power, Ryan doesn't have that much. Especially not in 2013, in which balls that make it as far as the warning track have been few and far in between.
Ryan has been a decent base-stealing threat in the past, but he's not a very efficient one. He had just a 72-percent success rate between 2009 and 2012, and he hasn't really bucked the trend this year in a small sample size. He hasn't even been productive taking extra bases, to boot.
This is why we're talking about Ryan. He was the best defensive shortstop in baseball between 2009 and 2012, and it really wasn't even close. He has outstanding instincts and first-step quickness, and he doesn't make many errors, despite his great range. And while he hasn't rated as highly on defense this season in the eyes of the advanced metrics, the eye test confirms that Ryan hasn't lost too much of his prowess.
Ryan has never played in more than 141 games in a season, and nagging injuries are partially to blame for that. However, he hasn't been on the DL in either of the last two years and has only missed a handful of games due to injuries along the way.
It's not much of a secret that Ryan's bat is about as useless as they come, but his defense is extremely good at a position where extremely good defense is very much of use. His glove alone is good for a couple wins per season (actual fact).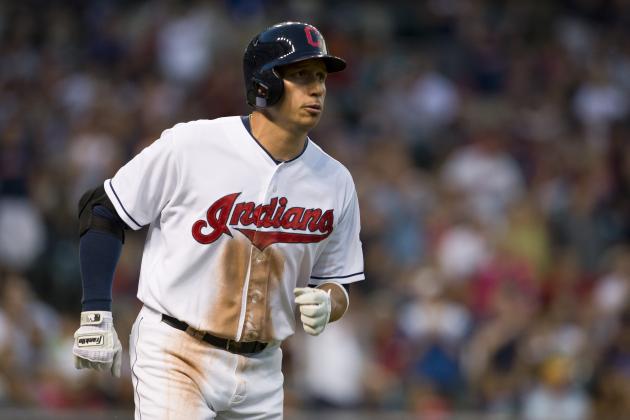 Jason Miller/Getty Images

Asdrubal Cabrera's approach has gone to hell. He's always been a hacker, and this year has seen him go outside the strike zone more often and also swing and miss more often. When that happens, you see a big uptick in your strikeouts, as Cabrera has. He's also traded in some ground balls for fly balls and has watched his BABIP pay the price. But since he's also hit more line drives than ever this year, he gets a slight pass.
The further we get away from it, the more Cabrera's power output in 2011 looks like a fluke. He's really not that good of a home run hitter. His doubles power is still there, however, in large part because he hasn't forgotten how to find the gaps. As far as shortstops go, he still has some pretty good pop.
Cabrera hasn't gotten many chances to steal bases in 2013, due to his low on-base percentage, and it's something he's been just OK at doing when he has taken off. He's also gone first to third relatively seldomly this year and has found himself rekindling an old TOOTBLAN issue besides that. Once an above-average baserunner, Cabrera has come back to the rest of the pack.
Cabrera's defense was never as good as his nightly highlight reels made it out to be. And while he hasn't had the same problems with errors this year as he did in 2012, he still boots his share of balls. It would be easy to forgive him for that if he had some range, but he doesn't. He can be slow to react and is not particularly fleet of foot.
Cabrera was sidelined for several weeks during the middle of the season with a thigh injury, and the end result is going to be a second straight season of fewer than 150 games played because of his health.
In no time at all, Cabrera has gone from being an All-Star player to a guy who barely makes the cut as one of the league's top shortstops. But since he still has some power to offer, he's not totally irrelevant just yet.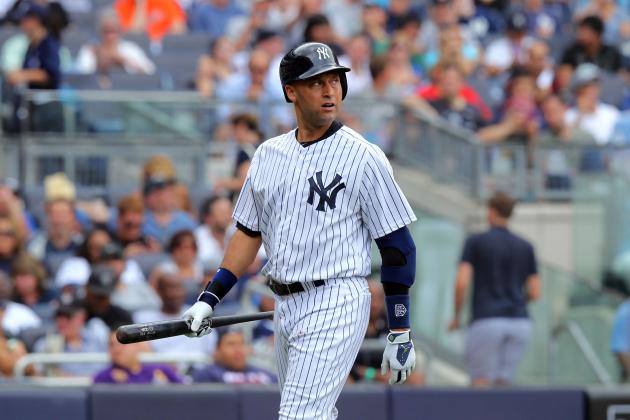 Brad Penner-USA TODAY Sports

It hasn't been pretty for Jeter at the plate in 2013. He hasn't been able to hit fastballs, and his upper half has looked out of sync with his lower half. It hasn't been a total disaster, however. Jeter has worked more patient at-bats than he usually does, and he's shown off much more discipline on top of that. It's also worth noting that Jeter's line-drive percentage isn't that far off from where it was in 2012. The results haven't been there, but the guy clearly still has a clue about the art of hitting.
Jeter has only collected a couple of extra-base hits in 2013, so his power numbers are naturally lacking. However, it does bode well that the extra-base hits he has collected in his time back have been to right field. That was his main power alley in 2012 and indeed has been his main power alley throughout his entire career. Bring him back healthy in 2014, and average power will be in the cards.
Jeter doesn't run like he used to, and that was true even before he broke his left ankle last October. But at least he knows his limits in his older age. He made only a single out at either second or third base in 2012, and you'll be surprised to hear that he's almost matched the number of times he went first to third in the entire 2011 season in his small sample size of games this year.
Jeter was the worst defensive shortstop in MLB even before he hurt his ankle. He's sure-handed enough to field the balls that are hit at him, but he has very little range to either his left or his right. But before you protest, yes, he does have better instincts than most shortstops. That's really the only thing saving him here.
We all know the deal. Jeter broke his ankle last October, aggravated it during his recovery, strained his thigh his first day back off the DL, and then strained his calf and went back on the DL. Now he's dealing with more pain in his ankle. A sure thing for so many years, Jeter's health is now a question mark.
If we're being honest, Jeter's 2013 season has been disastrous to the point at which he shouldn't even be on this countdown. But it wouldn't have been right to leave him off, and we certainly know from his track record that he's not a guy to bet against.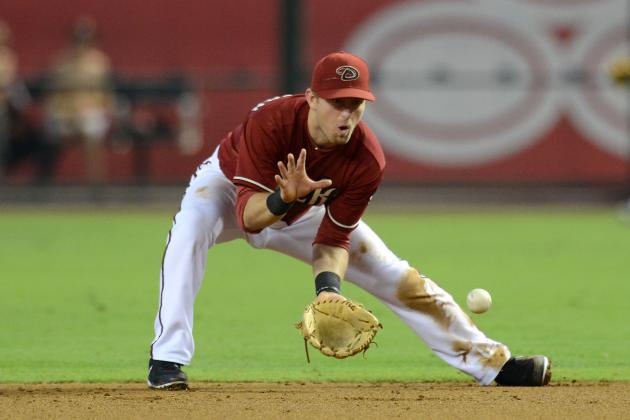 Norm Hall/Getty Images

Cliff Pennington is not in the majors for his bat, but he can draw a walk and doesn't strike out an alarming amount. His bigger problem is that he's a guy who hits too many fly balls, and he just doesn't have the power to do anything with them. His BABIP pays the price for that most years, including this one.
Pennington hit for some solid power when he was first establishing himself, but it's been on a clear downward trend ever since. He doesn't have much home run power in him now and is really only good for doubles when he hits balls down the lines. In terms of his power production this season, Pennington's been in Brendan Ryan territory.
Pennington is capable of stealing bases, but he hasn't been bothering with them this year after getting nabbed too often in 2011 and 2012. This also hasn't been a good year for him in terms of taking extra bases, and he has a shot at tying his career high for outs made on the basepaths.
For all the complaints that can be made about Pennington's offensive game, he's a very good defensive shortstop. He's always shown a good feel for the position that helps mask his lack of explosive athleticism, but he's no slouch physically. He has the legs to cover ground and a downright terrific arm to make his range worth the trouble.
Pennington's health has behaved in 2013 and has been generally good throughout his career. He's only been on the DL once in his career, and it was with tendinitis in his non-throwing elbow.
Pennington is a bit redundant on a Diamondbacks team that has a strong defender in Didi Gregorius at shortstop, but his defense would make him a viable starter on several other teams.
Kelley L Cox-USA TODAY Sports

Jordy Mercer is patient enough at the plate, but his plate discipline needs some work. He's been known to chase all manner of pitches outside the strike zone. However, he's been able to maintain a strong BABIP this year by spraying line drives all over the field. If he had a better walk habit, he'd be one of the better shortstops in the league at getting on base.
Mercer has hit for some solid power this year, especially away from the extreme pitcher's haven known as PNC Park. He has some solid home run pop to his pull side and has shown an ability to drive the ball up the middle farther than the center fielder can run. Put him anywhere besides PNC Park, and his power production would be considerable.
Baserunning efficiency has eluded Mercer this year. He's not a base-stealing threat, and he's had issues with making outs on the basepaths. That's a habit he needs to scrap, because he doesn't take enough extra bases to make up for it.
Mercer can play a decent shortstop, but only decent. He doesn't have much range and has had some minor issues with errors this year. He wasn't billed as a particularly good defensive player when he was coming up through the minors, and he's shown why. It looks like the best he can be is average.
So far, the only injury Mercer has suffered as a pro was a right-wrist contusion last season that didn't cost him any games. So yeah, moving right along...
It's fair to question Mercer's baserunning and fielding, but his bat isn't too shabby for a shortstop.
Javier Baez is a right-handed hitter with extremely strong wrists and hands that lend to his elite bat speed—the best in the minor leagues. But while he makes lots of hard contact and has no problems turning around the fastball, Baez still struggles with pitch recognition and flails at too many breaking balls out of the zone.
In possession of legitimate plus raw power—especially to the pull side—Baez employs a max-effort swing every time, often swinging out of his shoes and sacrificing barrel control through the zone.
While he's known more for his robust power than on-base skills, Baez is an aggressive base stealer who puts pressure on opposing pitchers and catchers with above-average speed. However, he may ultimately lose a step as he continues to develop physically.
The 6'0" 195-pounder is a shortstop at the moment, though the addition of too much strength may prompt a move to third base down the line. Overall, Baez is an impressive athlete with smooth, natural defensive actions and a plus arm that's ideal for the left side of the infield. He'll struggle to control his body at shortstop, which helps explain the high error totals in the early stages of his career.
Despite his all-out, aggressive style of play on both sides of the ball, Baez has remained healthy and on the field since entering Chicago's system in 2010.
Although he's rough around the edges, Baez has the potential to post multiple 20-20 seasons in his prime and appear in multiple All-Star games as a result.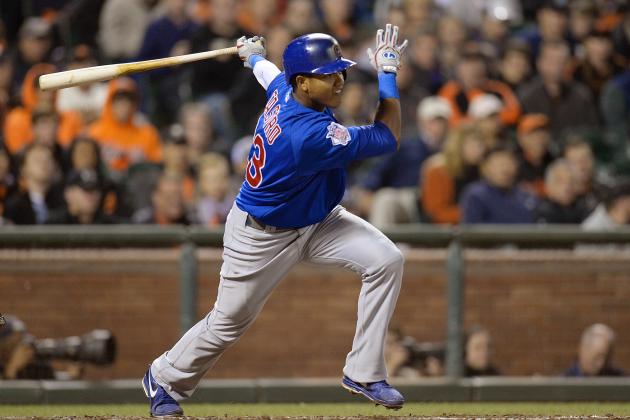 Thearon W. Henderson/Getty Images

Starlin Castro got his hitting squared away sometime around late June, but even since then, he hasn't been anything special at the plate. The truth is that this has been a bad year for his development. He's made somewhat of an effort to be more patient, yet he still hasn't totally corrected his poor plate discipline, which is especially lacking against breaking balls and off-speed stuff. He's still young, but he's been in the league for several years now. He should be better than he is.
The home run power is there with Castro, but the bulk of his batted balls end up on the ground. And when he does hit the ball in the air, his efficiency when it comes to hitting it over the fence is sorely lacking. The best compliment I can pay him is that he's pretty good at finding the right-center gap.
Castro hasn't been stealing as many bags in 2013. He may have learned his lesson after getting caught stealing 22 times in 2011 and 2012, including 13 times last year. The trouble is that he's still an inefficient base stealer, as he's been caught almost as often as he's been successful this season. But he gets a slight pass here, as it's not a question of athleticism with him and he deserves credit for being markedly better about avoiding outs at second and third.
Castro has all the tools he needs to be an above-average defender at short, but he still hasn't really put it all together. He's still making more errors than he should be, and he still lacks the focus and instincts to make the plays that he needs to make. His fielding is a work in progress, just like everything else.
Health is the one area in which Castro is doing just fine. He had a hamstring issue that sidelined him for a while during spring training but pretty much nothing else outside of that.
In terms of talent, Castro should be one of the best players in the National League. But this year, he's been one of the worst. The only thing keeping him on the radar is his talent.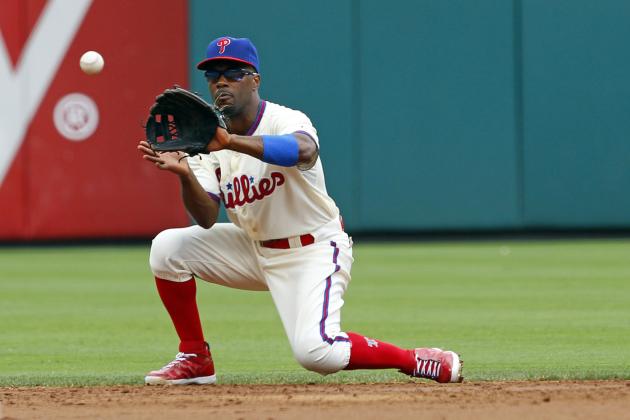 Hunter Martin/Getty Images

It's not looking so good for Jimmy Rollins. He still works counts pretty well, but his walk habit is on a clear downward trend. That's what happens when you're taking more hacks. The bright side is that he's maintained solid contact habits, boosting his BABIP to an acceptable level with an improved line-drive rate this year. He's not a lost cause on offense just yet, even if he has come back to the rest of the pack.
Rollins' power has taken a mighty turn for the worse. He's getting under the ball and hitting it in the air about as consistently as ever, but he's currently working on the lowest home run-to-fly-ball ratio of his career. What was once legit home run power is now more like warning-track power, and not even that to left field. But since his HR/FB rate is so absurdly low, I'm banking on at least a modest return to form in 2014.
After stealing 30 bases in back-to-back years, Rollins won't even come close in 2013. He can still swipe bags, but he's not doing so as efficiently this season. That speaks to the fact that, indeed, he has lost a step. But when it comes to running the bases, make no mistake: Rollins is still useful.
Rollins has lost a step on defense, too. He's still pretty sure-handed, and he still has a strong arm, but his first-step quickness appears diminished, and at times he seems to be moving in slow motion. But a declining Rollins isn't a bad defensive shortstop. Just average.
One thing Rollins still has is a surprisingly clean injury history for a guy his age. He's had some problems with his wheels here and there but nothing major since 2011. Most guys aren't so healthy by the time they get to be his age.
Rollins' reputation certainly warrants a much higher score than this, but there were warning signs in his extremely up-and-down 2012 season, and they've all come to fruition this year. His bat isn't a lost cause, but his best days are clearly behind him.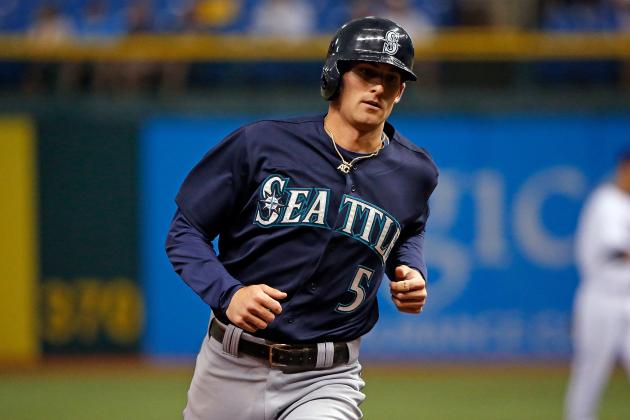 J. Meric/Getty Images

Brad Miller came to the majors as a guy known for drawing walks in the minors, but his stint in the majors has been more about his hitting. He's a solid contact hitter who doesn't strike out much, and he's shown that he can handle major league off-speed stuff. The one complaint that can be made is that his BABIP is a little inflated by good fortune on ground balls, but he does look like a guy who can cut it as an above-average offensive shortstop.
Miller's power numbers look impressive at first glance, but be careful about taking those at face value. He has good pull power, but he's picked up some doubles on cheap grounders down the third-base line. Realistically, he has little power to the opposite field, and he doesn't even have that much to center field. So we're playing it on the safe side with this score.
He's not a burner, but Miller does have enough athleticism to steal the occasional base, and he's also shown why he was well regarded as a baserunner as a prospect. He's been quite willing to take extra bases and has managed to avoid running into outs. This aspect of his game is a strength.
Miller's not in the majors for his glove. He had some serious issues with errors as a minor leaguer and hasn't done much in his small major league sample size to reassure anyone that those days are behind him. His athleticism is fine for the position, but he has work to do in order to even be so much as average on defense.
The number of injuries Miller has suffered during his pro career: zero.
Miller hasn't been in the majors for long, but he rose fast through the minors and definitely looks like he belongs. And if his power is better than my skeptical mind believes it to be, watch out.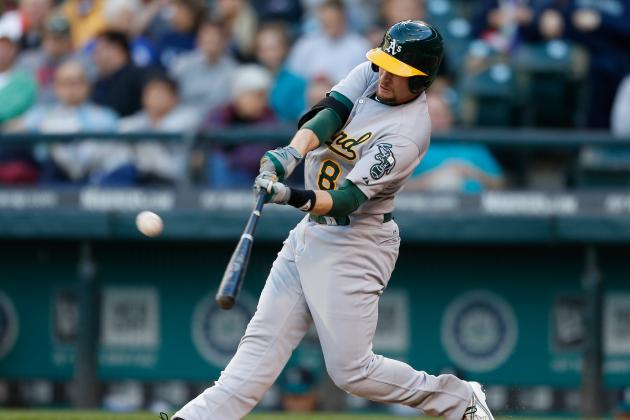 Otto Greule Jr/Getty Images

Jed Lowrie has always been able to hit, and he's having a fine offensive season with the A's in 2013. His walk rate has declined from where it was in 2012, in no small part because he's been more willing to expand the zone. But he still has a better eye than most, rarely swings and misses, rarely strikes out, and has been a veritable line-drive machine in 2013. His numbers are legit.
Lowrie isn't hitting as many balls in the air as he's accustomed to, but he's always going to be a good candidate for a ball in the air with that uppercut swing from the left side of the plate. His home run power is merely decent, but he's had little trouble finding the warning track for some easy doubles this year. It's just too bad we can't say that O.co Coliseum is hurting his power, because it really isn't.
With average (at best) speed, Lowrie is not a threat to steal a base or to go motoring around the bases when there's a ball in play. But he knows his limits. He may not take many extra bags, but he rarely runs into outs either.
Lowrie is out of place playing shortstop. His hands are OK, but he doesn't have a quick first step or much range, and he also lacks a plus arm. He's been better at second base this year and really belongs either there or at third base on a full-time basis.
Lowrie has played in a career-high number of games this year, so kudos to him for that. But there's no ignoring his injury history. He has a tendency to end up on the DL, serving rather long stints with mono in 2010, a left-shoulder injury in 2011 and a right-ankle injury last year.
This scoring system admittedly doesn't work in Lowrie's favor, as his shortcomings as a baserunner and defensive player loom just as large as his hitting talents. That's the way this particular cookie crumbles, but let the record show that Lowrie is a top-tier option if one prefers to have a little offense at shortstop.
A dynamic right-handed hitter with explosive wrists and strong hands, Addison Russell ropes line drives to all fields and demonstrates a knack for barreling the ball while maintaining impressive balance throughout his swing. He is an aggressive hitter who swings to strike the baseball rather than feel for contact, while advanced bat control yields hard contact to all fields. His game features some swing-and-miss at the present, though that can at least be partially attributed to his status as a teenager at an advanced level.
Russell's combination of plus bat speed and present strength calls for above-average power at the highest level, if not more. Given his ability to drive the ball to all fields, he should always tally a high number of doubles and triples. Meanwhile, his over-the-fence power should begin to show itself in the coming years.
Russell is a plus runner with outstanding athleticism and quick feet. Additionally, he's a smart base stealer who picks his spots and gets good jumps.
Russell has the athleticism and range for any position on the field, which is a strong indication that he'll be able to remain at shortstop. He is an aggressive and agile defender with plus arm strength that even plays up due to his quick transfer and release.
Russell has battled a few minor injuries this season but nothing that has sidelined him for an extended period of time or poses a concern moving forward.
Although he's looked raw at times this season as a 19-year-old in High-A, Russell has the makings of a dynamic shortstop at the major league level, with four above-average or better tools that will only improve with experience.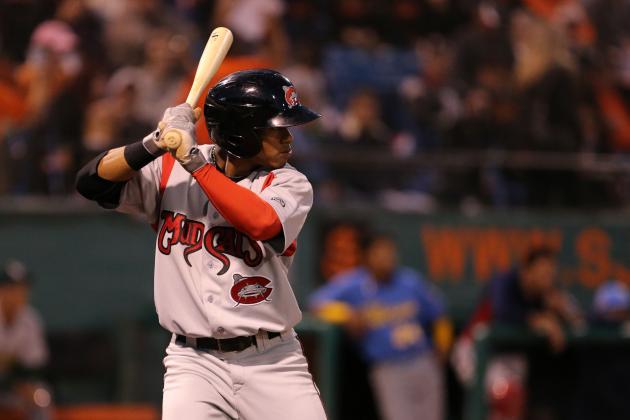 USA TODAY Sports

A switch-hitter, Francisco Lindor works deep counts and demonstrates a feel for the strike zone with an advanced approach and pitch recognition for a player his age. While he's more consistent from the left side of the plate, he projects to have an above-average to plus hit tool from both sides.
Lindor currently offers below-average power overall, though he showcases more consistent pop from the left side with a more leveraged swing. He'll never hit for consistent over-the-fence power, but he will undoubtedly collect his share of extra-base hits.
Lindor possesses above-average speed that plays up on both sides of the ball thanks to his superb instincts and feel for the game. On the basepaths, he is a smart and instinctual base stealer capable of swiping 20 to 30 bags in a given season.
Regarded as the best defensive shortstop in the minor leagues, Lindor is an absolute wizard with the glove and has the potential to be an elite defensive shortstop in the major leagues. With a plus glove, soft hands, above-average range and a strong arm, his present ability at the position is rare for a player his age.
Despite taking the field as an everyday shortstop, and although he has endured some natural wear and tear, Lindor hasn't had anything that's kept him off the field or impeded his overall development.
Lindor has a realistic ceiling of being the best defensive shortstop in the game—a projection that will only improve as he continues to grow as a hitter. Even if the switch-hitter's bat doesn't develop as expected, Lindor has the potential to enjoy a long, successful career in the major leagues based on his defensive merits.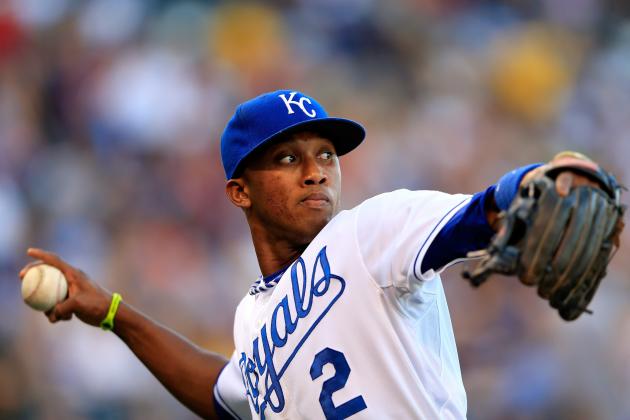 Jamie Squire/Getty Images

Alcides Escobar doesn't strike out much, but it's indeed hard to strike out when you don't let pitchers throw enough pitches to get to two strikes. Naturally, his impatient approach also bars him from taking his walks. And while he does make contact well both in and out of the zone, a lot of it tends to go to waste thanks to his tendency to hit useless fly balls. His strong BABIP in 2012 looks like an outlier.
Escobar does pop the occasional home run, but not enough of them to justify his increased fly-ball tendency in 2013. His best power asset is actually his speed, which can turn any batted ball far enough away from a fielder into an extra-base hit. His best hope for those is down the lines, however, as line drives into the gaps don't come often.
Escobar helps make up for his subpar power by stealing bases. He hasn't been stealing as many bags in 2013 as he has in the past, but he has certainly picked his spots well. He's been impossible to throw out. On top of that, he's still getting around the bases as well as ever on balls in play. For all his faults, baserunning is a major strength.
Escobar still has a problem with errors, but it's not as bad as it was in 2012. Besides, his boots are easy to forgive because he's the type of shortstop who piles up errors in large part because he puts himself in position to make more errors. He's got plenty of range in both directions and a strong arm (though, granted, it's still not very accurate).
There aren't any DL stints or anything particularly scary on Escobar's medical track record. With his 27th birthday due up in December, his health is in good shape.
Escobar's at-bats are tough to watch, but he's a threat on the basepaths and on the field. And for the shortstop position, those things will do.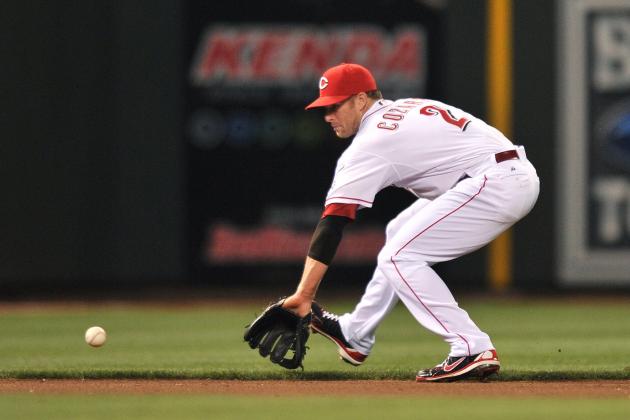 Jamie Sabau/Getty Images

The makings of a good hitter are there with Zack Cozart. His patience is fine, and his plate discipline could be worse. But fastballs give him a devil of a time, particularly when they're up. His contact habits have also taken a turn for the worse this year, as he's cashed in some line drives for some ground balls that haven't helped his BABIP. He was a .250/.285 guy in 2012, and he hasn't deviated from that path in 2013.
It's worth mentioning right off the bat that Cozart has benefited from playing his home games at Great American Ballpark, but he does have some solid home run power to his pull side and has been known to hit ropes down the line for doubles. His power is limited by his inability to drive the ball to other fields, but he hits for enough power to left field to make do as a decent power hitter.
Cozart's not a base-stealing threat, but he's quietly one of baseball's better baserunners. He takes plenty of extra bases while somehow managing to avoid running into that many outs. His baserunning has gotten better and better to the point at which it's now one of his better skills.
Cozart was a defensive gem in 2012, but he's been less of a gem in 2013. His range is fine, but his problem with throwing errors has actually gotten worse. That's not a good sign, especially given that his arm is iffy for the position in the first place. The good news is that Cozart can still make enough rangy plays to pass as a quality defender.
Cozart had Tommy John surgery in 2011 and has dealt with a series of nagging injuries over the last two years, including a recent hip issue. We're going to play it on the safe side with this score.
It doesn't look like Cozart is going to be much of a hitter, but his power, baserunning and defense are all good enough to hold down a job as a regular.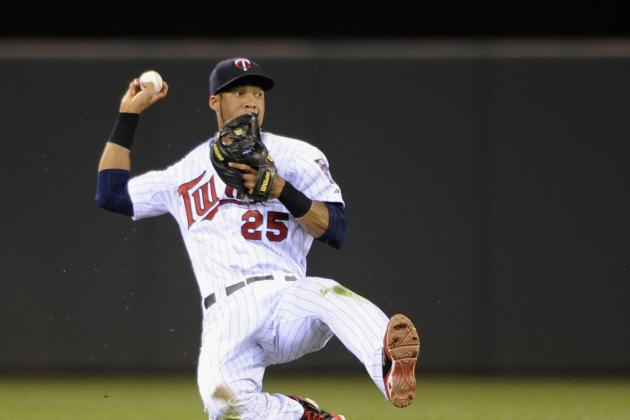 Hannah Foslien/Getty Images

Pedro Florimon has been virtually useless from the right side of the plate in 2013, and his overall offensive production has paid the price. While he does deserve credit for seeing more pitches, he's found out the hard way that such a habit can lead to more strikeouts. However, it should be noted that Florimon probably deserves better than the BABIP he has, given the number of line drives and ground balls he's hit this year. He's had rotten luck on the latter.
Florimon's power production this season hasn't been helped by Target Field, and that's not surprising. He would hit for decent power there if he had some gap power, but he hasn't shown much of that in 2013. And while his power numbers aren't bad for a shortstop, they're inflated by a HR/FB rate that he probably doesn't have any hope of sustaining.
Florimon doesn't have burning speed, but he can steal the occasional base, and his efficiency could be a lot worse. He's also been getting around the bases well and has done a good job of avoiding outs. All told, it's an improved part of his game.
Florimon had all sorts of trouble with boots as a minor leaguer, and he's still a candidate for an occasional boot as a major leaguer. But that's OK, because he has the athleticism and the quick first step to make rangy plays. There have been many more of those in 2013 than there were in 2012. Very quietly, Florimon has been one of MLB's best defensive shortstops in 2013.
Florimon has dealt with some minor injuries here and there in 2013, including a wrist injury that sidelined him for a few games. But nothing he's dealt with looks like a long-term concern.
Florimon is your typical all-glove, no-bat shortstop, but his glove is mighty good, and he can do some damage with his legs as well.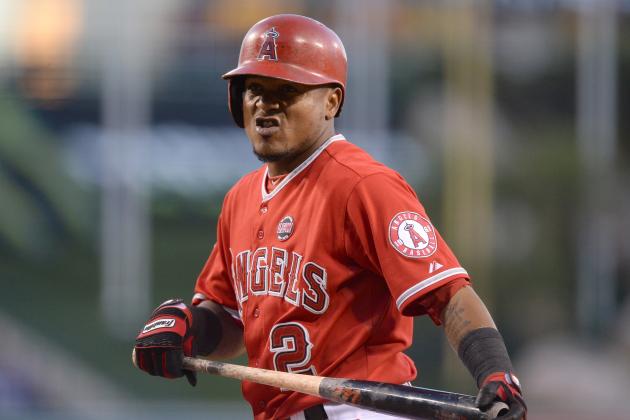 Harry How/Getty Images

Erick Aybar has decent career splits for a switch-hitter, and his numbers from both sides of the plate are once again fairly even in 2013. Indeed, this has been a typical Aybar season all the way around. He doesn't work the count and is always willing to go outside the strike zone. He doesn't have his usual numbers, but he deserves better than the ones he has, given that he's working on a career-best line-drive rate.
Aybar will pop the occasional home run, but his game is more about doubles and triples power. Thanks in part to his increased tendency towards line drives, Aybar is fixing to have an ordinary year in terms of his two favorite types of extra-base hits. For a shortstop, such a year will do for solid power.
Aybar tends to be a good source of stolen bases, but not so much this year. His stolen-base production has gone way down, and he's also been nabbed quite a bit. However, he still gets around the bases well enough to take extra bags when they're there to be taken.
I'm still trying to figure out how Aybar won a Gold Glove in 2011, as his defense has always been too inconsistent to be plus. But there's a limit to how much his defense can be criticized, as he has a good first step, solid range and a gun for an arm.
Aybar has found himself on the DL in each of the last three seasons, missing a total of 46 games in the process. With his 30th birthday due up in January, his health is no sure thing anymore.
There's nothing Aybar does particularly well, but there are worse bats at the shortstop position than his, and his legs haven't completely abandoned him just yet.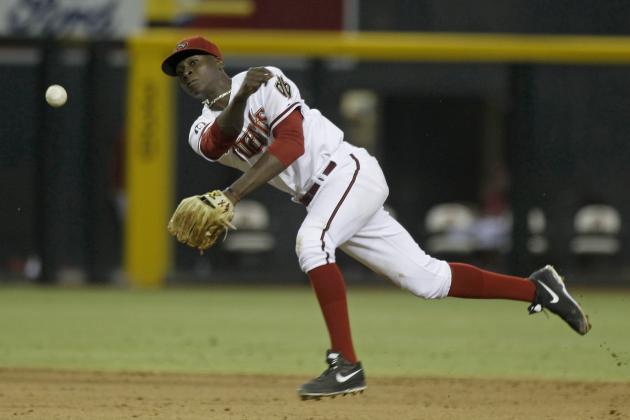 Ralph Freso/Getty Images

Didi Gregorius quickly cooled off after a hot start to his 2013 campaign, but he's made it clear that he's a better hitter than he got credit for as a prospect. He works counts fairly well and has decent, if not great, plate discipline. He's had his issues with fastballs, but it bodes well for him that he's been able to handle off-speed pitches well enough. His hot start was a tease, but it's clear that Gregorius' bat has the goods to be at least slightly above average.
It's doubtful that Gregorius is ever going to be a scary power hitter, but he can pull the ball out of the yard to right field and has some decent doubles power into the left-center gap. His power doesn't have a ceiling much higher than his hitting does, but he'll hit for enough power to get by.
Gregorius is a good athlete, but he's not much of a base stealer. The good news is that he can get around the bases pretty well, and the number of outs he's made running the bases this year is a little misleading because the bulk of them have come at home. Those aren't always the fault of the runner.
Defense was Gregorius' calling card as a prospect. He's frankly been a little underwhelming in the majors due to his tendency to boot the ball, but there's no denying that the goods are there. He has range to get to anything and a big-time arm to make sure his range doesn't go for naught. If he corrects his problem with errors, he's going to be really good.
Gregorius had never been hurt in his pro career before 2013, but this season saw him battle a bad right elbow in camp that put him on the DL to start the season, and then he had to miss some time with a concussion earlier in the year. We're playing it safe with this score.
We knew Gregorius' glove was good enough for the show, but his bat has been better than advertised, even with his slump taken into account.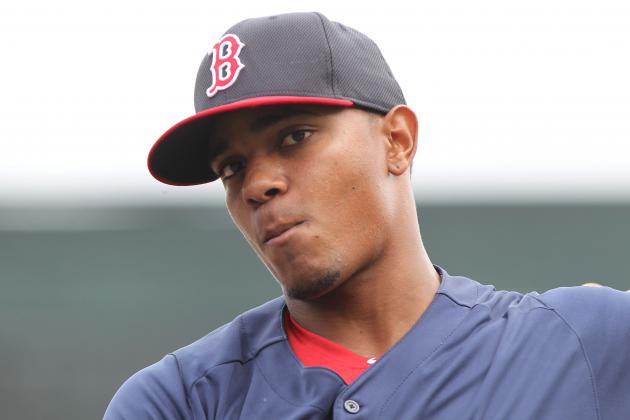 Kim Klement-USA TODAY Sports

While Xander Bogaerts has always projected to be a plus hitter in the major leagues, he's raised the bar over the last year by adding strength and tightening his plate discipline. The 20-year-old has effortless barrel control through the zone and smokes tough pitches to all fields. If he wanted to, Bogaerts could easily sell out for more power—easily. But he doesn't. He stays short and quick to the ball and utilizes his tremendous plate coverage.
Even though Bogaerts' power tool lags behind his bat, the right-handed hitter showcases plus bat speed that translates to exceptional raw power to every field. He generates outstanding extension after contact, driving the ball from line to line with considerable backspin carry. And as Bogaerts continues to grow into his projectable frame and improves his pitch recognition at the plate, he should offer consistent plus power at the major league level.
Bogaerts is an outstanding athlete with slightly above-average speed on both sides of the ball, though he'll never be regarded as a threat on the basepaths. He may be able to post double-digit stolen bases in a given season, but there's also a chance that he loses a step as he adds strength.
Scouts are divided about his ability to remain at shortstop for the long term, but there's no question that Bogaerts has the necessary plus arm strength for the left side of the infield. While he's always been able to make all the plays and throw darts across the infield, Bogaerts' improved body control and smoother actions have improved his future projection at the position.
Bogaerts has stayed healthy and on the field during the early going of his professional career, and he's moved quickly through Boston's system as a result.
Bogaerts has the ceiling of one of baseball's top players, as he projects to be a plus hitter with plus power at a premium position. Even if he's forced to slide over to the hot corner, his potent bat should still make him an All-Star-caliber player.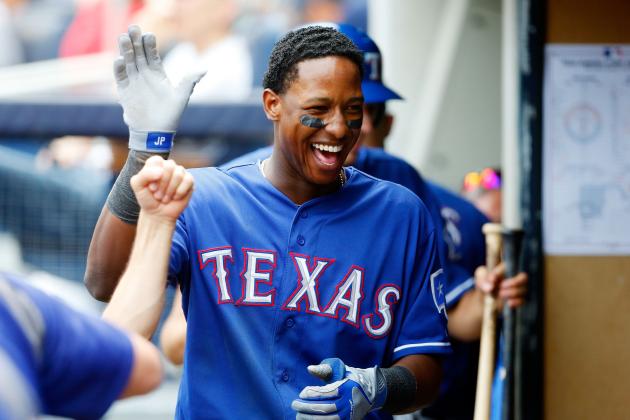 Jim McIsaac/Getty Images

What Jurickson Profar has shown in semi-regular playing time in 2013 has been both bad and good. He's been a bit too patient for his own good, allowing himself to fall into too many pitcher's counts rather than turning his patience into walks. He's also been hopeless from the right side of the plate. However, his plate discipline has been good, and he's had BABIP-friendly contact habits. If he can hold on to his plate discipline and keep hitting primarily liners and grounders in 2014, he should be a decent hitter.
Profar's likely never going to be an elite power threat, but for a guy his size, he has sneaky-good bat speed that allows him to drive the ball. However, it's hard to project anything more than an average power season for him in 2014. He's hit for some decent power this year, but he's been aided by some good fortune on grounders and bloopers down the lines.
Profar was a good base stealer as a minor leaguer, but that success hasn't translated to the major leagues. He's been caught stealing more than he's succeeded stealing, and he's been generally tentative on the basepaths. He has athleticism, but it looks like there's a learning curve for him to tackle.
Profar is blocked by Elvis Andrus, so he hasn't gotten many chances to show off his defensive prowess at shortstop in the major leagues. But he's a guy who gets rave reviews for his defense, as scouts give him top marks for his range, glove and arm. You can see what they mean on plays like this one.
Profar battled an elbow sprain over the winter but nothing since then. He doesn't come with any medical red flags.
It's still unclear what the Rangers are going to do with Profar. But there's an alternate reality out there in which he's going to be an everyday shortstop in 2014, and in that reality he's a guy to keep an eye on for 2014.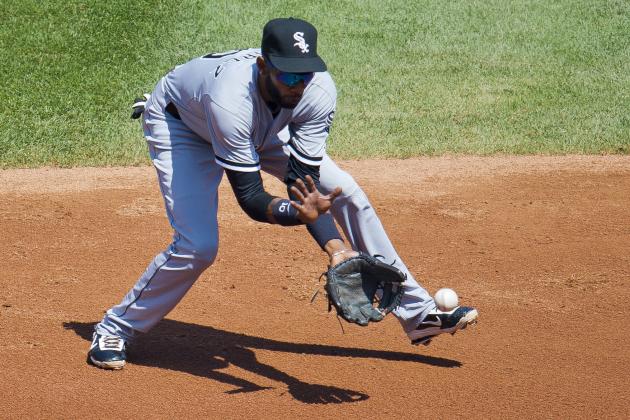 Jason Miller/Getty Images

Alexei Ramirez is not one to wait around when he goes to the plate. His quick at-bats are useful in terms of avoiding strikeouts but not so useful in terms of racking up walks. And while he has been hitting more balls on a line this year, he still hits way more balls in the air than he should. He can pass for a decent hitter but no more than that.
Ramirez's power production is on a pretty clear downward trend, in large part because he just doesn't have the pop to get the ball over the fence on a regular basis. The good news is that his improved line-drive rate has helped him up his doubles potential, saving his power from absolute disaster.
Ramirez has looked to account for his declining power by putting himself in scoring position more often via the stolen base, and he's been largely successful in that regard. This season has seen him shatter his career high for stolen bases. However, he hasn't been a particularly efficient base stealer, and he's made a few too many outs at second and third this season.
Ramirez has booted the ball a bit more often in 2013, but that's OK. He gets to more balls than your average shortstop, and he has the arm strength to finish the job. He's never been as bad as his fielding percentage would lead one to believe (side note: screw fielding percentage anyway).
Ramirez has never been to the DL as a major leaguer, and his injury history in general is pretty clean. He's only missed a handful of games with injuries throughout his career.
Ramirez gets my vote as one of baseball's most frustrating players to watch, but he earns his keep by playing great defense and by being a weapon on the basepaths.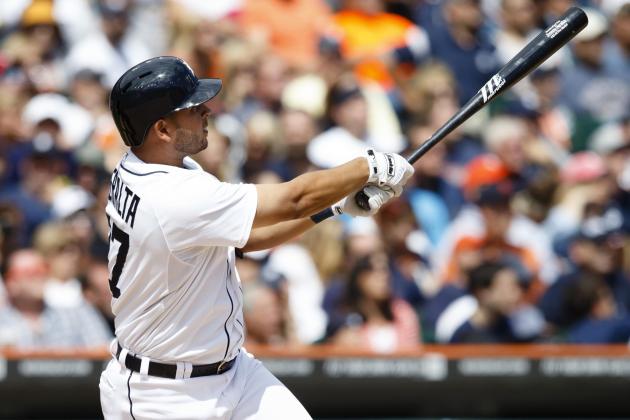 Rick Osentoski-USA TODAY Sports

Jhonny Peralta was enjoying a rebirth in 2013 after a down year in 2012. He may have been expanding the zone, swinging and missing and striking out more often, but he was also collecting line drives in bunches and inflating his BABIP in the process. And if .305/.361 seems a bit too good to be true, you might recall that .300/.350 is roughly where he was in 2011, too. The guy can hit.
Peralta's rebirth this year didn't come with a huge uptick from his 2012 power production, but he's still one of the league's more dependable power-hitting shortstops. He can hit the ball out to left and right and can also knock the ball over the center fielder's head for an easy double. His isn't explosive power, but it's better than average by plenty.
Shortstop is a position that favors guys who are quick on their feet. To that end, Peralta has always been an odd fit. He's not a base stealer, and he typically isn't one to run the bases like a maniac in hopes of picking up extra bases. For what it's worth, however, he did find himself going first to third quite a bit this year. That'll do for progress.
Peralta gets some grief for his defense, but he hasn't held down a starting job at short for this long by accident. His range is just OK, but he's gotten to be a lot more sure-handed than he was earlier in his career, and he can make some tough throws. He's not great, but he's better than he gets credit for.
Peralta's injury history is remarkably clean. He's never been on the DL and doesn't even have that many minor injuries to speak of.
It might be easy to downplay the season Peralta was having before he got suspended, but take note of the fact that he definitely wasn't getting any help from Biogenesis. Don't assume his bat will be useless when he comes back in 2014.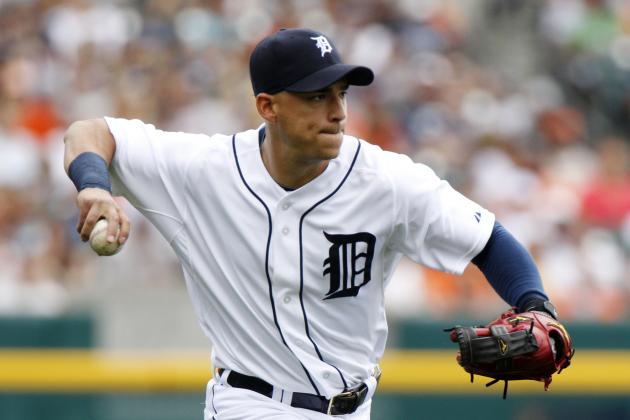 Duane Burleson/Getty Images

Jose Iglesias is living proof that the BABIP gods are real and that they don't play favorites for long. The good luck that he enjoyed in June went away in a hurry, and it was bound to happen given the amount of fortune he was enjoying on ground balls. All the same, he has proven himself as a hitter who can put the ball in play, and he's also proven that he has the potential to be better than the .220 hitter so many saw him as.
Iglesias is not and never will be a legit home run threat. While he does have some gap power, he's not going to tap into it as often as one would like until he changes up his contact habits. Most of the balls he hits are on the ground, and he also has a tendency to overcompensate and get way under the ball, resulting in harmless pop-ups.
Iglesias does have the athleticism to steal bases, but it doesn't appear to be the kind of thing he's ever going to specialize in. He's made an effort to be a weapon on the basepaths, but he's done so recklessly by running into a chunk of outs at second base. There's a learning curve to be tackled here.
Heck, you've seen him play defense. He's not as well established yet, but Iglesias is the one shortstop in the majors whose defense rivals that of Andrelton Simmons. His instincts, first-step quickness and range are all top notch, and "top notch" doesn't even come close to describing his hands. They're flat-out unreal.
Iglesias was sidelined for a while in 2012 with a bad back, and 2013 has seen him miss games with elbow problems and a toe injury. More recently, he came down with bilateral shin splints. These things aren't major, but they do give you pause.
There are question marks surrounding his bat, but shortstop is a premium defensive position, and Iglesias is one of the premium defenders at the position.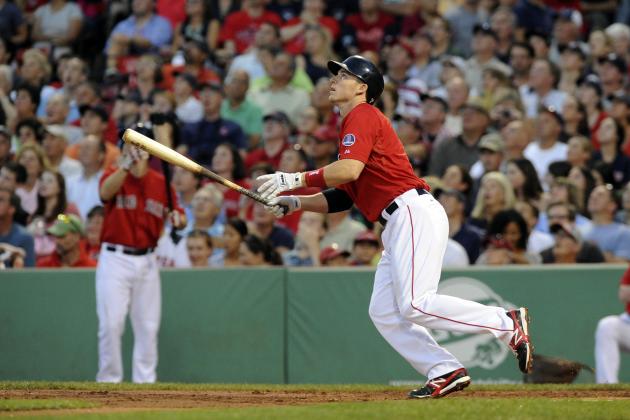 Bob DeChiara-USA TODAY Sports

He's a member of the Drew clan, so Stephen Drew naturally has a patient approach at the plate. That and his good plate discipline allow him to draw more walks than your average shortstop. And after a slow start at the plate, Drew came alive in June and has looked much more like his old self ever since. Most impressive of all is the rate at which he's been spraying line drives all over the field.
Drew was an easily above-average power-hitting shortstop when he was right, and he's been showing that old power ever since he got in a groove earlier in the summer. He's been cracking the ball over the fence at a higher rate than he has in years and has shown off some decent pop to left-center field. If this score strikes you as too high, you haven't been paying attention to Drew over the last few months.
Drew has never been much of a base stealer, but he can sneak an occasional stolen base. He certainly looks more comfortable running the bases now than he did in his return from a major ankle injury last year, though that doesn't mean you're liable to see him do something awesome when he's on the bases.
There are far flashier defenders at shortstop than Drew, but he's better than he gets credit for. He's a sure-handed defender, and his range has been a lot better this year than it was last year, when he was still trying to get his bearings. He's not far above average defensively, but he is above average.
Drew can't be counted on to stay healthy. The severe ankle injury he suffered in 2011 still stands out as a red flag, and this season has seen him spend time on the DL with a concussion and a hamstring strain. And since he'll be 31 on Opening Day next year, he's not exactly young, either.
It's happened somewhat quietly, but 2013 has been a comeback year for Drew. He's retaken his place as one of baseball's more talented all-around shortstops.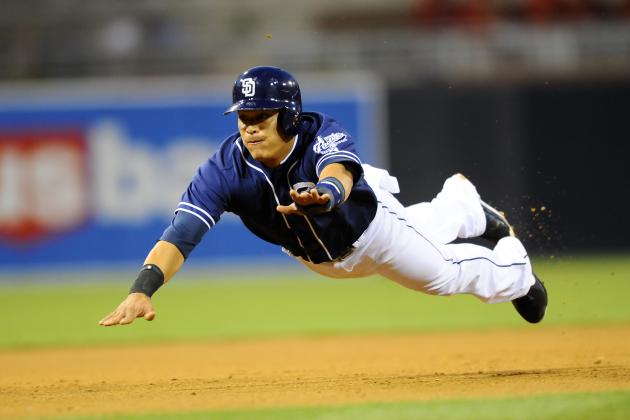 Christopher Hanewinckel-USA TODAY Sports

Everth Cabrera made big-time improvements from the right side of the plate this year, and he also cut way down on his strikeouts the old-fashioned way: by reducing his whiffs on the slow stuff. And like every speedy guy should be, he's always been a guy who rarely hits the ball in the air and is perfectly willing to take a walk. It all adds up to a guy who's figured things out at the plate.
Cabrera may not hit the ball in the air very often, but this season saw him set a career high for homers. The trouble is that his extreme ground-ball tendency isn't conducive to a doubles or triples habit, and his line drives don't tend to split the outfielders. Basically: Don't count on the power being there again in 2014.
Cabrera is one of the game's top base stealers, stealing 44 bases in 2012 and 37 this year before his suspension. He does get caught fairly often—more so in 2013 than in 2012—but he swipes enough bags to make it worth it. And naturally, he also gets around the bases quite well when the ball is in play.
As athletic as he is, you'd think Cabrera would easily be an above-average defensive shortstop. He's really not, though. His arm is fine for the position, but he doesn't run down as many grounders as you would expect. His instincts seem to be lacking, and there are shortstops with quicker first steps out there. The good news is that he's at least not the magnet for errors that he used to be.
Cabrera had to spend some time on the DL with a hamstring strain earlier in the summer. That makes it three DL stints in his career due to hamstring problems, which is a red flag for a speedster. But since he's only going to be 27 this winter, we'll cut him some slack.
Cabrera's PED suspension casts a cloud over his 2013 season, but consider this: As with Peralta, we know for a fact that he wasn't getting any help from Biogenesis. As long as he maintains the approach at the plate he was using in 2014, Cabrera should be heard from again in 2014.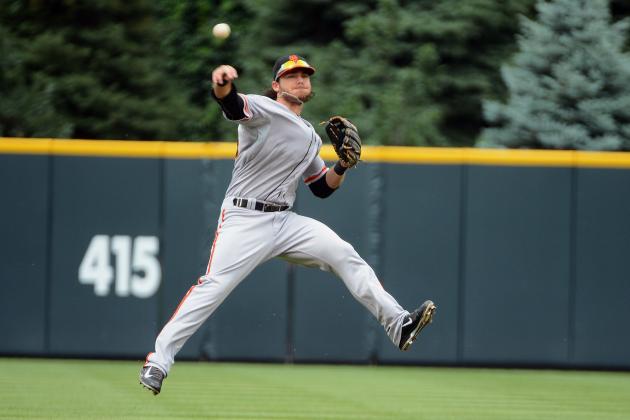 Garrett Ellwood/Getty Images

Brandon Crawford's approach at the plate has been more disciplined in 2013. He's not expanding the zone as often and indeed isn't hacking away as often as he did last year. It's also encouraging that his performance against hard stuff has gotten better. The next step from here for Crawford is becoming more consistent, as his success has come and gone with his luck this season.
Crawford's likely never going to be an above-average home run hitter, as he doesn't have a notable fly-ball habit or legit home run power. His doubles power is the best thing he has going for him. He knows how to find the gaps, and this season has seen him end up with some triples on line drives into the right-center alley. He definitely plays in the right ballpark for that kind of habit.
Crawford's not a base stealer, but his general baserunning habits have improved in 2013. He hasn't necessarily been more aggressive about taking the extra base, but the trade-off is that he's avoided outs as well as any other player in the majors. To give you an idea: He has more caught-stealings than baserunning outs this season.
Word about Crawford's defense got out when he was making awesome play after awesome play in the Giants' run to the World Series in 2012. The defensive metrics are cool on him this year, but all the tools are still there. He is still an instinctive shortstop with good athleticism and a rocket arm. He's always good, and there are days when he looks like he's the best there is at shortstop.
Crawford missed a pretty good chunk of time with a broken hand as a minor leaguer way back in 2010. Since then, however, his health has been dandy.
A great defensive shortstop with an improving bat and a few prime years still to go, Crawford may not be done shooting up the ranks of the MLB's top players at the position.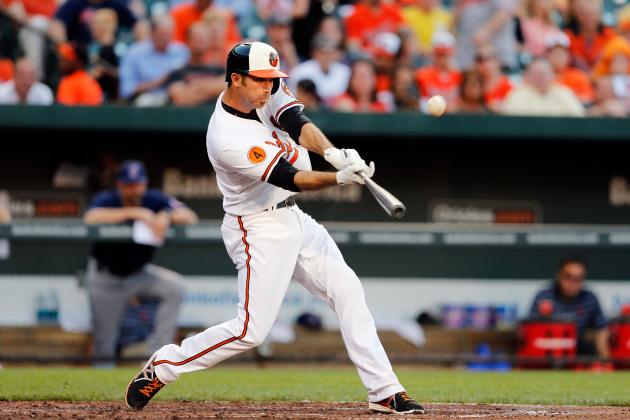 Rob Carr/Getty Images

One doesn't struggle to have a .300 OBP by accident. J.J. Hardy is generally patient at the plate, but he'd much rather put the ball in play than take a walk. Trouble is that he's not a line-drive merchant, and he doesn't seem to understand that hits can also go to center field and right field.
Hardy certainly has pull power to left field, and that's where the bulk of his home runs leave the yard. He goes that way often enough to qualify as a well above-average power-hitting shortstop. However, he can be made to fly the ball out to center and right field, where he has significantly less power.
Hardy's not much of a baserunner to begin with, but he's been downright indifferent on the basepaths this year. You can count the number of times he's gone from first to third on one hand, and he hasn't even been a sure bet to go from second to home on singles.
Last year, Hardy won a Gold Glove that felt overdue, and he might have another coming his way this year. He covers more ground than you would expect for a guy with his foot speed, and he owes that to his instincts and quick first step. I also sometimes wonder if his arm is an actual gun.
Hardy hasn't been on the DL since 2011, and he's only missed a couple of games due to injuries since then. Having just turned 31, his health is in solid shape.
I tend to think that Hardy attracts more praise than he's worth, but his power and defense are undoubtedly standards for most other shortstop to live up to.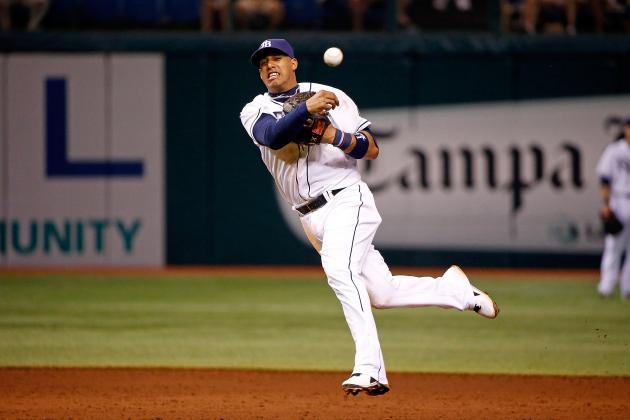 J. Meric/Getty Images

The Rays have a knack for getting hitters figured out, and they've done it again with Yunel Escobar. He's had a more measured approach this year than he did in 2012, helping him rescue his walk rate from the impatience demons that stole it last year. He hasn't quite figured out the BABIP equation, though, in part because his contact habits are all or nothing. He's much more likely to hit a ground ball or a weak fly ball than he is to hit a line drive.
Escobar's increased emphasis on fly balls in 2013 has paid off in the form of a few extra home runs, and he does have the raw pop to line the ball over the center fielder's head. It's a good thing he does, because he's really not much for peppering left or right field with hard-hit line drives. The bulk of his power is concentrated right up the middle, where power-hitting is obviously tougher.
Escobar can steal the occasional base, and he certainly has the athleticism to go from second to home on singles, but him going from first to third has been a rare sight in 2013, and he still has a tendency to run into more outs than you would prefer. As a baserunner at his position, he's just OK.
Defense has always been Escobar's calling card. He's a slick defender with very good range and a strong arm, and his problem with boots hasn't bitten him this year. He's given the Rays a much more focused defensive effort and has turned in a performance befitting his ability.
Escobar has had to deal with some nagging injuries here and there, including some minor hamstring issues in April and June, but he hasn't found himself on the DL since 2011.
Talent has never been a question with Escobar, and he's spent 2013 reminding everyone of that. The Rays have revived his bat, and his glove has been downright terrific.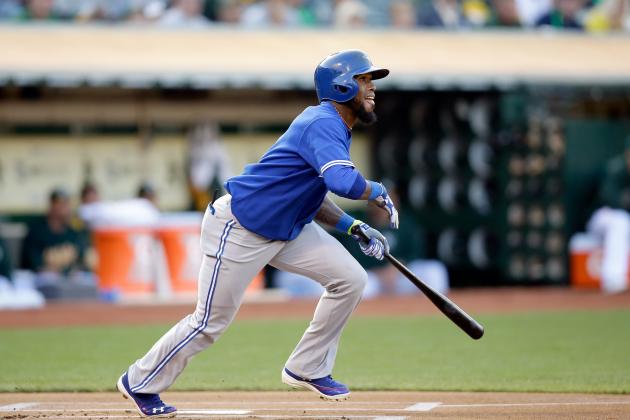 Ezra Shaw/Getty Images

Jose Reyes is neither the most patient nor the most disciplined hitter in the league, so it's a little surprising that he takes as many walks as he does. And while his strikeouts have gone up in the American League this year, he still strikes out far less often than your average hitter and is still ripping line drives all over the field from both sides of the plate. He peaked in 2011, but the guy can definitely hit.
Reyes is one of the great gap-power guys in baseball. Though he does also have the ability to hit the ball over the fence, he's not the kind of guy to get homer-happy. He's actually been hitting the ball in the air less often over the last couple years, with the trade-off being a more consistent line-drive approach. Such an approach suits him better.
Reyes obviously isn't the supreme speedster that he used to be, as age and injuries have taken their toll on his wheels. But he's still a very fast mover when he's healthy and is a terrific source of value both stealing bases and taking extra bases on balls in play. He hasn't been able to be these things in 2013, but an offseason of rest should set him right.
The tools are all there, but Reyes' defense hasn't been good in many years. He's not booting the ball this year as often as he usually does, but that's owed at least in part to his range having declined. His speed is obviously fine, but he's not the most instinctive shortstop, and he just doesn't cover as much ground as he should.
Reyes was quietly a picture of health in 2012, but his troubles with hamstring injuries have been well documented, and this year he found himself on the DL with a bad ankle sprain. Those legs of his have a lot of mileage on them, and he's not getting younger.
One worries about how much longer Reyes is going to be an elite player now that he's on the wrong side of 30. Nonetheless, he still as one of the better bats the position has to offer, and his wheels pack a punch when he's healthy.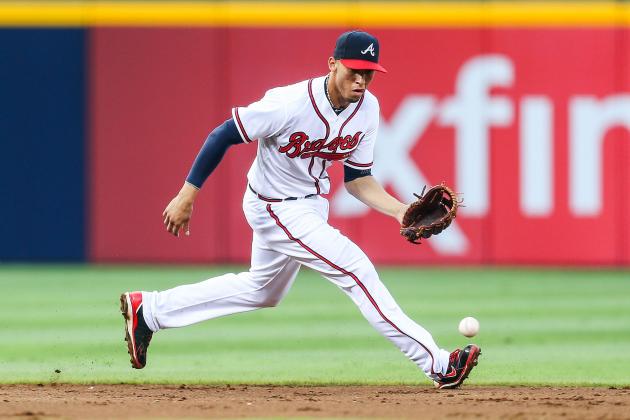 Daniel Shirey-USA TODAY Sports

Andrelton Simmons is a work in progress at the plate. He has made an effort to be more patient in 2013, but it hasn't paid off in the form of a higher walk rate. And while the bright side is that he can make contact with anything, he wastes his time with too many fly balls. He's a guy who needs to keep it simple with ground balls and line drives if he wants to save himself from below-average territory.
Simmons isn't as powerful as he seems to think he is, but he does have solid home run pop to left field and doubles and triples power to right-center field. If he places an emphasis on exploiting the latter more often, he's going to be more dangerous than he already is.
As athletic as Simmons is, he's not much of a base stealer. He's tried, but catchers have taught him a few lessons about how good they are in the major leagues. One wonders if that has something to do with Simmons' generally tentative approach to running the bases. He has himself a learning curve to tackle.
There's no word in the tongues of men that can adequately describe how good Simmons is on defense. With great instincts, unreal range, soft hands and a strong arm, he's the best defensive shortstop in baseball—and maybe the best defensive player of any kind in the majors, period. Next time he does something awesome while you're on Twitter, get in on the hashtag fun: #Andrelted.
Simmons' rookie year was halted for a while by a broken hand, but broken bones in young players have a tendency to heal, and Simmons' health has hardly been bothered ever since.
Simmons may be a work in progress on the offensive side of the ball, but there's some promise there. In the meantime, everyone is advised to bask in his defensive glory.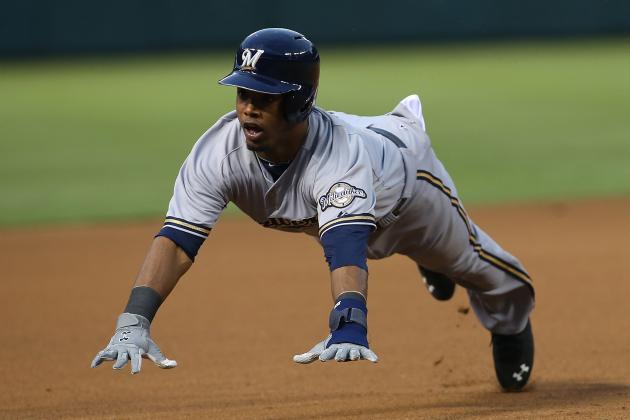 Rick Yeatts/Getty Images

Jean Segura's not a patient hitter. He goes up to the plate looking to hack away, and he will expand the strike zone if he is so inclined. But he's very good at making contact when he does go outside the zone, and he's a quality contact hitter in general. Most impressive of all, however, is his Derek Jeter-like ability to pepper right field with line drives. There's been some overachieving going on thanks to his high BABIP on ground balls, but Segura definitely has the look of a quality hitter.
Segura's power production has been a surprise this year, and his power hasn't exactly come cheap. He has impressive pop up the middle of the field, which is where a good chunk of his long balls have gone over the fence. The catch is that he's benefited greatly from Miller Park, a known hitter's haven. Realistically, his power isn't this good.
Segura's very much a stolen-base threat in addition to a power threat. He's been piling up the thefts in his first full season in the big leagues. He also does the little things on the basepaths well, with only a couple outs to show for quite a few extra bases taken. The one catch is that his stolen-base efficiency needs some work, as he's in the double digits in terms of being caught.
Segura was originally a second baseman in the minors. It was his arm strength that got him moved to shortstop, and it's still his best asset. But despite his athleticism, his range is really just OK. He passes the eye test, but he doesn't make an excess of plays that other shortstops can't make. That's in part because of how he doesn't always read the ball off the bat well.
Segura has dealt with some minor injury issues in his first full year as a big leaguer, but he's only missed a couple games due to injury, and nothing he's dealt with gives one pause. He should be OK.
The Brewers traded two months of Zack Greinke for Segura. It turns out that they traded for a shortstop who can hit, hit for power, run the bases and play some solid defense. Well done, Doug Melvin.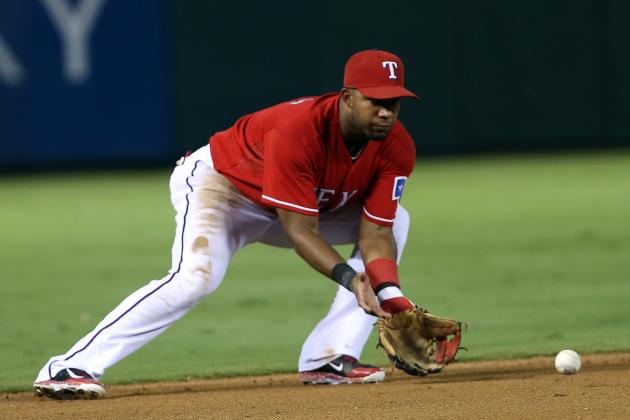 Rick Yeatts/Getty Images

Elvis Andrus has spent much of the 2013 season being totally out of whack at the plate. He's been hacking at more pitches and going outside the zone more than he usually does, and he's gotten killed by sliders from right-handed pitchers. But his actual contact habits haven't changed that much, and something did click for him some time in late June. Ever since then, he's looked a lot more like himself, and that guy is a quality hitter.
Andrus' power is another thing that's been down this year, which is particularly concerning because he doesn't have much power in the first place. But he does have the ability to hit the ball in the gaps, and it's that ability that saves his power production from total ruin.
Andrus has fortunately combated his lacking power this year by being more active stealing bases, and he's been doing so with impressive efficiency. He's also still rounding the bases well, with the only complaint being that he's still running into his share of outs. Even with that, he's about as good as they come.
Andrus' defense was undoubtedly at its best in his debut season back in 2009, but it is still very, very good these days. He still has a terrific feel for the position, with great range and a great arm to go with it. He'll make some errors here and there, but them's the breaks when you're getting to more balls than most.
Andrus should probably shy away from getting more tattoos, but his next trip to the DL will be his first. He's only ever dealt with nagging injuries.
Andrus has spent much of the 2013 season struggling, but don't let that fool you. He's still a decent hitter, and he still has a very good glove and legs that come in handy on the basepaths. If he had power, he'd be in the discussion for best player in the league.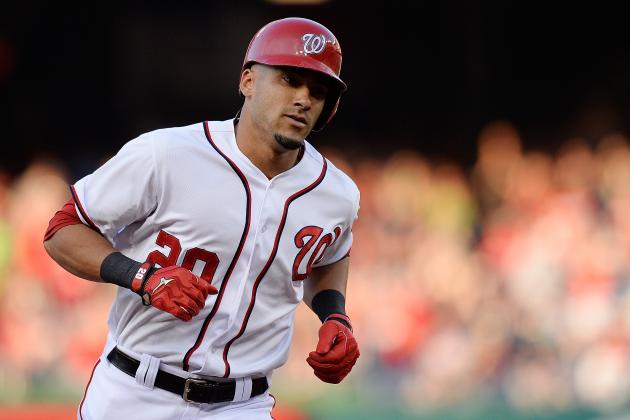 Patrick McDermott/Getty Images

Ian Desmond's plate discipline is still spotty, but he's been less aggressive swinging outside the zone in 2013 than he was in 2012. On top of that, he's seeing a few more pitches, resulting in a much-needed improvement in his walk rate. He unfortunately still strikes out more than one would prefer, but he's been hitting more balls on the line this year. It hasn't really all come together for him yet, but he's clearly getting there.
Desmond's power hasn't fallen off very much from where it was in 2012, and that's obviously a good thing. He can hit the ball out of any ballpark, and you see him hit drives to left- and right-center fields that travel farther than the center fielder can run. The guy hits ropes, plain and simple.
Desmond is one of the better base stealers the shortstop position has to offer, and he's been even better this year because he's been more careful about not getting caught. The downside is that his baserunning instincts still aren't quite up to par, as he has issues with getting picked off and with running into outs on the basepaths.
The advanced defensive metrics don't seem to know what to do with Desmond, but the eye test does confirm that he's getting better defensively. He's still one to boot the ball on occasion, but he's also getting to more balls thanks to his athleticism and an improved ability to react to and read balls off the bat. He's not a brilliant defensive shortstop, but he's better than average and improving.
Desmond had some trouble with nagging injuries in 2012, including an oblique strain that landed him on the DL. But that was a first for him, and 2013 hasn't brought him any additional injury trouble.
Somewhere, there's a list of really good players who don't get the credit they deserve, and Desmond is on it. His bat is terrific for the position, and he can steal bases and play some solid D as well.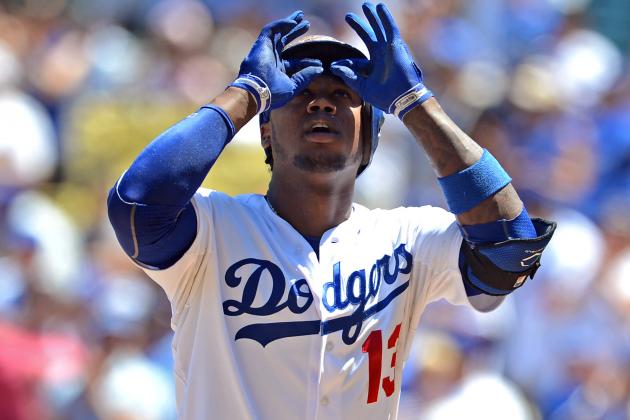 Jayne Kamin-Oncea-USA TODAY Spor

Hanley Ramirez's resurgence at the plate has little to do with him taking a more measured approach. He's been very aggressive, hacking at a ton of pitches both in and out of the strike zone. That's not the kind of approach that's ideal, but he's made it work. Apparently, the secret is to just hit the living daylights out of the ball. He's hitting line drives like never before, and his fly balls certainly aren't going to waste. For more on that...
Ramirez's surge has been powered by a HR/FB rate well above his career norm, but I'm not going to tsk-tsk that. He's always had well-above-average power, with the ability to hit the ball out to any part of the yard and the ability to hit screamers over the heads of outfielders. And indeed, that he's been crushing the ball even at Dodger Stadium this year gives an idea of how locked in he really is.
Ramirez isn't the elite baserunning threat that he was earlier in his career, but at least he's more efficient now when he does choose to go. But like another guy we're soon going to talk about, Ramirez has toned down his act in terms of doing the little things on the basepaths. He's not quite a station-to-station guy, but he's headed in that direction as he gets older.
Ramirez's defense at shortstop was painful to watch for a long time. It's been a different story this year. He still doesn't come off as the most instinctive shortstop, and he still makes the occasional boot. But his effort level on defense is a lot higher than it was in his Miami days, and he just seems to be having more fun in the field. His overall defensive performance has benefited.
As talented as Ramirez is, his health is far from a sure thing. He was a non-factor early in the season thanks first to a thumb injury and then to a hamstring injury, and then he developed a shoulder injury that might nag him through the end of the year. That makes it two injury-marred seasons in the last three, and he turns 30 this winter.
Ramirez showed signs of a rebirth upon joining the Dodgers in 2012, and this year has seen him be completely reborn. His bat looks as good as it ever was, if not better, and even his glove has become worthwhile.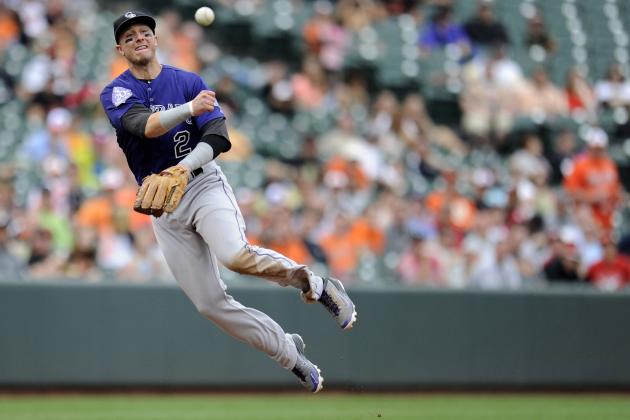 Joy R. Absalon-USA TODAY Sports

Troy Tulowitzki does just about everything right as a hitter. He's not the kind of guy who's going to see a million pitches per at-bat, but he does work the count and is pretty good about keeping his swings confined to the strike zone. That helps him make consistently solid contact, and he's also a guy who can flirt with a walk rate of 10 percent. The list of things to complain about with his hitting is short, and he obviously has the numbers to confirm that it all works.
Yes, Tulo does get a power boost from playing at Coors Field, but his home/road power splits aren't as pronounced as your usual Rockies hitter. His power is legit, as he can crush liners into the gaps and send balls over the fence from foul pole to foul pole no matter where he's playing.
Tulo's days as a baserunning threat appear to be over. He's basically given up trying to be a player in the stolen-base market, and he's also taken to being less aggressive when running the bases. His athleticism is obviously still impressive, but he's toned down his act to the point at which he's really just an average baserunner for a shortstop.
Tulo has lost a few steps over the last couple years, but he's still an elite defensive shortstop. His instincts and reaction time help him make up for the quickness he's lost, and he still has a rifle for an arm. He may end up at third base in the long run, but he's made it clear this year coming off an injury-ruined 2012 campaign that he can still handle short with the best of 'em.
Staying healthy isn't one of Tulo's better talents. He had injury problems even before a major groin injury cut his 2012 season short, and he found himself on the DL again this year with a broken rib. Then it was some abdominal soreness in August and leg soreness early in September. It's a good thing he's still a couple years shy of 30.
Tulo is not the brilliant all-around player that he used to be, but he's still outstanding an outstanding hitter and an outstanding defender. And yes, he's still the best player the shortstop position has to offer.