NFL Replaces Traditional Pro Bowl Format with Player Draft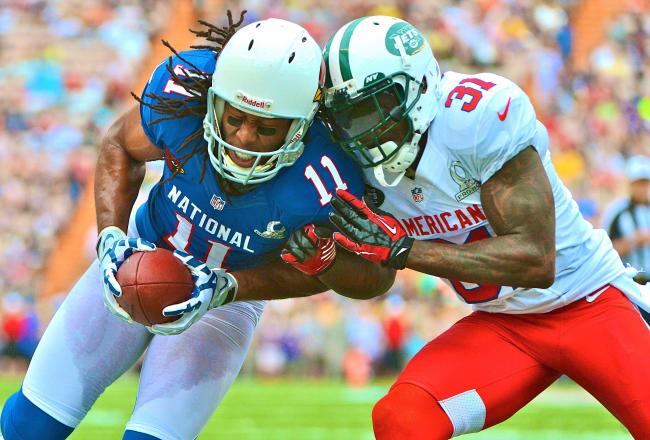 The NFL is prepared to try a new idea to revitalize the Pro Bowl, which has lost its luster in recent years. The league will now utilize a draft-style approach, with former stars Jerry Rice and Deion Sanders as captains, per NFL Communications:
Players will be assigned to teams through the Pro Bowl Draft, in which two leading vote getters will join two NFL.com fantasy football champions—who will attend the Pro Bowl—to draft players. One of these champions will earn their spot as part of Lenovo's Fantasy Coach of the Year program, which provides NFL.com fans a chance to be rewarded for their fantasy football skills. The other champion can compete for a Pro Bowl role by playing at NFL.com/fantasy.

The fantasy football champions will have Hall of Fame help. Pro Football Hall of Famers Jerry Rice and Deion Sanders will serve as alumni team captains, assisting the Pro Bowl team captains and fantasy football champions in the draft process.

"As players, we wanted to keep the Pro Bowl to honor excellence in individual performance and connect with the fans in a different environment," (NFLPA President Domonique) Foxworth said. "To do that, I worked with a group of players to map out new ideas."
Adam Schefter of ESPN originally broke the story:
NFL eliminated traditional AFC-NFC Pro Bowl matchup; will be replaced with Pro-Bowl fantasy-like draft, per ESPN sources.

— Adam Schefter (@AdamSchefter) July 31, 2013
Schefter adds that there will be a total of 86 players selected for the first edition of the new version of the NFL's All-Star game, which is scheduled for Jan. 26, 2014, in Honolulu. Kickoffs have also been eliminated:
No more kickoffs in Pro Bowl. Rosters will consist of 43 players per squad. Game will be played Jan 26 in Honolulu.

— Adam Schefter (@AdamSchefter) July 31, 2013
Although it's going to take a couple years to determine whether the new idea works, there's no doubt that changes to the game were necessary. The Pro Bowl simply wasn't providing much entertainment value over the past few seasons.
On the surface, it's an intriguing idea. Bringing back former Pro Bowlers like Rice and Sanders should make the draft more interesting. And given the rise of fantasy sports as well as the NFL draft over the past decade, it's clear football fans love drafts.
So the plan, at the very least, should be able to generate some additional hype leading up to the game—first from the draft itself, and also from the discussions about the different possibilities it creates, such as Peyton Manning throwing to Calvin Johnson, or teammates going up against each other.
The biggest test will be during the game, however. One of the main reasons the Pro Bowl has started to fade is because the play on the field hasn't represented anything close to NFL football. Most notably, the lack of intensity has been a setback.
It's hard to blame the players for that, of course. They are coming off long seasons and certainly don't want to risk injury by overextending themselves in a game that offers no real significance in the outcome. But it has reached a point where it is fair to ask why they are even playing the game anymore.
Now, the NFL hopes the new approach will give the game a much-needed boost. Only time will tell if that actually happens.
This article is
What is the duplicate article?
Why is this article offensive?
Where is this article plagiarized from?
Why is this article poorly edited?