The Boston Red Sox received a huge boost to their rotation when they reportedly acquired Jake Peavy in a trade with the Chicago White Sox on Tuesday.
UPDATE: Wednesday, July 31, at 2:40 p.m. ET by Ian Hanford
ESPN's Buster Olney has the latest on Peavy:
Red Sox source says Jake Peavy's first start for them could happen Saturday.

— Buster Olney (@Buster_ESPN) July 31, 2013
---End of update---
UPDATE: Wednesday, July 31, at 12:05 a.m. ET by Kyle Vassalo
The Red Sox announced the 3-team trade on Twitter:
It's official: #RedSox acquire RHPs Jake Peavy and Brayan Villarreal, send Jose Iglesias to Tigers in 3-team, 7-player deal.

— Boston Red Sox (@RedSox) July 31, 2013
The team also provides details on the deal:
#RedSox send minor leaguers Wendelken, Montas & Rondon to White Sox; OF Avisail Garcia goes from Tigers to Red Sox to White Sox.

— Boston Red Sox (@RedSox) July 31, 2013
---End of Update---
Jon Heyman of CBS Sports first reported news of the deal:
red sox and white sox have a peavy deal.

— Jon Heyman (@JonHeymanCBS) July 31, 2013
According to WEEI's Rob Bradford and Alex Speier, the trade involves three teams:
According to multiple major league sources, the Red Sox are in advanced talks about a three-way deal with the White Sox and Tigers that would bring right-hander Jake Peavy to Boston.
Per @alexspeier, the Peavy deal is a three-way deal with the Tigers. Jackie Bradley is not a part of it. Jose Iglesias is.

— Brian MacPherson (@brianmacp) July 31, 2013
Gordon Edes of ESPN.com reports more details on the trade:
Iglesias to Tigers, 2 or 3 lesser prospects to White Sox, Det OF Avisal Garcia to White Sox, pitcher from Det also coming to Boston

— Gordon Edes (@GordonEdes) July 31, 2013
The Boston Globe's Nick Cafardo reveals another player who may be involved in the deal:
Detroit RHP Brayan Villarreal may also be in this three-way Peavy deal

— Nick Cafardo (@nickcafardo) July 31, 2013
Villarreal is likely being sent to Boston. Maybe other minor league players involved.

— Nick Cafardo (@nickcafardo) July 31, 2013
Heyman provides more trade details:
#chisox land 3 prospects, low-level guys, from #redsox in peavy deal. also received avisail garcia from #tigers in 3-way.

— Jon Heyman (@JonHeymanCBS) July 31, 2013
Comcast Sports Net New England's Sean McAdam has info on the Red Sox prospects involved in the deal:
Source: Red Sox will be including three lower level prospects in deal: two pitchers and a position players. None on 40-man roster

— Sean McAdam (@Sean_McAdam) July 31, 2013
The 32-year-old Peavy is 8-4 this season with a 4.28 ERA and 76 strikeouts in 80 innings. Although he missed over a month this season with a fractured rib, he has made two starts since returning and has tallied the win in each outing.
Injuries have been a bit of an issue for Peavy throughout his four-year career with Chicago. After being considered one of the top pitchers in the game while with the San Diego Padres, he has made more than 20 starts only once since joining the White Sox.
However, he was rejuvenated last year. Peavy threw 219 innings and posted a 3.37 ERA while making the All-Star Game for the third time in his career. That earned him a two-year extension running through 2014, with a $15 million option for 2015.
Despite that success, Peavy was made expendable due to the team's struggles. The White Sox are currently in last place in the AL Central with a 40-64 record. Only the Houston Astros have a worse record in the American League.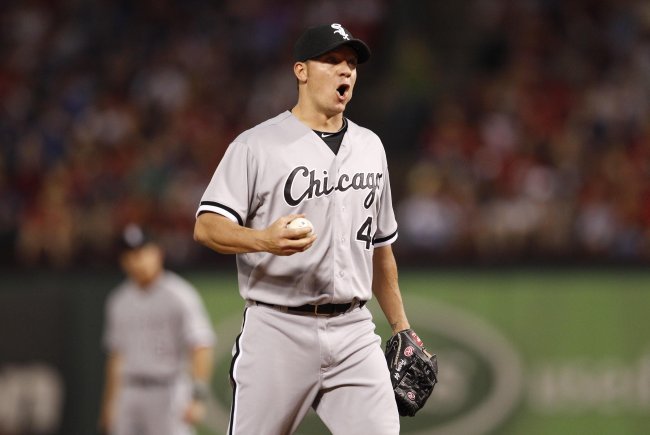 Jim Cowsert-USA TODAY Sports
As a result, the pitcher was sought after by many contending squads around baseball. According to Bruce Levine of ESPN.com, Peavy entered Sunday's game with his bags already packed in the locker room in case a trade went through. He did not know where he was going, but he did say "this is probably my last day in here."
Although he remained with the club for a few more days, he was still eventually moved and will spend the rest of the season with the Red Sox. His new squad needed help in the rotation, and they add an experienced pitcher who will be depended on down the stretch.
Boston now hopes that this will be enough to get them into the postseason and contend for a World Series title.
Follow Rob Goldberg on Twitter for the latest breaking news and analysis.